Are you going on holiday this summer? Find out the best way of getting to the airport with your Motability Scheme car with this helpful summary from Auto Express.
---
It's often the case that if you're using an airport, the easiest way to get there is by car. And if you've done that, you'll need to make use of airport parking facilities while you're away. Of course there are public transport links in the form of trains, buses and coaches, depending on which airport you're going to, while a taxi can be a cost-effective option, too. But for most people it makes more sense to drive door-to-door in your own car, then leave the car with an airport parking service, ready to pick up on your return.
A key benefit of airport parking is that the most reputable firms allow you to drop off and collect your car at any time of the day, 24 hours a day, seven days a week, 365 days a year. That makes airport parking very convenient, so you can take advantage of heavily discounted early morning or late night out-of-hours flights, when public transport isn't running. The question is, which airport parking firm should you choose?
The different types of airport parking
There are basically two kinds of airport parking service available. The first sees you park your car in a car park (preferably one that's fully paved, well-lit, etc) that's slightly away from the airport, while a free shuttle bus will ferry you to the front doors of the check-in terminal. With this kind of car park, you can be sure that your car will stay put, because you'll have the keys with you, and you will have either pre-paid for the duration of your trip away, or you can pay upon your return.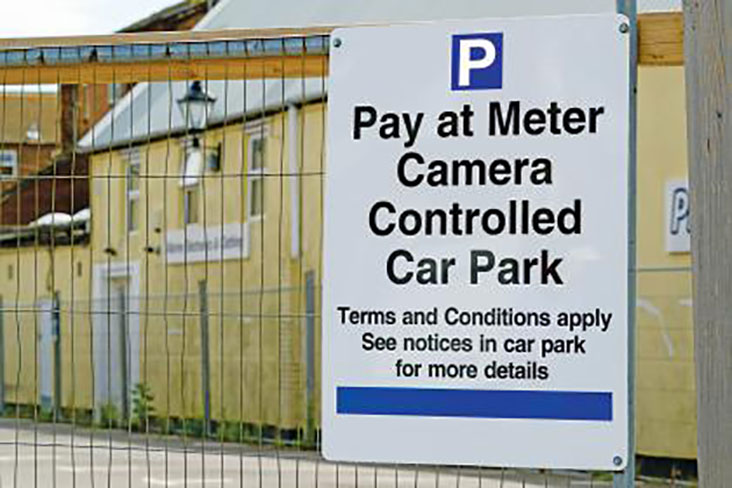 Long-stay car parks within the airport's perimeter are usually run by the airport, or contracted out to a secondary firm, and they usually offer competitive rates if you book early enough. You'll usually get the choice of standard or 'business' car parks with the latter usually being a bit closer to the terminal and a bit more expensive. In all cases, the car parks will be maintained to Park Mark standards (more of those later), while the convenience of the shuttle bus service is a bonus.
If a car park is based a bit further away it's likely to be run by a private company, they may ask you to leave your car keys so that they can arrange the parked vehicles to suit arrivals at a later date. If this is the case, do ensure that you sign an agreement with the company that confirms the condition of the vehicle inside and out, while you should empty all contents to guarantee that no items get lost for whatever reason.
The other option is concierge parking. With this you'll be met at the airport by a parking company representative, who will take your car away to an off-site parking facility once you've unloaded your car. The theory is that they take the car away, and when you return, you can call your representative and they will return with your car by the time you get back to the main arrivals exit, ready for you to be on your way. These concierge or VIP parking services are sometimes run by the airport and sometimes by private companies.
As with all airport parking where you leave your keys with the parking company, you should sign a form that confirms the condition of the vehicle when you left it and how much fuel is on board. Most airport parking facilities should be close by, so do take issue if your vehicle has any more than about 50 miles added to its odometer in your absence.
It's a bit of a leap of faith to trust a stranger with your car, but these concierge companies will be fully insured against damage to your vehicle, and reputable organisations will be able to answer any questions you may have at any time about your car or their facilities.
Whatever option you choose, don't simply go for the cheapest parking option available. A fully accredited and insured company may cost a little more, but surely that's money well spent for added peace of mind.
Choosing an airport parking company and getting a good deal
The one key recommendation we would give is to go with a company that is a member of the Park Mark safer parking scheme. Park Mark is run by the British Parking Association, and sets standards for car parks across the country. These include a well-lit parking area, clear signage for parking and pedestrian access, added security such as CCTV, the benefit of litter-free floors and graffiti-free walls, while on-site staff will give added peace of mind. If you're parking at any airport in the UK, you will find a Park Mark accredited organisation running a parking scheme nearby.
There are always a wide range of discounts and money-off deals available on airport parking, and if you get your hands on a discount voucher or code (usually available when you sign up to email notifications from airport parking operators, or via discount code websites), cheap airport parking can be more cost-effective than the alternatives. However, it's worthwhile doing your research and keeping a few requirements in mind, rather than just looking for the lowest price.
Look at the distance from the airport, the frequency of the shuttle buses and check online for comments from previous customers. The airport parking industry has been given a bad name in the past by rogue operators who set up a convincing-looking website and then mistreat customer cars that are left with them so be on your guard and think carefully before parking your car with a company that isn't a Park Mark member.
This article was written by Dean Gibson from Auto Express and was legally licensed through the NewsCred publisher network. Please direct all licensing questions to legal@newscred.com.
---
Related articles
The Motability Scheme enables disabled people and their families to access a brand new car or scooter, by exchanging their mobility allowance to lease the vehicle of their choice. Find out more: