This development in road safety is very exciting! The prototype has already been used in London and the company behind it is hopeful that this technology can be adopted in other parts of the UK.
A revolutionary new LED road capable of detecting pedestrians and warning road users of hazards has been revealed in London. The world's first responsive road, developed by urban design technologists Umbrellium for insurer Direct Line, uses high definition cameras and LED technology embedded in the road surface and it could significantly cut the number of road accidents in the future.
Usman Haque, founding partner of Umbrellium and an architect by trade explained the concept. "We've created a road that's capable of detecting and responding to pedestrians. Two cameras capable of recording hundreds of different variables monitor the 22-metre crossing and once they detect pedestrians or other road users will feed the information to the computer system in less than a hundredth of a second."
The computer programme developed by Umbrellium uses machine learning to help predict pedestrian movements and creates crossings for them. The road surface is made of high-impact plastic that Haque says could be embedded into asphalt in the future and is capable of withstanding heavy traffic.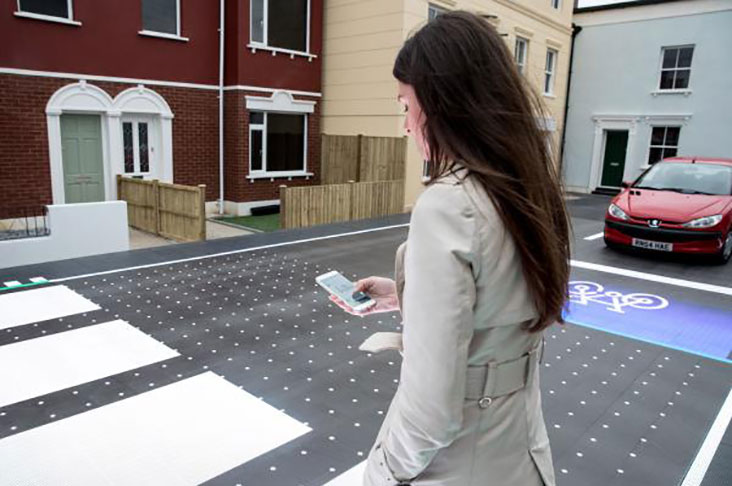 Inside the plastic are over 660 LED lights that can be programmed to change colour and create patterns, such as a pedestrian crossing or warnings for road cyclists and cars. Haque failed to disclose the cost of the 22-metre road, but said it had taken the team nine months to construct.
Haque showed Auto Express several scenarios where the road surface would change colour and pattern to suit different events. One included two pedestrians crossing the street in opposite direction, while a van shielding a cyclist approach the junction. As the van slowed down, the road surface quickly turned red and warned the cyclist that a second pedestrian still had to cross.
Auto Express tried the road for ourselves, too. As we approached to cross the road, the cameras detected our intention to cross and soon a full zebra crossing was created. At the same time, a stop-zone was created for both cars and cyclists to give way to us.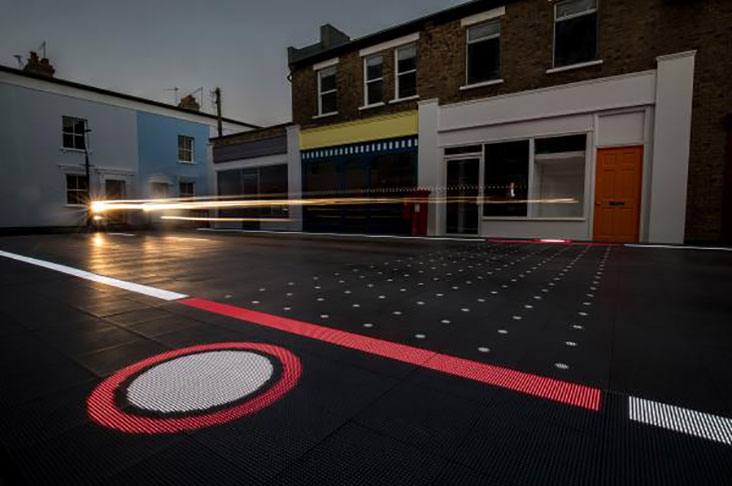 Haque said: "The Smarter Crossing dynamically responds in real-time using technology which has been designed with colours that we know and understand and practical designs that help those on the crossing feel comfortable, confident and safe.
"This is about bringing pedestrian crossings up-to-speed with the rest of a modern-day city. Pedestrian crossings as we know them were made for a different age when the human relationship with the city was completely different.
"Our prototype is waterproof, can hold the weight of vehicles and can recognise the difference between pedestrians, vehicles and cyclists – it's ready to change the future of how we cross the road."
This article was written by Martin Saarinen from Auto Express and was legally licensed through the NewsCred publisher network. Please direct all licensing questions to legal@newscred.com

More articles about road safety
Car dashboard warning lights: the complete guide
The Motability Scheme enables disabled people and their families to access a brand new car or scooter, by exchanging their mobility allowance to lease the vehicle of their choice. Find out more: