Signing up for a Motability Scheme online account has lots of benefits: it gives car and Wheelchair Accessible Vehicle (WAV) customers the flexibility to manage their lease and update their personal information.
In this article, Scheme customer Sarah Alexander-Georgeson discusses how she was able to save her bank details in her account and receive payments via bank transfer.
---
Want to receive your payments by bank transfer?
Customers can set their payment preferences via the Motability Scheme online account. Click here to create an account or to log into your account if you've already signed up.
If you'd like to receive payments by bank transfer, simply log in to your account and visit 'My payment details' within the 'Personal details' section of your account, then follow the on-screen instructions to update your bank details.
The Motability Scheme online customer account has been available for a few months, and it has a lot of great features, from checking the progress of a new application to updating your address. You can read all about the benefits of setting up a new account and how to do so here.
One of the first things I noticed when I set up my online account was the option to add payment details under the personal details section. I instantly added my bank account information and selected bank transfer as my default payment option.
The Motability Scheme often reward customers with a Good Condition Bonus (for Car and WAV customers) or End of Contract Bonus (for scooter and powered wheelchair customers), at the end of their lease if eligible. These are usually issued via cheque.
Earlier this year, customers received a £50 insurance-based refund. Due to COVID-19 and the lockdown, there were fewer drivers on the road and therefore fewer insurance claims being made. The extra savings from this were shared amongst the Scheme customers.
People who had created an online account were able to receive this refund via bank transfer, so long as they had set this as their preferred payment option. However, those that did not set up an online account still received their payment by cheque.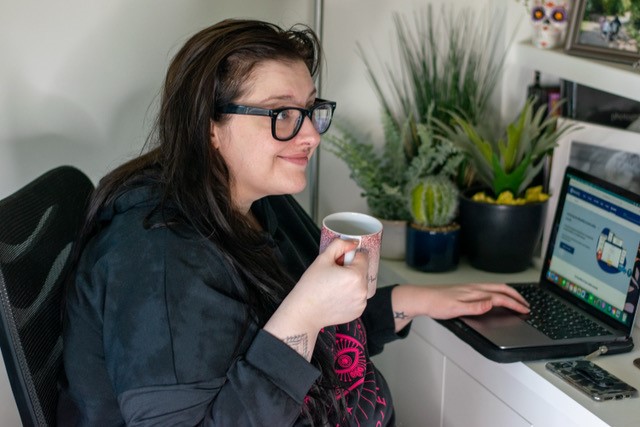 Once you've set up your Motability Scheme online account, you can set 'bank transfer' as your default payment option.
Prior to my £50 insurance-based refund, I had got all my bonus payments from the Motability Scheme via cheques. As wonderful as it was to receive these payments, it was also quite infuriating because I knew I would have to not only go into town to my nearest branch, but I would also have to wait until I was well enough to actually get ready and hope that day coincided with the day the branch was open. For me, having a chronic illness, it is not easy to plan things in advance and it would sometimes take a while to be able to take the cheque to the bank, which was particularly difficult.
Luckily, in the last year or so, the banking app that I use on my phone has allowed me to take a picture of the cheque, upload it to my bank and it takes a few days to process the payment. Despite doing all this from the comfort of my own sofa, I still didn't have access to funds right away.
That's why setting up your online account and making sure your payment method is fixed to bank transfer is a good option, as there is no hassle. Any bonus or refund is paid directly into your account without you having to leave your house or wait around.
I had my bank transfer in place for the insurance-based refund and was kept up-to-date through email so I knew exactly when it was going to be paid. It is such a simple process – adding my details was quick and easy and the experience was great. I would much rather have the simplicity of the online bank transfer than waiting for the cheque to arrive through the post and then going through the process of having to cash it.
Having the bank transfer option available is so beneficial and accessible for disabled people, especially during recent months when getting out has been even more of a strain. As a Motability Scheme customer, I encourage all customers that can to sign up as it is quick, safe and easy. It also takes all the stress out of having to cash a cheque.
Related Articles
What's new in the online account – payments by bank transfer
Introducing the Motability Scheme Online Account
Spotting a scam: How we issue refunds and payments