Every year, the Motability Scheme gives out awards to powered wheelchair and scooter dealerships who have achieved a particularly high standard of customer service. Scheme customers, new and existing, are contacted on a random basis to ask for feedback on their experience and from this, awards are given out in three categories according to the size of their operation.
These awards are very highly regarded and throughout the friendly competition, the dealers have one thing in common: they all want the best for Motability Scheme customers. The awards reward commitment to high standards of care and showcase dealers who have gone above and beyond the already high standard expected of Scheme dealers.
The winners
The winners and highly commended recipients across the three categories (split by dealership size) are:
Large category (more than 200 customers)
Winner – Ability Matters with showrooms across the country
Highly Commended – Millercare and Easy Mobility Services
Medium category (between 100-200 customers)
Winner – True Mobility in Didcot, Oxfordshire
Highly Commended – Scootermart Mobility Centre and RKS
Small category (between 35-100 customers)
Winner – John Preston & Co. in Lisburn, Northern Ireland
Highly Commended – Steddy and The North East Mobility Warehouse
10/10 service
Every scooter and powered wheelchair dealership that has 35 customers or more is entered into the awards and each scored an amazing average of 9.5 out of 10 or over. The winning and commended dealerships in the large and medium categories all scored an impressive 9.8 or over and the winning dealership of the small category received a clean sweep of 10 out of 10.
This year's winners and commended dealerships are made up of dealerships that are being recognised for the first time as well as some past winners. Ability Matters has won the large category award for the second year running while Millercare, Scootermart Mobility Centre and RKS have all received awards in previous years too.
Consecutive wins
Lyndon Reeks of Ability Matters says he's delighted to win two years in a row. "Winning two years in a row means we have maintained what we're doing with our customers."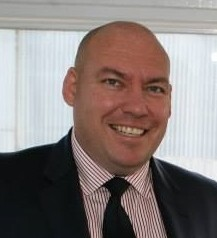 Lyndon Reeks of Ability Matters
Ability Matters also opened two new shops last December so that's added some more pressure to perform well this year, but Lyndon says he is incredibly pleased with how his team banded together to continue to bring exceptional service to customers; "It was challenging to bring two new shops into the fold and bring them up to our standards but was well worth it. This award is thanks to a strong team effort. We all work together to keep our customers satisfied and happy."
Hard-working teams
Andy Burns of True Mobility is also thrilled to get an award and he also emphasizes it's all about having a great team. "We hoped we'd win this year. You're looking at your customer satisfaction figures all the time so we knew we were doing well but you never know at the end if another dealership has pipped you, so we were a little surprised when we won. Even if you know you're doing well, it's a really lovely feeling getting an award."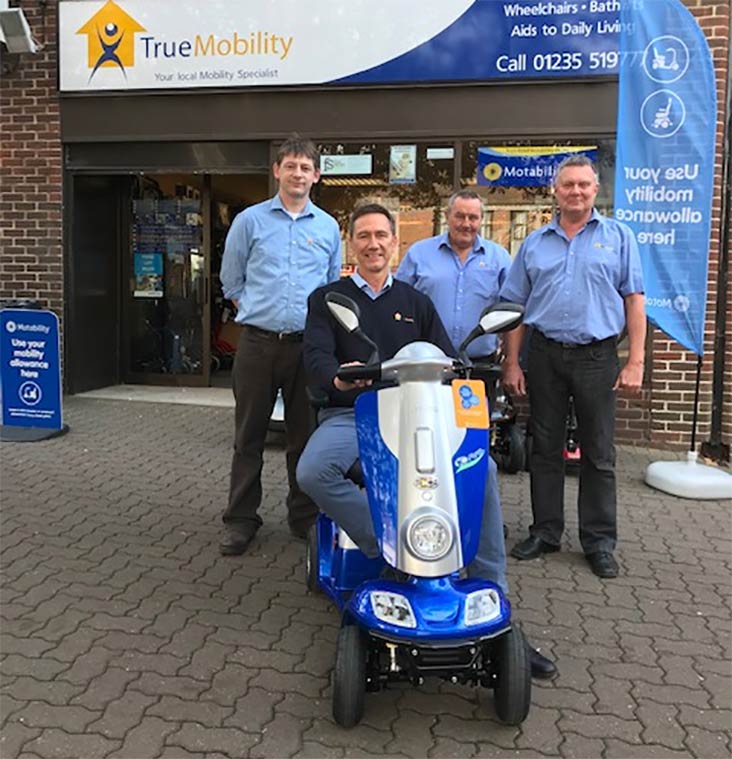 The team at True Mobility
"It's a really lovely feeling getting an award"
Like Lyndon, Andy wants to keep getting consistently high scores of customer satisfaction. "Our view is the customers pay for our service so we must make sure they get the best we can give. We all get a buzz from helping people and though there's an element of competitiveness with other dealers, we do get on really well with them."
Going the extra mile
An example of Andy's team going the extra mile is how they recently helped a customer who was stuck in the middle of Oxford in a powered wheelchair. "Scooter users can often walk if needed, but a powered wheelchair user usually can't. So after a customer's wheel came off, he rang us and our engineer went out to him straight away. He repaired the chair then shadowed him along the road to make sure he was okay once he was moving again.
"I wasn't even in the office that day so it was nothing to do with me but shows what great staff we have. I'm really proud of them. They didn't ask what to do, they took it on and had our customer back on the road within an hour. That's what makes me most proud."
Commenting on the awards, Ian Goswell, Commercial Services Director, Motability Operations Ltd, said the Motability Scheme sets a very high standard, so for dealers the awards are a way of demonstrating that and rewarding exceptional practice. "We're immensely proud of being associated with these award-winning dealerships," he added.
Find out more
Motability Scheme customers can exchange all or part of their mobility allowance for leasing a scooter, powered wheelchair, car or Wheelchair Accessible Vehicle. Find out more about joining, find your closest powered wheelchair and scooter dealer and browse our wide range of scooters and powered wheelchairs.
---
Related articles
Mobility scooter range: How far can yours travel?
Motability Assist: the breakdown service that gives peace of mind
Top wheelchair and scooter friendly towns across the UK