Writer and blogger Emma Muldoon shares her tips on attending a University.
Attending university can be a challenging time for students and parents alike. In the first article of this series, we are sharing why having a plan and taking advantage of available resources can make it less stressful.
Understand what support is available
It's important to familiarise yourself with what support is available to you by contacting the disability advisor as soon as possible. Discuss your disability to determine what support or reasonable adjustments you will require to complete coursework at university and at home. I have difficulty and struggle to write for long periods of time so it was recommended that a note-taker would help with my lecture notes. A laptop, as well as additional time during exams, was also provided to support me. Assistive software to help with essay writing or to aid with learning may be another useful resource.
Make time for yourself
It's easy to get caught up in all the things we need to do in a day that we forget to take a break. It's especially important when you have a disability to allow your body time to rest. Nothing is more important than your health so make sure you factor time in between lectures, studying and social life for self-care. It could a while for me to realise how important it was to take a break from coursework and studying. It was stressful and tiring, but as soon as I took time out for myself I began to feel so much better and enjoy my university experience.
Get social and meet new friends
While it's important to make time for self-care, it is also equally important to make friends and go to social events. A big part of student life is the social aspect: going to the student union, pubs, joining clubs and events. University workload can be demanding so having a group of friends to socialise and do fun things with can make university and student life easier and more enjoyable. Join or create a club that meets your interests or maybe even a disabled students' society to meet other disabled students to share experiences and make improvements to accessibility. I wish I had made more time to join clubs and meet people with similar interests as it would have created a fun and interesting dynamic. As part of your research into choosing a university it may be best to check wheelchair accessibility of the student union, pubs and venues you are likely to visit as part of your social life while a student.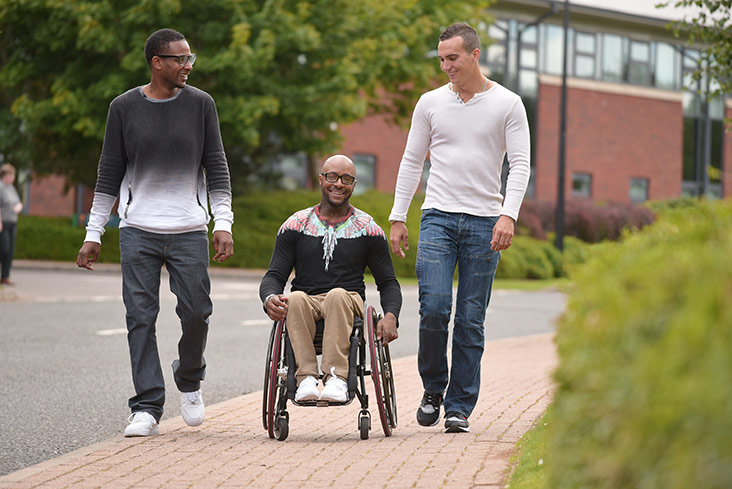 Organise and manage personal care
Depending on your circumstances, you may already have a personal care package in place with a local care agency or your own personal assistant (PA). If you don't have any help with your personal care and find yourself needing extra help, don't be afraid to ask. Contact the university's disability advisor and your local social services for advice. An assessment of your needs will be carried out to determine the care package you will require. Hire the people you are most comfortable with as you want things to work as smoothly as possible. Stay organised, create a rota and manage your responsibilities as an employer. Be prepared and have a backup plan if your PA is unwell and cannot attend. The last thing you want is to be stuck without any help. It was essential that I had a portable hoist on campus for safe wheelchair transfers as I required help with personal care.
Ensure support is available for work placements
As part of your university course, you may be required or have the option to complete a work placement. Varying from months to even a year, the work placement is a way of experiencing working life. With the support of the university's careers advisor along with the disability advisor, arrangements should be made with the adjustments you require to undertake the work placement. Disabled Students' Allowances (DSAs) can be used for support and equipment in relation to study, but cannot be used for work placement adaptations. Access to work is likely to cover costs such as equipment, transport, adaptations and support workers while on the work placement.
Useful resources
---
Graduation
Completing your degree and achieving the grades you wanted is likely to be one of the most important days of your life. You will want to enjoy the day like everyone else and share it with your lecturers, classmates and family members. It is incredibly important that the graduation hall and party area are wheelchair accessible and you are able to sit with your friends. Again it will be best to speak to the disability advisor as soon as possible so that they can provide support and take forward any concerns you may have regarding accessibility in order to make arrangements for your special day. If you are a disabled parent, or grandparent, attending your child's graduation you may want to inquire about the accessibility beforehand. This will allow you to be able to make plans and inform the organisers that you require accessible seats in the graduation hall, access to suitable toilets and accessible parking etc.
Want to know more about the Motability Scheme
The Motability Scheme enables disabled people to get mobile by exchanging their higher rate mobility allowance to lease a new car, Wheelchair Accessible Vehicle, scooter or powered wheelchair. Find out if you can join the Scheme with our eligibility checker.
If you'd like to know more about the Scheme, request a free information pack and we'll send you all the information that you need.
Related articles
10 things to help you decide if the Motability Scheme is right for you
Film showcases latest scooters and powered wheelchairs to join the Scheme