Why is rambling such a popular new trend for Britons, including those of us with mobility issues? Well, as well as the benefits of being outdoors and enjoying fabulous scenery, wildlife and fresh air, there's the added bonus of meeting new people and creating a healthy habit. And despite popular belief, a disability need not prevent you from getting out and enjoying the glorious British countryside.
It can take a bit of planning beforehand, but outdoor access for people with limited mobility and wheelchair users is improving all the time. For example, British Waterways have improved access to canal towpaths and the Forestry Commission has introduced walking paths suitable for disabled people — with some even starting from a car park. Despite this, a lot of walking paths tend to have inclines or simply aren't smooth enough for wheelchair or scooter users. Luckily, there are groups and organisations dedicated to helping people with mobility issues access and enjoy the countryside.
One such group which gets people together for walks is the Disabled Ramblers. Val Rawlings (pictured above) developed osteoarthritis and had to have two hip replacements. She used to be a rambler and after her husband died in 2008 was desperate to go rambling again.
"I looked on the internet, found Disabled Ramblers and went to a local group. On my first ramble I borrowed one of their scooters. It was cold and raining but that didn't matter to me as I had such a lovely time. I made new friends and even met my partner, Bob. We've been together three years now.
"You often hear of people who are housebound because they won't use a scooter or don't feel ready yet, even if they know one day they'll probably need one. But it's well worth doing and much better than being isolated at home. Also the rambling scooters aren't like little pavement ones. They're quite tough and you can go more or less anywhere. You can go for ten miles on one and on many rambles you can even bring your dog along as we tend to go at walking pace."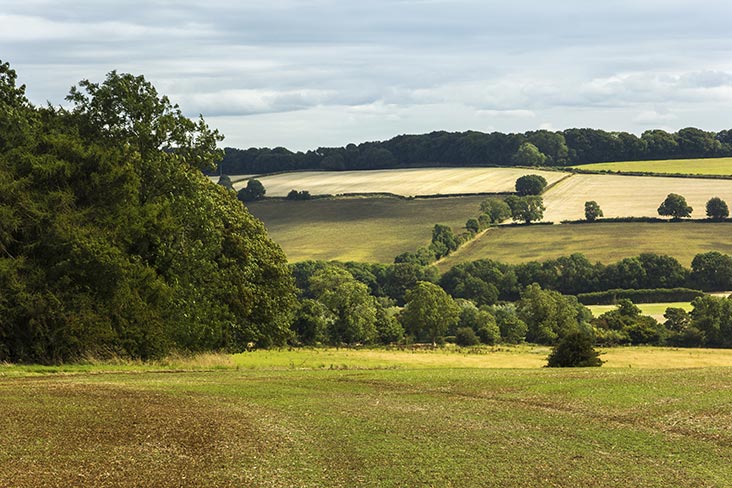 Some outdoor lovers with disabilities might worry that they aren't able to enjoy rambling in the same way as others. One insecurity is the possibility of getting lost or stuck. You shouldn't let that put you off, because there are some brilliant apps to help ramblers stay safe, such as ViewRanger, which alerts others of your location. It has an ordinance survey map and a "Buddy Beacon" so someone at home can pinpoint your exact location. If you go alone, it's important to take safety precautions such as planning a route beforehand, taking a charged-up mobile phone and giving an estimated arrival home time. That way, friends and family will know if you need assistance and where to find you.
Some prefer rambling as a group activity, however. John Cuthbertson, Trustee of the Disabled Ramblers and part of the Joint Committee on Mobility for Disabled People says while the rambling itself may be the initial attraction it's often the social side which keeps people coming back and gives them the most enjoyment.
"We find ramblers like to go side by side on a path on their scooters so they can talk to one another. Sometimes ramblers might not take in much of the view — it's being with other people in a similar situation they enjoy most. By coming out with other disabled ramblers in an organised group, people feel safe and know there is backup in case of breakdown and also that the routes have all been checked first for suitability."
"If you go out in a group, you learn what you need from others. It's a great way to have a social life as well as enjoy magnificent views, freedom and liberation," adds Val Rawlings. "I would say to anyone who wants to go but feels embarrassed about needing to use a mobility scooter, do try to overcome it and take the plunge! Truly it can make such a difference to your life. Getting out into the fresh air is so uplifting and the pleasure from it stays with you long afterwards."
If you don't have a scooter suitable for rambling, you can hire one ahead of time from the Disabled Ramblers.
Thinking about leasing a scooter through the Motability Scheme? Read about the types of scooter available.
If you're unsure where to start, The National Parks Access for All Scheme has a list of parks with accessible walks and mobility scooter hire. It also covers practical issues such as where accessible mobile toilets and refreshments are available, so you don't have to worry about those little things. For some personal recommendations on where to go, disabled walkers log routes they find enjoyable on Walks With Wheelchairs, so you can be sure your ramble will have been tried and tested. Finally, the Rough Guide to Accessible Britain has a wide variety of days out that are suitable for people with disabilities and their families and/or carers.
Whether you are an independent walker preferring to go at it alone, or a newcomer looking to make new friends while enjoying the scenery, rambling is open and accessible to you.
---
You might also be interested in:
See more ideas for accessible days out.