This year's UK Disability History Month runs from 16th November to 16th December 2023. The theme for this year focuses on disability, children and youth. It covers the experience of disabled children and young people in the past, now and what is needed for the future. Shona Louise is a disabled freelance writer and photographer and has shared a letter of what she would write to her younger, newly disabled self. 
What is Disability History Month?
UK Disability History Month is an annual event that gives us a chance to reflect on the history of disabled people. It's often used as an opportunity to think about how we can improve the lives of disabled people further. Each year has a different theme to allow various topics to have their moment in the light. Thinking about the history of disabled people is important so that we can avoid making the same mistakes again and highlight areas that still need improvement.
A Letter To My Younger Self
Right now you're feeling scared, confused and anxious about the future. Everything is new and different. You're just beginning to process needing to use a wheelchair all the time, whilst dealing with being in constant pain. There's been a lot of change.
Everyone around you keeps saying "things will get better soon" when quite often they mean "maybe you won't need the wheelchair forever". However, I'm here to tell you that whilst you will always need to use a wheelchair, life is still going to get so much better for you. 
I remember feeling so lonely at seventeen years old, that I felt like I was the only teenager in the world dealing with disability. However, there's a whole community of people ready to support you online. These new friends will be there for you during the highs and lows. They'll help teach you how to advocate for your needs and help you find your voice. 
Embrace using your wheelchair
Building confidence to fight for yourself will come with time, but always remember that you have a voice and it's important. People will try and talk over you, or decide things for you, but this is your life and you do get a say in it. It might feel like everything is out of your control right now, but find the power in the things you can change. Embrace using your wheelchair. Embrace the joy of speeding down a smooth path and getting to choose the colour of your wheels. There is so much joy to be found.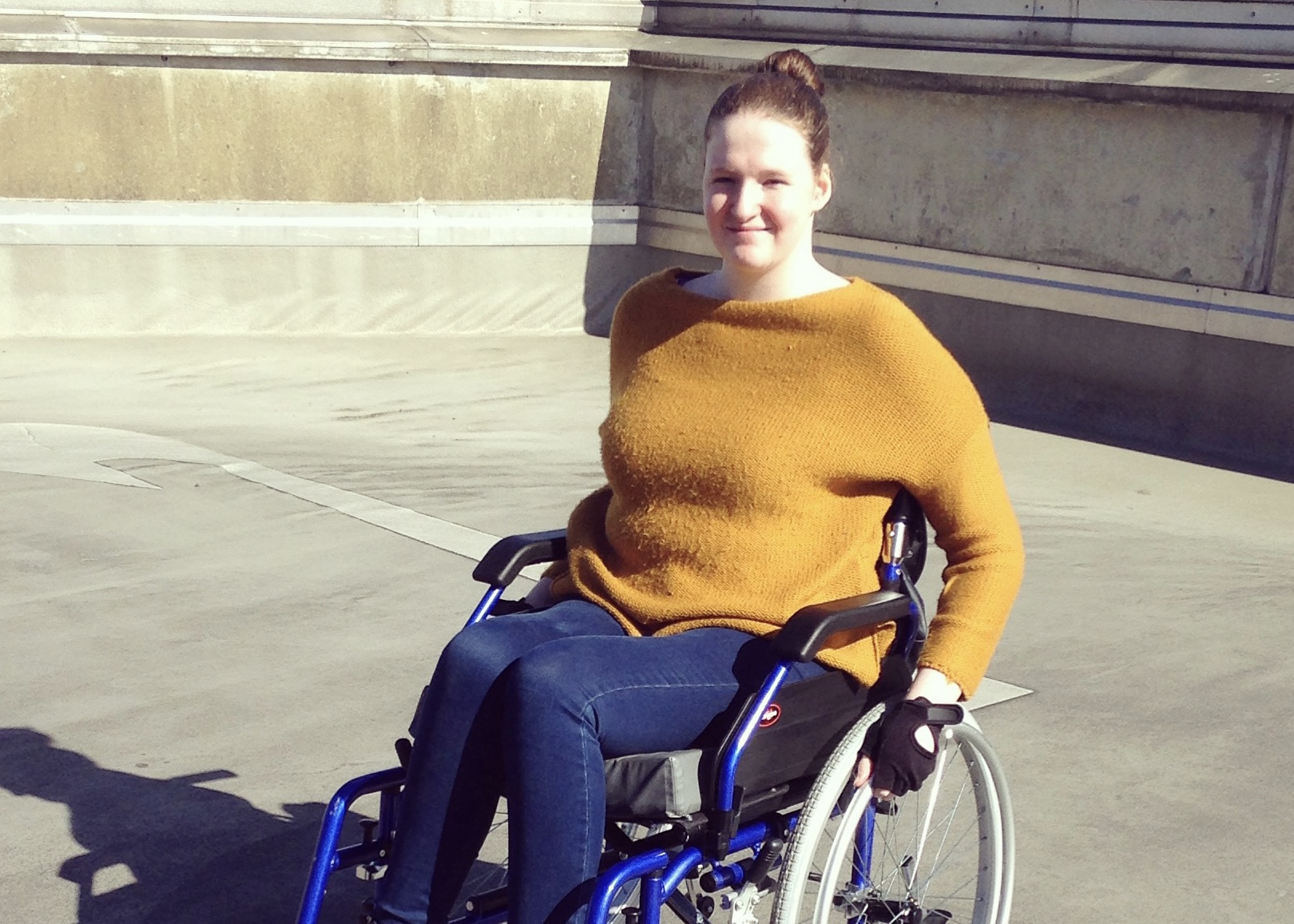 Seventeen is a tough age, all of your friends are getting excited about learning to drive and you're wondering, will I ever be able to? It might take a few extra years, but the day you find out about adapted vehicles and the Motability Scheme will be one of the happiest days of your life. Hand controls and Wheelchair Accessible Vehicles will change everything for you and open so many doors. Most importantly, it will give you the true independence and control over your life that you're craving right now.
Growing up, the representation of disability in the media wasn't great, so it's no surprise that right now you're struggling to imagine a happy, adult disabled life. However, disability will bring so many good things into your life.
You'll have amazing friends that you wouldn't have met without being disabled. You'll also be working the most incredible job that you never would have dreamed of before being disabled. Disability will make you think about your life and goals in a new and creative way. It will allow you to step out of the narrow plan you'd made for yourself. 
Don't let other people's attitudes hold you back
Don't get me wrong, there will be hard days. However, there is so much joy ahead of you. There are ways to adapt almost anything now, so don't let other people's attitudes hold you back in life. If you want to do something, then go for it. You'll never believe me, but I even managed to compete in an adapted triathlon, something I never dreamed would be possible. There are the most incredible days ahead of you.
Remember; use your voice, recognise your power and never stop fighting for your hopes and dreams. Hang in there, because one day you'll turn into a happy, confident and fulfilled disabled adult.
Interested in joining the Scheme?
About the Scheme
The Motability Scheme offers an all-inclusive package. If you are in receipt of a qualifying mobility allowance you can use it to lease a car, scooter, powered wheelchair or Wheelchair Accessible Vehicle. The Scheme provides flexible and hassle-free access to a brand-new, reliable vehicle of your choice. As well as a great choice of cars, we also provide a wide range of Wheelchair Accessible Vehicles, scooters and powered wheelchairs.
Eligibility
To join the Scheme, you must be in receipt of one of the following mobility allowances:
Enhanced Rate of the Mobility Component of Personal Independence Payment (PIP)
Higher Rate Mobility Component of Disability Living Allowance (DLA)
Higher Rate Mobility Component of Child Disability Payment – Scotland
War Pensioners' Mobility Supplement (WPMS)
Armed Forces Independence Payment (AFIP)
You can easily check whether you're eligible to join the Motability Scheme by using our eligibility checker tool.