Nina Smetek has worked in the Press Office for the Imperial War Museum, Churchill War Rooms and HMS Belfast. As part of our Days Out blogs, she tells us all about the famous Churchill War Rooms and how she like to spend her free time in London.
The Churchill War Rooms are famously known as the underground headquarters from which Winston Churchill directed the war effort. As you can imagine, when the War Rooms were in operation there wasn't a lot of thought given to accessibility, but since they first opened to the public in 1984, there have been a lot of changes. The Churchill War Rooms are now fully accessible to mobility impaired users. There is a lift from the ground level for visitors, sound guides are available to all visitors in eight different languages and both guide dogs and hearing dogs for the deaf are welcome.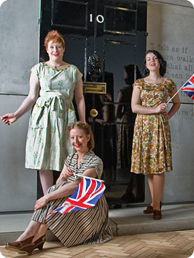 When I'm not at work a great day out for me normally starts with brunch, typically at the Breakfast Club in Angel, Gail's in Crouch End or one of the Ottolenghi cafes, though I'm always on the lookout for new places.
I like to make the most of my free time and so pack quite a lot in. Museums and galleries are usually on the list, as well as a bit of shopping in East London. If I'm feeling energetic, I might take a dip in the Lido at London Fields. Like most Londoners, when the sun comes out, I flock to the parks. My favourite is Clissold Park in Stoke Newington, which has just recently been re-landscaped and looks beautiful.
For more information, visit www.iwm.org.uk
For more inspiration on days out around the UK, see other Days Out blogs
Find out how to download the brand-new edition of the Rough Guide to Accessible Britain
About the Motability Scheme
The Motability Scheme exists to give customers, their families and carers greater freedom to get out and do the day-to-day things they need and want to do, by enabling them to exchange all or part of their mobility allowance for leasing a car, scooter or powered wheelchair.
If you'd like us to send you more information about the Motability Scheme, request an information pack below or find out how to join.
Related articles
Free and accessible days out in your own backyard
Accessible adventures in the Lake District