Now that December's upon us, there are lots of fun activities to help you get into the festive spirit. Rough Guides have chosen five fun & accessible days out to kick off your seasonal celebrations – check them out here.
---
The festive season is upon us again! Christmas in 2021 looks a bit more 'normal' than it was last year, with lots of opportunities to enjoy some good old-fashioned festive cheer. There's plenty to put in your diary this season with an exciting range of accessible Christmas events and activities dotted around the UK. From singing along to carols in London's glorious Royal Albert Hall to the delightfully cheery Winter Wonderland in Cardiff, there is so much to get excited about this year.
England
Christmas at the Royal Albert Hall, London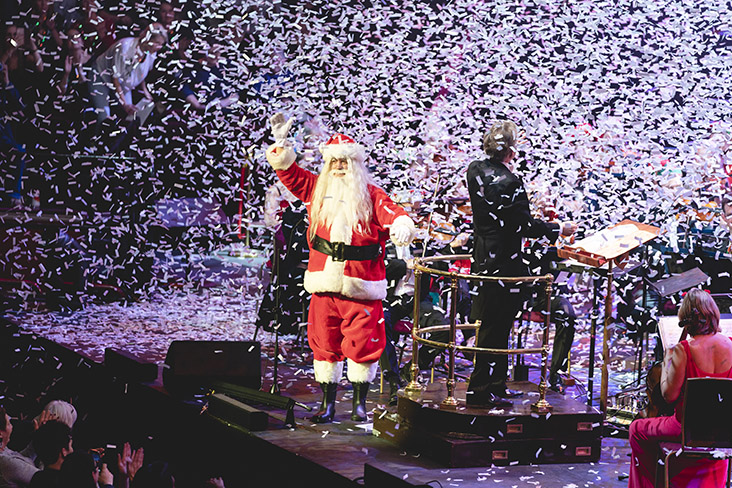 A truly festive scene at the Royal Albert Hall
The Royal Albert Hall, one of London's most iconic and beloved concert venues, goes all out at Christmas – making it the perfect place to come for all those festive tingles. With the auditorium dressed in lights, and two gigantic Christmas trees gracing the stage, Christmas at the Royal Albert Hall is being celebrated in 2021 in style.
There are plenty of musical events to attend, from Christmas with the Royal Choral Society to the 'Carols at the Hall' event (featuring their 9,999-pipe organ). Little ones will love 'The Muppet Christmas Carol' In Concert, and there's even some festive storytelling with Father Christmas (and head elf Crumpet) to get children really excited for the big day.
Even though various Covid and social distancing rules appear different to last year, the Royal Albert Hall is continuing to keep visitors as safe as possible during the pandemic. They are operating a rigorous cleaning regime, including seats being cleaned between performances and the installation of contactless hand-sanitiser stations around the venue. In addition, teams have all been trained in Covid safety, including understanding how best to support customers at this time.
Provisions remain in place for concert-goers with disabilities: accessible toilets and lifts are operational, fully-trained medical staff are on hand and there's Blue Badge parking on-site. All of the venue's restaurants and bars are accessible for wheelchair users, and guide and hearing dogs are welcome. There are also audio descriptions of selected shows at the Hall, too.
Frankfurt Christmas Market, Birmingham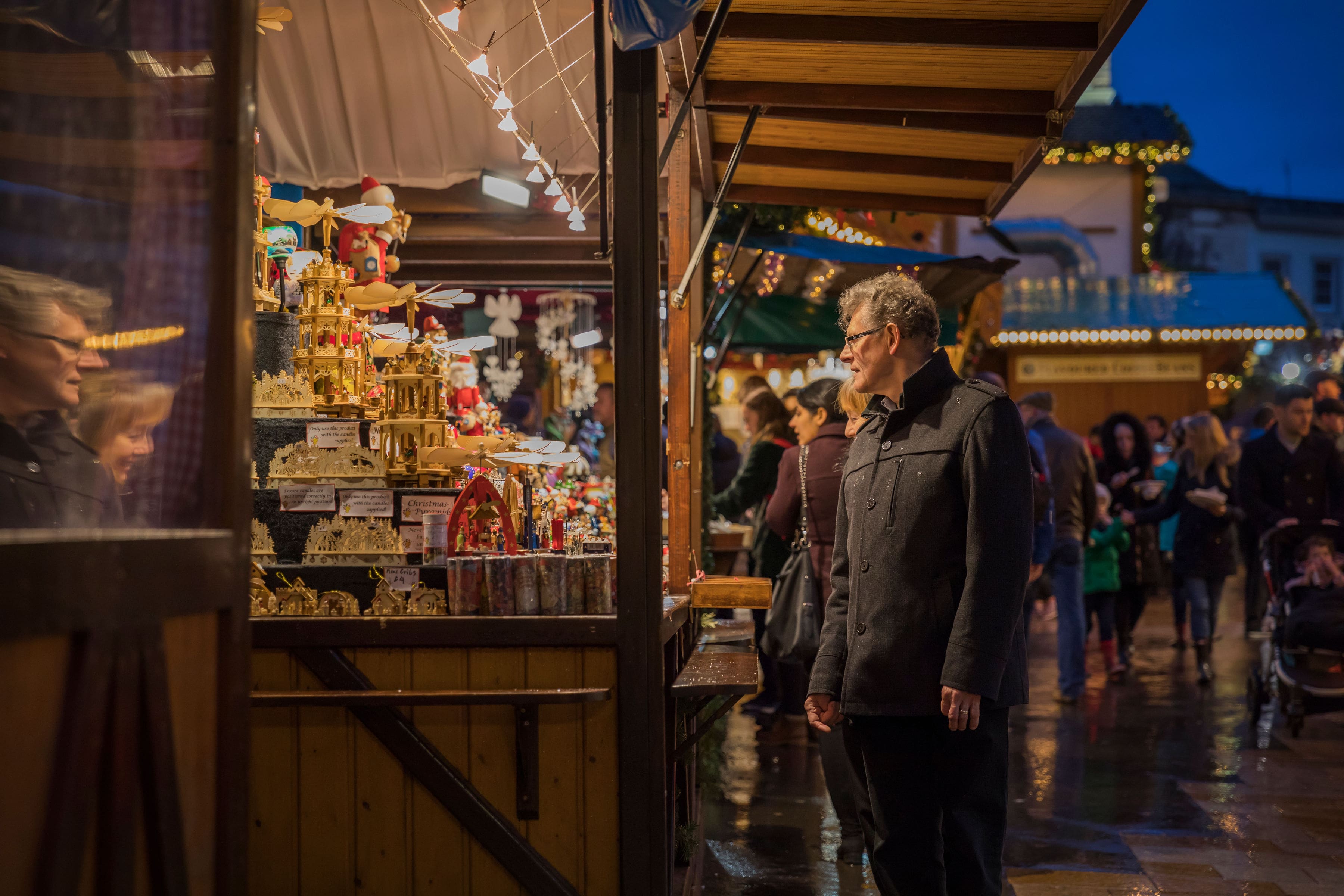 A stall at the Christmas Market
You don't need to travel to Deutschland to make the most of a German market. Birmingham has been home to its famous Frankfurt Christmas Market since 2001 and attracts roughly five million visitors every year. So iconic, it's the largest German market outside of the country. After not running last year due to Covid restrictions, the market is back this year for seven weeks (4th November to 23rd December) and will feature 56 stalls.
Sip on plenty of German beer, feel festive with a glass of mulled wine, and tuck into traditional foodie favourites such as schnitzels and pretzels, while you soak up all the pretty lights and enjoy the live music.
What's more, the Christmas Craft Market is a stone's throw away from the Frankfurt Christmas market, so you can also stock up on some unique and creative gifts while visiting. With plenty of stalls, there's something for everyone's stocking.
Various Covid measures will be put in place for the event this year: there are fewer stalls than usual to allow for more space and there will be hand sanitiser stations dotted around the area. There will be more cleaning on-site, including the toilets, and visitors will be encouraged to wear masks while they queue too.
The market can be found on Victoria Square and New Street and the entire place is accessible for wheelchair users. There is a sloping curved walkway that takes you to stalls on the raised level which sits in front of the Council House, so you can access the whole event without taking any steps. There are accessible toilets on site too and there is plenty of parking as well.
Santa Steam Trains, Great Central Railway, Leicester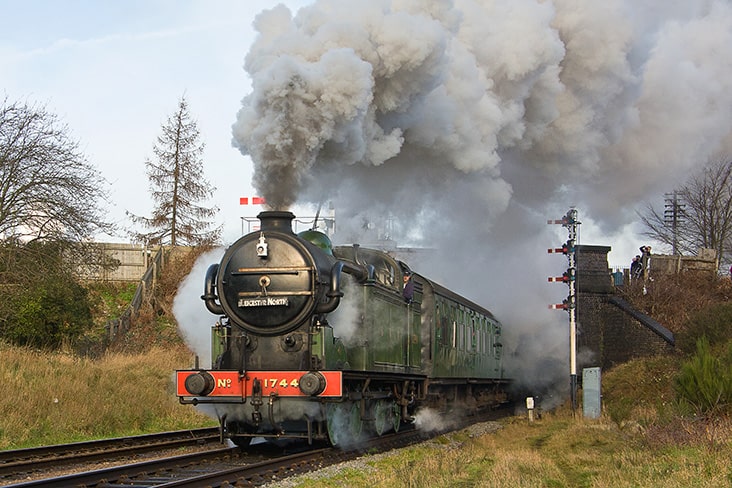 A magical festive journey
From 1st December until Christmas Eve, Father Christmas will be greeting visitors on Santa Express trains run by Great Central Railway. Santa has changed his sleigh for now and will be coming round to visit passengers on the festive Santa Express trains. Sit tight and wait for Santa to surprise the little ones with a present at their seats. This treat for the whole family is based in a restored steam train, and will provide all the festive magic you need.
Santa trains will be departing from Quorn & Woodhouse Station this year and will take you on a return trip to Leicester North Pole Station. The whole trip will last around an hour as you sit back, relax and make your way through the pretty outdoors of the Charnwood countryside.
All trains have been fully risk-assessed to ensure they comply with government guidelines; if the situation worsens between now and your visit and you're no longer able to attend, you'll be offered a full refund.
Anyone with additional accessibility needs should call ahead (01509 632323) or email marketing@gcraillway.co.uk – the team will be happy to make provisions. Parking is at the Quorn & Woodhouse station yard; you will be asked to arrive half an hour before departure.
Scotland
Edinburgh's Hogmanay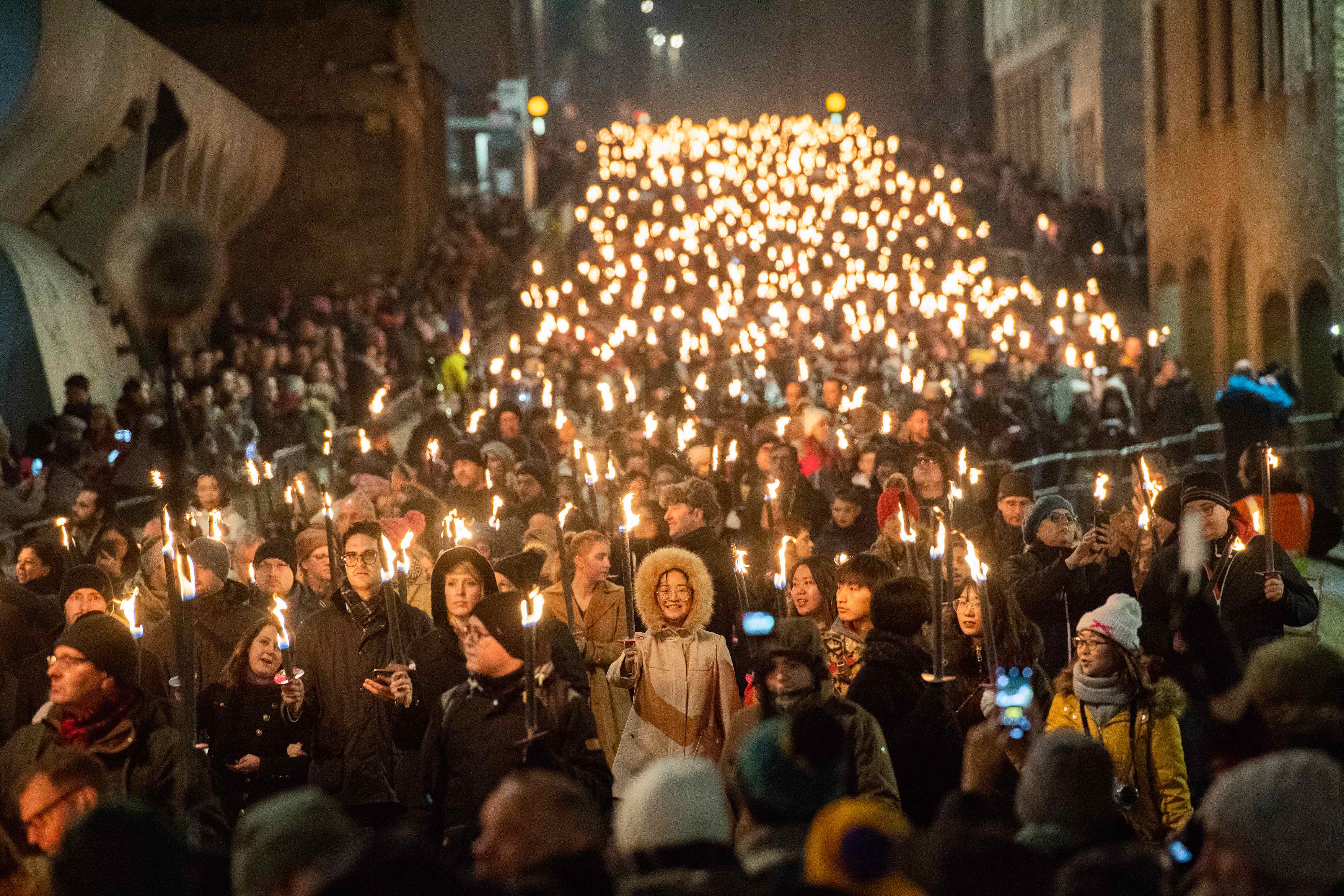 Torchlight Procession on the Royal Mile
Edinburgh's Hogmanay is one of the most exciting events in the capital. There are various events dotted throughout the festive months to really get you in the mood for Christmas. The Torchlight Procession is a must-see.
When you arrive at the event, you will be requested to light a slow-burning candle – and these candles all together will form their very own special illuminated image. It's certainly an event to remember as you head through the Old Town of the city to the backdrop of fire and light installations.
The Torchlight Procession is accessible, though do make note of the kerb stones and cobbled routes in the Old Town and Royal Mile. Accessible toilet facilities can be found on High Street, at the beginning of the Procession. The Procession finishes in Holyrood Park where there are accessible toilets and pavements with hardstanding ground.
And don't forget that you can celebrate the new year in style here at the Party at the Bells. Celebrate with the rest of the city as you welcome in 2022. Here you will be wowed by street theatre performances, and at the stroke of midnight you will be treated to a spectacular fireworks display at Edinburgh Castle. There are three entrances to the event: Princes Street West End, North Bank Street and Princes Street East End which are all fully accessible. Inside, the area is paved. There is a harsh incline to the Mound, however this is one of the quietest spots in the event, so it is a recommended place to see the fireworks display. Accessible toilets are available throughout the event.
Note that Edinburgh's Hogmanay requires you to show your Covid vaccine certificate when you enter from Bristo Square.
Wales
Winter Wonderland, Cardiff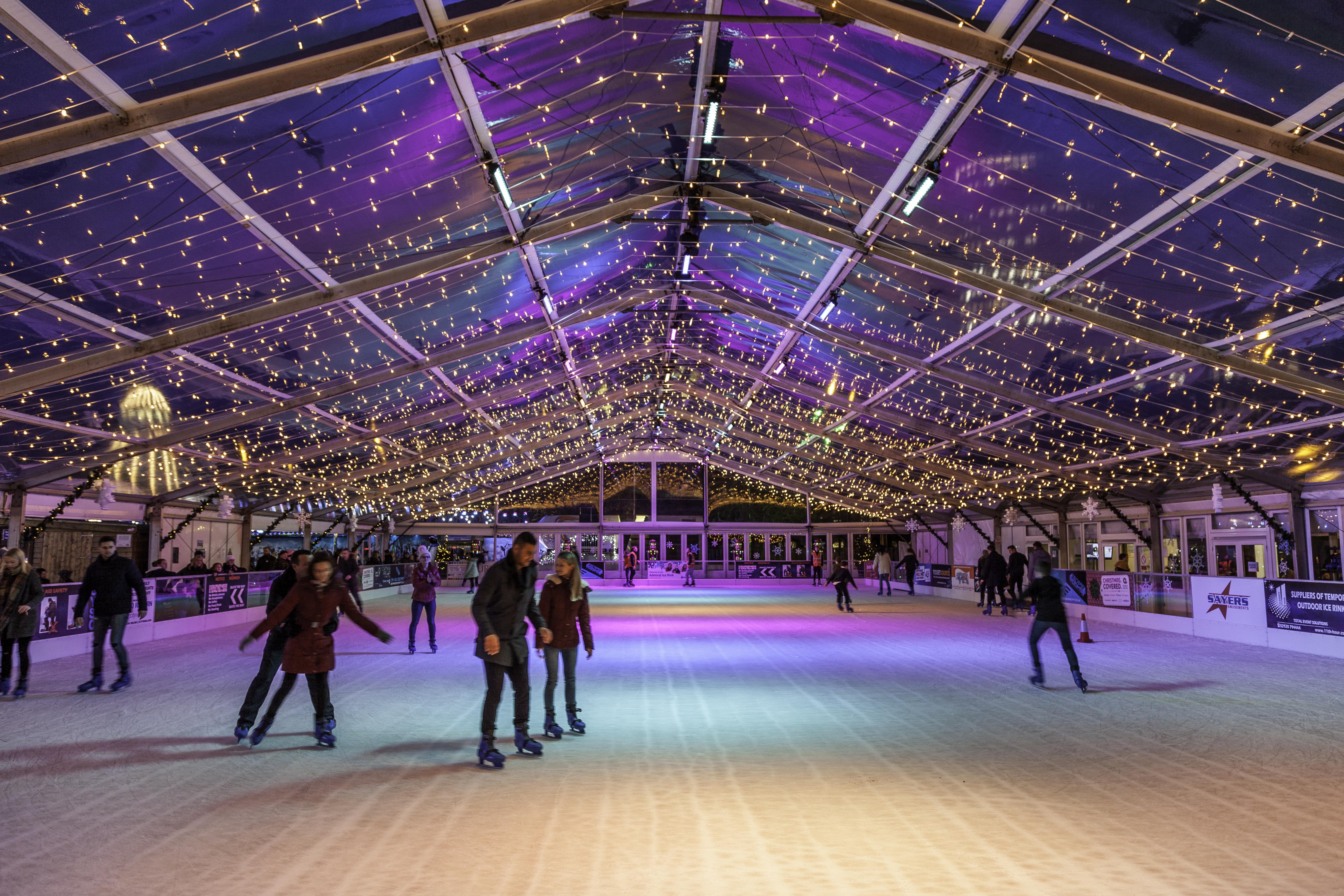 The undercover ice rink at Winter Wonderland
Visitors are in for a real treat this year. The Winter Wonderland event this year is now bigger than before and will be split across two spots in the city centre. You will find Cardiff's Winter Wonderland at the City Hall Lawn and Cardiff Castle.
At City Hall Lawn you can find a whole host of festive activities. There is a ski lodge bar, which now features a new outdoor roof terrace and a selection of funfair attractions to enjoy. Another new addition is the Ice Bar which, as the name suggests, is home to sub-zero temperatures. You need a pre-booked timed slot to access this unique bar, where everything is made from ice.
Head over to Cardiff Castle for even more festive fun. The undercover Ice Rink is available for all ages and beginners are welcome. The Ice Rink also offers accessible sessions every Wednesday afternoon (2.30pm–3.30pm). Zip around the ice with the enchanting Cardiff Castle grounds as your backdrop. There will also be a 150m Ice Walk available which cuts through the grounds of the castle, too.
After getting into the Christmas spirit, you can enjoy a spot of food and drink, from Yorkshire pudding wraps to toasted marshmallows for pudding. This really is a whole afternoon and evening of festive fun.
Northern Ireland
Christmas at Mount Stewart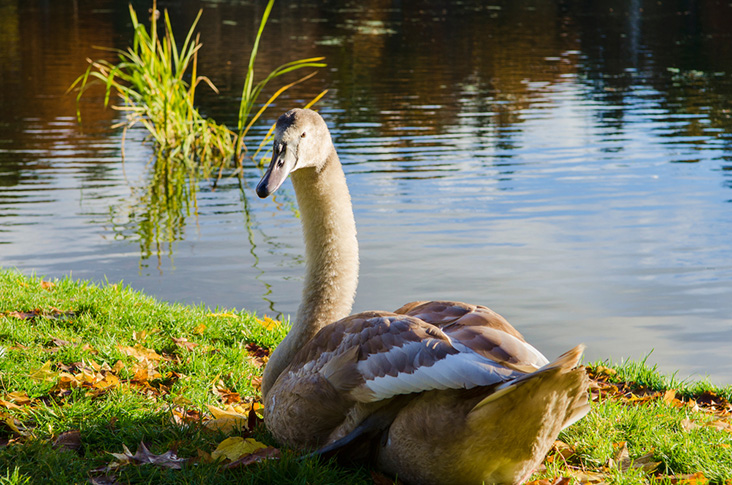 Mount Stewart resident
In County Down, Northern Ireland, get into the Christmas spirit with a visit to Mount Stewart. This year you can join Percy the Park Keeper and follow the festive winter trail through the grounds. Pick up one of the maps and spot Percy and his animal friends all over the estate, while you take in the wintery atmosphere. The trail is home to hard-standing pathways so is widely accessible. You don't need to book onto the trail but if you require additional access requirements, contact mountstewart@nationaltrust.org.uk or call 02842 788 387 – they will be happy to help.
All visitors must wear face masks in the majority of the enclosed areas, unless they are exempt, and there is a one-way system in operation. Visitors will also be asked to check-in at the Visitor Reception.
Alternatively, you can follow a different route from reception. Enjoy the two-mile Winter Walk, which has mostly level access – though there is a short section of gravel. Don't miss the famous White Stag statue while you stroll through the wintery grounds. Afterwards, warm your mitts and feast on mince pies, a steaming hot chocolate and other festive treats in the on-site tearooms, and pick up some stocking fillers in the Mount Stewart gift shop.
There's accessible parking and accessible toilets on-site, as well as mobility scooters available for hire. Though the grounds comprise mostly level terrain, if the White Stag trail isn't for you, the one-kilometre Lake Walk is fully accessible for wheelchair users. On the route, you will pass picturesque stone bridges and of course, the twinkling seven-acre lake.
Image Credits 
Rough Guides would like to thank the following individuals, companies and picture libraries for their kind permission to reproduce their photographs (in order of appearance on the web page):
Header image: © Royal Albert Hall: Paradise Andy/RAH
Royal Albert Hall: Paradise Andy/RAH
Frankfurt Christmas Market: Verity E. Milligan/West Midlands Growth Company
Santa Steam Trains: Kev Gregory/Shutterstock
Hogmanay Torch Parade: Ian Georgeson Photography
Winter Wonderland ice rink: Crown copyright/Visit Wales
Mount Stewart: Gerry McNally/Shutterstock