From socially distanced Christmas shows to accessible wintry walks and drive-in pantomimes, there's plenty of festive cheer to be had this season despite Coronavirus. Though this year's line-up may look a bit different to usual, the Christmas elves have put their creativity to use to deliver some really special accessible and Covid-friendly festive days out.
Always check government guidelines before a visit, as the situation can change fast and there are regional differences in regulations. Be sure to heed all local guidelines: in all tiers, your group should be no more than six. Respect social-distancing measures and always wear a face mask indoors unless you have a medical condition that prohibits you from doing so.
England
Christmas at the Royal Albert Hall, London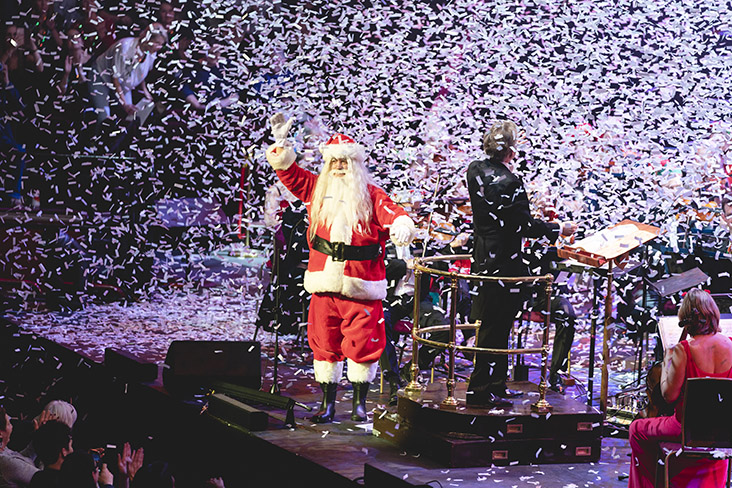 The Royal Albert Hall, one of London's most iconic and beloved concert venues, goes all out at Christmas – making it the perfect place to come for all those festive tingles. With the auditorium dressed in lights, and two gigantic Christmas trees gracing the stage, Christmas at the Royal Albert Hall is being celebrated in 2020 with a series of excellent socially distanced shows. This year's musical medley includes Christmas with the Royal Choral Society, Guy Barker's Big Band Christmas, Handel's Messiah and My Christmas Orchestral Adventure.
The Royal Albert Hall recently reopened after a six-month hiatus due to Coronavirus, with a raft of new hygiene measures in place to keep audiences safe. Reduced capacities and updated signage help with social distancing, while a new rigorous cleaning regime includes seats being cleaned between performances and the installation of hand-sanitiser stations around the venue. In addition, teams have all been trained in Covid safety, including understanding how best to support customers at this time.
Provisions remain in place for concert-goers with disabilities: accessible toilets and lifts are operational, fully trained medical staff are on hand and there's Blue Badge parking on-site. All the venue's restaurants and bars are accessible for wheelchair users, large-print programmes and hearing loops are available (and cleaned thoroughly between uses), and guide and hearing dogs are welcome.
Hogwarts in the Snow, Hertfordshire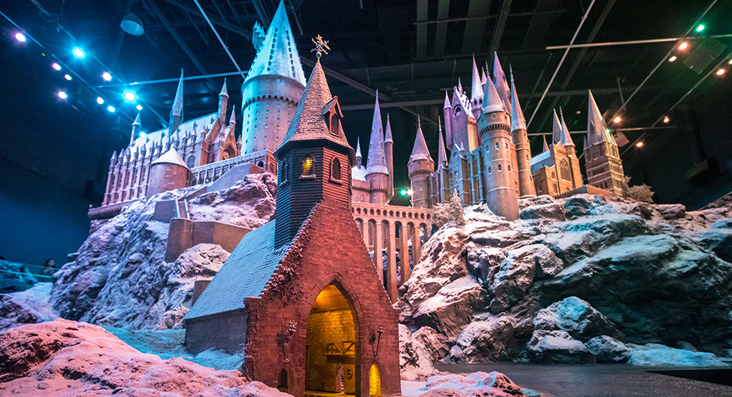 At Warner Bros. Studios, fans young and old flock to explore sets from the hugely successful Harry Potter films. Anyone who loves film, art, design or storytelling can immerse themselves in the costumes, props, models and wizardry of the world of Harry Potter. Better still, bring Christmas to life by booking onto the Hogwarts in the Snow tour, and see the castle transformed with festive decorations, and learn about how the filmmakers created snow that never melts, and flames without fire. It's simply magical.
To keep you safe and socially distanced during Coronavirus there's reduced capacity and one-way systems in place, while group bookings are limited to six, contactless payments are mandatory and face masks are required. The venue has received the "We're Good to Go" industry standard, and if you cannot attend because of lockdown measures or because you're displaying symptoms, Warner Bros. Studios will arrange to reschedule your visit or grant you a full refund.
Carers go free, assistance dogs are welcome and wheelchairs and stools are still available for those with additional needs – all items are cleaned thoroughly in between uses. Wheelchair users should, however, advise the attraction that they are coming. The majority of the tour is accessible, there's Blue Badge bays, accessible toilets, a Sensory Room, induction loops and ear defenders. The best news? Butterbeer is still on tap.
Santa Steam Trains, Great Central Railway, Leicester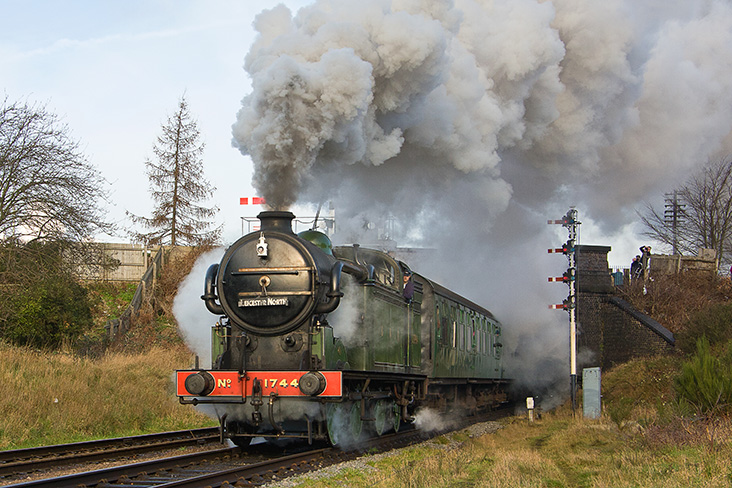 From 28 November until Christmas Eve, Father Christmas will be greeting visitors on Santa Express trains run by Great Central Railway. This treat for the whole family in a restored steam train will provide all the festive magic you need. Unfortunately, this year Santa is not allowed to enter the compartment. However, presents will be in your compartment on boarding the train this year, and Santa will walk along the corridor during the journey, pausing at each compartment to wave and speak to the children.
Santa trains will be departing from Quorn & Woodhouse Station this year, where there's plenty of room to socially distance, as well as a Christmas Village on the yard with some 40 traders to bolster that Christmas feeling. You can book compartments for 4 or 6 people, and tuck into festive treats including mulled wine, real ales and hot food. All trains have been risk assessed to ensure they comply with government guidelines; if the situation becomes untenable between now and your visit, you'll be offered a full refund. Face masks must be worn for boarding and exiting the train, but can be removed in your compartment.
Anyone with additional needs should call ahead or email marketing@gcraillway.co.uk – the team will be happy to make provisions. There is one compartment per service with space for 6 people including a wheelchair. Parking is on the yard at Quorn station; wheelchair users will be asked to arrive half an hour before departure, and once on the platform station staff will assist them to board the train.
Scotland
Christmas at the Botanics, Edinburgh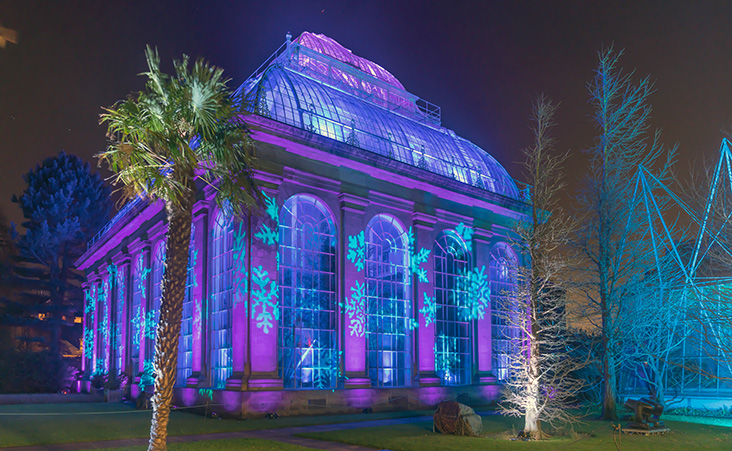 The Botanics in Edinburgh are dressed to impress during the festive season with tree boughs and other greenery lit up with festoon lights and festive decorations. The after-dark trail is a delight to wander, with giant baubles and snowflakes, flickering flames, bright stars – and of course mulled wine and hot chocolate to boot. What's not to love?
In light of Covid-19, the Botanics has reduced ticket numbers to ensure social distancing is maintained, as well as introducing timed slots and a revised route to help the flow of visitors. The team has implemented additional cleaning measures and installed hand-sanitiser stations around the attraction, too. Then there's the added benefit of the attraction being mostly outside, while you can relax in the knowledge that should the event be cancelled, you'll receive a full refund.
The festive trail has been designed to be as accessible as possible, on hard-standing, flat paths, with alternative routing wherever necessary. (If weather conditions make the hard paths difficult for wheelchair users to navigate, tickets may be transferable to a different date.) There's Blue Badge parking, accessible toilets and free carer tickets available; in addition, the attraction has eight motorized scooters and three wheelchairs to borrow, but do book in advance as demand tends to be high. Those with sensory disabilities may want to book into "quieter access" sessions, which run with fewer people and begin earlier in the day so that the transition into darkness (and twinkling lights) is less stark.
Wales
Drive-in pantomimes
The show must go on: while many of the nation's favourite Christmas shows and pantomimes have been cancelled this year, two creative theatres in Wales have come up with a novel solution. Drive-in pantomimes – where you can hear all your favourite "He's Behind You" lines from the safety of your vehicle – are coming to Sully, Vale of Glamorgan (Cinderella), and Cardiff Airport (Horrible Christmas, from the author of Horrible Histories). Cinderella will be accompanied by a dazzling fireworks show and vibrant festive decorations including a huge 60ft rainbow-coloured Christmas tree, while classic movie snacks will be delivered directly to your car (think: burgers, pizzas and hot dogs).
Social distancing is obviously easy to achieve when theatregoers are safely confined to their cars, and both events are fully contactless. What better way to watch a show than in the comfort of your Motability Scheme vehicle.
Northern Ireland
Christmas at Mount Stewart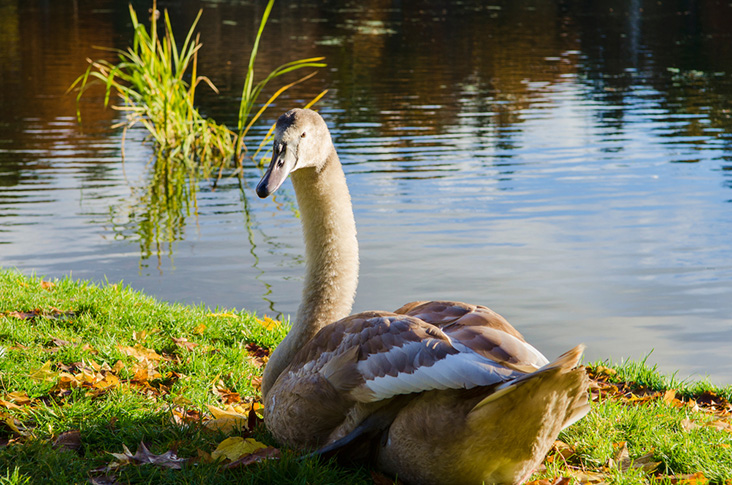 In County Down, Northern Ireland, get into the Christmas spirit with a visit to Mount Stewart. From reception, follow the wintry two-mile White Stag trail, which has mostly level access – though there's a short section of gravel. Don't miss the eponymous White Stag statue, as well as keeping a lookout for Santa's Sleigh. Afterwards, warm your mitts and feast on mince pies and other festive treats in the on-site tearooms, and pick up some stocking fillers in the Mount Stewart gift shop. (Please note, the gift shop and second-hand book shop will reopen on the 11th December.)
There's accessible parking and accessible toilets on-site, as well as mobility scooters available for hire. Though the grounds comprise mostly level terrain, if the White Stag trail isn't for you, the one-mile path around the lake is fully accessible for wheelchair users. All visitors are currently required to pre-book a timed slot due to the Coronavirus pandemic, while face masks are mandatory in enclosed spaces and one- and two-way systems are in place to ensure social distancing. You'll find a ready supply of hand sanitiser, too – expect Christmas will be sparklingly clean this year.
Image Credits
Rough Guides would like to thank the following individuals, companies and picture libraries for their kind permission to reproduce their photographs (in order of appearance on the web page):
Header image: © Moomusician/Shutterstock
Royal Albert Hall: Paradise Andy/RAH
Hogwarts in the Snow: Moomusician/Shutterstock
Santa Steam Trains: Kev Gregory/Shutterstock
The Botanics, Edinburgh: Bruce Burt/Shutterstock
Mount Stewart: Gerry McNally/Shutterstock