In this article, disability and lifestyle blogger Ross writes on his day out at Cornwall's Trevaskis Farm. Read on to see what he thought.
---
Hey everyone! My name's Ross, I'm 26-years-old and I am a disabled blogger from Cornwall.
I have physical disability called Spinal Muscular Atrophy (SMA Type 2) – which causes muscle weakness and requires me to use an electric wheelchair 24/7. Often described as a 'cheeky chappy', I use my blogging platform to share comical lifestyle stories, as well as reviewing accessible activities and events.
Exploring Trevaskis Farm
Cornwall is known for it's beautiful beaches and famous farming culture. So for today's post, I'm excited to introduce you to one of my favourite hidden gems – Trevaskis Farm!
Founded in the early 1980's, the team behind Trevaskis Farm have built an incredible reputation over the years – as West Cornwall's first farm market. Known for their "plentiful plates" and kitchen desserts, Trevaskis have stuck to their roots in prioritising homegrown and home-reared produce.
Perfect for a fun day out with the family, a trip to Trevaskis Farm has always been a highlight in my calendar! Trust me when I say the food alone is worth a trip!
Pick Your Own
Who knew picking your own fruit and veg could be so much fun?!
Dotted around 28 acres of countryside, Trevaskis's "Pick Your Own" section is a real seasonal hit. The beauty of this is the fact you only pay for what you pick, and entrance to the farm is completely free and on level access.
With over 80 different crops grown on the farm, such as raspberries, apples, beans and peas – there really is something for everyone. The pumpkin patches at Halloween are also a great addition for us big kids!
Strawberry picking in particular was one of the most accessible activities I enjoyed – due to the strawberries being on a raised platform, that enabled me to select my own.
Although the all-weather polytunnels provide plenty of shelter, I would definitely recommend saving this activity for the summer months, as we all know what farms can be like in the winter… mud bath anyone?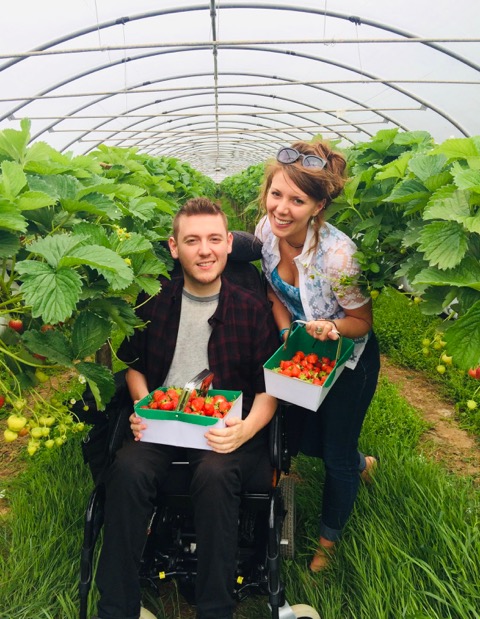 The Market Store / Farmhouse Restaurant
If you're a proper foodie at heart (like me), then Trevaskis Farm's restaurant is the place for you. Renowned for their generous portions and in particular… their dessert counter, you will not be disappointed.
Trevaskis cater to all types of dietary requirements, as well as providing the highest quality produce from their on-site butchers.
Staff have always been incredibly friendly and helpful in assisting customers with special needs. I have been a regular visitor of theirs over the years and have never had any issues in terms of quality or accessibility.
As always, it is important to note that there is a large disabled toilet inside the restaurant.
No more than a few steps/wheels from the restaurant, is their Market Store. Here you can pick up a selection of your essential groceries, as well as exploring their butchery, bakery and deli counter.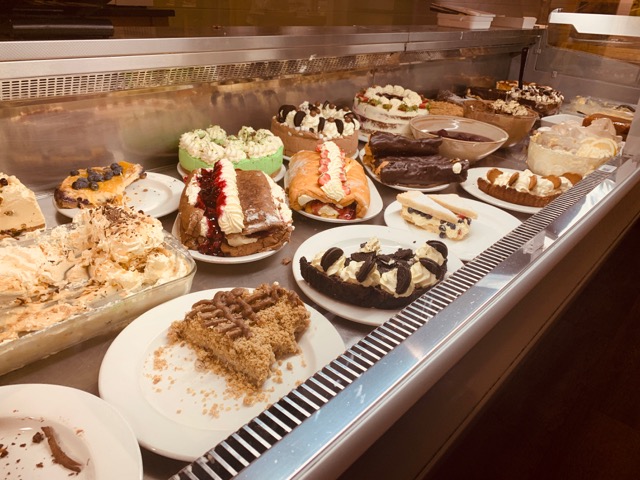 Educational Visits / Farm Tours
As well as feasting your way through the farm, Trevaskis also offer official tours and educational visits to schools.
On these tours, you will get the chance to visit the animal paddocks and learn more about traditional farming methods. Keep your eye out for animals such as donkeys, ponies, pigs and sheep. Don't forget to visit the beehives whilst you're there – it's a real buzz! Waheyy!
Overall, the accessibility at Trevaskis Farm is fantastic. The Market Store and Restaurant are completely step-free and have large open spaces for wheelchair users, with disabled parking bays situated right outside the main entrance.
As mentioned above, the 'Pick Your Own' section is also a great family-fun activity in the summer months – weather depending.
As a full-time wheelchair user myself, I could not recommend this place enough.
To follow more of my adventures, check out my disability and lifestyle blog: www.alifeonwheels.co.uk
Related Articles
New accessible attractions for 2020
Accessible intergenerational days out around the UK
Accessible Days Out: The Thames Clippers river boat, Royal Observatory and Cutty Sark