Father's Day is just around the corner, but there's still time to organise a treat for your dad. Perhaps a gift, a meal in the local pub or –better still – a surprise day out. For inspiration, check out some of these great suggestions from athlete, adventurer and Rough Guides' writer, Karen Darke MBE.
Outdoors and nature
1. Hot-air ballooning over the English countryside
I've inherited my dad's adventurous streak and I know he'd enjoy drifting high and peaceful above a patchwork of fields on a still summer evening. I've contemplated a hot-air balloon ride as a treat for him, but he's not great at standing for long. However, I've recently discovered a couple of companies – Ballooning Access and Adventure Balloons – that offer a solution: their balloons have adapted baskets with ramp access and panoramic windows, so anyone can enjoy the views whether standing or sitting. There are flights in various locations in the south of England but both companies also operate in York.
If your Dad doesn't fancy ballooning, and you live further north, then gliding may be an appealing alternative. Walking on Air in Scotland offer accessible gliding opportunities, and you can even learn to fly with hand controls. They are based at Portmoak Airfield beside Kinross.
2. Exploring Peatlands Park in Northern Ireland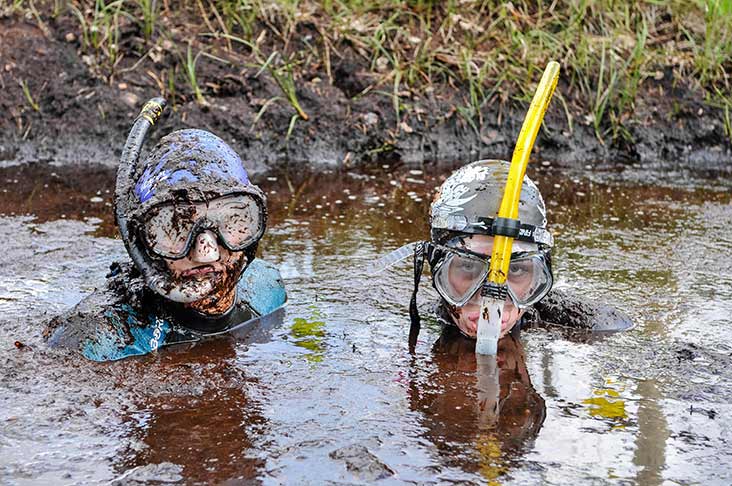 Irish Bog Snorkelling Championships at Peatlands Park
Peatlands Park has been the venue for the Irish Bog Snorkelling Championships, one of Ireland's quirkiest races, in which competitors swim 120 yards through the peat bog wearing a snorkel, mask and flippers. Well, your dad might not fancy that – and it's not held here every year anyway – but wild Peatlands Park, situated near Loch Neagh, Dungannon, would make a great Father's Day out anyway. You can explore 10 miles of trails leading through various habitats, rich with wildlife, including waterfowl, dragonflies, badgers and hares.
The visitor centre has a hearing-aid system and is accessible to wheelchairs, as are the picnic area, car park and toilets. Mobility scooters are available and can be used to venture onto the mixed-surface, way-marked trails, which would be strenuous in a manual wheelchair. A one-mile tarmac Parkside Walk and boardwalk loop leads around the Bog Garden. Wheelchair access is also possible on the narrow-gauge railway, which takes a tour of the park.
3. Bird-watching in the Welsh mountains
Spotting birds wouldn't necessarily be a treat for the fathers in my family, but a day out in a beautiful natural place always goes down well. Bwlch Nant yr Arian Forest Visitor Centre is in the heart of the Cambrian Mountains, with views of Cardigan Bay, and would make an appealing day out for any Father with an interest in nature. It's a great location for spotting red kites, Wales' National Bird of Prey, with the chance to observe daily feeding. Way-marked trails have been specifically developed for people with restricted mobility to enjoy views of the mountains and lakes.
You might combine it with a journey along the Vale of Rheidol railway between Aberystwyth and Devil's Bridge, passing some of the most spectacular scenery in Wales. Note, however, that the narrow carriages of the train aren't ideal for wheelchair users that need to stay in their chair.
Track sport
4. Drive a racing car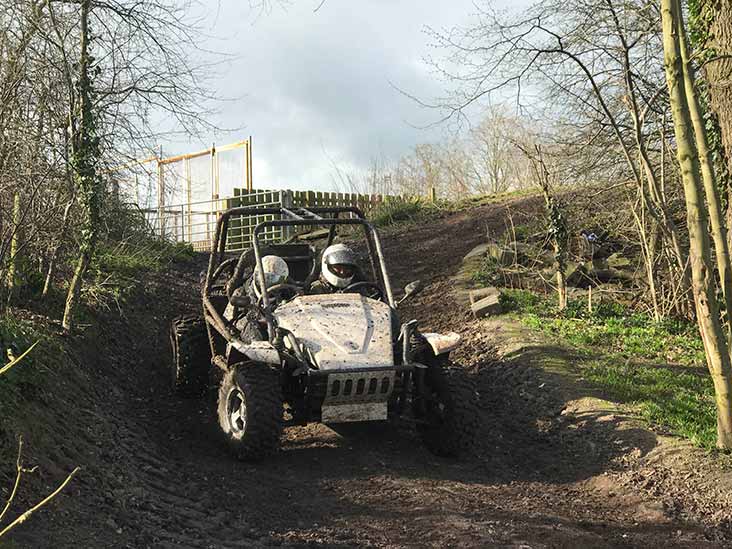 Speed of Sight offer accessible track-driving days
My dad isn't much of a speed junkie, but my nephews couldn't go wrong treating my brother to a day out in a racing car. Speed of Sight offer track-driving days for anyone with a disability and their family and friends. So you and your dad can enjoy the thrill of driving a custom-made duel-controlled track car at various locations around the UK, including Teesside, Greater Manchester and South Wales. Cars are available with hand controls and suitable for people with visual impairments.
5. Have a go at handcycling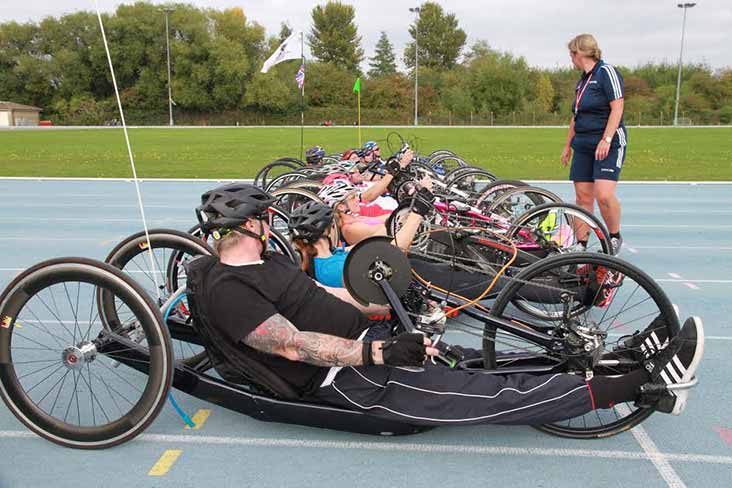 A handcycling taster day with the Handcycling Association UK
If your dad likes being active, a handcycling taster day should get his blood pumping. The Handcycling Association UK run regular taster days at the sports track in Stoke Mandeville. There are four taster weekends between April and September, and handcycles are available to borrow. Prior experience isn't needed – only some enthusiasm and perhaps a big bowl of pasta the night before.
Also try:
Either watch or be part of a handcycling team on the Silverstone track. The Silverstone 9up Time Trial takes place on 9 June 2017, with teams complete laps of the full Formula 1 Grand Prix circuit.
History and culture
6. Go Glamping at Dundas Castle, Scotland
Take your dad on the ultimate camping trip and wake up beside a Scottish loch. Glampotel at Dundas Castle offers a wheelchair-accessible canvas cottage with hardwood floors, a wood-burning stove, luxury bedding, solar-lighting and an eco-friendly bathroom for up to two adults and two children. Dad won't get bored, as Dundas Castle Estate offers many activities, such as golf, archery, croquet and mapped walks.
Being close to Edinburgh, there are plenty of cultural and coastal attractions in the area. For example, you could incorporate a visit to the Royal Yacht Britannia, which is berthed at Ocean Terminal, Leith, and find out about the famous ocean-going residence of the Royal Family. Afterwards, take a stroll along the Water of Leith walkway.
For more wheelchair-accessible glamping locations around the country, check goglamping.net
7. A Medieval day out at Arundel Castle, Sussex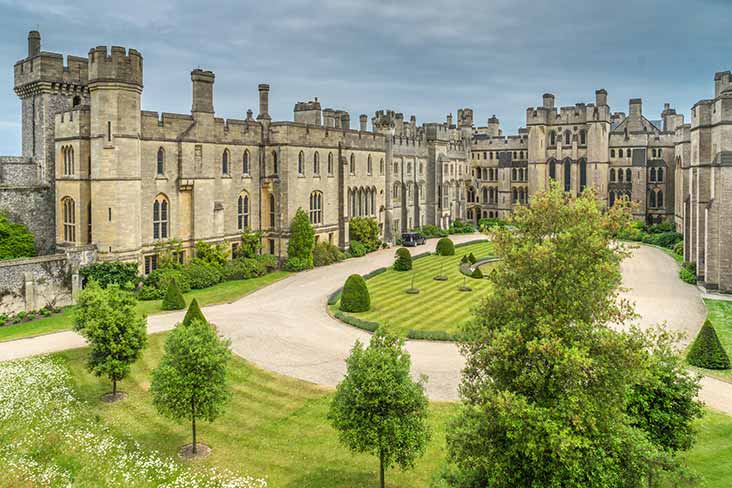 Try a day out at Arundel Castle in Sussex during the Four Nations Medieval Tournament
Set against the stunning South Downs, Arundel Castle is a film-worthy sight. This Father's Day, the Four Nations Medieval Tournament takes place in the grounds, with sword-fighting contests, falconry, archery and crafts. Around two-thirds of Arundel Castle's interior is accessible by wheelchair: the castle ground floor has ramped access, as do the shop and restaurant, but lift access to the first floor is limited to a width of 60cm.
Also try:
Hire a mobility scooter and explore the wonderful Yorkshire Sculpture Park, where modern and contemporary sculpture is exhibited in a beautiful natural setting.
Read More Articles Like This:
10 Fun Family Days Out This Summer
Nine Special Ideas For Mother's Day
London Calling: A Fun-Filled, Accessible Day Out In The City