You can continue to lead a full life after you've had an amputation—including driving and all the freedom that comes with it. The Motability Scheme has many adaptations available to make motoring accessible and comfortable for someone who has lost a limb. Here is some more information about these adaptations and some tips on making the most of your Scheme car from a Motability Scheme customer who is an amputee.
Adaptations for you
Adaptations refer to a wide range of changes or adjustments that can be made to a car to make it suitable for someone to drive. This could be alternative ways to use steering, acceleration, brakes and other controls. As well as adaptations for driving itself, you might need to think about getting in and out of the car—there is also a wide range of adaptations available to make access easier. For example, you may need a car with swivel seats for easy access or a boot hoist to help stow a wheelchair or mobility scooter.
With such a wide variety of adaptations available, your Motability Scheme car can be tailored to suit your needs. Most cars available on the Motability Scheme can be adapted, however, it's best to look at what adaptations you require before choosing the car make and model to make sure that they are compatible.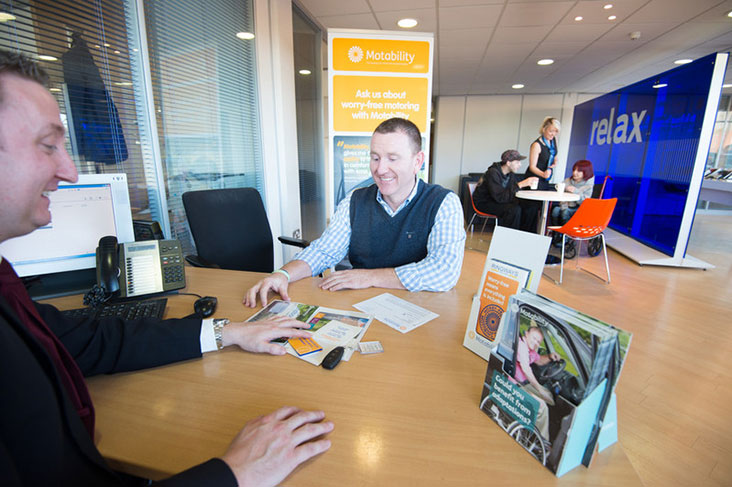 It's important to make sure that the adaptations you need are compatible with your chosen car
How to access adaptations
Des Gosling, of Des Gosling Mobility in Derby says: "It's very important that a potential Motability Scheme customer tries out a car first. Looking at a picture is not enough. You need to get your hands on it and try it out. Here we have seven demonstration cars with various adaptations for customers to try—they're very welcome to try the lot if they want.
"As well as thinking about the driver's needs, we also look at the passenger's side as it may be the passenger who needs adaptations if they're amputees and have nominated a driver on their behalf. So think about if you need a swivel seat or transfer plates to get into the car. It's important to think about accessibility but also comfort."
Bridget's story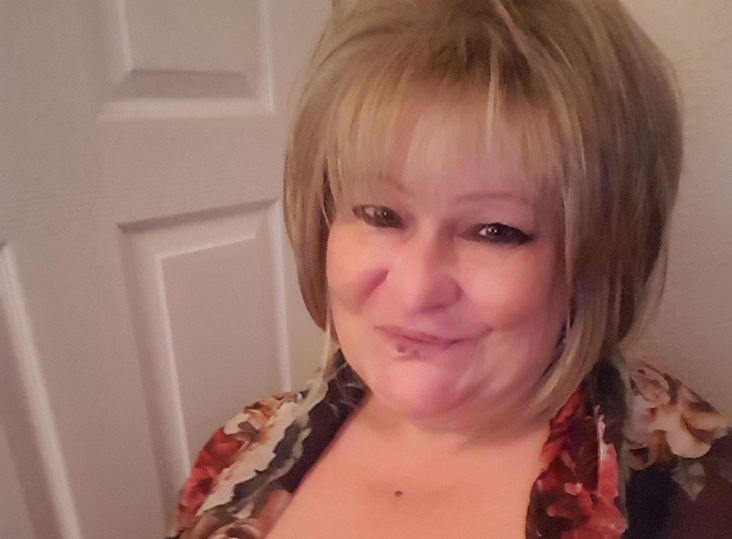 Bridget is a Motability Scheme customer who loves driving with a left foot accelerator
Bridget O'Hara lost her right leg from a motorcycle accident eight days after her 21st birthday. "My mum made me learn to drive after I came out of the hospital. I didn't want to be in a car after being hit by one in a head-on collision, but she did the right thing. For years I bought and drove cars that were automatics. As I've gotten older and now need to stow my scooter, I realised I needed something bigger and adapted. So I went to Des and they helped me choose the right adaptations and a compatible Motability Scheme car."
Bridget now has a Hyundai Tucson with a left foot accelerator and a hoist for her electric folding Genie scooter. "I've had the higher rate mobility allowance for some time but I just thought one day that I'll use it for a bigger, more comfortable car. I also wanted something with a seat higher up so it would be easier to get in and out of the car. The prosthetic on my right leg, which was amputated above the knee, is locked and I need to lift it to get into the car.
"Anybody can drive my car. That's because Des put an electronic left foot accelerator in using a conversion kit. The original accelerator is still in the car and there's a little yellow label on the dashboard which warns the driver that the car is fitted with left foot acceleration. You then switch from left to right so only one of the accelerators ever works at a time."
Bridget has high praise for the Scheme. "Having always bought my cars, I was quite daunted by the responsibility of leasing a car but now I wish I'd done it years ago. I'd like to shout from the rooftops how great the Motability Scheme is."
"I was daunted by the responsibility of leasing a car but now I wish I'd done it years ago"
How the Motability Scheme can help
The Motability Scheme enables you to exchange your mobility allowance to lease a car, mobility scooter or powered wheelchair. There are hundreds of adaptations available for customers and our specialist adaptations installers will help you find the right adaptations for you and the best compatible car. Once you are ready to order, your Motability Scheme dealer will place the order for both the car and any adaptations you need. When it is delivered, the adaptations will already be fitted, so you can start enjoying your new car right away!
Find out more about joining the Scheme by requesting a free information pack.
---
Related articles
My Motability Scheme journey: Driving with adaptations
Adaptations: could a 60 second film change your driving experience forever?
An assessment with Driving Mobility