We follow independent mobility consultant Helen Dolphin MBE as she holidays in France using her Motability Scheme car. She advises everything you need to know when preparing for your trip, including disabled parking and toll roads.
A few years ago I stayed at a B&B called Chez Jallot in the Limousin region in central France. Whilst I was there I noticed they also had self-catering cottages, one of which was level access and so suitable for me as a wheelchair user. The Limousin region is a really lovely area of France and so this year I travelled back there to stay in the cottage.
Crossing the channel
As soon as I'd booked the accommodation the next things I did was look at how I was going to cross the channel. The choice was either a ferry or Eurotunnel. The Eurotunnel is faster and more frequent than a ferry, but at the time I wanted to travel it was considerably more expensive, therefore I decided to book the P&O ferry from Dover to Calais. When I made the booking online there was an option to say "I am a wheelchair user". Then, when I arrived at the port the lady on the counter already knew I needed to park near to the lift and I was put in a queue with other people who also had access needs.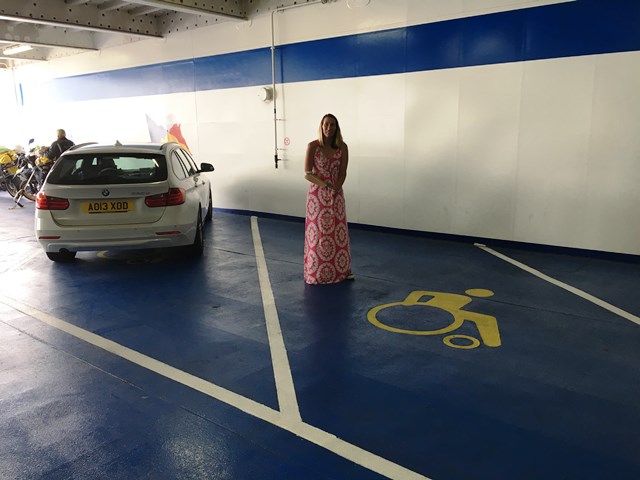 Disabled parking on the ferry
When it was time to board I was directed to put my hazard warning lights on so the people loading know I was a wheelchair user. I have had a situation in the past where I delayed the whole ferry as the staff loading ignored the fact I had my hazards on and parked cars so close to my car that there was no way I could get my wheelchair through the gaps. People who had parked up were called back to move their cars so I could get to the lift. However, this time it all went very smoothly and there were even bays for wheelchair users marked out. After parking the car, I made my way upstairs in the lift to sit in the café.
Tolls in France
Before I left I also considered how I would pay for the tolls as most of French motorways have tolls. The reason there are so many toll roads in France because the main roads are not owned by the government but are operated by different companies. This means every now and again you come across a barrier where you must pay. This can be tricky if you either have no passenger in a right-hand drive car, or a passenger with a disability which means they can't physically pay the toll.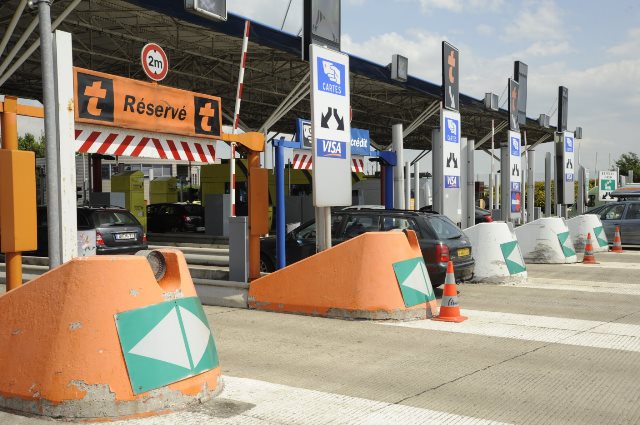 Prepare for toll roads if you're driving in France
When I've been to France previously, if my husband was driving he'd have to jump out of the car and run around to pay as I am unable to put a card in the machine. To avoid this, I applied for a €6 Tag to put in my car which is linked to my bank account and so automatically pays the tolls at www.saneftolling.co.uk . Most standard cars pay the Class 1 rate but if your vehicle is adapted for a disabled person and you are a Blue Badge holder you are entitled to be charged at the Class 1 rate. However, in order to be charged at Class 1 rate in the automated lane, you will need to stop and press the intercom button to request the correct toll to be applied. More information can be found here.
Travelling in your Motability Scheme car
Your insurance cover allows you to take your car abroad within the European Union and to Croatia, Iceland, Norway, Switzerland and Liechtenstein free of charge for up to 90 days in any 12 month period. Before taking your Motability Scheme car abroad you need to obtain a copy of your VE103 certificate which you can get by calling the RAC on 0800 73 133 10 at least three weeks before you intend to travel. This is because when travelling abroad it is important that you can produce documentation to show that you are authorised to be in possession of your car which this document provides. When you call up to get your VE103 you will be asked which drivers need to be included on the VE103 and this is whoever will be driving your car abroad. These drivers need to be the same ones that are covered by your Scheme insurance policy.
If you are travelling to another country or plan to be abroad for more than 90 days you will need to arrange additional cover by contacting the Scheme's insurance provider on 0300 037 3737. As well as having the VE103 with you, you should also carry a copy of your insurance certificate and driving licence. When I phoned up the RAC for my VE103 I was pleased to be told that I would be covered by RAC European Breakdown Cover. When my VE103 arrived it also came with a booklet with the number I would need to call if I had an accident. I stowed all these documents in my car glove box to make sure I could find them easily if needed. Fortunately for me the occasion did not arrive.
More information on travelling abroad with a Scheme car
Country specific regulations
When you travel to another country you should also check what you need to carry in your car as this can change from country to country. In France it is compulsory to have a reflective jacket for each passenger on board and to carry a reflective triangle. You will also need to put deflector stickers on your headlights or adjust the beams manually. Although a law was going to be brought in to require drivers to carry breathalysers this has been postponed indefinitely.
There are also different laws which you should make sure you're aware of. For example, in France you cannot drive with headphones or earphones in. There is a comprehensive list of all the driving laws available on the RAC website here. However, the most important thing to remember is that in France (and the rest of Europe) everyone drives on the right. I found this quite easy to adjust to when on a motorway but it did require a bit more thinking on smaller roads!
Using your Blue Badge abroad
If you have a Blue Badge you will be able to use it across Europe. However, I was advised by the RAC to go to www.disabledmotorists.eu and click on France. This tells you how you can use your badge and advises printing off a statement in French to display next to your badge. When I was in France I used my Badge to park on many occasions and much to my delight there was always a vacant space.
Although it seems there is a lot to think about when travelling abroad it really is just a little bit of preparation and a few phone calls. I really enjoyed my holiday in France and I'd really recommend driving abroad to other Motability Scheme customers.
Related articles
Discover accessible days out across the UK and Europe
Taking your Motability Scheme car abroad
Taking your Motability Scheme scooter or powered wheelchair abroad
The Motability Scheme enables disabled people and their families to access a brand new car or scooter, by exchanging their mobility allowance to lease the vehicle of their choice. Find out more: