Whether you're choosing your first scooter or powered wheelchair with the Motability Scheme or your lease is coming to an end and it's time to choose your next vehicle, one of the key things to consider is what type of tyres are right for you. Two kinds are available: air-filled or solid. Here we look at how to make the choice.
What is the difference?
Air-filled tyres give a smoother ride as they have more "give" in them, however they are more susceptible to punctures. Solid tyres, as the name suggests, will not puncture, but may provide a firmer ride. The likelihood of puncturing your tyres depends on what kind of travelling you're planning on doing with your vehicle, what the pavements and roads are like where you live, and how far you want to go.
Where will you be using your vehicle?
If you live in an area that has hawthorn hedges, you may find clippings from them cause punctures to air-filled tyre—cyclists have the same issue! You should also consider that glass on the roads and pavements may be an issue as they can also cause punctures.
Dave Bushby, Account Manager for the Powered Wheelchair and Scooter Scheme, says that if a Scheme customer wants to be adventurous and go rambling with their scooter, a rough surface may be uncomfortable with solid tyres. However, sharp stones risk punctures on air-filled tyres. "It all comes down to individual need and use," adds Dave.
Motability Assist is a service included in your Motability Scheme package when you lease a scooter or powered wheelchair. This is a similar breakdown service as the RAC offers for cars. With this, even if you do puncture your wheel or breakdown while you're out and about, they will be able to take you and your vehicle home! But if this is a frequent occurrence you may decide, as some customers have, to opt for solid tyres when your lease comes to an end.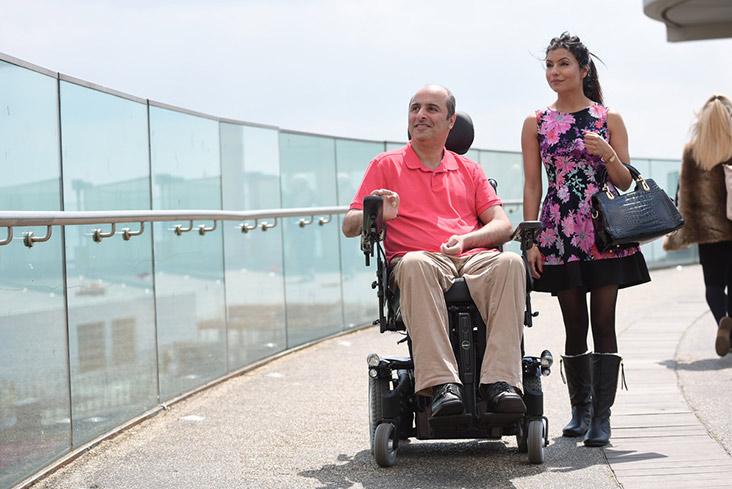 The type of surfaces and roads you'll be using your vehicle on will affect which tyres suit you best
Vehicle size
Sometimes the device you choose is tied to one type of tyre. Generally, small scooters which tend to be used for short trips have solid tyres whereas the larger ones, used for longer journeys, tend to be air filled. "The main reason is that larger scooters have longer ranges up to 30-mile journeys and a customer may use it a lot. However, some small scooters do now come with air-filled tyres," says Dave. Additionally, most scooters, and certainly the majority of medium and large scooters, now have good suspensions to help make the ride smoother. So even those fitted with solid tyres used for longer journeys can still be perfectly comfortable. As always, a decent length test drive is key to finding out what will work for you.
Why do people change their tyres?
Joan Machin, 75, who lives in West Melton, South Yorkshire, used to have a Motability Scheme car but decided she didn't want to drive anymore. "So I let the car go and got a scooter instead. I love my scooter. It's much more sociable than being in a car as you meet other users and we go out together." But after she had two punctures in one week, Joan decided she needed to change from air-filled to solid tyres.
"There's a lot of glass on the roads and pavements here which I hadn't noticed before. Now I have solid tyres, I haven't looked back. I can't tell the difference. It's just as comfortable as the suspension on my scooter is very good."
How to choose tyres with your dealer
Joan's dealer is Tracy Simmons from Parkgate Mobility which has 14 shops around Yorkshire, the West Midlands, Derbyshire and Nottinghamshire. "We try to assess customer needs as thoroughly as we can at the outset. But if it turns out they have the wrong type of tyre—as Joan did—we can replace air-filled with solid tyres if their chosen scooter allows for this."
Tracy says, "Our first concern is always the customer's medical conditions. Air-filled tyres may suit some of our customers better than solid but we have to weigh that against the likelihood of punctures which can affect confidence using a device."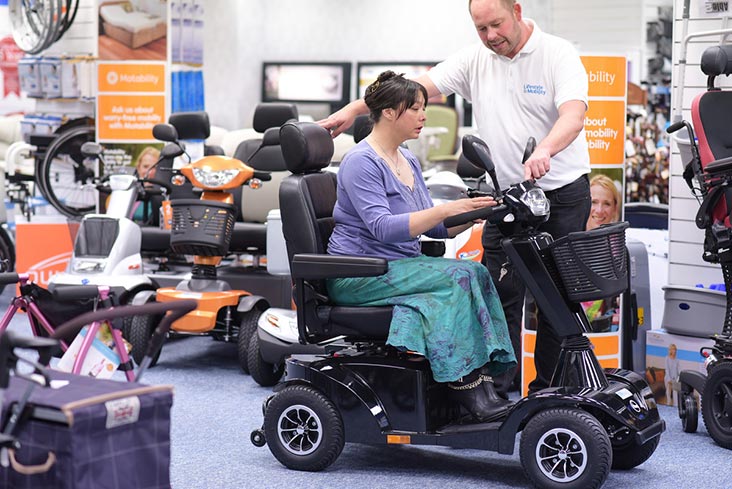 Your Motability Scheme dealer can help you decide which tyres are best for you
"We go to all our customers' homes to assess their needs. Comfort is vital because if you're in pain you can lose concentration, cut corners, and rush to get home, potentially make dangerous decisions. So comfort is about safety."
Motability Scheme customers have access to over 300 dealers across the UK and can have as many at home, no-obligation demonstrations as they need to ensure that they are comfortable with the product they choose to lease for three years.
How the Motability Scheme can help
As Dave Bushby says, "The benefit of joining the Motability Scheme is that everything is covered. If you do have regular punctures we may suggest solid tyres, but the final decision is always with the customer. The Scheme gives them peace of mind and worry-free mobility."
Either type of tyre should last the life of the lease which is three years. And the device is serviced at the end of the first and second year then returned at the end of the third
Find out more about joining the Motability Scheme by requesting a free information pack and using our eligibility checker.
The tyres of the future?
The Scheme is starting to see some products available with "run-flat" tyres. Similar to run-flat's fitted on a car, if you get a puncture the tyre will still allow you to drive your product for a certain amount of miles – enabling you to get home and then organise a repair. Additionally, some products are starting to be produced with "infill"—a mixture put into air-filled tyres—which seals them if you get a puncture and slows down the air release. This means you can at least get home after a puncture. "Almost puncture-proof air-filled tyres are coming onto market soon, so in the future, customers can select air-filled tyres knowing they won't get stuck somewhere if they do have a puncture," says Dave. Watch this space!
---
Related articles
Choosing the right mobility scooter for you
How fast do scooters go… and 8 other questions you've always wanted to ask about mobility scooters
A guide to travelling by scooter and powered wheelchair