A scooter or powered wheelchair can be a gateway to independence for those of us with restricted mobility. Here's a guide to travelling in the UK by scooter or powered wheelchair from former BBC programme maker, disability writer and scooter enthusiast Emma Bowler.
How disabled travel is improving
When I was 17 I got my first Motability Scheme car – this was a major turning point in my life as it revolutionised my independence. Fifteen years later I got my first mobility scooter – a nifty Shoprider Wispa, which I loaded into the boot of my car with an electric hoist.
Whilst my Motability Scheme car enabled me to get from A to B, the mobility scooter eradicated the difficulty I had getting around B when I got there. It meant I could go for walks, explore museums, art galleries and tourist attractions. I could even go shopping – to more than one shop!
In this article, I'm going to look at how travelling by mobility scooter or powered wheelchair is getting easier. First, I'll look at some positive new developments around the UK. Then, I'll pick out some of the best accessible places for a day out and finally, I'll explore the different product options available, including some up-to-the minute innovations.
Disabled access – the latest trends
An accessible travel guide
Although you still need to plan thoroughly before you travel, some attractions have made fantastic progress in terms of access. Here's a round-up of the very best places to visit in the British Isles, with some of my favourites thrown in.
The UK's best attractions for disabled visitors
The Eden Project won the Visit England Inclusive Tourism Award 2017, followed by runners up The Deep, Yorkshire, and the V&A, London. Visit England also highlights Thermae Spa in Bath and the National Railway Museum at Shildon, County Durham, for their improvements to access.
For some seaside fun, Brighton is a pioneer for disabled access: you can hire an all-terrain wheelchair on the seafront and safely visit sights ranging from the Royal Pavilion to the aquarium and the Brighton Centre, the city's starriest venue.
My favourite accessible attractions
I decided to test access at some big UK attractions, so I took my family on a two-week tour around England. My son has the same mobility disability as me. We both use a Wispa and I also have an all-terrain Tramper. Our trip was only feasible with our scooters, but we were delighted to find that everywhere we went there was a feeling that access is definitely on the radar. There was access information on websites, ramps, lifts, alternative routes, wheelchair spaces in auditoriums, accessible toilets, automatic doors and, in most locations, disabled parking.
These were some of our favourite finds:
Despite being a listed building, the National Justice Museum in Nottingham doesn't rule out disabled access. Everyone can now have a peek at Oscar Wilde's cell door, see force-feeding equipment used on suffragettes and conscientious objectors, and visit the creepy seventeenth-century dungeon.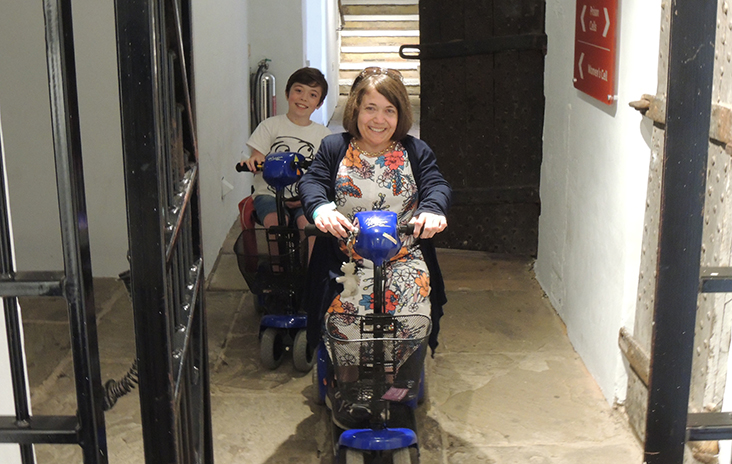 Archie and Emma Bowler in Justice Museum
We took enjoyable tours around the new Anfield football stadium and BBC MediaCity. Equally fascinating were the National Justice Museum, Liverpool Museum, the National Space Museum, Mary Rose Museum and Bletchley Park – home of the WWII Codebreakers.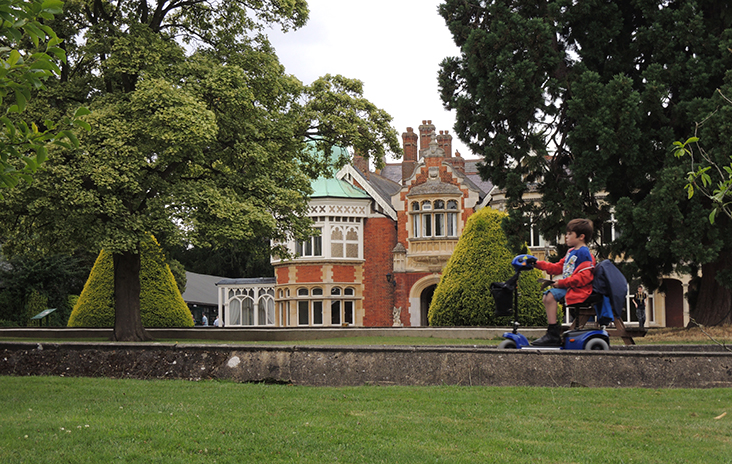 Archie outside Bletchley Mansion
We explored the lively Albert Dock area in Liverpool and London's buzzing Southbank, and we had a brilliant night out at the Piccadilly Theatre seeing Miranda Hart in Annie. It was pleasing to see such a range of attractions around England that are making efforts to accommodate disabled visitors. I don't think this would have been the case a few years ago.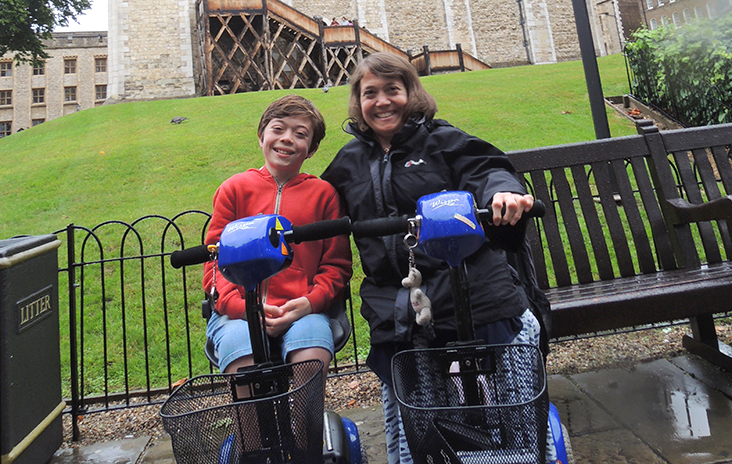 Archie and me at the Tower of London
A GUIDE TO MOBILITY SCOOTERS AND POWERED WHEELCHAIRS
Before you head out to explore the UK as we did, you'll want the best product to suit your needs. Scooters and powered wheelchairs come in different shapes and sizes so here's the lowdown on the options available to you, including some up-to-the minute innovations.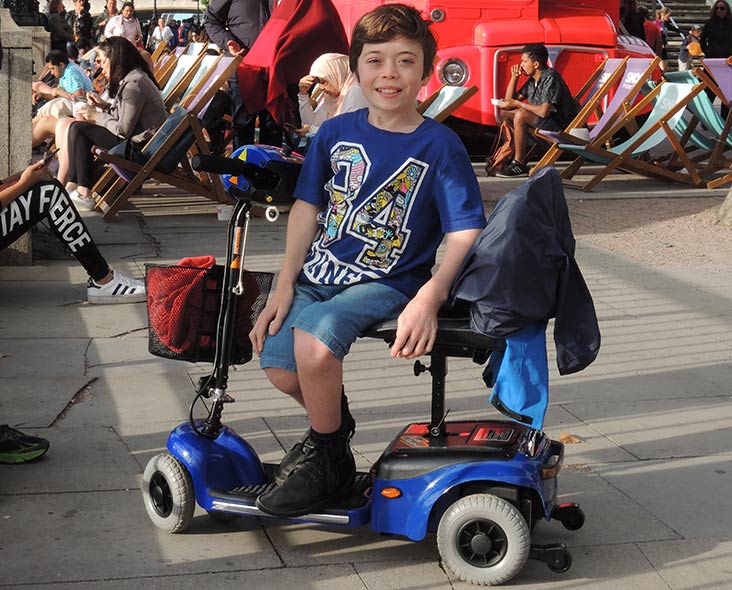 Archie on Southbank
Mobility scooter vs powered wheelchair?
Scooters:
If you want a scooter for going around the shops or attractions, or travelling, then size matters. Smaller scooters are far easier to manoeuvre in smaller spaces, and in crowds. You can take them on buses, planes (with dry cell batteries only) and some trains and some ferries – sometimes you'll need a scooter pass. Larger all-terrain models, like the Tramper, are sturdier and designed for off-road use. See Types of scooters.
Powered wheelchairs:
This might suit you better if you find transferring from your wheelchair into a car seat difficult. Some will fold up and fit into a car but larger models may require an adapted car. As with mobility scooters, powered wheelchairs come in different size classes. Class 3 powered wheelchairs can be used on the road (and require road tax). Class 2 models can only be used on pavements. Having a powered wheelchair also means you're equipped to play powerchair football – if you fancy that! See Types of powered wheelchairs.
It's important to consider what you'd want to use the scooter or powered wheelchair for? How far do you need it to go? Do you need to go on the pavement and/or the road? There are special rules for driving on both.
The size of a boot is the first thing I look at when I consider a new car nowadays because for me, having enough storage for mobility aids is key. How you will get it in and out of your vehicle is an important consideration – a hoist is an obvious adaptation or you might consider a WAV (wheelchair accessible vehicle) if you need to stay in your wheelchair for the journey, either as a passenger or a driver.
If you get a scooter or powered wheelchair my biggest top tip is that it needs to be kept plugged in, on charge, when you are not using it or the batteries deteriorate and they are expensive to replace.
There are several useful guides available from the Motability Scheme to help you work out what type of mobility vehicle is right for you – see the links at the bottom of this article.
I've used my mobility scooter to travel all over the world and it's given me total mobility independence in the UK, too. I only wish I'd got one sooner.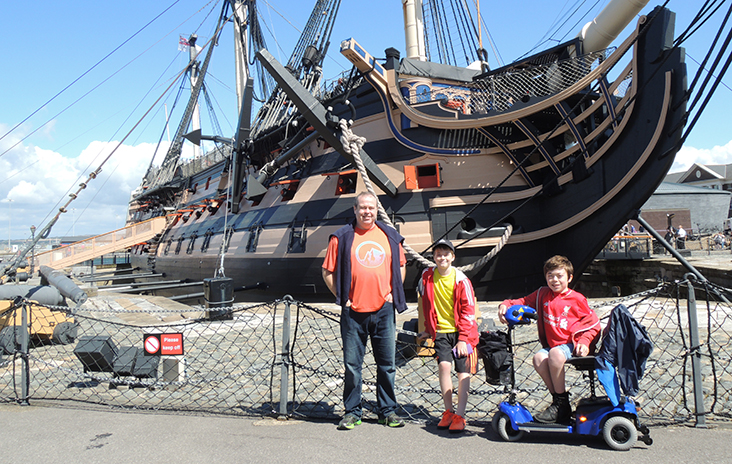 Mike, Ben and Archie by HMS Victory
Further information
Check out the Motability Scheme for information on leasing a mobility scooter and powered wheelchair. It's easy to pack your scooter or powered wheelchair into your Motability Scheme car.
See also the following useful guides on Motability.co.uk:
Choosing the right mobility scooter for you
Important things to consider – scooters and powered wheelchairs
Cars, scooters and powerchairs
For inspiration on great days out around the UK, including some accessible trails, see The Rough Guide to Accessible Britain: accessibleguide.co.uk
The Motability Scheme enables disabled people and their families to access a brand new car or scooter, by exchanging their mobility allowance to lease the vehicle of their choice. Find out more:
Image credits:
All images provided by Emma Bowler.