The government plans to bring in changes to the way that driving tests are carried out in the UK in December. Actual driving time will double to around 20 minutes, and some traditional manoeuvres – for instance, reversing around a corner – will be replaced by more 'real-world' trials, such as reversing into a parking bay. The alterations have been welcomed by many, but what if you are disabled and want to learn how to drive? How does this affect you?
Getting a provisional licence
First off, you should apply for your provisional driving licence. The earliest you can submit an application is three months prior to your sixteenth birthday. You can get the form needed to do this — called a D1 — from any large Post Office, or you can download it online from the government's website.
Once you have sent this off, the Driver and Vehicle Licensing Agency (DVLA) will often send back to you a 'medical-in-confidence' form which will ask for further information about your disability. It is also likely that the DVLA will ask for your permission to contact your doctor, but this is totally normal! After this, they will review your application and will usually issue your provisional license. In some circumstances, the DVLA might ask you to see its own specialist or another doctor close to you to make sure your licence is suitable.
Taking a theory test
Anybody learning to drive needs to take a theory test. This is a test you do that doesn't involve sitting in the car at all, but instead shows you know the theoretical rules of driving. You may want to take this assessment before beginning practical lessons, as there is a possibility, with some cases, that you find it isn't possible to drive once you begin lessons. If you suffer from deafness or hearing problems, you can get a DVD about learning the Highway Code with sign language. There are similar products available to assist with the theory test, too.
Finding a driving instructor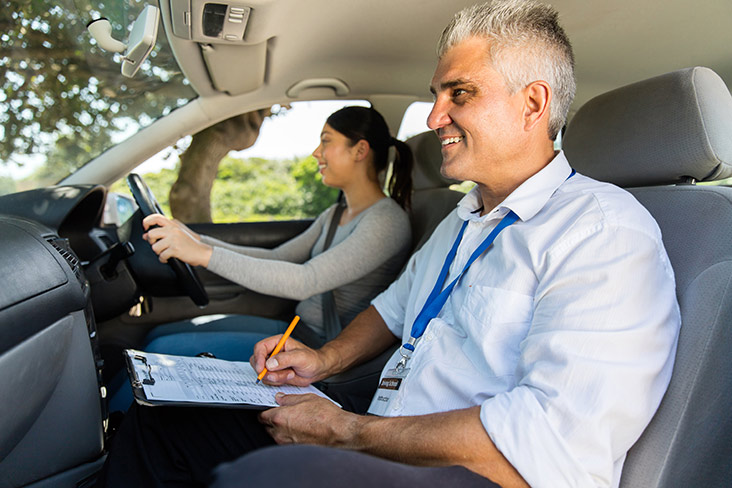 You may find it useful to find a specialist driving instructor
Once the theory test is out of the way, it is time to find a driving instructor. While your local area may be full of instructors, you may find it beneficial to seek out the extra knowledge that a specialist tutor brings to the table. Driving Mobility (previously known as Forum of Mobility Centres) is a good place to start as Driving Assessors, at most Centres, will be able to assess your needs and recommend solutions for you. This involves them assessing your needs first, and then teaching you to drive, sometimes in specially adapted vehicles. They can also help you with the theory and hazard perception tests.
Most students need around 40 hours of driving tuition to be able to pass their test, so you will spend a lot of time with your tutor — this is why it is important to pick an instructor you feel you will get along with!
Adaptations
Adaptations cover a range of different products that have been designed to help improve either your driving or travelling experience. But how do you know what you need? Motability Scheme adaptations installers can offer help and advice. Find your closest installer here. And to browse through different options as well as videos of adaptations in action, visit the adaptations area of our website.
Help with the cost of driving lessons
If you are an existing Motability Scheme customer, some grant funding may be available from Motability, the charity, for up to 40 hours of tuition for new drivers. You can find out more about Motability grants here.
Learning to drive is an important milestone in our lives. Think about your requirements, study and practice hard, and you could be on your way to driving in no time!
You may also be interested in:
Young drivers on the Motability Scheme
Choosing the right car for you
Driving test changes for UK learners scheduled for December 4
Driving economically: how to save fuel
The Motability Scheme enables disabled people and their families to access a brand new car or scooter, by exchanging their mobility allowance to lease the vehicle of their choice. Find out more:
Request a free information pack