People who need to use accessible toilets will know that many of them in the UK are fitted with a Nicholls & Clarke (N&C) Phlexicare RADAR National Key Scheme lock, which can only be opened with a Royal Association for Disability and Rehabilitation (RADAR) key. In this article, independent mobility consultant Helen Dolphin MBE explains what RADAR keys are and how you can go about purchasing one if you have a disability.
What is a RADAR key?
A RADAR key, also known as an NKS key, is a blue and silver-coloured key that opens more than 10,000 disabled toilets across the UK. RADAR keys are used by some 400 local authorities to allow disabled people access to locked, accessible toilets.
The Royal Association for Disability and Rehabilitation, which is now Disability Rights UK, worked in partnership with Nicholls & Clarke, the inventors of the RADAR lock and together they created the National Key Scheme (NKS). The first RADAR locks were fitted in 1981 to help keep accessible toilets free and clean for disabled people.
Before RADAR locks were introduced, many establishments locked the accessible toilet themselves which meant that disabled people could only use the toilet on request. There were also cases where the key couldn't be located by the staff member, or the person who had it wasn't on duty that day. Fortunately, the introduction of the NKS meant disabled people could now use the toilet without having to ask someone if they could be let in.
Using your RADAR key
Although hundreds of local authorities use the NKS, as well as many public, voluntary and commercial organisations, there are still plenty of places that don't use them. Where this is the case I frequently encounter people rushing out of the toilet looking rather flustered and embarrassed when they see me waiting.
However, it is always worth pointing out that not everyone using an accessible toilet looks disabled, as the person could have a non-visible disability, such as a colostomy bag, which means they need to use these toilets just as much as me. There are also still some establishments using their own locks, so you may find in these cases that you still have to ask to use the toilet.
How to find RADAR key toilet locations in the UK
Disabled toilets that need a RADAR key to access them can be found in a variety of UK locations, including train stations, shopping centres, cafes, airports and supermarkets.
Find RADAR key toilet locations near you by using the Great British Public Toilet Map. Simply go to the filter on the left-hand side of the homepage and filter by 'Radar key'.
You can also purchase a National Key Scheme (NKS) guide which lists the locations of RADAR key toilets for different regions across the UK. The guide is available from Disability Rights UK for £3.50 and can either be sent in the post or by email as a PDF.  
Accessing disabled toilets in Europe
If you are travelling to Europe, the RADAR key will not work so you would need to buy a Eurokey. This costs €23 and is very similar to a RADAR key in that it allows you to use accessible toilets. To obtain a key, you need to send proof of your disability to the organisation CBF Darmstadt. The website is in German, so you may need to use Google translate to understand what to do.
Since Brexit, the process of getting a Euro-key has become more difficult as the company have stopped delivering to the UK. You can read our article to learn more about Euro-keys and what alternative options are available when travelling in Europe.
How to get a RADAR key
In order to gain access to a toilet with a RADAR lock you will need a RADAR key. Most local authorities will sell or give you a RADAR key, or you can buy one online. If you do buy your RADAR key online you'll be faced with many different websites selling RADAR keys. Many of them claim to be genuine; however, if it is not the official N&C Phlexicare key it is not a RADAR key, according to Disability Rights UK.
If you have an older RADAR key it will be completely silver. However, the newer style keys have a blue heart fob. The problem with buying a key that is not an official RADAR key is that its performance cannot be guaranteed. Therefore, they may not work in all the toilet locks and may even cause some damage. Disability Rights UK also uses proceeds from the N&C RADAR keys to support its charitable initiatives around independent living, providing free information and advice to disabled people throughout the UK.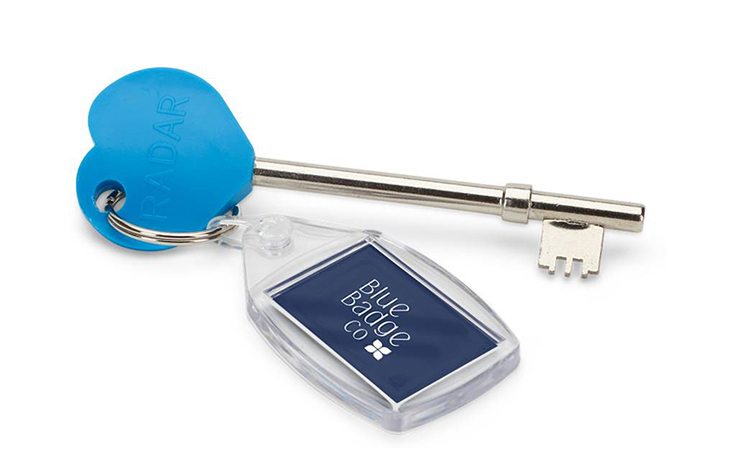 The newer style RADAR keys have a blue heart fob (© The Blue Badge Company)
RADAR keys can be purchased at a large range of outlets including Disability Rights UK and the Blue Badge Company, and if you are a disabled person you should be able to buy the key VAT free. RADAR keys cost about £5, but some local authorities give them away free of charge. 
If it's helpful, you can also purchase an NKS guide that lists the locations of RADAR toilets for different regions across the UK. This is available to purchase from Disability Rights UK for around £3.50, and the list will be sent to you via email so that you have easy access digitally.
Although I support the NKS initiative as I like to find a clean toilet without anyone living in it, I do struggle to use the RADAR key myself. This is because I have no hands, so all keys are hard to turn. The new RADAR key with the blue heart fob is a lot lighter than the old-style key which was quite big and heavy but it is still difficult for me to use independently. However, N&C Phlexicare have told me that a new electronically operated door system will be introduced soon which is fantastic news and something to look out for!
About the Motability Scheme
The Motability Scheme offers an all-inclusive package that allows anyone in receipt of higher rate mobility allowances to use their mobility allowance to lease a car, scooter, powered wheelchair or Wheelchair Accessible Vehicle. The Scheme provides flexible and hassle-free access to a brand new, reliable vehicle of your choice – giving you greater freedom, every day.
Find out if you're eligible to join the Scheme
If you'd like us to send you more information about the Motability Scheme, request a free information pack below.
Get a free Scheme information pack
Related articles:
How to access disabled parking concessions across the UK
Toll road and congestion scheme charges across the UK
Qualifying for a Blue Badge with Personal Independence Payment (PIP)