In our first article with disability influencer Gem Turner, who has Brittle Bones, she tells us about her dreams of learning to drive and how the Motability Scheme is helping with her independence.
---
"I'm just going to pop to t'shop!" is something I've never been able to say. I love to socialise, I have a few groups of friends that I like to catch up with (pre lockdown of course) and I'm always up for a last-minute shopping trip. But for me, being disabled and having been a wheelchair user from the age of two years old, means being spontaneous is pretty hard. All my life I've relied on other people if I want to go anywhere, so owning a vehicle and being able to drive it is still overwhelming to me!
The back story
Previously, if I wanted to go anywhere—I'd always have to make sure family were able to drop me off in our family Wheelchair Accessible Vehicle (WAV), or I'd have to pay a lot of money to get a taxi into the city. Things started to get expensive and trying to live life as a 20 something-year-old was getting harder to do. If you're aware of accessible transport in the UK, you'll know it's not that plain sailing (pardon the pun). Ramps have to be booked on trains, taxis have to be booked 24hrs in advance and then there are crowds and rush hour to contend with. So I decided, enough was enough—it was time to try and drive myself!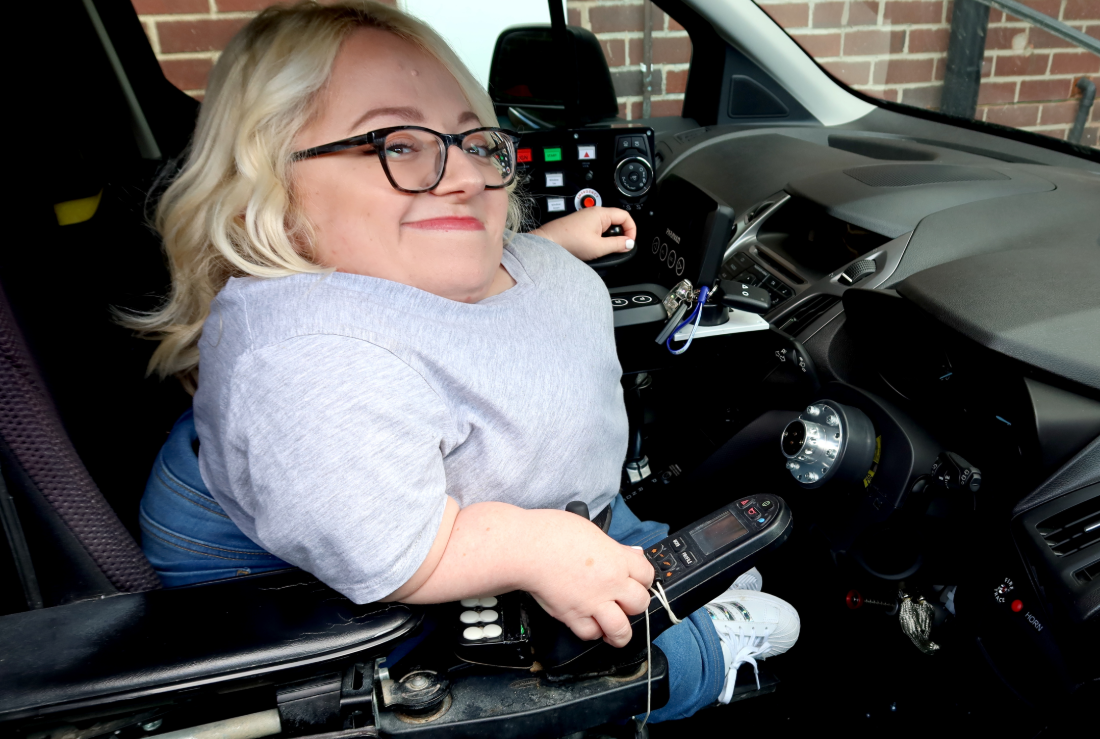 The journey of applying
I chose the Motability Scheme as I knew as a full-time wheelchair user I would need a lot of adaptations to be able to drive a vehicle myself. I have a lot of disabled friends who have joined the Scheme so I knew a bit about how it all worked. Before I began the process of applying I thought it would be really daunting, so I was surprised by how easy and not overwhelming it was!
Choosing my Wheelchair Accessible Vehicle (WAV)
To work out what adaptations I needed I got a home demonstration of a Drive from Wheelchair WAV. On this day, I looked outside and what I can only describe as the BIGGEST van pulled up on my drive all set up with space drive adaptations. Now, as I'm only 3"1', this was a bit of a shock to me! But, I was really impressed that I could hop onto the tail lift ramp and get going. Me! Driving!
We also went through any specific requirements I needed from the vehicle. I decided that I wanted an electric ramp rather than a tail lift because I wanted the smallest vehicle I could have and I know tail lifts are usually on larger vehicles. So, considering my chair size, I was shown the Ford Torneo and I loved it straight away.
One novel thing for me that sounds basic is being able to sit at the front! All my life I've always been in the back shouting over the radio, trying to join in conversations. So being able to be in the driver's position is really liberating, and I really love that everything is electric and I can control everything, rather than relying on other people. There's room for three passengers with me, which was really important to me to be able to travel with family, friends and PAs.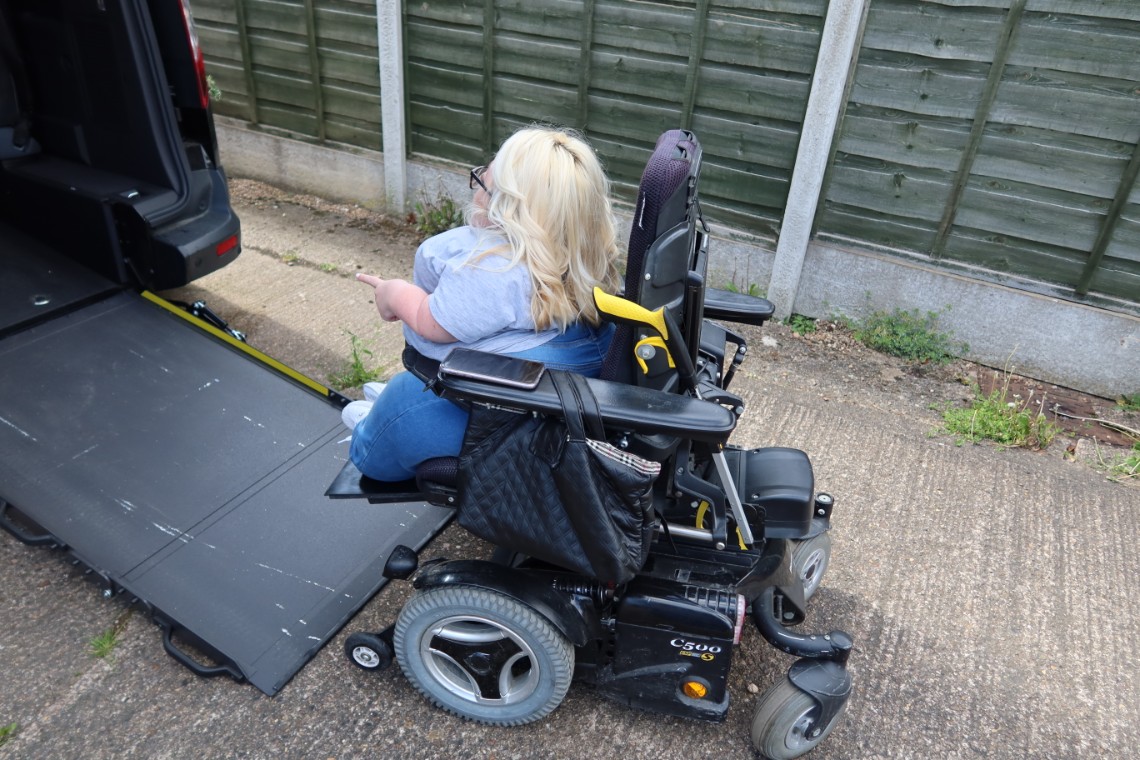 Delivery day and beyond
When the delivery day arrived, it really was a big day for me. As I'm learning to drive in my vehicle, my driving instructor visited too, to make sure everything worked and to show me the ropes. A few days later I was having my first driving lesson! It was so surreal and using the adaptations that fit just right was an amazing feeling. I was concerned that driving may be physically strenuous for me, but although I have my limits—I'm really building my strength with each practice.
One aspect that's quite amusing is that the direction to accelerate is opposite to my wheelchair—so that's been interesting to conquer! My driving instructor told me it's like patting your head and rubbing your belly, and it really is. At first, even doing 5mph felt risky but now my highest speed is 40mph. Woohoo!
Unfortunately, as someone who is high-risk, due to the continued threat of COVID-19, I'm not yet continuing lessons. In the meantime, the great thing is that my mum is also insured to drive the WAV. I'm therefore still able to take trips in the WAV as it can be driven by non-wheelchair users too. I'm also still able to have little practises in our quiet street so I don't lose the (little) skill I have!
Ultimately, I can't wait to be the one dropping my family off at places and popping t'shops!
Related articles
Watch a day in the life with Gem Hubbard
Pauline's story: "It's the one time when no one knows that I'm disabled"