Dashboard cameras (dashcams) are becoming more and more popular in the UK, along with apps that give your phone similar functions. This article from Car Buyer explains how these work and gives a breakdown of the best apps available for free right now.
---
Portable sat-nav devices are facing major competition from smartphone apps, and the same is true of dashcams. As the quality of smartphone cameras and their ability to record in low light has improved, they can make a compelling alternative.
Importantly, the apps needed to get your smartphone working as a dashcam are often free, or cost just a few pounds, making them far cheaper than a standalone camera. You may even have an old phone that's recently gone out of contract that you could convert into a dashcam.
But there are disadvantages, too: it might not be particularly convenient to fix your smartphone to the dashboard or windscreen for every trip, particularly if it's a larger device or requires its own power supply.
Even more importantly, if you're fitting a dashcam to qualify for a discount from your insurance company, not all of them will accept a smartphone app dashcam.
If you still want to give a dashcam app a whirl, we've thoroughly tested eight to find out which is the best.
How Car Buyer tested them
Because we used the same smartphones throughout the test, the video quality was identical, so we concentrated our assessment on the user interface. The app's performance and features were crucial, from making the recording to reviewing its footage at home. Lastly, each dashboard cam app was then judged against its price.
Verdict
We put Drivermatics top thanks to its slick interface and neat features that are easy to use. AutoBoy and CaroO Free also performed well, but couldn't quite match the clever touches that set our winner apart.
Drivermatics Blackbox Dashcam review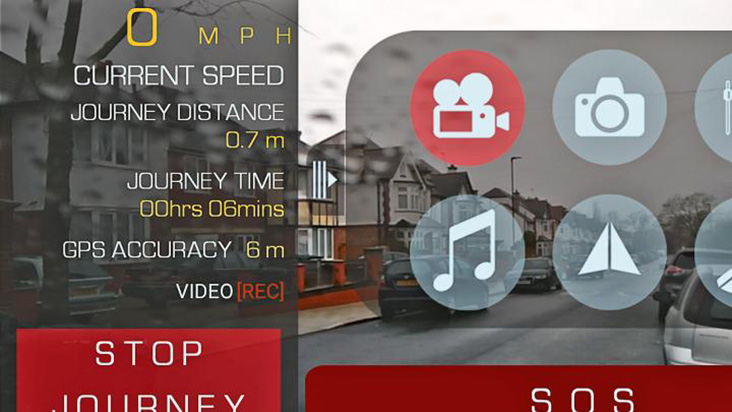 Available for: iOS, Android
Price: Free
Rating: 5 stars
We found the Drivermatics Blackbox app by far the easiest to use, but that doesn't mean it's lacking in features. In fact, it's the only one in our test that linked to both our insurer and breakdown provider, with a large SOS button to press in a crash to alert both. Clear controls make it easy to use its various settings and it has a sat-nav feature that works with Google or Apple maps while the dashcam operates in the background. Important settings like the resolution of recordings and how long it records for after a crash are also easy to alter.
AutoBoy Dashcam review
Available for: Android
Price: Free (Pro £2:39)
Rating: 4 stars
AutoBoy impressed with its accurate GPS tracking, which was easily the best on test. It was also good to be able to adjust the exposure of the recording and even add colour effects while using the app, although its auto exposure seemed to cope with changing conditions just fine. Its ability to keep recording in the background while using other apps – such as sat nav – was appreciated. It's possible to set up a direct link to a chosen YouTube account, but we'd have preferred a link to the vehicle insurer, and the AutoBoy is Android only, limiting its audience.
CaroO Free (Blackbox & OBD) review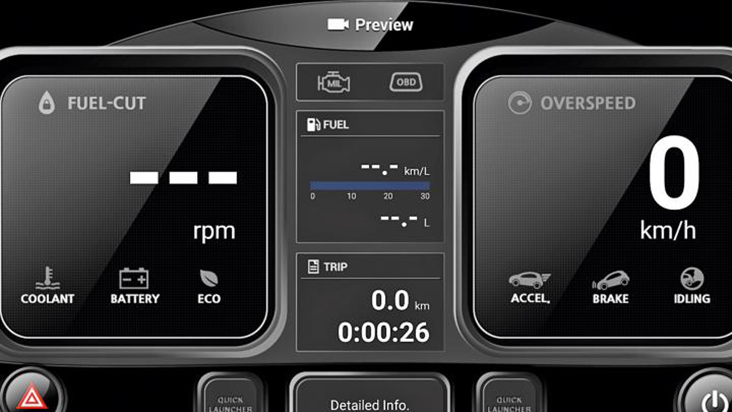 Available for: Android
Price: Free (Pro £5:62)
Rating: 4 stars
The free version of CaroO allows 100 free uses before you need to buy the Pro version, or try deleting the app and reinstalling it. It's also a bit different in that it can read your vehicle's telematics using its OBD connection – although you'll need a compatible connector that's sold separately. This is especially handy for owners of older vehicles, as it can display all sorts of information like coolant temperature and the health of the car's battery. You can turn the dashcam functionality on and off and also set two 'quick-launch' apps that can be opened and enjoyed while the dashcam is recording, with Google Maps being an obvious choice. Even when used without an OBD connection, it's still a great app.
AutoGuard Dashcam-Blackbox review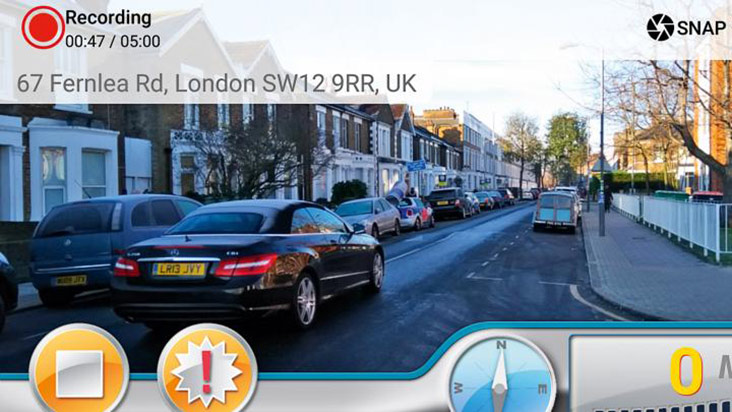 Available for: Android
Price: Free (Pro £2:09)
Rating: 3 stars
The AutoGuard's clean and intuitive interface was good to use and we found its GPS tracking to be very accurate. But, perhaps its key USP is its ability to automatically start recording when your phone connects to the car via Bluetooth or you place it into a dock. The dashcam app lost points, though, for freezing during a test run, and an online search revealed other users seem to have had similar issues. If you plan on using AutoGuard, it's probably worth spending around £2 extra for the Pro version, because this allows you to record while using other apps.
DashCam 2 review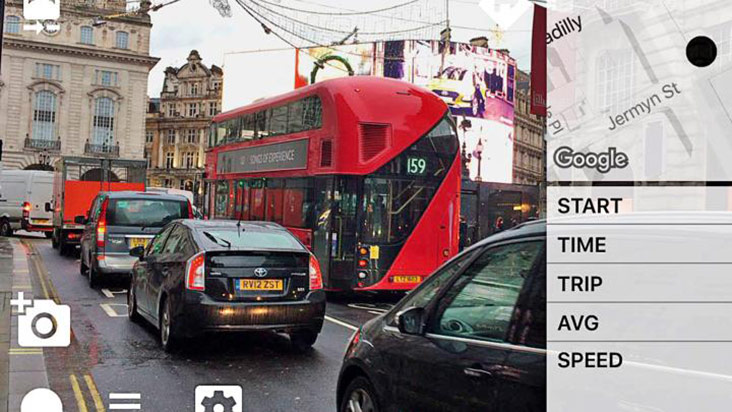 Available for: iOS
Price: Free
Rating: 3 stars
Like the best apps on our list, DashCam 2 was nice and easy to use, with clear menus. Your journeys are tracked with a Google Maps icon, which shows your speed and location on a map, but oddly you can't use Google Maps within the app itself. Reviewing footage is a bit tricky and you can't run DashCam 2 in the background while using a sat-nav or music app. We like the option to record in 4K, but this will of course require a newer and more expensive smartphone with a camera that can film at that resolution, and the resulting files will be bigger.
Navmii AI DashCam review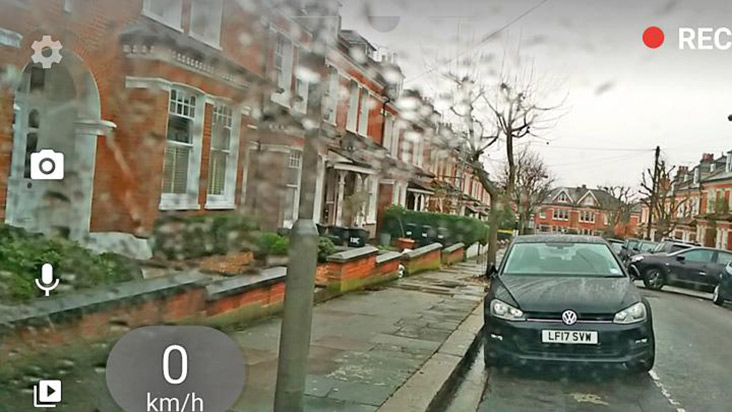 Available on: Android (iOS to come soon)
Price: Free
Rating: 3 stars
This app doesn't just work as a dashcam, because the AI in its name stands for 'artificial intelligence', which is used for the Navmii's forward-collision alert and traffic-sign recognition. It did quite a good job of flagging up speed limits, but the alert for potential collisions kept going off unnecessarily, so it quickly became irritating. The interface was good, with plenty of options, but we had trouble swapping the recording to portrait mode and the GPS wasn't as accurate as our winners'.
Smart Dash Cam review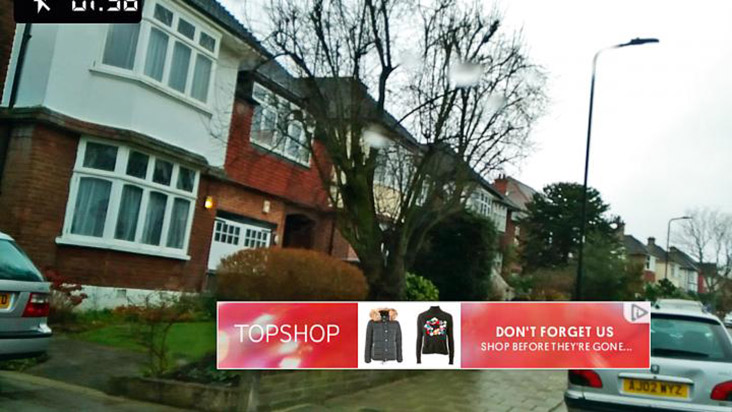 Available for: iOS, Android
Price: Free
Rating: 3 stars
Smart Dash Cam was quick to start and simple to operate, but some will find the on-screen advertising too much to bear. It's a shame you can't run other apps in the background, and while low, medium and high settings for the recording make things really simple, most other apps offer far more customisation. Being able to turn off the monitor was handy, though, and there's a parking mode that's intended to save footage if it detects motion when the car is already stopped – although our experience of this was mixed.
CamOnRoad DVR & GPS Navigator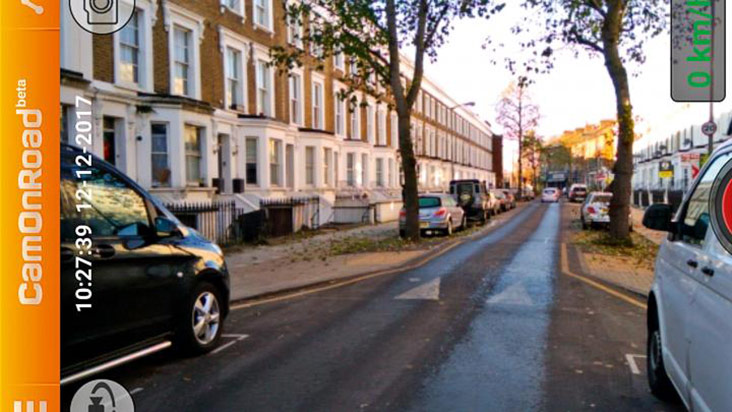 Available for: iOS, Android
Price: Free
Rating: 2.5 stars
CamOnRoad has performed well previously, but has fallen down the rankings this time. It's intended to use augmented reality and sat nav to overlay the route onto the video you see on your smartphone screen, but we couldn't get it to work. It's still being tested according to its developer, but we struggled to open the app at times. With the augmented reality turned off, the dashcam worked fine.
This article was written by Andy Goodwin from Car Buyer and was legally licensed through the NewsCred publisher network. Please direct all licensing questions to legal@newscred.com.
---
Fitting a dashcam to a Motability Scheme car
If you're considering fitting a dashcam to your Scheme car, here's what you need to know:
The dashcam must be the plug in type and not hard wired into the vehicle
It must be attached in such a way as to not cause damage to the vehicle (e.g. fixed by suckers and not permanently attached to the dashboard)
Any associated costs must be covered by you (including the purchase of the dashcam and any fitting/removal costs)
Your dealer may also be able to help advise you on purchasing and installing a dashcam
Related articles
16 great travel apps for people with disabilities
These tips will help you stay safe while driving in the rain
How Advance Driver Assistance Systems (ADAS) can help drivers with disabilities