This is the first in a series of mobility scooter reviews by our independent reviewer, Ian Cook. This focuses on large Class 3 mobility scooters available on the Motability Scheme. This class of scooters is permitted to travel on the road when taxed—and this is arranged by the Scheme on your behalf. That's one less thing to worry about so you can start driving your scooter as soon as it's delivered!
1. Freerider Mayfair 8 Deluxe (Weekly rental £24.35)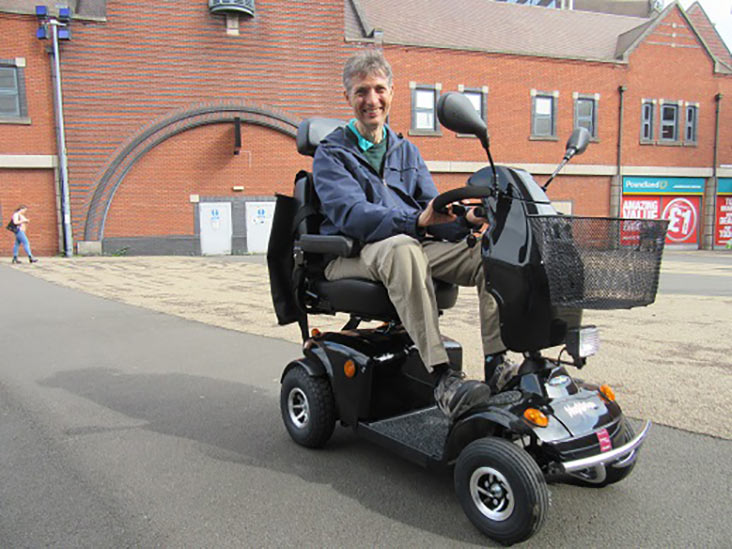 With a mobility scooter called "Mayfair", you expect a classy ride. And that's exactly what you get from the Freerider Mayfair 8 Deluxe.
Weighing in at 90 kg, with a length of 124 cm and a width of 63 cm, the Mayfair is stately as well as classy and will travel at 8 mph on its four pneumatic air-filled tyres. Its 36 ah battery power should take you 20 miles.
Maximum user weight is 136 kg (just over 21 stone) and, again, in keeping with its name, the captain's seat is the last word in luxury. As well as standard features such as wing mirrors, indicators, and a wire shopping basket at the front, it has comfortable armrests and a headrest. I found the tiller easy to operate and responsive.
The mobility scooter's compact size means that you could keep it in your own home and you're unlikely to need a garden shed or garage. It's not the biggest scooter around, but I found that its tiny turning circle made it highly manoeuvrable and quite zippy. I liked it a lot.
2. Electric Mobility Rascal Pioneer (Weekly rental £26.23)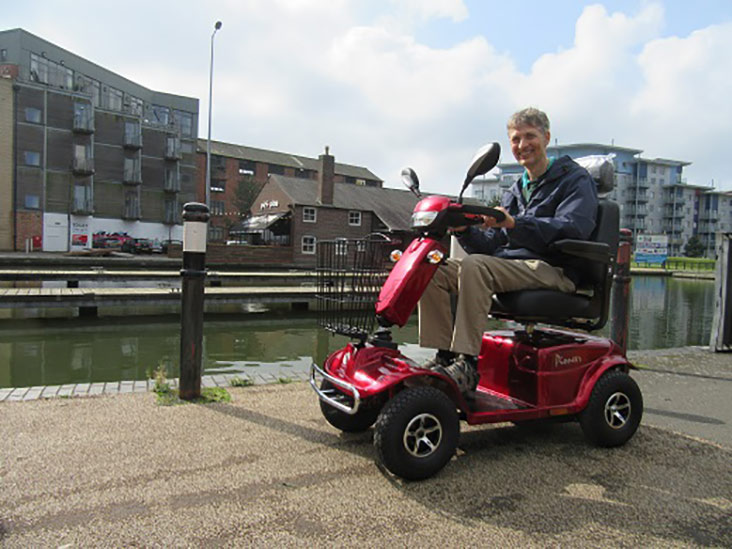 This fully road legal 8 mph mobility scooter gives you reliability and performance. It is able to carry up to 25 stone in weight and I could really feel its solid construction while riding it over uneven ground.
The Pioneer comes with a full lighting kit, 12" robust wheels, and front and rear coil-spring suspension. It also has an adjustable, luxurious sliding swivel seat with a headrest and padded arms. I found the large square basket particularly useful for storage.
The scooter also features a moveable delta-bar tiller and it will carry you up to an incredible 35 miles before needing to re-charge the batteries. With its suspension and a 35-mile range, the powerful motor makes it an ideal mobility scooter for more challenging environments.
With 12″/ 30 cm wheels front and rear, the Electric Mobility Pioneer electric scooter is sure to give you a comfortable ride, whatever the terrain—I think this was its most impressive feature.
3. Pride Colt Sport (Weekly rental £20.77)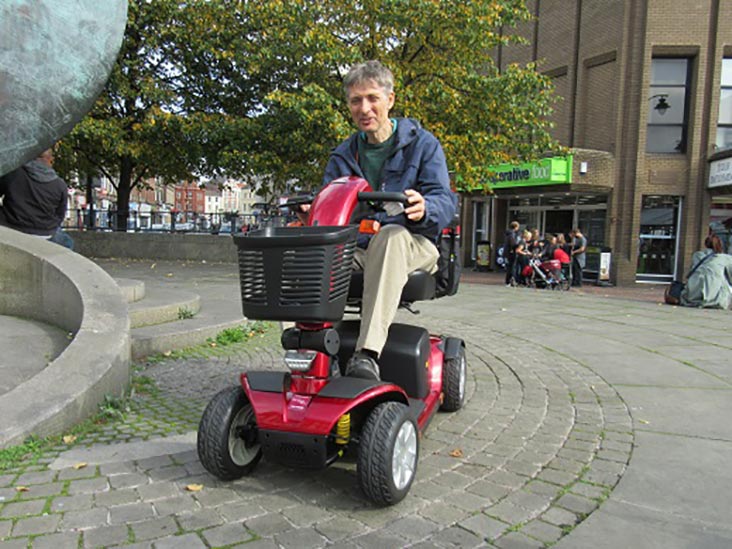 The Pride Colt Sport is a stylish looking mobility scooter with sleek modern lines, sporty design and, being one of the smaller class 3 models, is manoeuvrable and very easy to drive.
The delta-shaped wrap-around style handle minimizes the strain on your hands and allows your wrists to rest on it, allowing for both left or right-handed operation. The comfortable captain's seat makes your ride easy.
There is full front and rear suspension which is helpful with its solid tyres. This means you don't need to worry about punctures, but you won't get the same smooth ride that comes with air-filled tyres.
Standard features include a dual braking system and full lighting. There is also an indicator package which includes high visibility automatic brake lights, an LED kerb light, a powerful LED headlight and brake light. This really helps with your visibility in low light and it will also help you see your surroundings better.
The two powerful 40 ah batteries at the heart of the Pride Colt Sport Mobility Scooter give you a maximum range of up to 25 miles on full charge. Couple this with a maximum user weight of 25 stone and the Colt Sport should get you where you want to go.
4. Invacare Orion (Weekly rental £24.70)
This is one of a new range of scooters launched by Invacare. It's quite a large scooter and comes with one or two interesting features that would interest those looking for a mobility scooter that is both high-tech and high stability.
First, the large 11″ air-filled tyres and a highly effective suspension system guarantee a comfortable ride. There is also a fully adjustable captain's seat and a delta-style handlebar to give easy tiller adjustment.
There is also a full lighting system to the front and rear, including indicators and a powerful dual-bulb headlight. The brake light also comes on automatically when you are slowing down.
Although this scooter can carry a maximum user weight of just over 32 stone, you can travel up to a maximum of 25 miles between charges, ensuring you will get to further destinations. It is also worth mentioning that ground clearance is just over 3″, so bumpy surfaces should not pose a problem.
For me, the most interesting thing about the Orion is that it comes with one or two high-tech features, such as the speed reduction system which slows the scooter when cornering to ensure stability is maintained and tipping is avoided.
Perhaps most impressive feature was the LED dashboard display, which shows you the speed you are travelling at and remaining battery life. I have never seen this feature before on a mobility scooter!
Whatever your choice when it comes to the size of your scooter, the Motability Scheme will have everything you need and more. Search through the full range of mobility scooters available to lease through the hassle and worry-free Scheme and find your nearest dealer to find the perfect mobility scooter for you!