In his latest set of reviews, independent reviewer Ian Cook has had a look at four scooters with canopies. Read this article to see what he thought of them!
---
With Britain being among the wettest places in Europe, it's likely that on occasion you will get wet – maybe even soaked! – on your mobility scooter during a trip out. It is encouraging therefore that manufacturers are increasingly considering the need to keep scooter users dry by offering scooters with canopies.
These not only keep off the rain but also keep out the wind should you hit a patch of wet and windy weather on your journey. We decided to review what we thought were some of the best class 3 mobility scooters with canopies offered on the Motability scooter and powered wheelchair lease scheme. We were impressed by the four and we think you will be too.
To find out if a scooter is right for you, read our guide here.
Prices shown are valid for applications placed between 1 October 2021 – 31 December 2021
1. TGA – Breeze S4 Long Range Battery and Solid Canopy inc Sides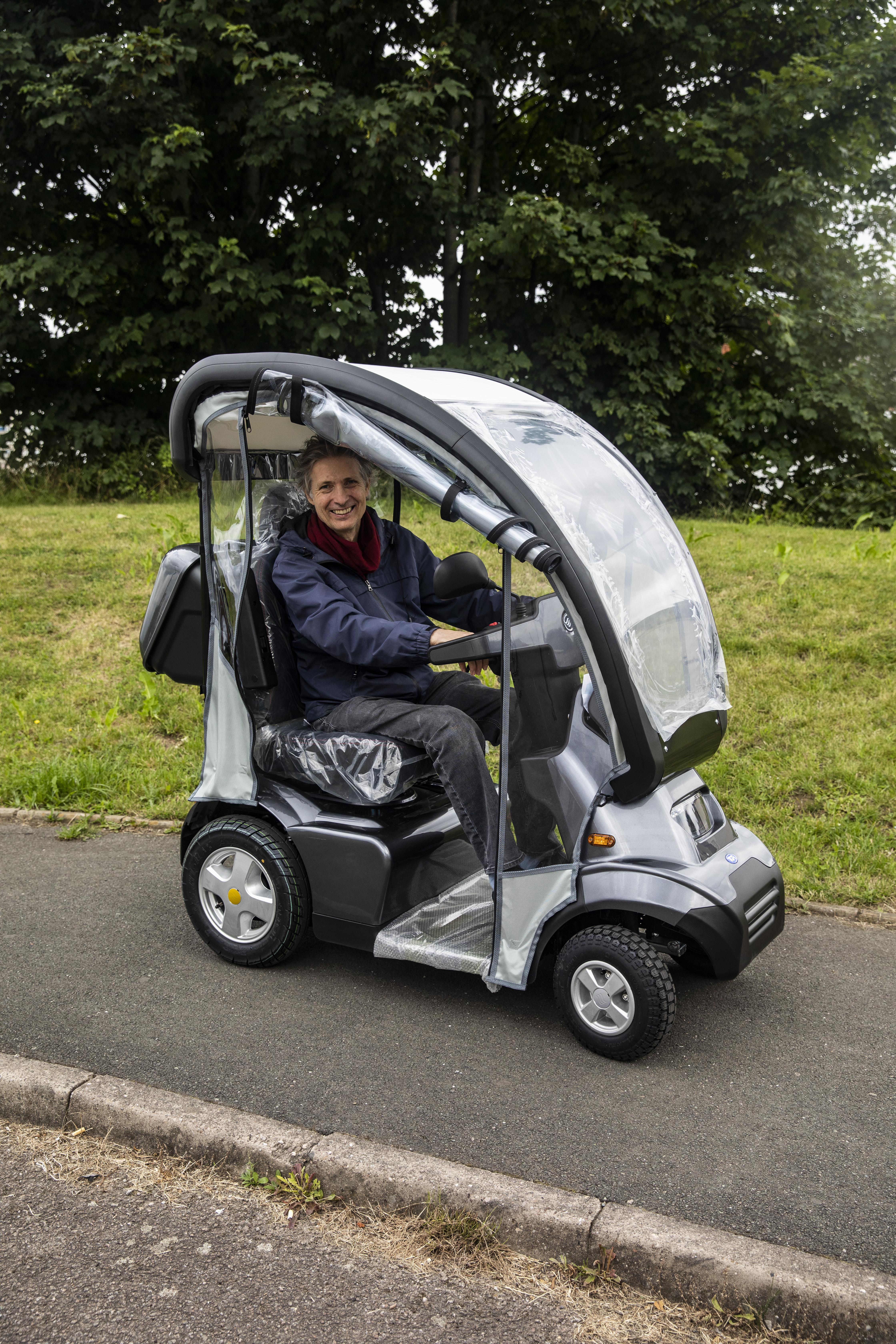 Weekly rental – £45.21
The Breeze S4 with solid canopy is a top-of-the-range class 3 mobility scooter combining powerful performance, ease of use and comfort. With its solid canopy the Breeze S4 is the ideal solution for those wanting an outstanding mobility scooter and who are unwilling to compromise on quality and comfort. 
In terms of its size the Breeze S4 is 163 cm long, 140 cm high and 77 cm wide. The maximum battery range per charge is 30 miles. I was personally impressed by the excellent suspension and how the large seat can accommodate those of up to 31 stone (200kg). The scooter itself weighs in at a hefty 23 stone (148kg) giving it a solidity not always associated with class 3 mobility scooters, and the solid canopy does an excellent job of keeping out the wind and rain.
Altogether this is an ideal scooter for those looking for reliability, safety, comfort and style. Better still, given its size and solidity, it's zippy and manoeuvrable – even for a big scooter, the Breeze S4 is a breeze.
2. Electric Mobility – Vortex with solid Canopy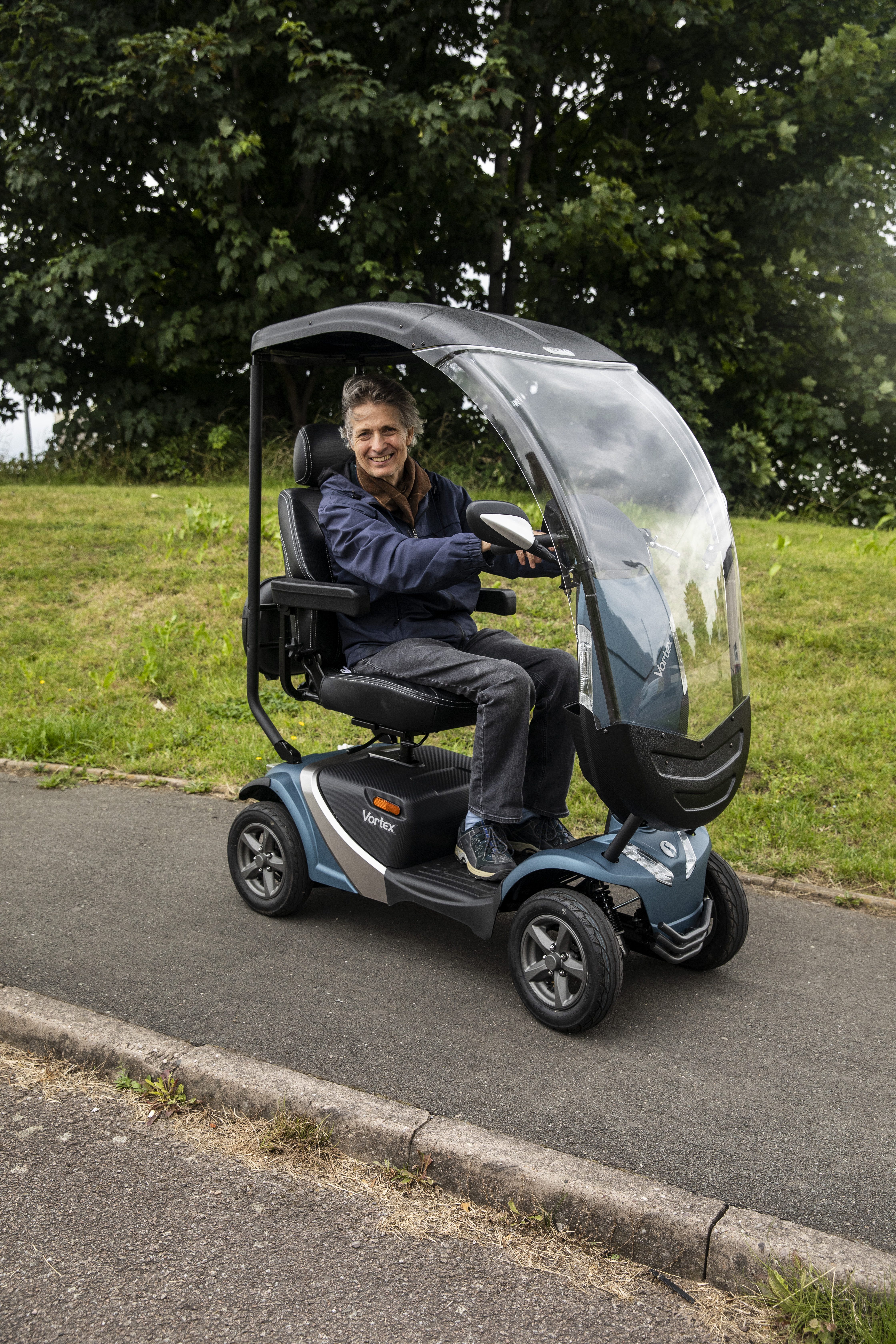 Weekly rental – £37.65
The Electric Mobility Vortex with solid canopy is a dynamic and stylish-looking class 3 scooter with a host of features that takes mobility to the next level. One thing I particularly liked was the exceptional legroom – useful for the taller scooter user like me! Also likeable was an adjustable tiller and a super comfy seat. 
With a weight carrying capacity of just over 28 stone (180 kg), and a zippy motor, this is a scooter with the wow factor. Its 26-mile maximum battery range per charge also means it will take you on longer journeys. The scooter is 146 cm long, 173 high, 66 cm wide and weighs 164 kg (nearly 26 stone). This is another great scooter from Electric Mobility – big and beautiful.
---
Wondering what scooter is right for you? Have a look at the types of scooter available on the Scheme here.
---
3. Kymco – Agility with Deluxe All-Weather Canopy

Weekly rental – £32.84
I was also highly impressed by the Agility from KymCo – an excellent example of a totally modern class 3 mobility scooter. Everything about this scooter has been carefully thought out to deliver exceptional comfort, from the ergonomic delta handlebars down to the raised footrest supports.
Sitting on the breathable and adjustable captain seat made me feel like I was being enveloped in a luxurious hug. The Agility comes with fabulous suspension for even greater comfort on the road. It is125 cm long, 104 cm high, 59 cm wide and the maximum user weight is 160 kg. The product weight is 102 kg. As such, it seemed well built and well proportioned.
Best of all, the Agility is super cool to look at. It's robust yet elegant, and you can achieve speeds of up to 8mph on a maximum 25-mile range on a single charge so you are getting plenty of power and endurance for your money. You might say the Agility is agile by name and nature. I liked it a lot.
4. Freerider – FR1 City with Canopy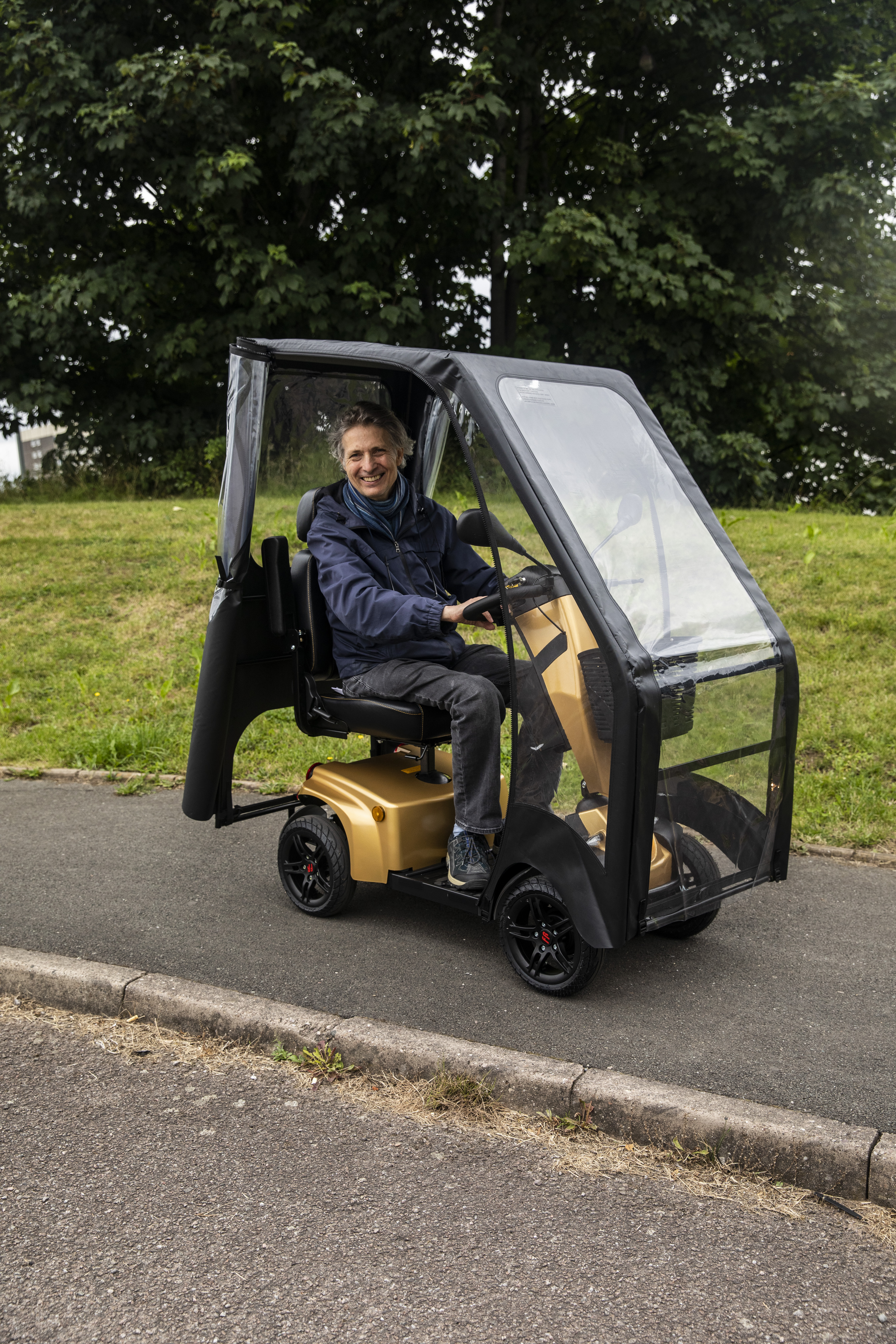 Weekly rental – £34.74
The Freerider Fr1 City with canopy is the next-generation class 3 scooter for anyone who takes a pride in their ride. It's a pleasure to drive, with looks to be proud of, plus a host of comforting safety features and handy extras you'll find useful.
The height-adjustable fixed tiller design gives car-like handling. Excellent suspension makes for a smoother ride when you take to the road or pavement. There's a maximum speed of 8mph and an easy access captain's seat, and the Fr1 City with canopy has fixed twin mirrors, so you can see and be seen. The Fr1 City is 150 cm long, 168 high, 72 cm wide and the maximum user weight is 136 kg. The product weight is 133 kg.
I found the impressive, sporty-looking next-generation FR1 just a pleasure to drive. With a host of handy extras for everyday convenience, and with a 25-mile maximum battery range I think you'll spend more time out of the house than in it.
The Motability Scheme
Whatever your choice when it comes to class 3 scooters, the Motability Scheme will have everything you need. Search through the full range of scooters available to lease through the hassle and worry-free Scheme using our search tool and find your nearest dealer to find the perfect mobility scooter for you!
Finally, it's worth remembering that the Motability Scheme provides insurance cover for every scooter provided through the scheme. For more information on the Motability Scheme, request a free information pack.
Related articles
Test drive: Medium scooters put through their paces
What to expect if your mobility scooter or powered wheelchair needs a repair
Test drive: Large scooters put through their paces