Having the right car seat for you can mean the difference between a comfortable time behind the wheel or a feeling of dread before going for a drive. Whatever kind of vehicle you choose, it's always essential that the seats are comfortable and supportive enough. It's also important that they're flexible enough if you have mobility aids or other equipment you might need to transport. Here we look at some of the different kinds of car seats available and which might suit your needs. 
Height-adjustable seating
It goes without saying that, as a driver, you must be able to reach all the driving controls in your car and have good all-around visibility. Many drivers find a high seat easier for getting in and out of the car, but whatever your preference, height-adjustable seating allows you to choose the best level for your comfort.
This is why all new cars, such as the Ford Focus, SEAT Arona, and the Volkswagen Golf, are fitted with a height-adjustable driver's seat as standard. Some models even offer this feature on the passenger seat.
Electric and memory seating
Sitting in one position for too long raises the risk of discomfort, so the simplest way to alleviate this is to alter your position. Electronically controlled seats are an excellent choice for maximum flexibility.
Premium makes, such as BMW, Audi and Volvo, fulfil a high standard of comfort due to memory seating. However, this isn't available in all of their cars and depends on the model and trim you go for. This feature is increasingly being offered by other brands too; for example on the higher specification versions of family-focused cars, such as the Peugeot 5008 and Nissan Qashqai.
Unlike a conventional electric car seat, where you may need to adjust the position and height to suit you after someone else has driven the vehicle, a memory seat stores your favoured position. 
So, after another driver uses the car, you simply press a button to restore the memory seat to your pre-set position, saving you time and patience.
---
Find out more about named drivers on the Motability Scheme
---
Bucket seats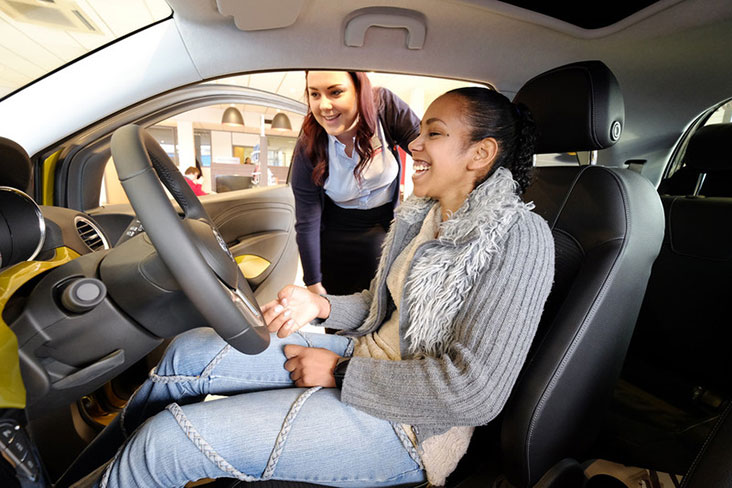 Front car seats are most likely to be bucket seats for one person
An individual bucket seat is a single seat that only one person can fit in to. These usually have curved backs and tend to adjust so they can accommodate different sized occupants.
Bucket seats are made to be close-fitting as they are designed to keep you in position through twists and turns. Their substantial side bolstering can be intrusive if you experience back problems though, and can make getting in and out of the car awkward.
Bench seats
Front bench seats are quite uncommon in the UK, but they used to be fitted as front seats in Australian and American cars. The bench ran the whole width of the cabin.
The rear row of seating in most cars these days, though, tends to be a bench. You can get flat bench seats which are useful to fit child seats into, or ones with individual moulded areas for usually two, or sometimes three, passengers.
Folding seats
Folding seats are more common in seven-seater cars that have three rows of seating than in smaller cars. In these cars, the third row can usually be folded away into the floor of the car when not in use, giving additional storage space. When they're not, the third row can be folded away into the floor of the car.
Traditional rear seat benches in cars—especially hatchbacks, estates and SUVs—have always folded too, increasing cargo space. Some vehicles have a fold-down passenger seat as well. This helps to fit larger objects and equipment you might need to transport in the car.
For example, the Citroen Grand C4 SpaceTourer is a spacious seven-seater car. Fold the back seats away, and you get 600 litres of storage space. When in position, some adults might find them on the cramped side, but kids will love them. This is the case with many cars with seven seats.
An example of a five-seater is the Peugeot 2008. This small SUV's rear seats fold flat, meaning there's room for your family and any mobility aids or equipment you might need.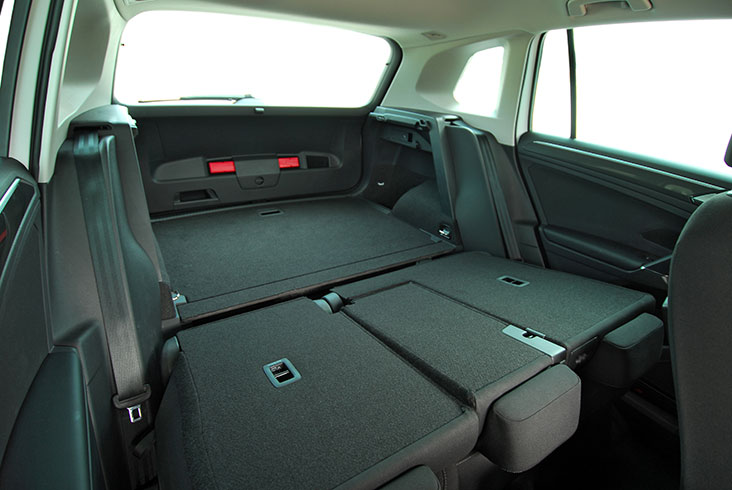 Folding seats can make a lot of room in cars for storing mobility aids and other equipment
Lumbar support
If you suffer from back pain, then choosing a car with lumbar support will make all the difference to you. Some are electrically operated via a button, others you have a dial or lever that you manually adjust until you feel the support in your lumbar region.
Many models – even inexpensive ones – come with lumbar support to reduce stress on your back, although sometimes it's only included as part of an optional extra package. For example, the Kia Sportage features lumbar support on certain trim levels, and the same is true of the Volvo XC40.
Adaptations to help
If transferring out of your wheelchair and into a standard car seat is becoming too difficult, there are adaptations available that can help. These range from a simple transfer plate to help bridge the gap between the wheelchair and seat, through to a swivel seat that rotates 90 degrees to allow easier access. The swivel seat replaces the standard car seat and can offer you an excellent alternative to a Wheelchair Accessible Vehicle (WAVs). Swivel seats are available as both manual and electric options, depending on your needs and budget.
Seatbelts
It's worth mentioning here that whichever car seat you choose, you must wear a seat belt if you're a disabled driver or passenger. Unless, of course, your doctor has said you don't have to wear one for medical reasons. If this is the case, your GP will issue you with a 'Certificate of Exemption from Compulsory Seat Belt Wearing'. You then need to keep the paperwork in your vehicle, so you can prove you're exempt if asked by police. You are also required to notify the Motability Scheme if you are exempt from wearing a seatbelt.
Car search
If you're a Motability Scheme customer or thinking about becoming a Scheme customer, you can browse the full range of cars available to you and the types of seats they have by using our car search tool. When researching your next vehicle, try as many different types of cars as possible to get a feel for what works best for you. There are around 5,000 Motability car dealers in the UK with trained experts to help you find a vehicle to suit your needs—find your closest one here.
---
Related articles
Small cars, estates or SUVs: What type of car suits your needs?
A guide to car boot space: How much do you really need?
Top tips for ordering your next car