It might not seem as important as other aspects of shopping for a new car, but working out how much boot space you need is vital. We all have different requirements for how much room we need, and sometimes it can be tricky to work out exactly how much space is available and whether it's going to be enough.
Why does boot space matter?
Everyone has different needs for their boot space, depending on what they might need to transport – whether that's everyday shopping and holiday luggage, or more specific equipment such as a wheelchair or mobility scooter.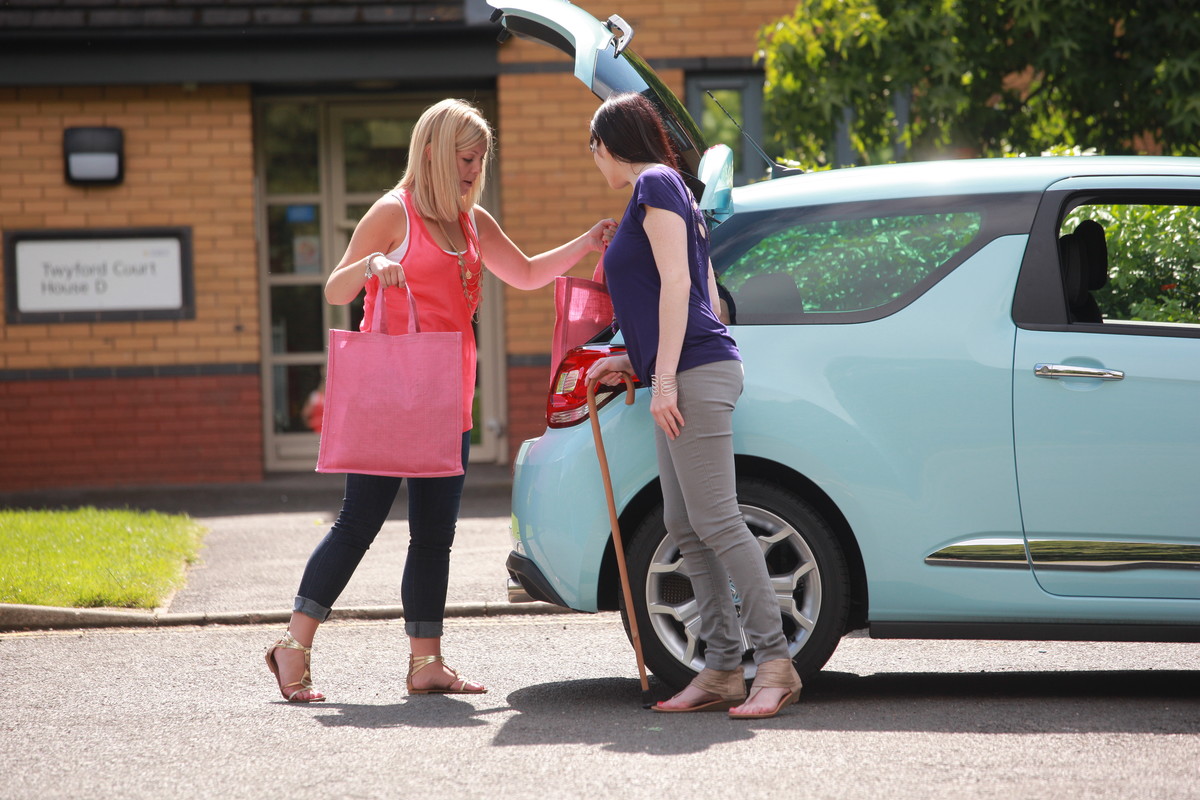 Generally, the bigger the boot or hatchback opening, the easier it is to load up. This is particularly important if you have restricted movement. Trying it out for yourself is the only way to make sure the vehicle you're ordering is right for you.
Storing a wheelchair or scooter in the boot
You may consider fitting a car boot hoist to your car if you need to store your wheelchair or scooter in your boot. These adaptations require a certain size and shape of boot in order to operate successfully, and not every type of car is compatible with every hoist.
There are some hoists specifically designed to work in compact spaces, so these may be suitable for many of the popular makes and models available through the Motability Scheme.
Keep in mind that boot hoists often need one or more of the rear seats to be folded down, in order to make room for a scooter or wheelchair.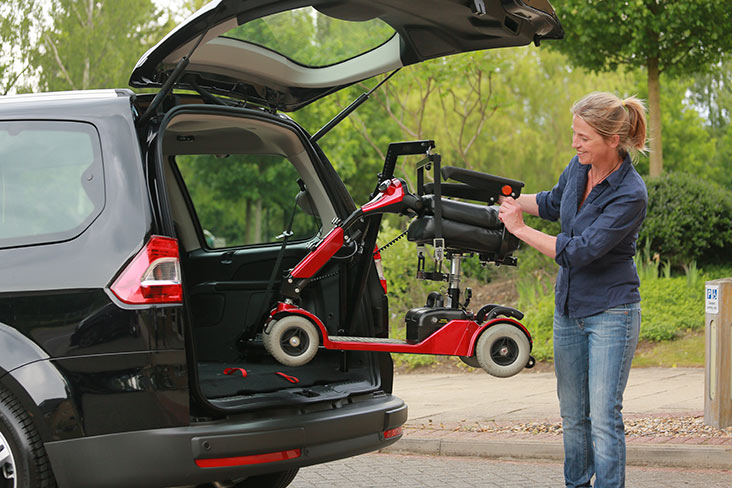 If you're currently considering a Wheelchair Accessible Vehicle (WAV), adding a boot hoist to a car could be an alternative option. Motability Scheme adaptations installers can give you advice on suitable cars and boot hoists to meet your specific needs.
Not sure what type of vehicle is right for you? Try our guided product selection tool
The size and weight of your wheelchair or scooter will affect the type of boot hoist you need and the space required. When visiting your local dealership be sure to take your product with you, so that the dealer can make sure that the cars you're considering are compatible with the hoist you need to lift your scooter or wheelchair.
Which measurements should I look out for?
Space:
Some manufacturers measure boot space using cubic metres, while others use litres or VDA (Germany's Verband der Automobilindustrie cubic volume measurement). However, sometimes it's tricky to equate any of these measurements to the objects that you have to carry.
You can ask the dealer or manufacturer for the dimensions of the boot space, as knowing the dimensions can really help with larger objects such as wheelchairs and mobility scooters – it's a bit like measuring for a piece of furniture at home.
Shape:
Although the dimensions are important, it's important to remember that not all boots are uniform in shape. Boot capacity is useful to give you an indication of the size, but the shape of the boot is an important factor that is often overlooked. You need to consider whether the sides of the boot slope inwards, or if the car has a sloping tailgate for example. You'll be able to see this when you visit your local dealer.
How do I choose a car with the right boot space for me?
Take a look at the What's Available section of our website, as it has a handy tool that can help you find the right car for your needs. You can enter the amount of boot space you need, based on the number of suitcases you would want to fit in, and then add your other requirements. Once you've added everything in, the tool will show you some cars that may be suitable for you – helping you to narrow down your choice.
You should also be sure to speak to a Motability Scheme dealer. Over 4,500 dealerships across the UK have dedicated Motability Scheme specialists on-hand for advice and support. Let your dealer know about your storage requirements, and they can advise suitable options and arrange a test drive so that you can test out the boot to make sure everything fits.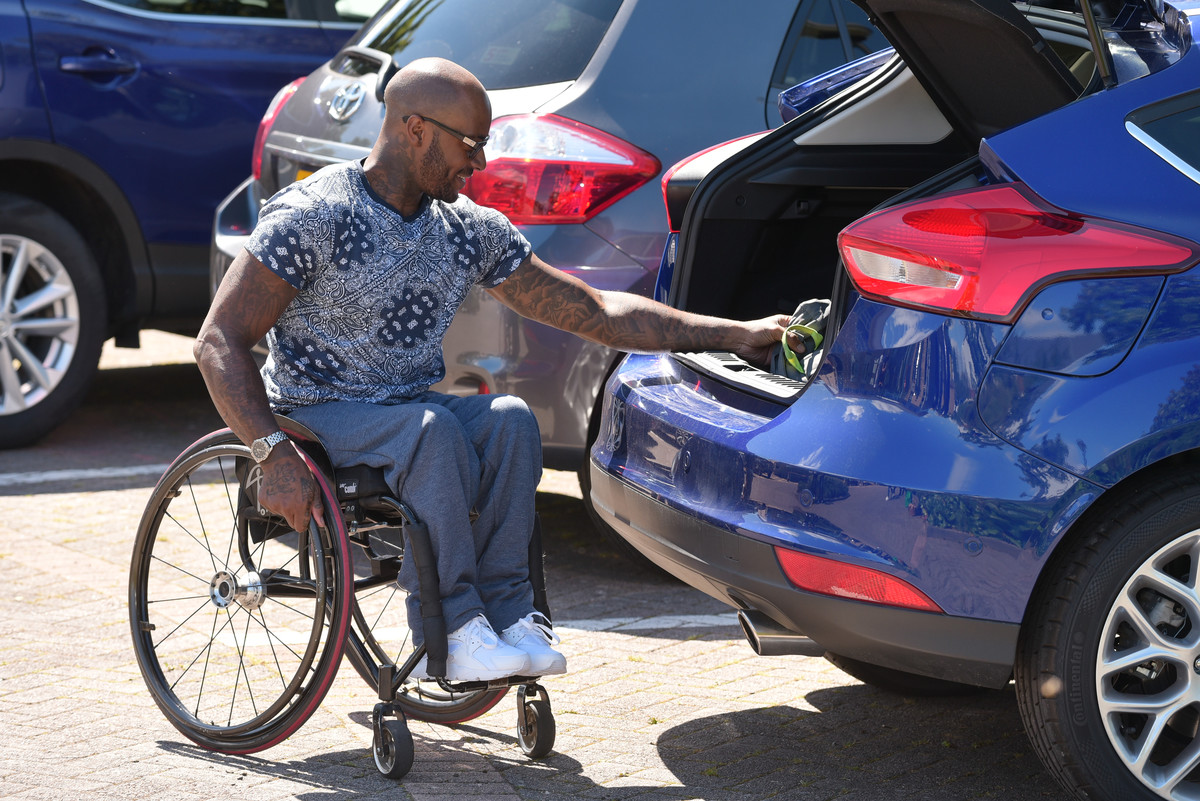 Top tips for knowing how much car boot space you need
1. Get expert advice
Motability Scheme specialists are on hand at over 5,000 dealerships across the country. So when you have a few cars in mind, speak to the Scheme specialist of your choice and they can advise you about suitable options.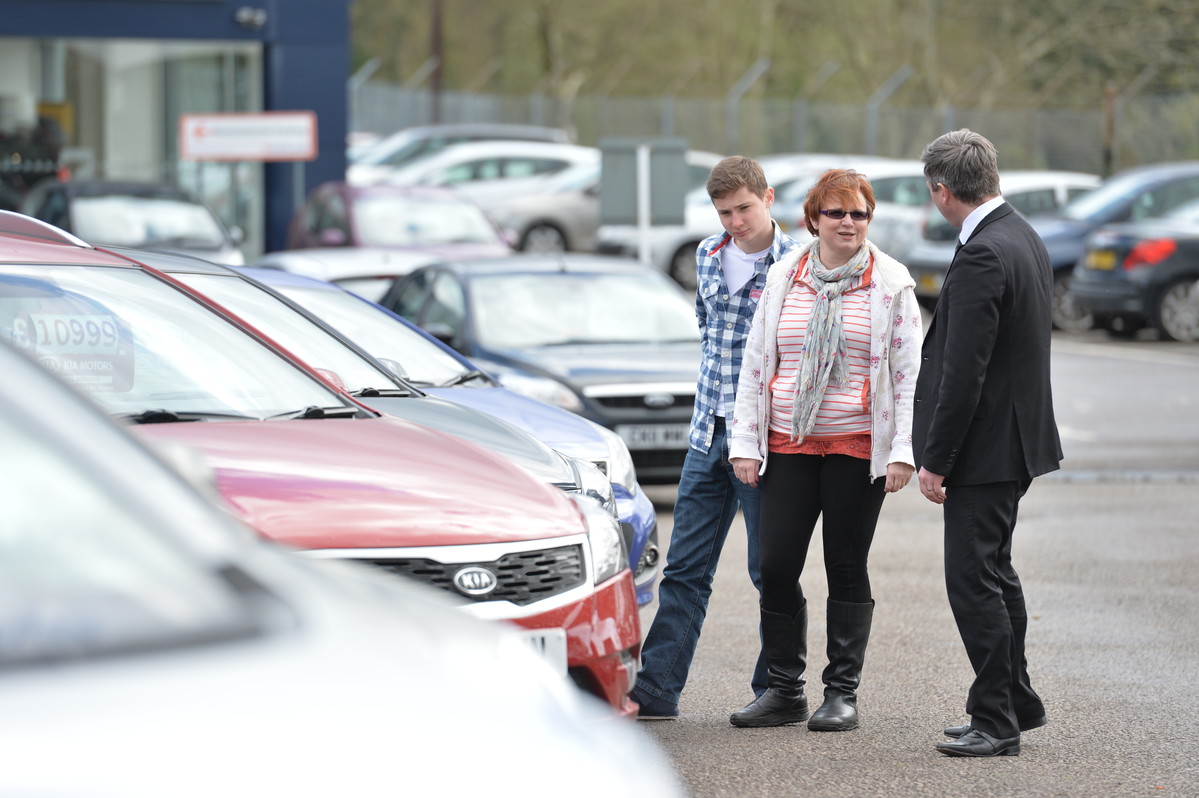 Speak to a Motability Scheme specialist at your dealership when considering car boot space
2. Make the most of a test drive
There's only one way to really find out whether a car's boot space is going to work for you – by testing it out. We always recommend that you arrange a test drive if possible, as it can give you peace of mind knowing that you are choosing the right vehicle for you. Even if you are not going to be driving yourself, you need to make sure the car is comfortable and suits your needs, and you should bring any mobility equipment along to double-check that they will fit in the boot.
3. Take your time
It's not just about boot space – there are lots of things to consider when choosing a new vehicle. Take your time to think about the types of cars that would be most suitable for your lifestyle before narrowing down your options further.
What does boot space actually look like for different cars?
The Car Search tool tells you about how much boot space each vehicle has on the Motability Scheme, so if you know which car you're looking for then simply head there to find all the details.
If you've not yet decided on a particular model, here's a short run-down of the boot spaces for some of the popular models available on the Scheme, to give you a better idea of what car you might need:
Small cars – Hyundai i10: This sharply-styled city car is easy and fun to drive and comes with a modest 252 litres of boot space.
Medium cars –  Peugeot 308: Sporting serious kerb appeal, the latest 308 is available as a hatchback (load space 412 litres) or an estate (608 litres).
Family cars – Nissan Qashqai: This popular British-built crossover delivers up to 504 litres of useable boot space.
Estate cars – Suzuki Swace: This self-charging hybrid offers a sizeable 596 litres of boot capacity.
MPVs – Citroen e-Berlingo: People carriers come in different shapes and sizes, and this five-seater example is now available as a pure electric with a range of up to 173 miles. There's a massive 775 litres of boot capacity, the largest boot out of all the cars on this list.
4×4/SUVs – Hyundai Tucson: This boldly-styled mid-sized SUV gives a good indication of the boot space you can expect for these kinds of cars. It has 558-620 litres of useable boot space, with capacity varying between the petrol and hybrid versions.
Convertibles – Fiat 500C: This iconic city car is also available without a roof, with the choice of an all-electric or mild hybrid version. Boot space is just 185 litres, so it may not be the best option for those who need lots of storage.
Hopefully this little review of boot spaces from popular cars in each sector of the market shows you how boot spaces gradually increase. Broadly speaking, MPVs and SUVs have larger boot spaces than family cars and are better for people who need to store heavier, or awkwardly shaped, loads.
Search the full list of available cars
Best cars for wheelchair users
If you are a wheelchair user, you might be wondering which cars on the Motability Scheme have the biggest, most accessible boots. The list below highlights some of the models you may want to consider for their large boot space.
MG ZS: This 5-door hatchback has a comfortable 448-litre boot capacity, along with an automatic transmission that makes it a pleasure to drive.
Ford Puma: Not only is it a great compact crossover to drive, this mild hybrid has an impressive 456 litres of boot capacity.
Skoda Scala: At 467 litres, this good-value hatchback has one of the biggest boots in its class.
Renault Arkana: Slotting in between the Captur and Kadjar in the Renault range, you'll stand out from the crowd in the hybrid Arkana – and will also have 480 litres of space to play with.
Vauxhall Astra Sports Tourer: You'll be able to fit plenty of luggage and equipment in this Vauxhall's smart-looking estate, which has 517 litres of boot space.
Volkswagen Golf Estate: This stylish station wagon offers 611 litres of boot capacity (1,642 litres with the rear seats folded flat).
Ford Kuga: If the Puma doesn't have enough boot space for you, Ford also offers the Kuga – a self-charging hybrid with a sizeable 612 litres of boot space.
Volkswagen Tiguan Allspace: This bigger, seven-seat version of the Tiguan crossover delivers 700 litres of boot capacity with the rearmost row of seats flipped down.
Remember, it's always a good idea to go to a dealership to make sure there is space for your chair, and to find out whether it's possible to lift it in and out with relative ease. You can find a dealer using our handy tool.
Read more articles like this:
How to save money and fuel by eco-driving
Learn about the different fuel types
Latest prices for the Motability Scheme