Boot space is a vital consideration when it comes to choosing a car. Everyone has different needs for their boot space, depending on what they're transporting, be it shopping or mobility aids. Here, we discuss some top tips to help you make the right choice.
It might not seem as important as other aspects of shopping for a new car, but working out how much boot space you need is vital. We all have different requirements for how much room we need, and sometimes it can be tricky to work out exactly how much space is available and whether it's going to be enough.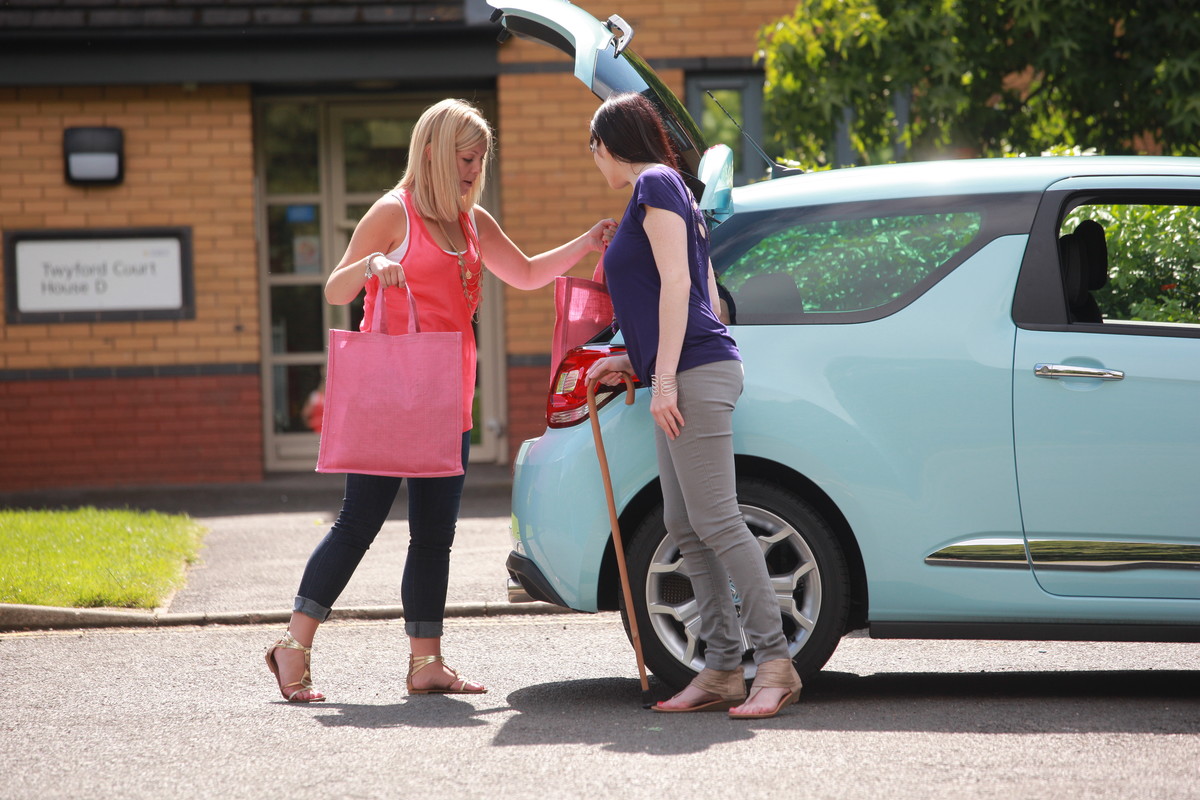 There are lots of different options for storage space across cars available on the Motability Scheme
Why does boot space matter? Everyday shopping, holiday luggage or mobility equipment.
Everyone has different needs for their boot space, depending on what they might need to transport, whether that's everyday shopping and holiday luggage or more specific equipment, a wheelchair, mobility scooter or adaptations.
Generally, the bigger the boot or hatchback opening, the easier it is to load up, which is particularly important if you have restricted movement, but trying it out for yourself is the only way to make sure the vehicle you're ordering is right for you.
Storing a wheelchair or scooter in the boot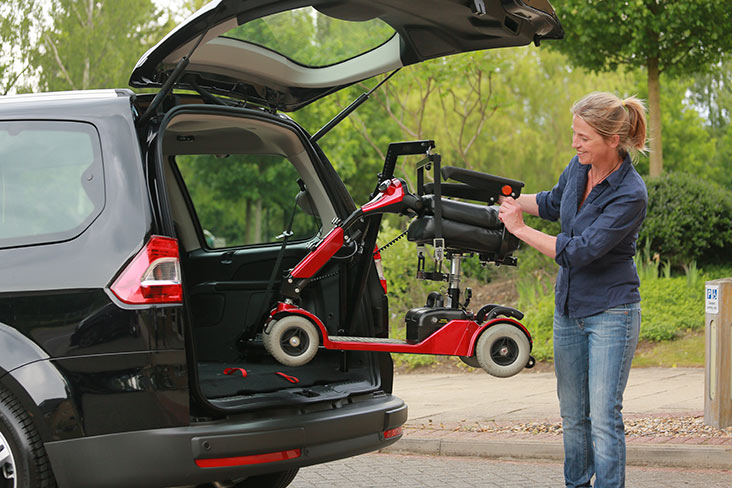 A car boot hoist can be used to store your wheelchair or scooter in your car boot.
You may consider fitting a car boot hoist to your car if you need to store your wheelchair or scooter in your car boot. They require a certain size and shape of boot to operate successfully and not every type of car is compatible with every hoist. But some hoists are specifically designed to work in compact spaces, so may be suitable for many of the popular makes and models available through the Scheme. Also, boot hoists often need one or more of the rear seats to be folded down make to room for the scooter or wheelchair.
Motability Scheme adaptations installers can give advice on suitable cars and boot hoists to meet your specific needs.
As the size and weight of your wheelchair or scooter will affect the type of boot hoist you need and the space required, you should take your product to the dealership so they can make sure that the cars you are considering should work with the hoist you need to lift your scooter or wheelchair.
If you're currently considering a Wheelchair Accessible Vehicle (WAV), adding a boot hoist to a car could be an alternative option.
Which measurements should I look out for?
Space:
Some manufacturers measure boot space using cubic metres, some use litres and some use VDA. But it's tricky to equate any of these measurements to the objects that you have to carry. You can ask the dealer or manufacturer for the dimensions of the boot space, as knowing the dimensions can really help with larger objects such as wheelchairs and mobility scooters—it's a bit like measuring for a piece of furniture at home.
Shape:
Once you have the dimensions, don't forget that not all boots are uniform in shape. Boot capacity is useful to give you an indication of the size, but the shape of the boot is an important factor that is often overlooked. You need to consider whether the sides of the boot slope inwards, or if the car has a sloping tailgate for example.
Test:
The only way to really find out whether the boot space is going to work, is to bring any mobility equipment along with you to test out the boot.

You can bring mobility equipment along to test drive to see how it fits in different cars
How can I choose the right boot space for me?
The Motability Scheme enables you to exchange a mobility allowance to lease a new car. Over 4,500 dealerships across the UK have dedicated Motability Scheme specialists on hand for advice and support.
So when you're looking for a car, let your Motability Scheme dealer know about your storage requirements. They can advise suitable options and arrange a test drive so that you can test out the boot to make sure everything fits.
Top tips for car boot space: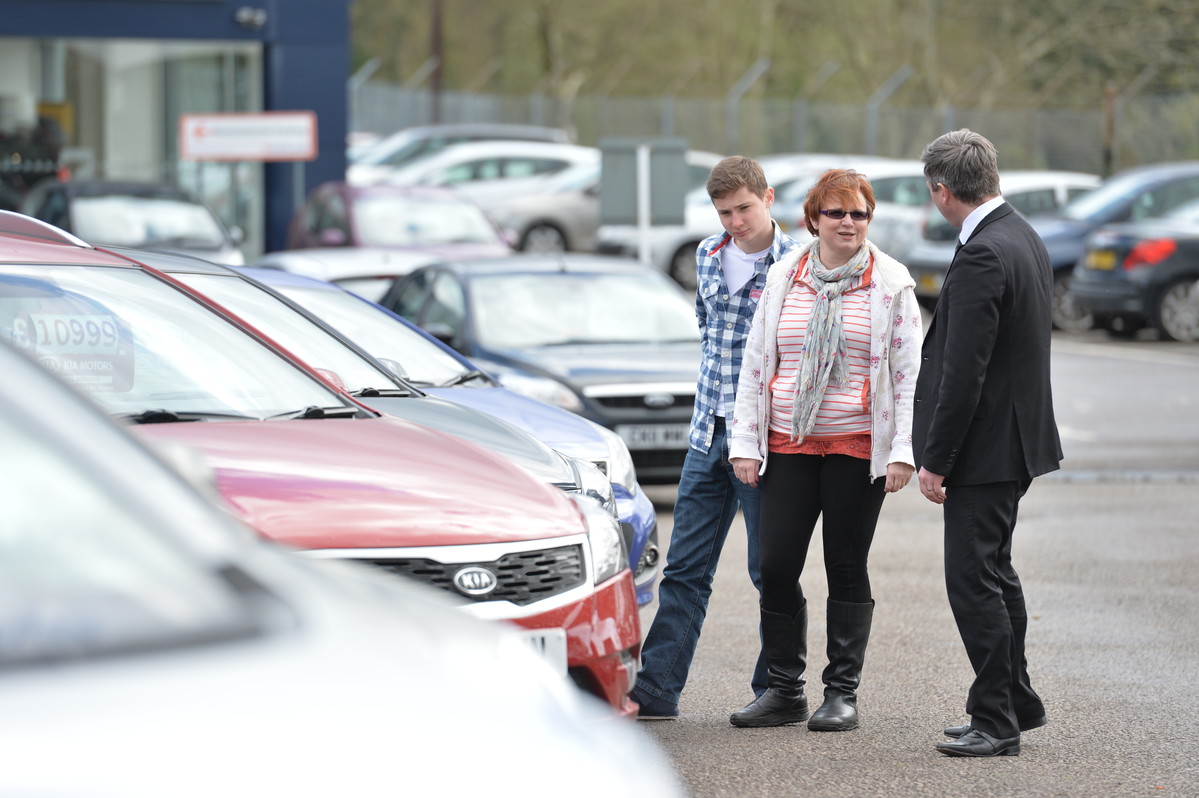 Speak to a Motability Scheme specialist at your dealership when considering car boot space
1. Get expert advice
Motability Scheme specialists are on hand at over 4,500 dealerships across the country. So when you have a few cars in mind, speak to the Scheme specialist of your choice and they can advise you about suitable options.
2. Make the most of a test drive
Arranging a test drive is one of the most important steps to help you choose the right vehicle. Even if you are not going to be driving yourself, you need to make sure the car is comfortable and suits your needs, and you can bring any mobility equipment along to double check they will fit in the boot.
3. Take your time
It's not just boot space, there are lots of things to consider when choosing a new vehicle. Take your time to think about the types of cars that would be most suitable for your lifestyle before narrowing down your options further.
What does boot space actually look like?
Take a look at the different types of cars available and use the car search tool to discover more than 1,600 vehicles available through the Scheme. Here is a short run-down of just a few popular boot spaces to give you a better idea of what size you might need:
Small cars – Hyundai I10: The Hyundai I10 is one of the most popular city cars on the Scheme and has boot space of 252-litres.
Medium cars – Volkswagen Golf: The Volkswagen Golf has been hugely popular for decades and has 381-litres of boot space available.
Family cars – Skoda Octavia: Again, one of the most popular cars in the UK. In hatchback form, it has 600-litres of load space.
Estate cars – Skoda Superb Estate: The Superb is huge in estate form and has 660-litres of boot space available.
MPVs – Ford S-Max: MPVs come in different shapes and sizes, but the S-Max is a popular choice. It has 285-litres of boot space.
4×4/SUVs – Kia Sportage: The Kia Sportage is a popular mid-sized SUV, so it gives a good indication of space in this very variable sector. It has 439-litres of useable boot room.
WAVs – Peugeot Rifter: This Peugeot is as user friendly as you can get if you need wheelchair access.
Hopefully this little review of boot spaces from popular cars in each sector of the market shows you how boot spaces gradually increase. You'll find that many MPVs and SUVs have load spaces like that of family cars, but they often have different dimensions, so they may be better for people with heavier, or awkwardly shaped loads.
Search the full list of latest cars
Interested in finding out more about the Motability Scheme?
With the Motability Scheme you can exchange all or part of your qualifying mobility allowance to lease a car of your choice. We offer a selection of over 1,600 cars from the most popular manufacturers. Here are a few things to consider when choosing a car to suit your budget.
If you have not leased a car through the Motability Scheme before, find out more about the Scheme works and check your eligibility to join.
As well as a great choice of cars, we also provide a wide range of Wheelchair Accessible Vehicles, scooters and powered wheelchairs.
Related Articles
Latest prices for the Motability Scheme
Large cars with no Advance Payment | Motability Scheme
Is an Electric Vehicle practical for you?