A day out that is accessible, dog-friendly and fun can seem like a lot to ask – but it's far from impossible. There are plenty of attractions in the UK that cater for the needs of people with disabilities and their canines. You could visit a recreated Victorian town with dropped curbs and water bowls, or hitch a lift on a shuttle bus through an arboretum – think of all the sticks to play fetch with!
Rough Guides writer Emma Field has found five accessible places that extend a warm welcome to both you and your four-legged friend.
Westonbirt Arboretum, Gloucestershire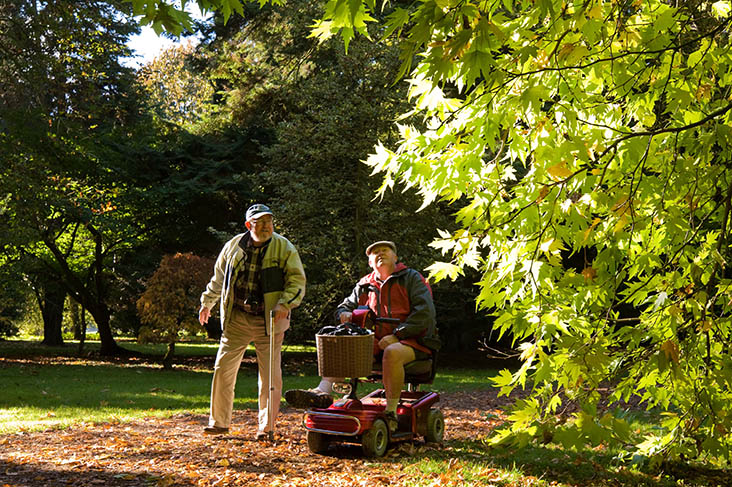 Is there a better place for walkies than Westonbirt, The National Arboretum, where two-thirds of the arboretum is open to dogs? Among the 15,000 specimens and 2500 species from around the world, look out for the colourful collections of Japanese maple cultivars, a 2000-year-old lime tree and 140 champion trees – the largest trees of their species in the British Isles. The sights, sounds and smells are delightful for all visitors, canine and human!
Leashed dogs are allowed in the central downs area; unleashed dogs can run free in Silk Wood. Only assistance dogs are allowed in the Old Arboretum, where you'll find three short trails with benches and hard surfaces. Wheelchairs and mobility scooters may be hired for free. A seasonal shuttle drop-off and pick-up (daily Mar–Nov) is available between the Welcome Building and the restaurant, shop and the edge of the Old Arboretum. Don't forget to take advantage of Westonbirt's complimentary ticket policy for personal assistants.
Landmark Forest Adventure Park, Inverness-shire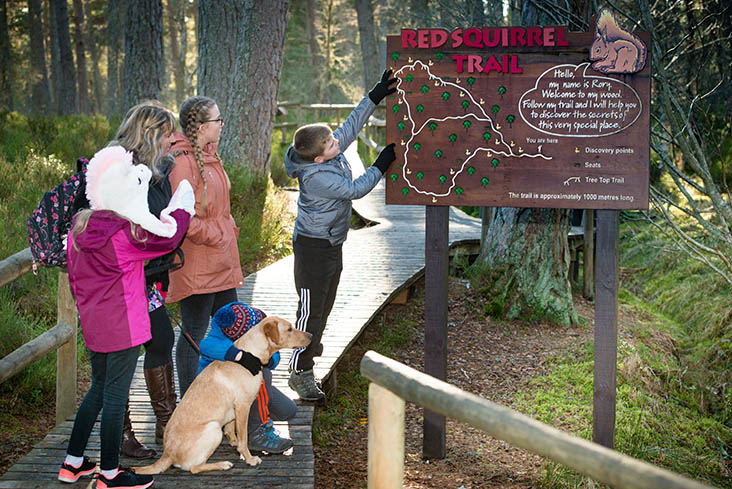 If you've got a penchant for theme parks and a well-behaved dog that loves to be by your side, Landmark Forest Adventure Park could be the dog-friendly accessible day out you've been looking for! There are enormous animatronic dinosaurs, crazy cabins where the usual laws of physics do not apply, and a tropical hot-house filled with parakeets, exotic flowers and the soothing sounds of cascading water.
Dogs must be kept on leads and can't go on the rides. Visitors who are registered disabled get a 50% discount on their ticket and complimentary entry for an accompanying carer (proof required), plus Fast-Track entry. If you have a condition that makes queuing more challenging, use the Green Card system to skip the queues. Most areas are wheelchair accessible, apart from the Forest Tower, Wild Water Coaster, ropes-courses, Skydive and Ant City. One to three disabled toilets are available, depending on the time of year.
Blists Hill Victorian Town, Shropshire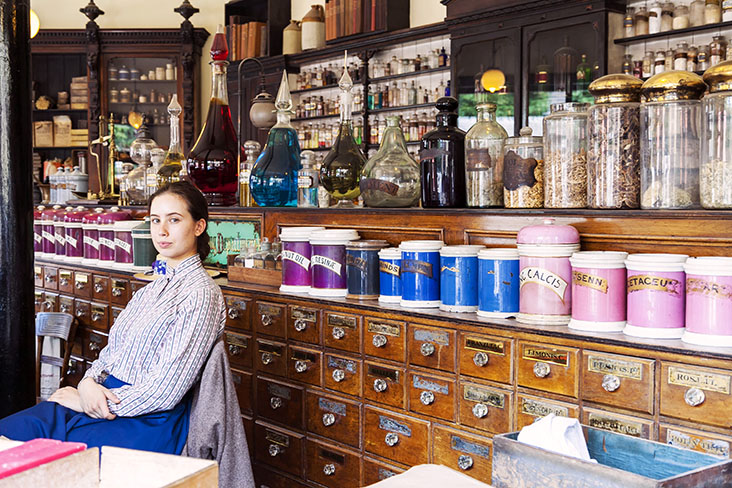 Blists Hill Victorian Town is the only one of the ten Ironbridge Gorge Museums to welcome dogs. This recreation of a Victorian town is almost as good as a time machine, taking visitors back to when Queen Victoria ruled Britain and half the world – apart from the ramps, dropped curbs and dogs' water bowls scattered throughout! With Rover by your side, you can watch molten iron being poured in the Foundry, marvel at the wacky remedies on sale in the pharmacy and feast on take-away fish and chips cooked in beef fat.
Just remember to bring your lunch with you as dogs aren't allowed in the cafés and exhibits that sell food. Also bear in mind that there's a steep hill in the middle of the town (an incline lift is available) and some historic buildings aren't accessible for visitors with limited mobility.
Penny Farm, Blackpool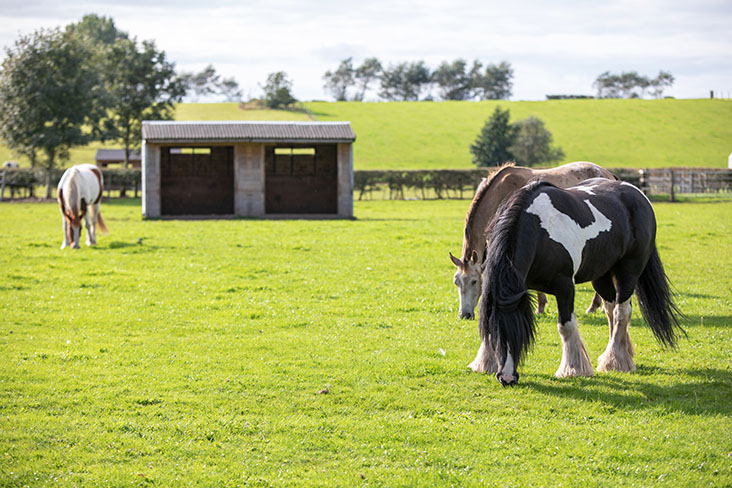 You and your dog can meet around sixty horses at Penny Farm, a World Horse Welfare centre in Lancashire. See the horses undergoing rehab in the undercover barn area, or follow a trail around the farm to see ponies hanging out in the fields, along with the other animals and wildlife who call the farm home. It's a fun way to meet these gentle giants and find out more about the work of the World Horse Welfare charity. Before you leave, stop off for ice cream and homemade cakes in the coffee shop.
The recipient of a Highly Commended Access for All tourism award, Penny Farm has full disabled access so it's wheelchair and dog friendly – but do check opening times before you visit as it's only open three days a week. It's free to visit, and donations are very welcome.
Llangollen Railway, Denbighshire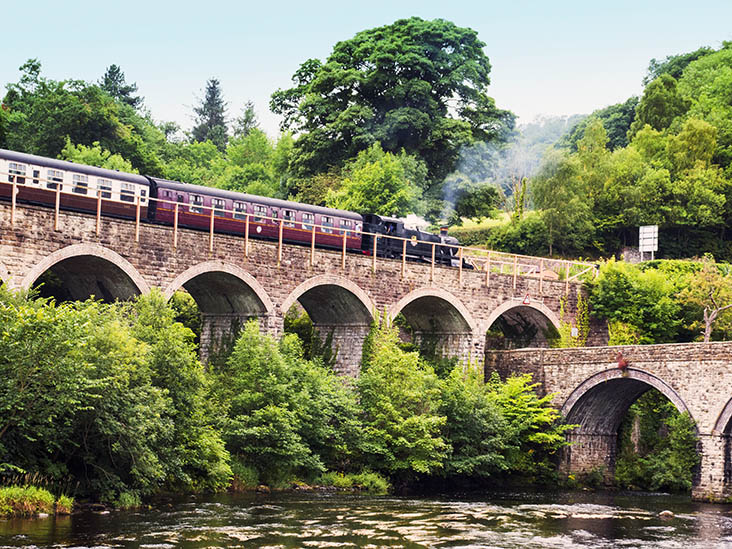 If you consider your well-behaved dog to be a fully-paid-up member of the family, you probably won't mind paying a small charge for them to ride the Llangollen Railway with you. The railway chuffs for ten miles along the River Dee from Llangollen town centre through the Dee Valley to Corwen in North Wales. Check the timetable carefully if you care whether you're being pulled past the beautiful scenery by a diesel or steam engine.
The stations along the way have been recreated as they were in the 1950s. Get off at Carrog Station (like all the stations apart from Berwyn, it has disabled access) and stretch your pet's legs on a walk into the village, along the riverside, or through the hills. Accessible toilets are available at all stations apart from Corwen. Train carriages aren't big enough for wheelchairs, but the guards van has space plus comfy seats for friends, family and helpers. Ramps and helpers are on hand to aid passengers in wheelchairs get on board.
Image Credits
Rough Guides would like to thank the following individuals, companies and picture libraries for their kind permission to reproduce their photographs (in order of appearance on the web page):
Header image: © Forestry Commission Picture Library/Isobel Cameron
Westbonbirt Arboretum: © Forestry Commission Picture Library/Isobel Cameron
Landmark Forest Adventure Park: © Captivating Photography/Landmark Forest Adventure Park
Blists Hill Victorian Town: © Shutterstock
Penny Farm: © World Horse Welfare
Llangollen Railway: © Shutterstock
Related Articles
A guide to taking your dog in the car
How restaurants are becoming more accessible for disabled people
Accessible Days Out: The Old Vic