Restrictions will soon start to ease. Due to COVID-19 many people are looking for inspiration on staycations and local activities. With that in mind, Rough Guides have selected nine of the best scenic drives in the UK to get you and about this season.
---
With corona-related safety restrictions making an international summer trip tricky, that doesn't necessarily mean you'll have to kiss your holiday dreams goodbye. For UK citizens, this will most likely mean a domestic trip, and what safer way to enjoy your staycation than taking a roadtrip: pack your household into the car, and you won't even have to worry about social distancing.
Of course, only plan your travels when it is safe to do so, and be sure to check any local regulations before getting out of the car and venturing anywhere on foot. Likewise, several of the attractions covered on these drives may be off-limits for the foreseeable future: again, check ahead before you travel.
Kent and East Sussex – a route of contrasts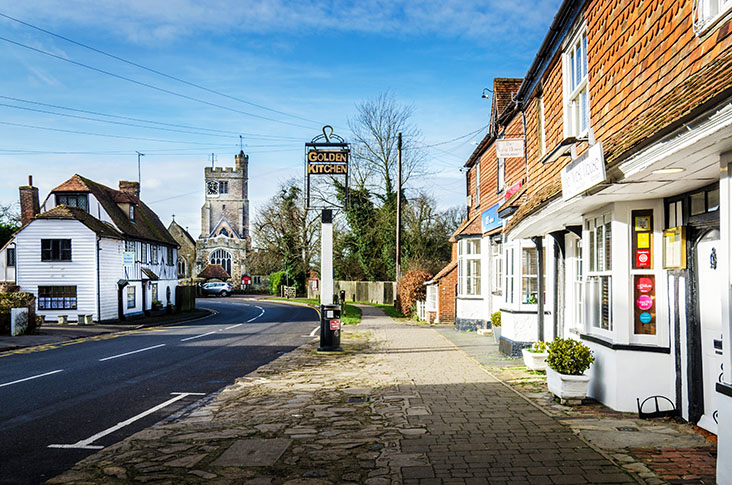 Quaint Biddenden, Kent © Shutterstock
Start in the seaport town of Hythe, with its accessible pier, and take in atmospheric marshes, the headland of Dungeness, and an RSPB nature reserve. And don't miss the medieval towns and the vineyards, hop fields and orchards of Kent before ending in the red-roof village of Goudhurst for views of the Kent Weald. This is a 62-mile drive that will take over 2.5 hours without stops.
See the map in the Rough Guide to Accessible Britain
Exmoor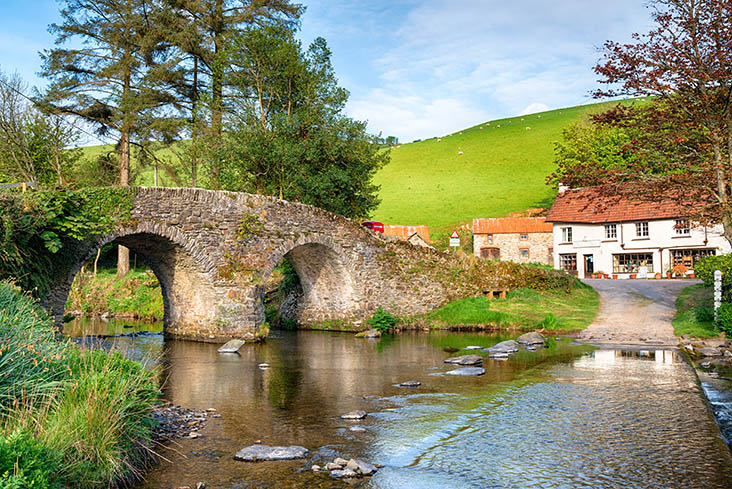 The bridge at Malmsmead on the border of Devon and Somerset © Shutterstock
Covering 21 miles of windswept moors, wooded valleys and impressive coastline, this drive offers plenty of opportunity to stop and take a stunning photograph. This figure-of-eight route takes you through many of Devon's pretty towns and passes by the Valley of Rocks, nicknamed 'Little Switzerland' for its dramatic rock formations and herd of wild goats.
Note that the cliff railway at Lynmouth – with its compact, water-powered Victoria carriages – is due to reopen on 12 April 2021.
See the map in the Rough Guide to Accessible Britain
An Artistic Drive through East Anglia
For an artistic day out, drive the 26 miles through Stour Valley and Dedham Vale where the nineteenth-century landscape artist, John Constable, painted some of his most famous masterpieces. Constable is not alone; the drive takes you through areas associated with author-illustrator Beatrix Potter and eighteenth-century portrait painter Thomas Gainsborough.
The route winds its way through several impossibly picturesque villages. While many of the attractions could be closed – or with strict social-distancing measures in place – it's a real delight to simply pass through and soak up the area's old-English character.
See the map in the Rough Guide to Accessible Britain
Peak District Scenic Drive
Driving through the bucolic Peak District © Shutterstock
Take in the unspoilt hills, dales and rugged moorland of the Peak District National Park on a 50-mile route from Ashbourne in the South to Hathersage in the North, travelling through the heart of Derbyshire. Drive via Carsington, Bakewell, Buxton and Castleton, with possible detours to Edale and the impressive Ladybower Reservoir. Whatever you choose, be sure to make a stop at Carsington Water near the start of the route.
Carsington Water is a man-made reservoir, with plenty of outdoor activities on offer – all with excellent access. There's a walk and sculpture trail around the water's edge, while you can hire adapted bikes, accessible sailing boats (with hoist access) and an accessible wheelyboat, too. The attraction is currently open for local visitors only, so be sure to check the website before you visit.
Lake District Scenic Drive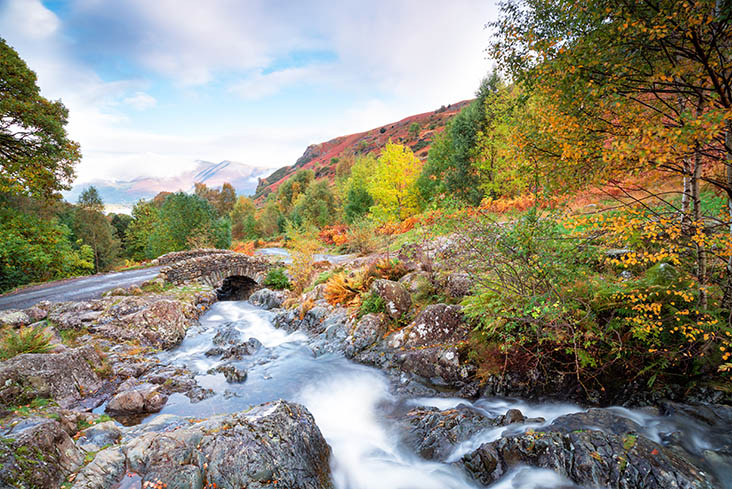 Water under the bridge near Keswick in the Lake District © Shutterstock
Forty-seven miles of some of the finest scenery in Britain will not disappoint. Starting in the market town of Cockermouth, this drive takes in several of the Lake District's famous waters and meres, as well as stunning mountain passes and views of some of the highest peaks in the country. The Lake District is an immensely popular scenic area, so be sure to familiarise yourself with all the regulations before you go. And while you may want to get out of the car to admire a view or two, be sure you stay a safe social distance from the madding crowds.
See the map in the Rough Guide to Accessible Britain
North Yorkshire Moors
Taking in moorland as well as a host of historical and architectural gems, this scenic drive begins at Castle Howard – one of Britain's most magnificent stately homes and which featured in television and film adaptations of Brideshead Revisited. You'll go through the heart of the National Park to enjoy its rolling heather-clad vistas and wide open skies: bring a picnic with you to savour in the fresh air.
Castle Howard and Rievaulx Abbey – stellar stops on this route – will both open on 29 March for local visitors. Check their respective websites before travelling.
Glasgow to Fort William Roadtrip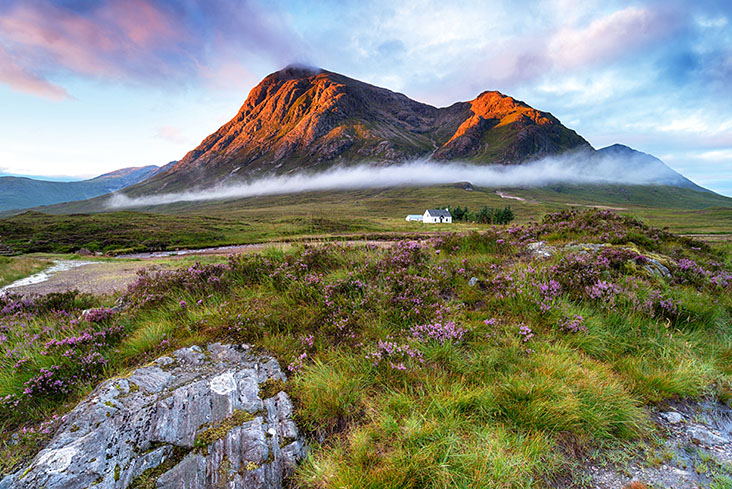 There's plenty of mesmerising scenery between Glasgow and Fort William; this drive heads north from Glasgow to traverse the beautiful Loch Lomond and The Trossachs National Park, before continuing north on the A82 to Fort William via Achallader and Glencoe. The 110-odd miles can be driven in around three hours, though you may want to take the going slowly to really drink in the views. There's plenty of moody Scottish scenery to feast your eyes on, from rugged moorland to vast lakes and show-stopping valleys.
Be sure to check regulations before setting out as lots of the activities usually on offer from Fort William – gateway to Ben Nevis – may also be off-limits.
Black Mountain Pass, Wales
For something a little more racy, make for the Black Mountain Pass (A4069) in Wales. Though it's only a 20-mile stretch, it's a mind-blowing drive. The route cuts across the western Brecon Beacons in hairpin twists and turns, in and out of valleys, passing stone walls, mountain springs, rocky outcrops and more sheep than you can shake a shepherd's crook at. Possible stops include Carreg Cennen and Dinefwr castles – both are closed at the moment but will likely reopen soon In line with Welsh Government restrictions. Be aware though that Carreg Cennen isn't very accessible – with steep ascents – the latter has adapted toilets, a level boardwalk to the millpond, surfaced paths and ramped access in the buildings. There's a wheelchair available to book, too.
Northern Ireland's Sperrin Mountain Drive
Taking in the heart of the Sperrin mountains, this 38-mile drive starts from the Gortin Glen Forest Park – the western gateway to the mountains – and continues through woodland and east to the shores of Ireland's (and Britain's) largest lake, Lough Neagh. Enjoy the panoramic viewpoints, and look out for wildlife such as buzzards circling ahead. There are pretty villages and picnic spots along the drive.
See the map in the Rough Guide to Accessible Britain
For more details about the majority of the scenic drives above, as well as further suggestions of other fun days out around the UK, just visit The Rough Guide to Accessible Britain. The free online guide, created in association with the Motability Scheme, features full reviews of over 200 recommendations for great days out for disabled visitors and their families.
Image Credits
Rough Guides would like to thank the following individuals, companies and picture libraries for their kind permission to reproduce their photographs (in order of appearance on the web page):
All images: © Shutterstock
Related Articles
8 accessible virtual tours and visits
Helen Dolphin's guide to driving after lockdown
Helen Dolphin's guide to rail travel during Coronavirus