Now that lockdown restrictions are easing many people will be driving more. Here, Helen Dolphin explains how you can prepare for getting back on the road.
---
After such a long time only seeing my family and friends over video screens, I was delighted when it was announced that we are now permitted to meet up with people in gardens and outdoor places.
For many people visiting friends and family, and getting to outdoor places, will mean driving for the first time in months.
If like me your vehicle has not been moved for a long time, it is advisable to check a few things before setting off on your first post lockdown journey. It may be that you will need assistance from Motability Scheme partners such as the RAC or Kwik Fit to help get you back on the road.
Battery
When I first got back into my car, I was not only worried about whether it would start but also what it would be like to drive again. I was lucky that my car started without any problems but do be prepared for the possibility that your car may have a flat battery. This is because even when your car is parked up and not being used, electrical devices running in the background, such as a security system, can still drain the battery. If your car will not start you will either need to jump start it or call the RAC for some assistance. Once your battery has been re-started you should take it on a decent run of at least 20-30 minutes to charge the battery back up again.
Controls
When I first got into my car, I refreshed my memory on where all the controls were. This might sound a bit daft but it's amazing how quickly you can forget, especially if you have a new or different driving adaptation which you haven't used very long. So, a quick refresh of where your controls are is a really good idea.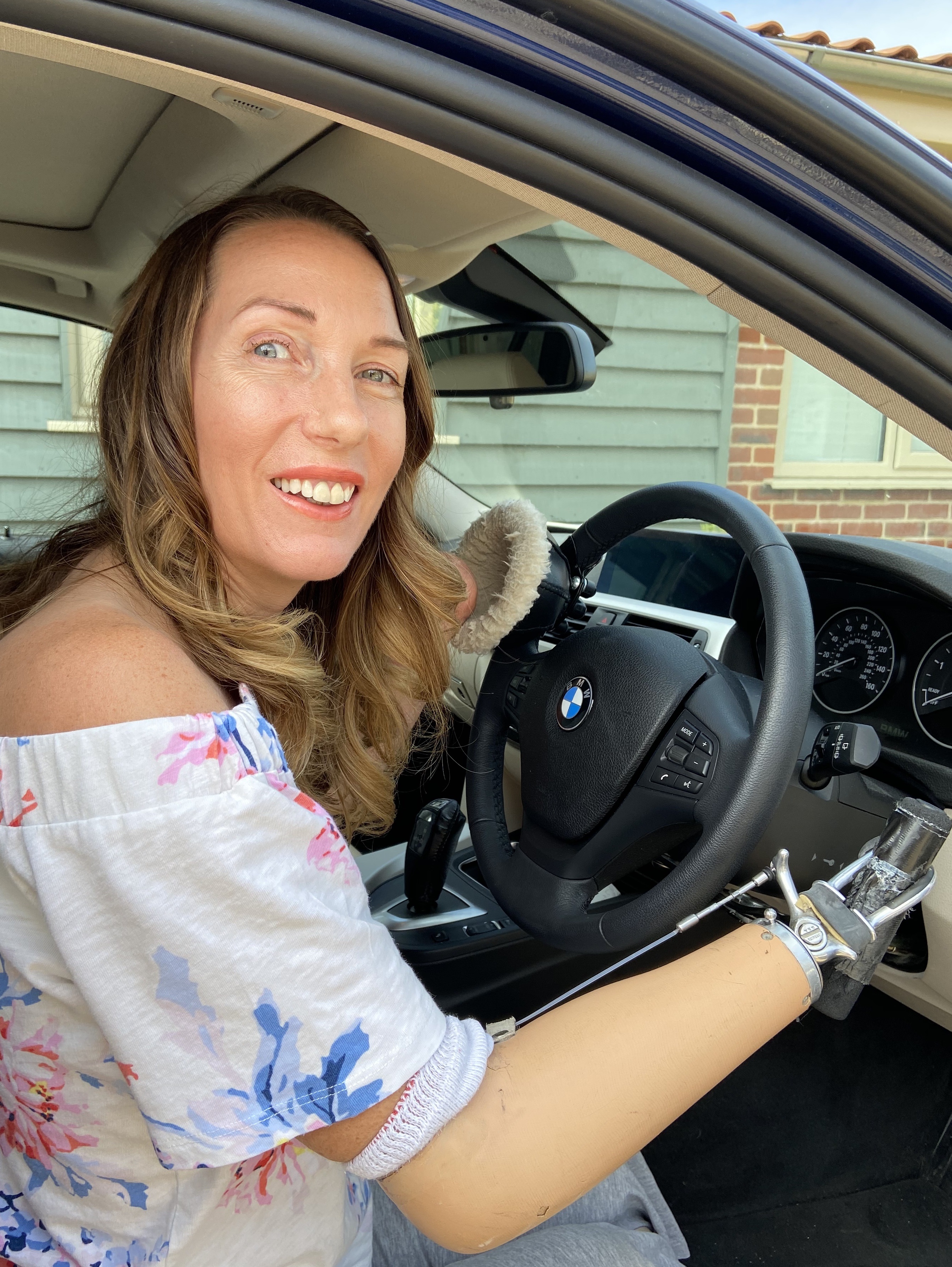 Helen in her car
Tyres
Before you drive anywhere you should check your tyres are at the correct pressure. If your vehicle has not been driven for some time, they may be a little deflated. If you can not check them yourself and there is nobody who can do it for you then you may need to contact Kwik Fit for help, or visit one of their centres. They will also be able to inflate your tyres to the correct pressure too.
There is a possibility that if your car has not been moved you may have developed a flat spot on one or more of your tyres. These are patches of tread that appear to have worn away more than anywhere else. If one of your tyres has a flat spot you may find you have strange vibrations and inconsistent handling because the wheel is unbalanced. If you think you have a flat spot, then it's important to get your tyre checked as soon as possible as it could develop into a puncture. You should also check your oil is at the correct level and you have plenty of screen wash.
Weather
With this hot weather most people like to use their air conditioning in their car to keep cool. However, air con systems can suffer from not being used for long periods and there can be leaks. If you think your air con is not as good as it was then your dealership should be able to advise you on what to do.
Cleaning
If your car has not been in a garage or had a cover over it then it is probably really dirty so you might want to think about getting it cleaned. Bird droppings can be detrimental to paintwork so they should be removed as soon as possible. Some car washes are now open but if you cannot find any near you the most important thing is to ensure you have good visibility through all your windows.
Blue Badge
If your Blue Badge expired during lockdown then you will still be able to use it without fear of being penalised by the local authority or private parking operators. This is because the government recognised that it is difficult for some people to renew their badge due to the COVID-19 pandemic. However, as soon as you can renew your badge it is advisable to do so. If you're unsure about anything then it's always best to check with your local authority.
Related Articles
Looking after your car during lockdown
Social distancing and dealership visits