This year, breathe new life into your usual Christmas celebrations and do something a little different: go ice skating or mountain biking, restore your inner calm, glam it up in a castle or simply get out and about and have fun.
Here are Rough Guides' six suggestions for breaking the mould this festive season.
1. Follow the Christmas light trail at Kew Gardens
With beautiful parkland, handsome trees, formal gardens and protected exotic plants just outside London, the Royal Botanic Gardens at Kew make for a tranquil visit year-round, but at Christmas the place really comes alive. There's a vintage funfair, a Fire Garden and the North Pole village, but the star of the show is a two-kilometre trail that sparkles with more than one million lights. Heritage trees and the ornate Palm House building all get the twinkle treatment, with giant baubles, laser beams and projections. Afterwards, warm up with mulled wine or hot chocolate and toasted marshmallows.
Kew Gardens is known for its consideration to disabled visitors. Assistance dogs are admitted and the trail follows flat tarmac paths. However, some interactive exhibits are on grass where matting is laid down and there are some flashing lights but no strobes. Wheelchairs are available to borrow on a first-come first-served basis. Note that the park's fleet of mobility scooters is unavailable after dark as they are on charge overnight. The light trail is open from 22 November 2017 to 1 January 2018.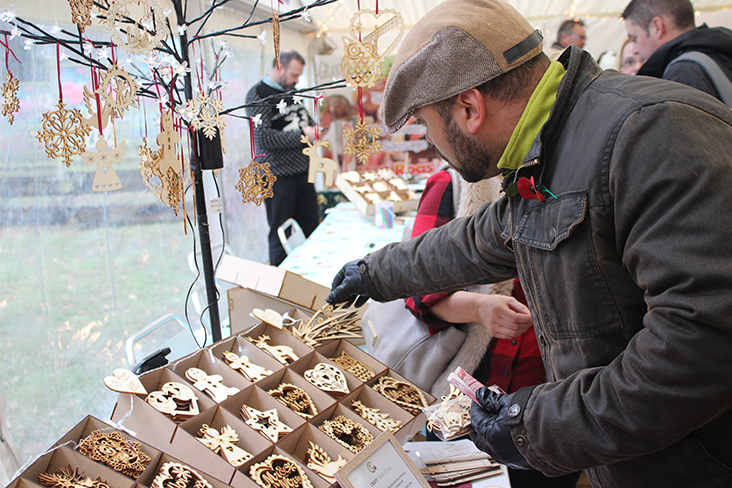 German-style decorations on sale at The Alnwick Garden Christmas Market
2. Get your winter skates on at The Alnwick Garden
Dance on ice in the shadow of one of Northumberland's great castles. At Christmas, the delightful Alnwick Garden – a complex of beautiful contemporary gardens – is transformed into a winter playground. There's a skating rink, a Christmas Market at weekends and appearances by an enormous snow lion, Crumpet the Elf and a family of larger-than-life penguins (18 November–31 December 2017). Special wheelchairs are available for using on the rink and there are penguin skating aids for children. If you can, stick around until 3pm when the Sparkle Lighting comes on.
Take a break from the ice and explore the wheelchair- and scooter-friendly gardens – they were designed to be spectacular year-round so there's just as much to admire in the winter as there is in spring. Assistance dogs are welcome and there's a helpful online map to help you avoid the odd steep bit. Features include grand fountains, a serpent garden, cherry orchards and a bamboo labyrinth and a Treehouse. Remarkably, it's fully accessible so you can venture along its walkways in the sky, and, if you dare, try its wobbly rope-bridges.
3. Spend a day at the races in Newcastle
High Gosforth Park racecourse is one of the UK's most popular tracks at any time of year, but December is a particularly fun time to go, especially if you want a festive day out that doesn't go too overboard on the Christmas baubles. There are race days throughout December, including Twilight Winter Racing (6 December) and Christmas Jumper Day (16 December), when the crowd wears their flashiest Christmas jumpers in aid of Children in Need. The seasonal highlight is the raucous bet365 Northumberland Chase Christmas Raceday (23 December).
Disabled race-goers will find plenty of flat areas, parking, ramps, loos, accessible betting opportunities and free general admission for carers. You can watch the horses from the stands but if you're feeling flush, book a private box for you and your guests or take the accessible lift to the Premier Enclosure, from where you can watch the action in comfort. Hospitality packages start at £48 (£10 concession for carers).
www.newcastle-racecourse.co.uk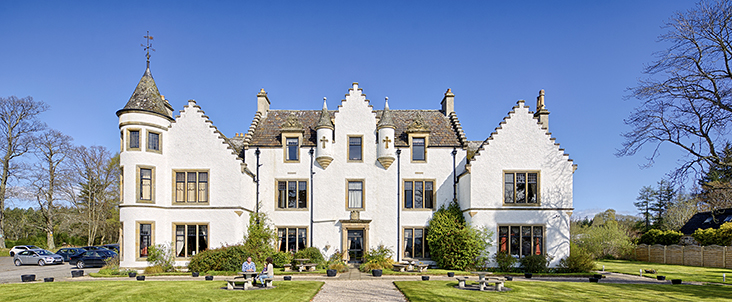 Kincraig House Hotel near Inverness, Scotland
4. Stay in a Scottish castle
Unless you're a laird, the opportunity to stay in a castle probably doesn't come along very often. Kincraig House Hotel, however, is open for booking by regular folk. Half an hour north of Inverness, this four-star country house hotel has turrets, four-poster beds and views towards the Cromarty Firth and Black Isle. Their three-night Christmas break (from 24 December) includes a Bucks Fizz breakfast, four-course lunch and evening buffet on Christmas Day, and Boxing Day entertainment.
Kincraig dates from the early 1800s but has been well adapted for 21st-century disabled guests. Disabled access rooms are right in the hotel, so you sleep in the atmospheric castle, and the award-winning Alexander Restaurant has disabled access and a mouth-watering Christmas menu. Make time for a nip of Scotland's national drink in the Snug; there are more than 100 malts to choose from.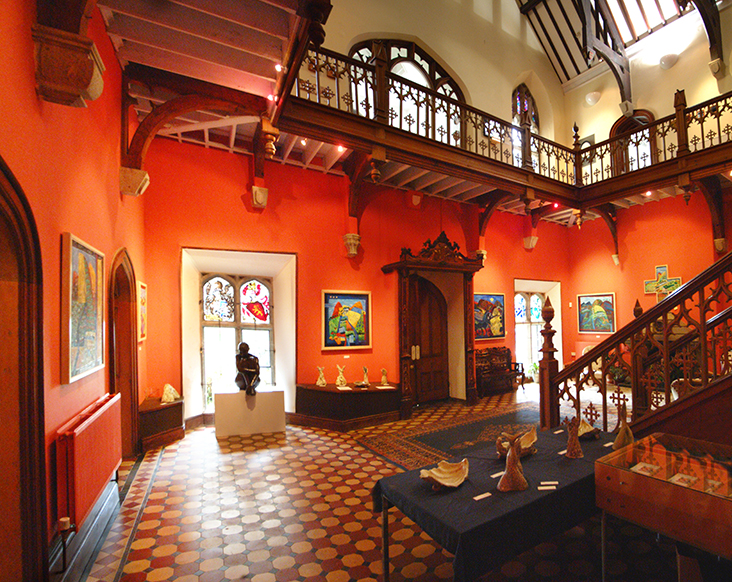 The Victorian Gothic entrance hall at Plas Glyn-y-Weddw, North Wales
5. Soak up some culture in North Wales
For a high-brow antidote to an overdose of Santa movies, try the fully accessible Plas Glyn-y-Weddw art and heritage centre in a Gothic Victorian mansion on the beautiful Llŷn Peninsula. December is your last chance to see several exhibitions that finish on Christmas Eve. Welsh ceramics are on display in North and South Wales Potters, while Hiraki Sawa's film Dwelling is a surprising and disorientating presentation of the global and personal in an everyday apartment – it's a million miles away from the usual Christmas glitz.
If you'd rather like a bit of Christmas spirit on your cultural outing, Glyn-y-Weddw dishes up Christmas lunch every Wednesday, Thursday and Friday (6–15 December), and the shop is an excellent place to pick up some unusual Christmas presents.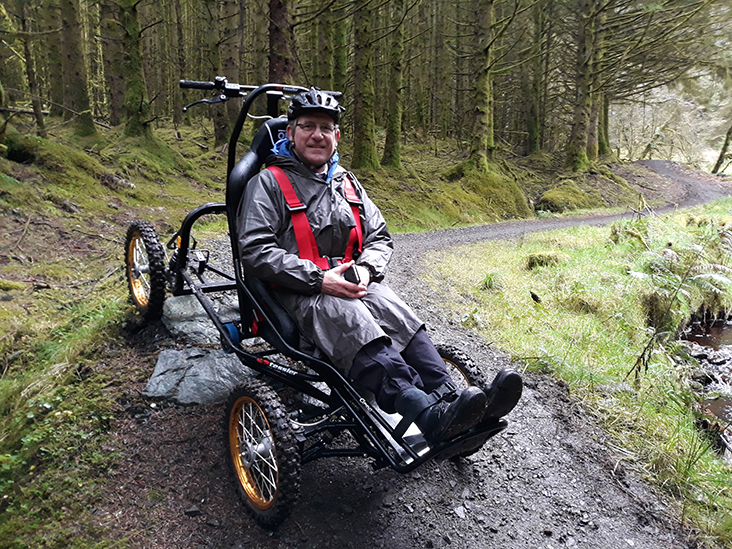 Four-wheeled mountain biking with Far and Wild
6. Go mountain biking in Northern Ireland
Feel the wind in your face as you plummet downhill on the only fully accessible mountain bike in Ireland. Tour operator Far and Wild offer a programme of trails, inclines and thrills tailored to each rider and guaranteed to blow away the Christmas television cobwebs. You sit in the front of a four-wheel mountain bike and a guide stands behind you, like a sled driver. The bike tackles steep slopes with ease and, reassuringly, features all-round disk brakes. It's designed by Tessier, a French design company that makes Paralympic equipment. Far and Wild is based at the accessible St Columbs Park House in the centre of historic Derry-Londonderry and is open year-round.
If you're planning a journey in your Motability Scheme car, you may also be interested in our latest travel articles below. Find out what you need to do here if you are taking your Motability Scheme car abroad this festive season.
For other inspiration on great days out around the UK, including some accessible trails, see The Rough Guide to Accessible Britain.
More useful articles:
Accessible Christmas markets in the UK
How to access disabled parking concessions across the UK
The Motability Scheme enables disabled people and their families to access a brand new car or scooter, by exchanging their mobility allowance to lease the vehicle of their choice. Find out more:
Image Credits
Rough Guides would like to thank the following individuals, companies and picture libraries for their kind permission to reproduce their photographs:
Header image: Kew 2.jpg: Courtesy of Kew Gardens
Alnwick Christmas Market.JPG: Lindsay Gill / The Alnwick Garden
AEP50E: Alan King / Alamy Stock Photo
Far and Wild: Image courtesy of Far and Wild
Kingcraig Hotel: Jack Mitchell / Image courtesy of King Craig Hotel