You'll find pleasing greenery and pretty blossoms the length of the UK, but to really take it up a notch, pay a visit to one of these sensory gardens. Here, Rough Guides writer Emma Field has picked seven spectacular gardens that are worth a visit this summer.
---
From hot and humid bubble-like biomes to muddy paths to squelch your toes in and swinging benches beneath cherry trees, there's plenty to get excited about. Rough Guides writer Emma Field has picked seven spectacular gardens that appeal to all the senses.
Eden Project, Cornwall
It's hard to know where to start with Eden Project's sensory highlights. The humid Rainforest Biome is filled with the feathery fronds of plants and a thundering waterfall that sends out a cool spray. Aromas take centre stage in the hot, dry Mediterranean Biome. More heady fragrances from around the world have been collected in perfume vats to sniff. There are gnarly olive trunks to touch, too.
This inclusive attraction has accessible parking spaces and toilets, free entry for personal assistants, and free manual and powered wheelchairs. Eden Project also works with the Sensory Trust to hold more relaxed sessions with lighting and sound adjustments for visitors with autism or sensory and communication needs.
Trentham Gardens, Staffordshire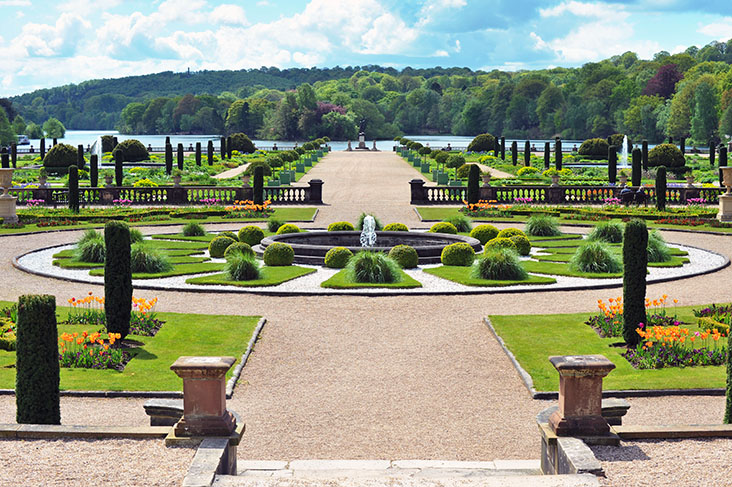 Visitors are encouraged to strip off their shoes and socks for the Barefoot Walk at Trentham Garden. Mud, grass, pebbles and bark play texture games with the soles of your feet, and you can rinse off in the babbling brook afterwards! There's free entry for carers, free disabled car parking spaces, and a Changing Places unit in Trentham Shopping Village.
---
Want to find out more about Changing Places facilities? Click here to read Helen Dolphin's article on these accessible toilets.
---
Shoes back on, wander through the Monkey Forest, a neighbouring attraction where 140 chitter-chattering Barbary macaques swing through the woodland. The trail is just under a mile long, and wheelchair and mobility-scooter friendly, although there are some steeper sections that are best assessed on the ground. Guide dogs are not allowed.
National Botanic Garden of Wales, Camarthenshire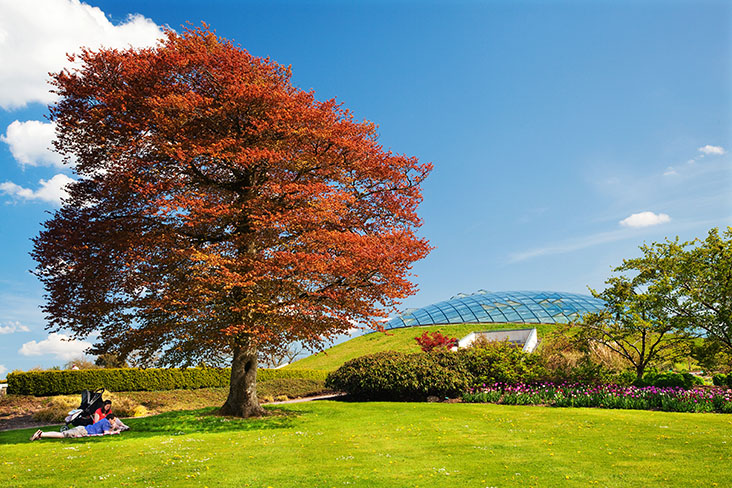 It would be easy to spend the day exploring the themed gardens of National Botanic Garden of Wales, but don't miss the Great Glasshouse – it's the largest single-span great glasshouse in the world! It's filled with plants that thrive in a Mediterranean climate, and the Sensory Trail invites you to get hands-on with fluffy flowers from South Africa, an Australian plant that releases a strong scent when you rub the stems, and sticky Cistus shrubs.
The formal garden's paths are wheelchair friendly, and manual wheelchairs are available on site – best book ahead. A regular shuttle buggy service runs to most areas.
The Alnwick Garden, Northumberland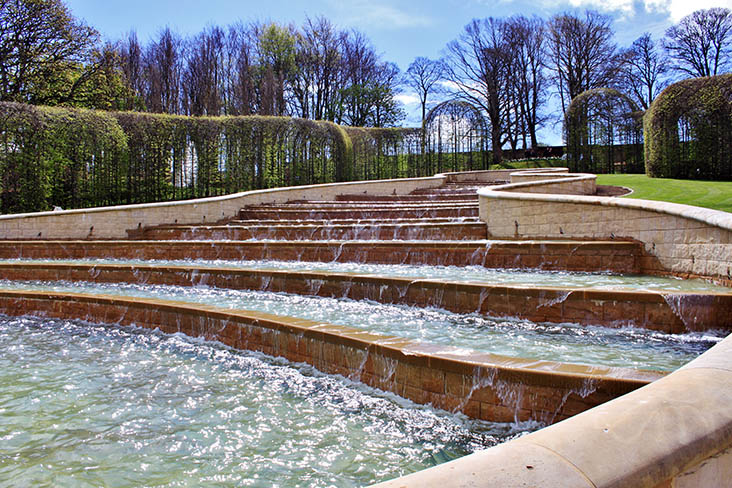 Time your visit to The Alnwick Garden right and you could spend the whole day among rose and cherry blossoms. In late April/early May, sit on a swinging bench in the world's largest Tai Haku Orchard and gently swing back and forth as petals from 329 cherry trees tumble softly through the air. In June and July, three hundred roses fill the air with their heady aroma. Meanwhile, 120 water jets make a pitter-patter in the Grand Cascade.
For something a bit different – where all visitors are "strictly prohibited from smelling, touching, or tasting any plants" – take a tour of the Poison Garden and hear stories about plants that can put you to sleep, prove fatal, or give you blisters for seven years… The Alnwick Garden was designed to be as accessible as possible; even the Treehouse's ropebridges are fully accessible.
Royal Botanic Gardens Kew, London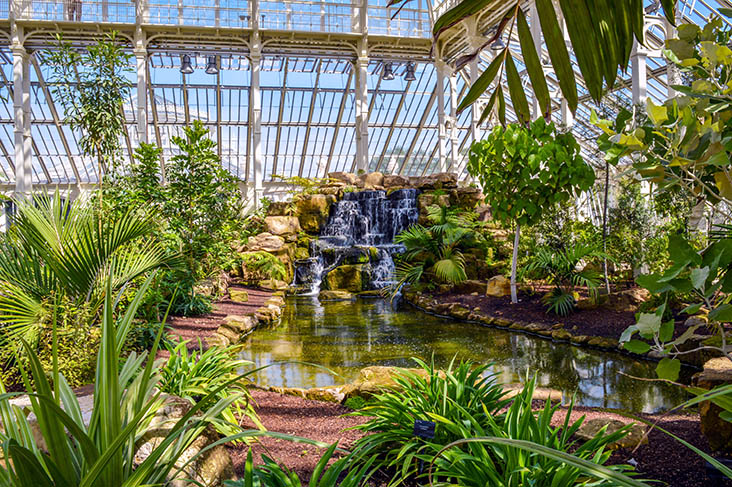 More than 50,000 living plants – mostly in the Millennium Seed Bank – help make Kew Gardens the most biodiverse place on Earth, and a UNESCO World Heritage Site. The free monthly sensory guided walking tours offer visitors with sight loss (and their carers) a chance to experience the gardens through touch and smell. The Children's Garden is designed to be a multi-sensory adventure too, with rows of cherry trees, a waterlily-inspired splash pool and swinging hammocks.
Kew has plenty of facilities for visitors with disabilities, including free entry for carers, registered blind and partially blind visitors – but it's worth noting that it's beneath a flightpath, which could affect those with sensory issues
Royal Botanic Garden Edinburgh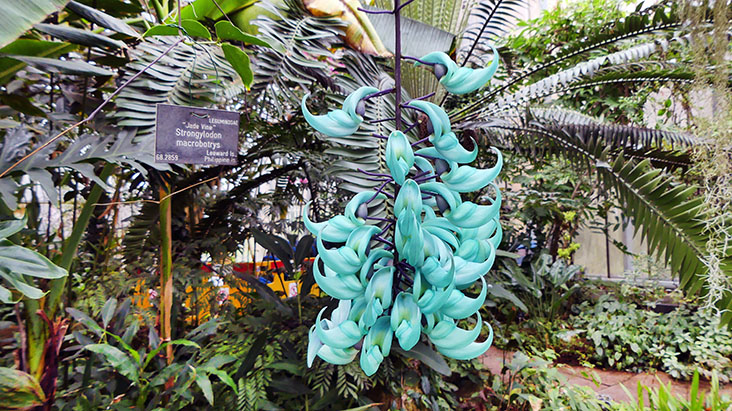 Each of the Royal Botanic Garden Edinburgh's ten glasshouses has a different climatic zone, from tropics to desert. Three thousands plants live in the glasshouses, which welcome guide dogs and are wheelchair accessible, although some gradients might prove tricky to manual wheelchair users.
The garden is taking part in the Silent Space Scheme, which means a bench beneath a magnolia tree has been set aside as a space for silent visiting. The surrounding area is planted with trees, shrubs and climbers in a range of soothing shades. The scheme is intended as an antidote to the stresses of everyday modern life, but the quietness works well for people with sensory issues too.
Potter and Ponder: Sensory Experiences at Croome, Worcestershire
A sensory trail map developed for children with wide-ranging disabilities guides visitors through Croome's Capability Brown-designed landscape. The Potter and Ponder map makes use of all the senses. Listen for echoes beneath a bridge, feel the textures of tree trunks and leaves, roll in the grass, sniff the countryside smells, or simply sit and ponder.
There are accessible parking bays close to the Visitor Centre, accessible toilet facilities, pre-bookable and free mobility scooters and manual wheelchairs, and a shuttle bus between the visitor centre and the house.
Image Credits
Rough Guides would like to thank the following individuals, companies and picture libraries for their kind permission to reproduce their photographs (in order of appearance on the web page):
Header image: © Shutterstock
Trentham Gardens: © iStock
National Botanic Garden of Wales: © Shutterstock
Alnwick Garden: © Shutterstock
Kew Gardens: © Shutterstock
Royal Botanic Garden Edinburgh: © Shutterstock
Related articles
Helen Dolphin's guide to indoor gardening
The importance of self-care and how I practice it
Accessible days out for booklovers