As we enter March, lots of us will be thinking about the upcoming Easter break – whether you're planning to make the most of the long bank holiday weekend, or if you just want to keep kids entertained during the school holidays. Luckily, there are plenty of accessible options available for a fun day out, and lots of them have good facilities and even wheelchairs available to hire.
Here, Rough Guides author Mark Davidson shares some of the best things to do over the Easter break – from accessible adventures to days out in nature.
England
1. South Devon Railway and Totnes Rare Breeds Farm, Devon
Take a seven-mile steam train ride on the accessible South Devon Railway that runs between Totnes and Buckfastleigh (where the most suitable parking is). From 25 March, the wonderful Totnes Rare Breed Farm is a brilliant stop en route (Totnes), where you can get up close to cheeky chipmunks and learn how a hedgehog uses its spines.
If you visit in April, call in at the Butterfly Farm and Otter Sanctuary, where staff will show wheelchair users the best vantage point to see the otters. There's a full weekend of Easter activities from 7 to 10 April, and if you want an immersive trip into wonderland you can book the Mad Hatter's Travelling Tea Party on 11 and 12 April.
Their trains have disabled access and reserved spaces for wheelchair users, but if you would like to travel on their dining trains then you should contact them to discuss your specific access requirements. Disabled visitors and their essential carers enjoy a discounted rate of travel on the South Devon Railway, which you can learn more about by calling them on 01364 644 370.
2. Muncaster Castle, Cumbria
Explore this 13th-century "haunted" castle and its beautiful gardens and woodland, before watching a bird display at the Hawk and Owl Centre. Children with teddies get in free over Easter from 7 to 10 April, when there are egg hunts, spring trails and puzzles for everyone to enjoy.
The castle gardens are threaded with 6 miles of paths, which are either tarmac, grass or gravel pathways. Wheelchair users should use the main tarmac and hardcore routes, which offer access to much of the gardens, the Hawk and Owl Centre and Meadowvole Maze.
Most of the ground floor of the castle is wheelchair-accessible, and there is a virtual tour in the library for disabled guests to view the upstairs rooms. Wheelchairs are available to book in advance (call them on 01229 717614), and there is disabled car parking and accessible toilets available.
3. Alton Towers, Staffordshire
The ever-popular theme park is always a thrilling day out. Not all of the rides are suitable for all guests though, so check the additional needs guide – they also have a downloadable accessibility guide if that is easier for you to view. This includes information on wheelchair hire, quiet rooms and a list of which restrictions are in place for which rides. The Ride Access Pass is available for people with physical and/or mental disabilities who struggle to stand in a queue for long periods, but it is important to apply in advance – it's useful to have a medical certificate or proof of your mobility allowance to hand.
Accessible toilets are available throughout the grounds, and Blue Badge parking (£7) is located close to the theme park entrance. If you bring the correct documentation with you, you'll be entitled to one free carer ticket and a second carer ticket at half the 'on the day' price of a standard Theme Park ticket. You can find out what documentation you need by reading their accessibility guide.
4. Fairhaven Woodland and Water Garden, South Walsham, Norfolk
Once used as a convalescent home, Fairhaven is a wonderfully peaceful place to visit. Explore the beautiful Broad by accessible boat or follow several miles of paths through the flower garden, sensory garden and ancient woodland.
Mobility scooters are available to book in advance for £5 (you can call them on 01603 270449). Some of the paths are not fully accessible, but Fairhaven is working towards opening up all areas of the garden and facilities in time. Note that Fairhaven will be only open Saturday to Wednesday up until mid-March, when the seven-day week opening resumes. See full opening dates and book tickets on the website. 
5. Eden Project, Par, Cornwall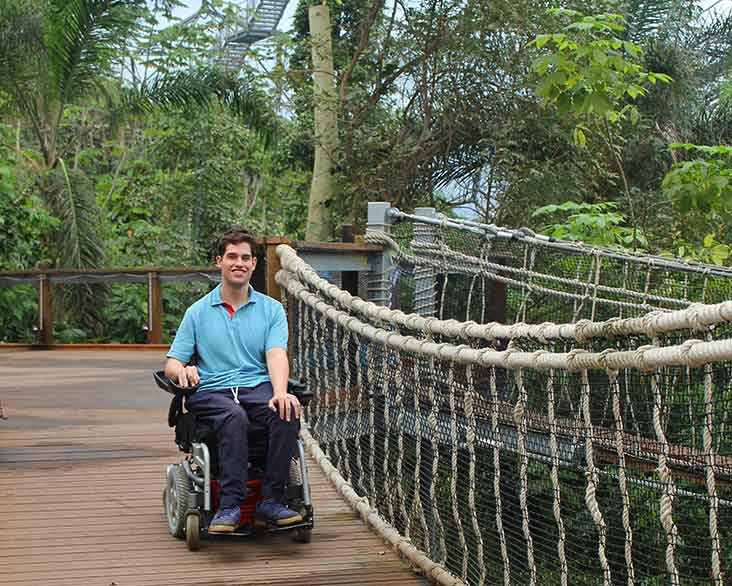 A visitor to Eden Project
Cornwall's main calling card is a fantastic day out, no matter the weather. At the Eden Project, there are huge domed gardens brimming with exotic plants, an accessible rainforest canopy walkway and sensory experiences throughout. Access volunteers are on hand to accompany you, if you wish. A relaxed version of family activities is available for those with sensory or communication needs. Over the Easter period, the busy programme of family activities includes a craft workshop and the straw bale scooter maze.
Accessible toilets and Blue Badge parking are located on-site. Wheelchairs can be hired on a first-come, first-served basis, and there is one all-terrain tramper available that can traverse the steeper slopes of the outdoor gardens and estate (book ahead by calling 01726 811911). Visually impaired visitors can use the Braille guidebook and text reader for interpreting signs, or pre-book an access guide (call them on 01726 818558).
6. Grand Western Canal Country Park, Tiverton, Devon
A nature reserve unfurls along the banks of this peaceful canal for 11 miles. From the Canal Basin car park in Tiverton, take the flat path, keeping an eye out for the wildflowers, birds, fish and even a horse-drawn canal boat (call 01884 253345 in advance for boat trips). There are four wheelchair-accessible fishing platforms along the canal and interactive displays in the Canal Visitor Centre. Disabled car parking and accessible toilets are available at the Canal Basin.
Though the towpath is largely accessible, take care when passing beneath bridges where the path narrows (especially at Ayshford Bridge and Whipcott Bridge). Note that steep concreted slopes immediately on either side of Waytown Tunnel may be difficult for wheelchair users.
7. British Museum, London
Explore the huge collection of world art and artefacts at the British Museum. There are object trails, tours and talks or you can wander the exhibition rooms by yourself. Touch tours and activity programmes are available for people with learning difficulties, while free British Sign Language guides and audio-descriptive guides are available for visitors who are deaf or hard of hearing.
Accessible entry is available at Great Russell Street (Main entrance) or via Montague Place (North entrance). There are a limited number of on-site Blue Badge parking spaces available for visitors, but you must book them in advance (you can call them on 020 7323 8181).
8. Pendennis Castle, Falmouth
Built for King Henry VIII in 1545, this fine castle fortress has defended Cornwall ever since. From Pendennis Castle, there are stunning coastal views and plenty of accessible areas to explore, plus indoor exhibitions for rainy spring days. At Easter, you can learn about life at Pendennis during Tudor times – hear muskets roar and discover how the castle defended the coastline. Plus, there's an Easter Adventure Quest for children from 1 to 16 April, which you can book onto for £2 (on top of the standard ticket price).
Note that access to the keep is via steps and the upper floors have spiral staircases. Accessible facilities include disabled toilets and parking, plus there are Braille guides and tactile exhibits in the Discovery Centre for visually impaired visitors. Tour transcripts and film subtitles cater to deaf visitors.
9. Chessington World of Adventures, Surrey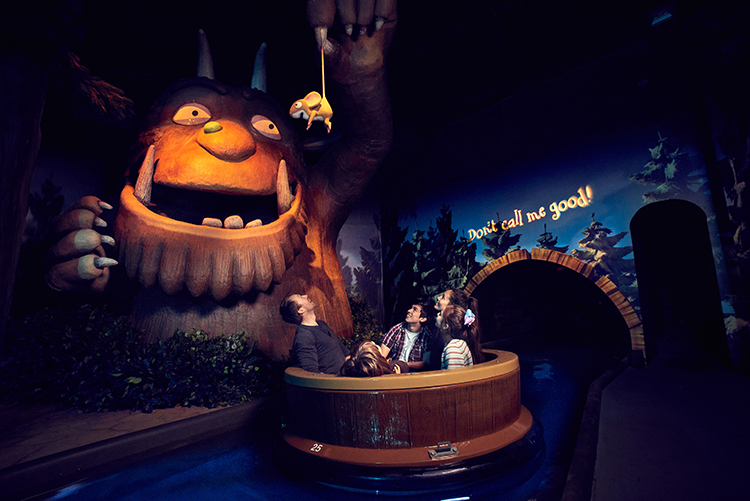 The Gruffalo River Ride at Chessington World of Adventures
Enjoy more than 40 exciting rides and attractions at this family theme park. Go for big thrills on fast rides such as Rameses Revenge or take a magical boat journey on the Gruffalo River Ride. You can also get stuck into their Easter activities, if you so choose.
You can apply for a Ride Access Pass online at least a week in advance, or you may bring a carer free of charge. Check the access guide and ride restrictions guide in advance to work out which rides are suitable for you.
10. The Science and Natural History Museums, London
You can tick off two of London's best museums in one go, as the buildings back onto each other. Both are highly accessible and extremely fun and informative days out.
There are plenty of interactive and touch exhibits in the Science Museum's galleries, along with Braille labels, downloadable sensory maps and ear defenders. Please note that there is currently no step-free access to the mezzanine level in the Making the Modern World and Flight exhibitions – check in advance whether these have reopened before you visit.
Over at the Natural History Museum, you can learn all about creatures large and small, from the tiniest bugs to the mighty blue whale. Lifts are available to upper floors, wheelchairs are free to borrow from the entrance on Cromwell Road and Exhibition Road, and quiet spaces provide time out for visitors with neurodiverse conditions. They even have an audio-described tour of Hintze Hall narrated by Sir David Attenborough, to help visually impaired visitors get immersed in the experience.
11. Kew Gardens
There are plenty of activities to enjoy at Kew Gardens over the Easter period, with a number of special events and workshops for the whole family to get involved with. From 30 March to 23 April, kids can embark on an adventure through Wakehurst's ornamental gardens and woodland and help Superworm and friends find a magical flower. Full accessibility information is provided on the website, and carers get free entry.
The gardens are largely flat, with tarmac paths in most places. Mobility scooters are available to book in advance (call them on 0208 332 5655). Check out the accessibility map before you visit.
Northern Ireland
12. Hillsborough Castle
Explore Northern Ireland's 18th-century royal residence and gardens, which has an interactive play trail – the Imaginary Menagerie – along with a walled garden built using traditional methods. This Easter, why not enjoy the step-free Great Rabbit Runaround, where those lovable creatures have taken over the entire grounds. Help to find them all!
The Castle provides accessibility information in advance of your visit. Facilities include Blue Badge parking, wheelchairs available to borrow on a first-come, first-served basis, and accessible toilets in the Pineapple Yard Garden.
Wales
13. Clwyd Special Riding Centre, Wrexham
Do you love horses? Then the Clwyd Special Riding Centre is for you. This registered charity offers riding experiences for people with a wide range of disabilities and access needs. There's a simulated mechanical horse that enables you to feel what it's like to canter along a beach, while adapted horse-drawn carriages allow wheelchair users and those with limited mobility to be whisked along a 2km all-weather track.
The centre is fully kitted out with a Changing Places facility and other physical and communication aids, plus purpose-built accessible accommodation.
14. Talyllyn Railway Museum 
Travel by steam train through the beautiful Snowdonia National Park. Dating from 1865, the Talyllyn Railway is the oldest preserved railway in the world. It runs for seven miles inland from Tywyn on the coast to Nant Gwernol. Over Easter, accessible trains run seven times a day and there'll be plenty of activities for children.
Accessible toilets are located at the Tywyn Wharf and Abergynolwyn stations, while lightweight portable ramps allow wheelchair-users to board the trains at Tywyn Wharf, Pendre, Rhydyronen, Dolgoch, Abergynolwyn and Nant Gwernol stations. There is also a heavy-duty wheelchair ramp at Brynglas. Check the full access guide before you go.
15. Harlech Castle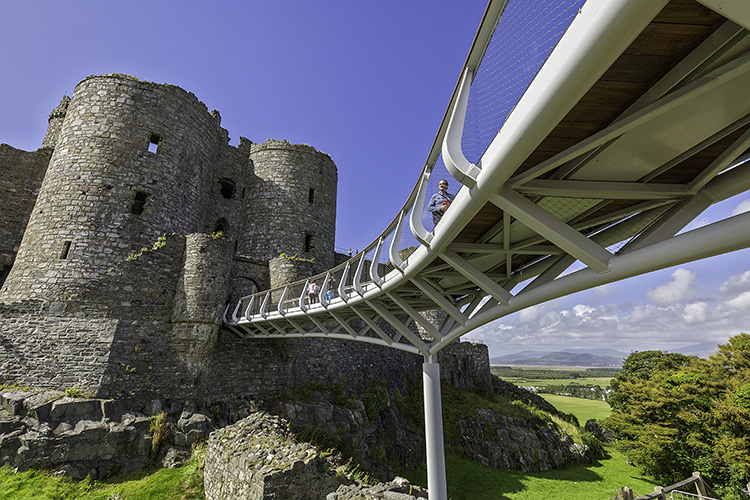 Harlech Castle is a great day out
Built in the 13th century, Harlech Castle is perched on a rocky knoll, defiantly gazing out across the Irish Sea. Having witnessed many wars over the years, what better place to step back in time and enjoy Easter with the Ardudwy Knights. Visitors can watch exhilarating sword fights and browse fascinating displays of ancient weapons.
A small car park with accessible spaces (charge) is located opposite the castle entrance; avoid the car parks in town as the route up to the castle is very steep. The ground floor of the castle is fully accessible, but please note that a number of towers and wall walks are reached via steep stairs. Check out the full access guide before your visit.
Scotland
16. The Royal Yacht Britannia, Edinburgh
See how the royal family used to live as they sailed the high seas on this luxury yacht. Britannia's five decks are all highly accessible via a central lift and ramps, with audio and private tours also available. Spot Clarence the Corgi and his friends hidden about the ship on the Cuddly Corgi Treasure Hunt and enjoy delicious treats in the tearoom. There's also a children's tour with a version of the free audio guide.
17. Kelvingrove Art Gallery and Museum, Glasgow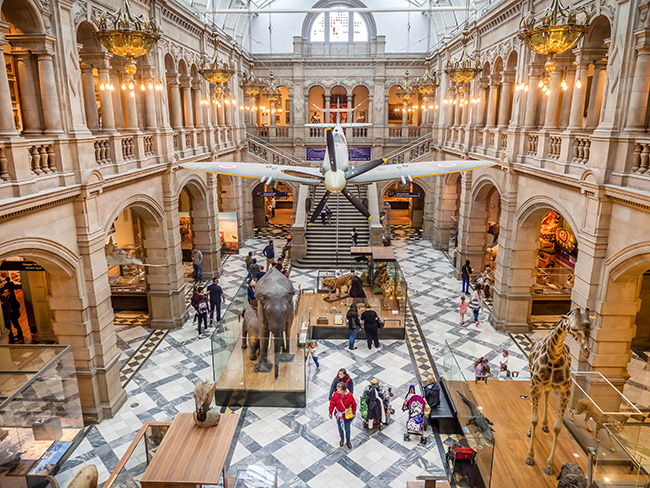 Visit Kelvingrove Art Gallery and Museum
Around 8,000 objects are displayed in 22 accessible galleries at this free museum, which has one of the best art collections in Europe, along with many other exciting exhibits, including Sir Roger the stuffed elephant. In addition, there is a mini-museum for the under-5s and an activity trail for all the family.
Wheelchairs are available to borrow on a first-come, first-served basis, and accessible toilets are located on each floor. Blue Badge parking is available on site. See the accessibility guide before your trip.
For more inspiration on spring days out around the UK, see The Rough Guide to Accessible Britain.
---
Image credits
We would like to thank the following individuals, companies and picture libraries for their kind permission to reproduce their photographs (in order of appearance on the web page):
Header image: Kelvingrove Art Gallery and Museum:  © Jeff Whyte / Shutterstock
The Eden Project, Cornwall: Eden Project
Chessington World of Adventures: © Mikael Buck / Chessington World of Adventures
Harlech Castle: © Crown copyright
Kelvingrove Art Gallery and Museum:  © Jeff Whyte / Shutterstock