If you have a thirst for thrills, take advantage of the many outdoor sports organisations around the UK that cater for people with disabilities. Whether surfing in Cornwall or white-water rafting in Scotland, there are far more opportunities to get out of your comfort zone than you might expect. Paralympic athlete, adventurer and Rough Guides' author Karen Darke MBE highlights some of the best places to embrace adventure.
1. Surfing
The southwest coast and its golden sandy beaches is, not surprisingly, the hub of UK surfing activities. Some surf schools offer lessons for disabled surfers, with doors open to any type of disability. The Big Blue Surf School in Bude, Cornwall, has teamed up with the charity Surf Relief to offer subsidised lessons for anyone under 25 with a disability, including Down's syndrome, autism and Asperger syndrome. If independent surfing isn't possible for any reason, they'll take you tandem wave-riding with an instructor. Nearby in Devon, Discovery Surf School in Bigbury-on-Sea provides surf lessons to people of all ages and abilities. Staff are particularly experienced with autistic children.
ALSO TRY: Subsidised surf lessons are available for young people at Glide Surf School in Cromer, Norfolk. And anyone with a military background who has suffered physical or psychological injuries can learn to surf with Surf Action.
2. Mountain biking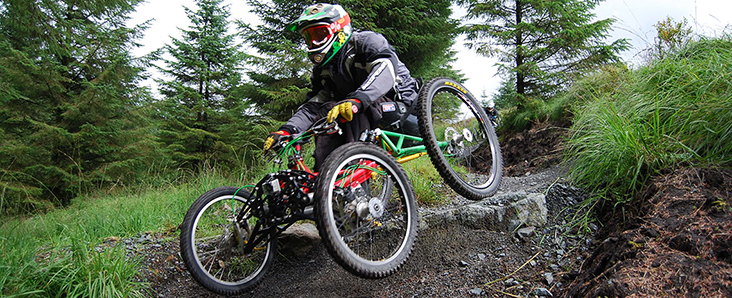 Downhill MTB thrills with Rough Riderz
If you enjoy getting muddy or have a head for speed, these mountain-biking options may appeal. The Rough Riderz club provides specially designed four-wheeled mountain bikes to allow people with physical disabilities to test their metal on a downhill trail. Taster days are available at Whinlatter Forest in the northern Lake District and at the Forest of Dean, Gloucestershire, which boasts the UK's first purpose-built gravity-biking trail.
ALSO TRY: The Challenge Your Boundaries adapted mountain bike project at Coed y Brenin near Dolgellau offers serious mountain biking for disabled riders. There is no sign of anything flat, tarmacked or with guard rails here – just real, dirty trails.
3. Horse riding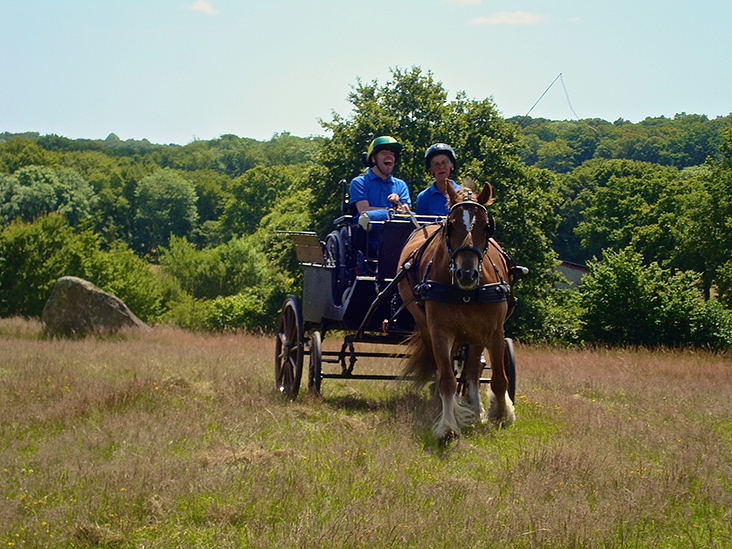 Carriage driving with Riding for the Disabled
Whether you're a total beginner or a confident rider, there are plenty of equine opportunities for people with disabilities. At Clywd Special Riding Centre near Wrexham, North Wales, you can try riding, carriage driving or even vaulting if you're able. The centre also runs Lottery-funded Project CELT, which has excellent facilities for people with more complex needs. The simulated mechanical horse with an interactive screen enables riders to virtually experience the thrill of cantering along a beach.
The Calvert Trust Riding Centre near Keswick is a fabulous place to learn to ride at the foot of beautiful Lakeland fells. Riding or trap-driving sessions are available with qualified instructors and the centre is fully accessible.
ALSO TRY: The Avon Riding Centre in Bristol has an indoor and oftdoor arena with all-weather surface and a simulator. Riding for the Disabled offers horse-riding at centres around the UK. Alternatively, try the Diamond Centre in Carshalton, Surrey.
4. Coasteering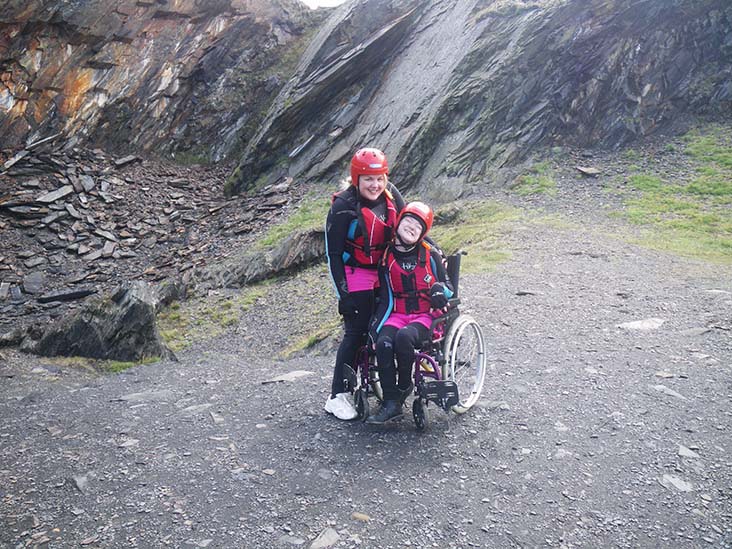 Celtic Quest coasteerers enjoying a wet and wild day out
Can you imagine yourself scrambling up a rock face above the raging sea, then jumping straight in from high on a cliff? While coasteering may seem extreme, with the right support it can be accessible to all. Celtic Quest in Pembrokeshire is one coasteering specialist that can tailor sessions for individuals with hearing, sight or mobility impairments and many other disabilities. They provide the kit, which includes a wetsuit with buoyancy aid that keeps you afloat, so you don't need to be a strong swimmer.
ALSO TRY: Hotrock Coasteer in Newquay, Cornwall, tailors their activities to make them accessible to all. Phone in advance to discuss your needs.
5. Skiing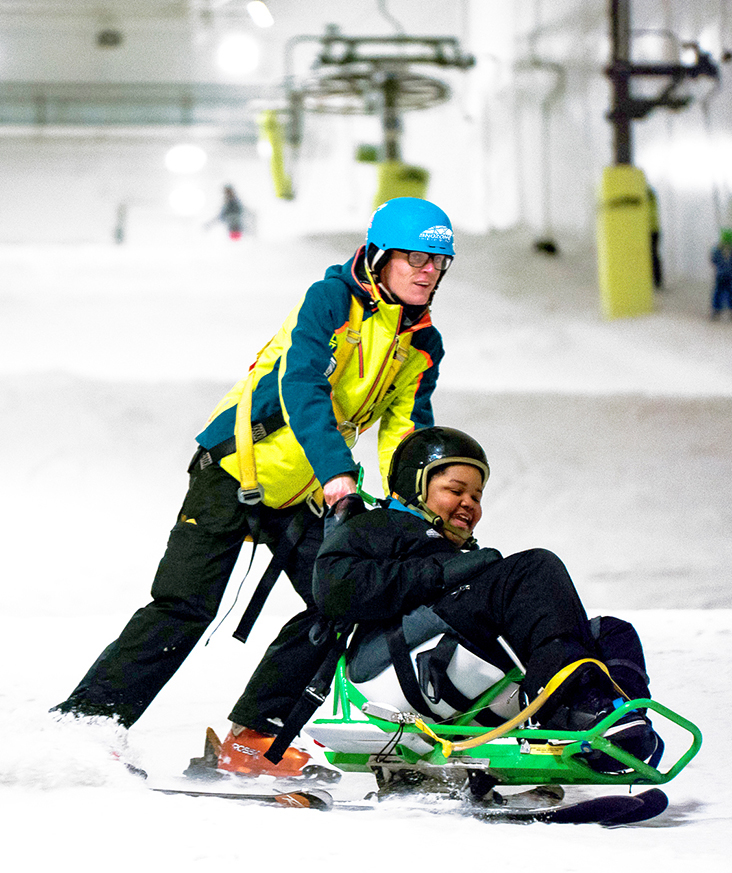 Adaptive skiing at Snozone UK, Milton Keynes
The exhilaration that comes with the freedom of skiing in beautiful mountains is something special. The Highlands of Scotland is a great place to experience this. Here, you can get out on the slopes of Cairn Gorm, one of the UK's highest peaks. Disability Snowsport UK, a national charity based in nearby Aviemore, runs a membership scheme that provides adaptive skiing lessons at discounted rates. The scheme enables anyone, including wheelchair users and individuals with very limited mobility, to ski alongside non-disabled friends and family. They also run activity weeks for disabled skiers and snowboarders in Europe and the USA.
ALSO TRY: You can use your membership of Disability Snowsport UK at several indoor ski centres around the UK: www.snowfactor.com in Glasgow, www.chillfactore.com in Manchester or www.snozoneuk.com in Milton Keynes.
6. White-water rafting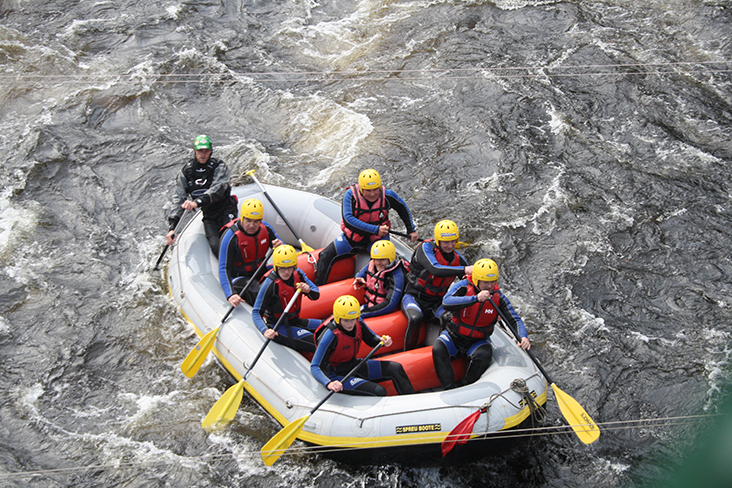 Facing the rapids with Splash Rafting
Outdoor sports don't get much more exhilarating than this. White-water rafting will blast away any cobwebs, leaving you soaked through but ready for more. At the National White Water Centre near Bala in Wales, a specially designed seat that attaches to the rafts enables wheelchair-users or people with limited mobility to raft. The Centre at Canolfan Tryweryn has good access and changing facilities.
ALSO TRY: Ride the waves on a Scottish river. Splash Rafting in Aberfeldy offers white-water rafting for all, with a gentle taster session or a heart-stopping race down Grade 5 rapids on the River Tay.
7. Sailing
Imagine yourself at the helm as a brisk breeze picks up, the sails billow and you cast off into the open sea. To make the romance of sailing a reality, check out opportunities with the Disabled Sailing Association. You can try short sailing sessions or longer coastal passages from their base in Torbay. The Royal Yachting Association Sailability project is also a great source of information, with opportunities for sailing with a disability and a search tool for Sailability clubs around the country.
Northern Ireland, Belfast Lough Sailability encourages people with disabilities to learn to sail. With a qualified instructor, you can get out onto Belfast Lough in a specially designed or adapted boat.
ALSO TRY: Sail with The Calvert Trust on Kielder Water in Northumberland or at their centres in Exmoor and Cumbria.
Find out more:
More about the Motability Scheme
The Motability Scheme enables disabled people and their families to access a brand new car or scooter, by exchanging their mobility allowance to lease the vehicle of their choice.
Image credits
We would like to thank the following individuals, companies and picture libraries for their kind permission to reproduce their photographs (in order of appearance on the web page:
Header image: Gravity Biking at Davagh Forest, Northern Ireland:www.roughriderz.co.uk
Gravity Biking at Davagh Forest, Northern Ireland:www.roughriderz.co.uk
Carriage driving:Riding for the Disabled
Celtic Quest coasteerers:Celtic Quest Coasteering, Pembrokeshire
Adaptive ski lesson at Snozone in Milton Keynes: Snozone Disability Snowsports
Rafting trip with Blesma on the River Tay, Scotland: rafting.co.uk