Most parts of the UK have a heritage railway line, many of which have been lovingly restored by volunteers and run through areas of spectacular scenery. However, because of the historical nature of the trains, not all of them are suitable for disabled travellers. So, we've scoured the breadth of the country and picked our favourite disabled – friendly lines; all except one are wheelchair-accessible and all make for a fantastic day out
Watercress Line, Hampshire
Running through rolling Hampshire countryside, this restored heritage train line was originally built to transport watercress from the local chalk streams to the mainline train to London. The ten-mile line runs from Alresford to Alton (though it will stop just one station short at Medstead and Four Marks station for the first few months of 2019, due to engineering works), stopping at pretty village stations and passing through Jane Austen country en route. With the exception of the dining trains and Real Ale trains, all the carriages are accessible, where wheelchair-users can sit at tables and eat with their travelling companion, it's also worth knowing that carers go free with each fare-paying passenger. Booking in advance is recommended as spaces can become limited on special event days.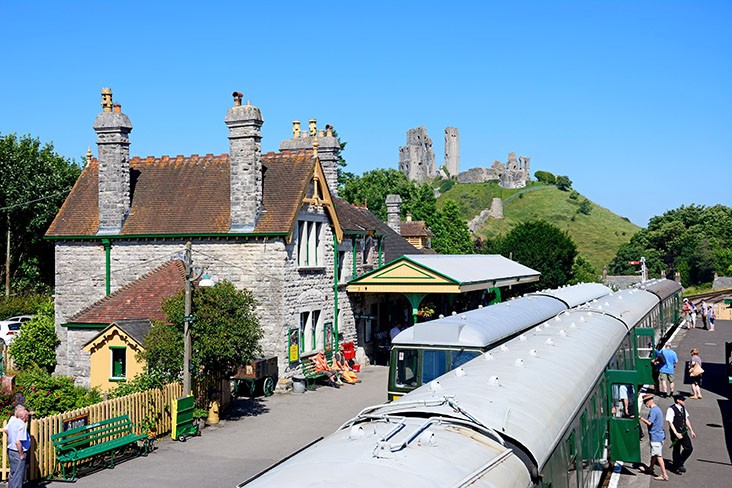 Boarding the train at Corfe Station
Swanage Railway, Dorset
The Swanage Railway runs steam and diesel trains past the dramatic ruins of Corfe Castle and through archetypal Purbeck villages to the seaside at Swanage. The local Dorset countryside was home to many of Enid Blyton's Famous Five adventures, and you'll be transported back to that era at some of the stations, which are mini museum pieces in themselves, complete with their original fittings. All the carriages can carry wheelchairs in the brake van, and there's one specially adapted carriage with wide doorways and a disabled toilet. It can take both wheelchairs and mobility scooters and runs most days, but it's worth phoning first to check which trains are operating with the adapted carriage.
Bure Valley Railway, Norfolk
Lovingly renovated along the route of the former Great Eastern Railway from Aylsham to Wroxham, this eighteen-mile railway follows the meandering river Bure through picturesque Norfolk villages and countryside. The train trip can be combined with a boat ride on the Broads, which departs from Wroxham, the line's final terminus. The railway has six accessible coaches with double doors and detachable ramps which can accommodate wheelchairs and small mobility scooters. These carriages run on most trains so wheelchair-users have a wide choice of services to travel on, though if you choose the train and boat combination you should book in advance as not all of the boats have wheelchair access.
South Devon Railway
Running down the beautiful Dart river valley along a former branch line of the Great Western Railway, this restored steam railway drops you right by the Totness Rare Breeds Farm for a great day out. At Buckfastleigh station, wheelchair-users and small mobility scooters can access specially adapted carriages by ramp (there's usually at least one per train) for the beautiful thirty-minute ride to Totnes Riverside station. From here, a level path leads the short distance to the Rare Breeds Farm.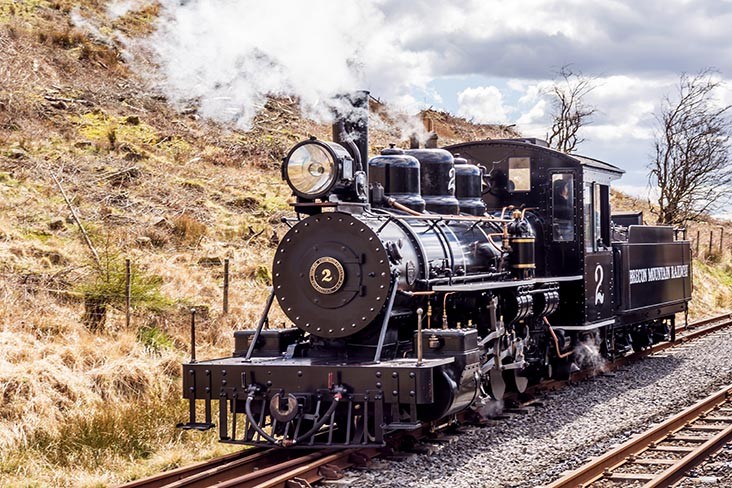 Chugging along the Brecon Mountain Railway
Brecon Mountain Railway
A proper mountain railway, this vintage steam engine chugs along on an impossibly scenic route around a reservoir and up into the Brecon Beacon mountains. Every train has a specially adapted carriage with ramped access that can take up to four wheelchairs.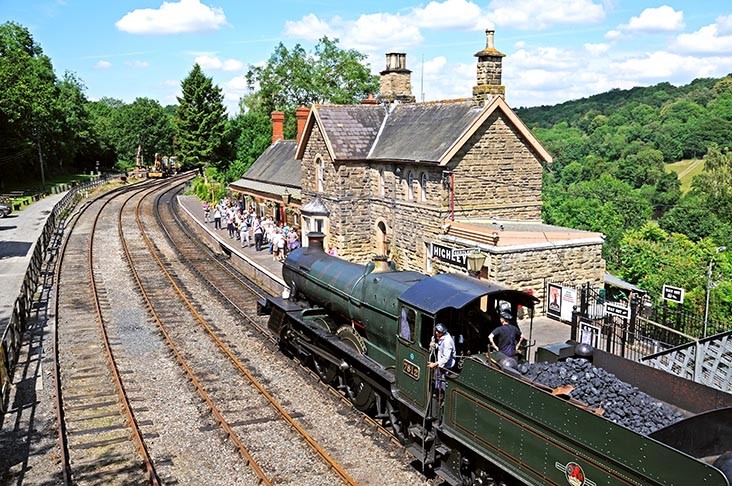 Steam train approaching Highley Station
Severn Valley Railway
This heritage rail line that runs along the Severn Valley goes the extra mile to help those with disabilities. Kids will love the Engine House visitor and education centre at Highley where they can get a closer look at the some of the steam engines, while Thomas the Tank Engine fans will be thrilled to see Gordon the Big (blue) Engine. Adapted carriages for wheelchairs are available on some trains, but you should always contact the railway to check which ones before booking.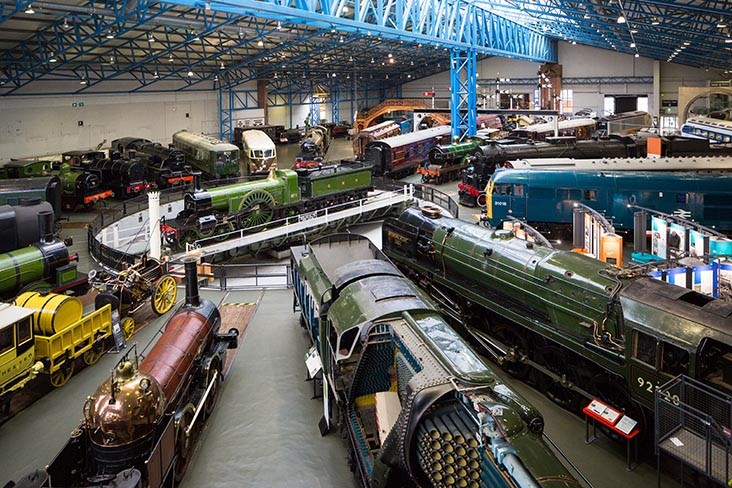 Vintage trains at the impressive National Railway Museum
National Railway Museum, York
A must-visit for anyone with even a passing interest in trains. OK, so it's not exactly a railway line, but this vast disabled-friendly museum is packed with steam and diesel engines, train-related exhibits and memorabilia. Those who can walk a short distance up a ramp can even ride on a genuine restored steam train (no wheelchair access) in the museum's South Yard, and there's also a miniature railway.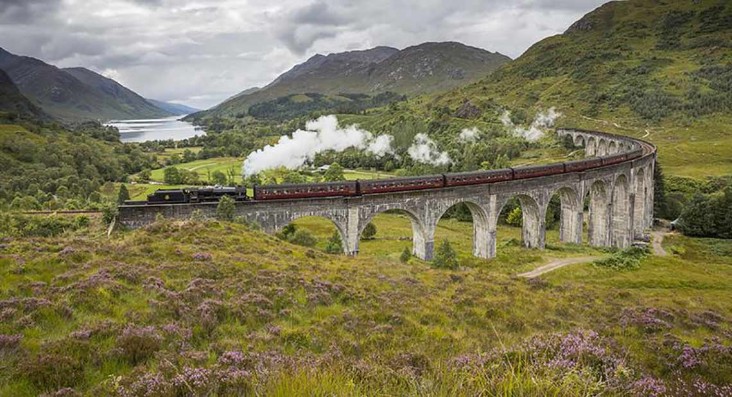 The Jacobite steam train passing over the stunning Glenfinnan Viaduct
The Jacobite steam train
Harry Potter fans can follow in the footsteps of Harry, Hermione and Ron on their journey to Hogwarts by taking this heritage steam train through some of Scotland's most dramatic scenery. Scenes from the movies were filmed on the train that runs from Fort William to Mallaig, over the famous 21-arched Glenfinnan Viaduct that features in all the films. Due to the nature of the restored heritage coaches, however, there's no wheelchair access, so only those who can step up into the train and sit independently can access it.
Related articles
7 free accessible things to do in the UK
Britain's best accessible museums
Top wheelchair and scooter friendly towns across the UK
Image Credits
Rough Guides would like to thank the following individuals, companies and picture libraries for their kind permission to reproduce their photographs (in order of appearance on the web page):
Header image: © VisitScotland/Kenny Lam
Swanage Railway: © Shutterstock
Brecon Mountain Railway: © Shutterstock
Severn Valley Railway: © Shutterstock
National Railway Museum: © National Railway Museum
Jacobite steam train: © VisitScotland/Kenny Lam