If you have difficulty getting around, you may receive a mobility allowance which you can use to lease a car, powered wheelchair or scooter through the Motability Scheme. If you don't drive yourself, up to two named drivers are included with the lease. And everything else like insurance, breakdown cover and maintenance is covered too. So where do you start?
We spoke to Motability Scheme specialist Jonathan Bell to find out the key steps you can take to find out more about the Scheme, and how you can prepare for popping in and visiting a dealership.
Step one: Check your eligibility
The first thing you need to do is find out if you qualify for the Motability Scheme. You must receive the Enhanced Rate Mobility Component of Personal Independence Payment (ERMC PIP), the Higher Rate Mobility Component of Disability Living Allowance (HRMC DLA), War Pensioners' Mobility Supplement (WPMS) or the Armed Forces Independence Payment (AFIP). Just to be sure, you can easily check your eligibility here.
You can also access the Motability Scheme on behalf of someone else, for example, if you're an appointee for someone you care for or a parent of a disabled child.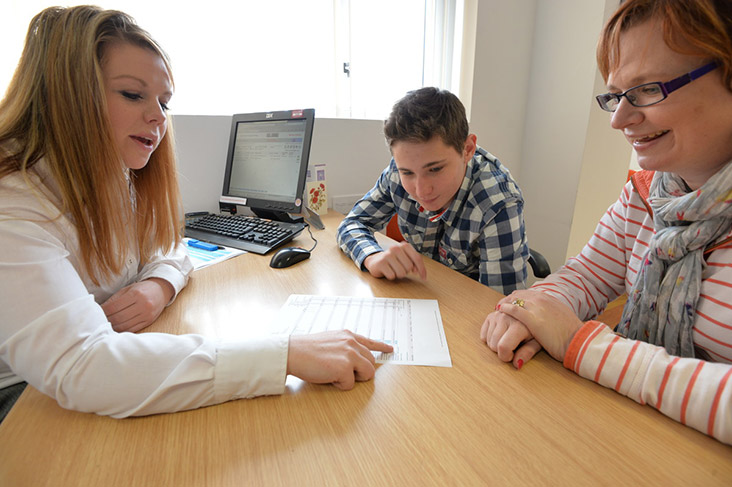 Step two: Choose your vehicle
There are cars, wheelchair accessible vehicles, scooters and powered wheelchairs available through the Scheme. It is important to think carefully about which of these will be best suited to you, depending on the types of journeys you are likely to make and what mobility needs you have.
There are some key considerations to think about when choosing a car. Jonathan recommends starting by considering what you need the car for and what, if anything, you'll be transporting in it. He also says that finding a focal point for your necessities is a good way of narrowing it down.
Jonathan can't stress enough the importance of doing this research: "Do a bit of ground work first or you'll just get lost in all that's out there.
"I've seen people come into our showroom with notebooks and they've gone around the cars and written down so much they can't possibly absorb it all. Going into a car showroom can be a bit like a child going into a sweetshop. It's easy to become overwhelmed by it all."
The search tools on the Motability Scheme website are the only place to see a full list of the cars and products available, as well as the latest prices and features:
Step three: Visit a Motability Scheme specialist at your local dealership
There are nearly 4,500 dealerships to choose from across the UK, with trained Scheme specialists on hand to advise you. Find your nearest Motability Scheme dealer dealer by using the Find a dealer tool.
According to Jonathan, the best thing to do is make an appointment: "When you are ready to discuss the car you want, try to book an appointment with a specialist rather than just turning up. We will see you if you just walk in but if we know your needs ahead of time it makes everything much easier for us both."
If you can, you should try and visit several dealers at this stage of the journey to give you a better idea of which type of car is best suited to you. Having company on these visits is a great idea too – not only for a nominated driver to test drive the car with you, but also for some extra advice and support!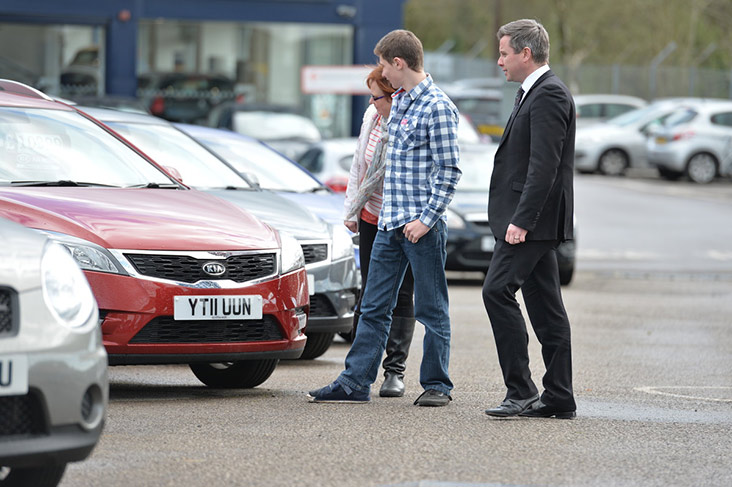 Preparation is key!
Once you've made your appointment, think about what you need from the vehicle and don't be afraid to ask questions and make the most of your dealer's expertise. Here are some helpful checklists for choosing and test driving the car, as well as visiting the dealership.
One area you might want to ask about for example is adaptations that help with driving, getting into the car, or storing a wheelchair. The Motability Scheme offers hundreds of adaptations, from hand-controlled accelerators and brakes to person hoists that physically lifts you into the car. Many adaptations are also free of charge — this is something you can ask the specialist about during your visit.
Your Motability Scheme specialist will aim to advise you on what's best for you, your lifestyle and mobility needs. "Everyone's needs are different," Jonathan says, "just an inch here or there can make one car perfect and another not at all right for you."
A crucial part of this visit is the test drive. It's vital to see how comfortable you and any other passengers are in the car, and test practical things such as ease of getting in and out and visibility.
Dealers will also help get you set up if you need it. For example, they can programme your Sat Nav with common destinations for you if you have difficulty with your memory – or if you're just not sure how to go about it!
Jonathan's top tips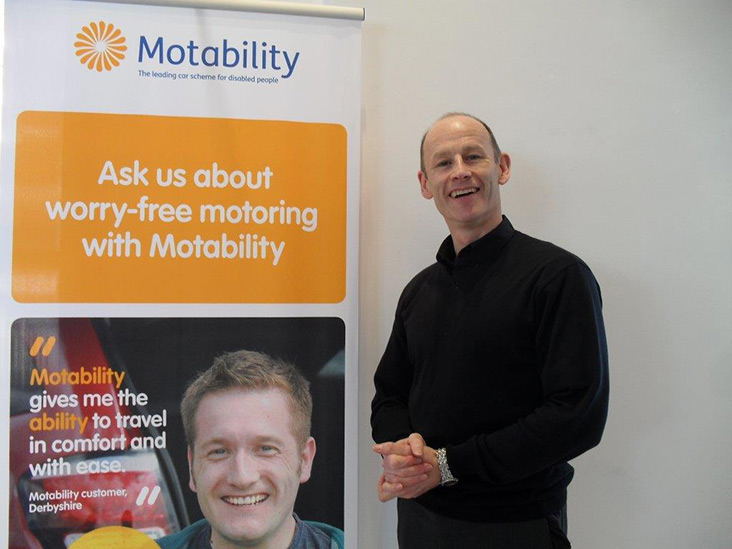 Jonathan recommends writing down a list of key features or requirements for your vehicle before you go for your appointment. As he says, "This might be your primary form of transport for three years, so it needs to be perfect for you."
You should also take all the time you need on your dealer visit: "When you're at the dealers, have a good look around, take your time, and remember always test drive the cars you're interested in."
Specialists like Jonathan are on hand to answer any questions you might have and make sure you have all the important information. You should ask them for anything you're not sure about. As Jonathan says, "I always go through the Motability Scheme welcome pack with my customers and make them aware of all the correct contact details. If they're already a customer, I refresh them with the benefits of the Scheme again such as Kwik Fit, RAC assistance etc."
Ask your specialist to make any adjustments that might be useful to you, such as connecting your phone, or programming the radio and Sat Nav to your preferences.
Jonathan has found that many customers, in particular those with arthritis, have some trouble with small things such as opening and closing the fuel cap. Ask your specialist for help with anything that you think you might struggle and they'll be happy to make sure you get the best out of your vehicle and you can comfortably start driving immediately.
What next?
When you're happy with your vehicle, your chosen dealer will place the application for you. Watch our quick animation on placing an order.
Read More Articles Like This Here: