Did you know you can test drive both adapted and non-adapted cars with a qualified driving instructor at The Big Event Birmingham, The Big Event Northern Ireland and at our regional One Big Day events?
Taking a test drive is the best way to become familiar with a vehicle and discover if it is suitable for your needs. At each event across the summer, there will be over 40 cars available to test drive, including 17 fitted with popular driving adaptations. There will also be experts on hand from the car manufacturers and adaptation suppliers to answer any questions you might have about the vehicles, as well as our Motability Scheme advisors who can discuss details of the Scheme with you.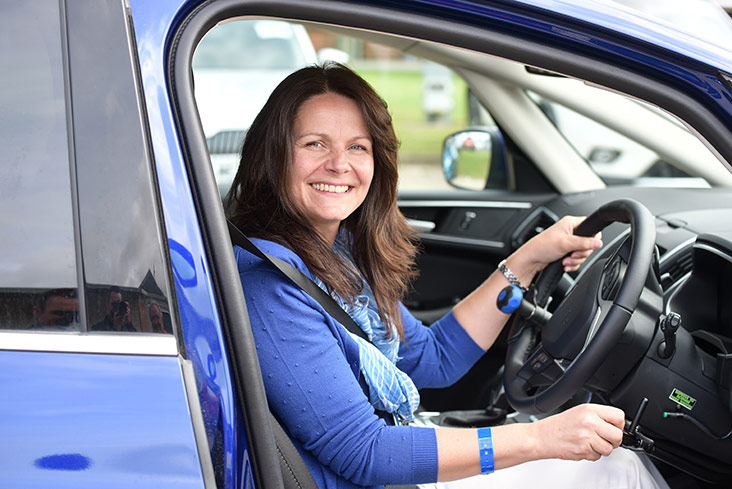 Taking a test drive is the best way to become familiar with a vehicle.
Test drives at our events are very popular. Here are our top five tips to consider when planning a test drive at a One Big Day:
1. Remember your driver's licence
You'll need a full UK driving licence (with photo card) with you in order to test drive a car. You will also need to sign our Test Drive Declaration Form (this simply says that you agree to Terms and Conditions and that you meet out test drive eligibility criteria).
2. Select your chosen vehicles from our test drive fleet
Don't forget to make a checklist of any specific requirements you have for your new car (for example, things like, adjustable seats and electric windows) to help you decide what to test drive on the day. A full list of the adapted vehicles available to test drive can be found online now and the non-adapted vehicles will be available in the event guide on the day.
3. Take someone with you
Choosing a car is a big decision and having someone there to talk things over with often helps. If you wish to nominate a driver, they should come with you and test drive the car too.
4. Book early to avoid disappointment
Our test drives are very popular so be sure to find the test drive booking desk upon arrival to book your time slot.
5. Arrive in good time for your allocated booking
This will allow plenty of time to get familiar with the test-drive car and ask the instructor any questions you might have before you head off.
Find out more about the One Big Day 2018 programme dates and locations and check out the full fleet of adapted vehicles available to test drive. The list of standard cars also available to test drive will be made available in the event guide two weeks before the event.
We look forward to seeing you there!
The Motability Scheme enables disabled people and their families to access a brand new car or scooter, by exchanging their mobility allowance to lease the vehicle of their choice. Find out more: