We aim to make leasing a brand new car affordable for our customers and with a choice of over 200 cars that cost less than your allowance (meaning you keep the remainder of your allowance to spend as you wish) you're sure to find the right car for your needs and your budget. In this article, Richard Aucock of Motoring Research has reviewed five cars that cost less than your allowance. The prices shown are valid for applications placed between April – June 2019 and will be updated as at 1 July 2019.
The Peugeot 108 is a small city car. It is more compact than a supermini-style model such as a Ford Fiesta, so it is easier to park for those with small driveways or off-street parking. It is easier to handle in busy town centres too – although clever design means it still feels like a big car where it matters.
Why is it so popular?
Cute styling and diminutive dimensions help give the 108 a cheeky appearance. But it doesn't feel squashed on the inside; the full-sized front seats are supportive and they have plenty of adjustment. Good headroom gives it an airy feel and clear visibility helps drivers make full use of its compact size.
The 108 has a punchy little 1.0-litre engine. It has a charismatic throb, and nippy handling means you can easily dart in and out of traffic. In-town bumps are soaked up well and the little Peugeot even copes with a motorway blast. And while the boot is small with the seats up, they can easily be folded to open up a commodious load space.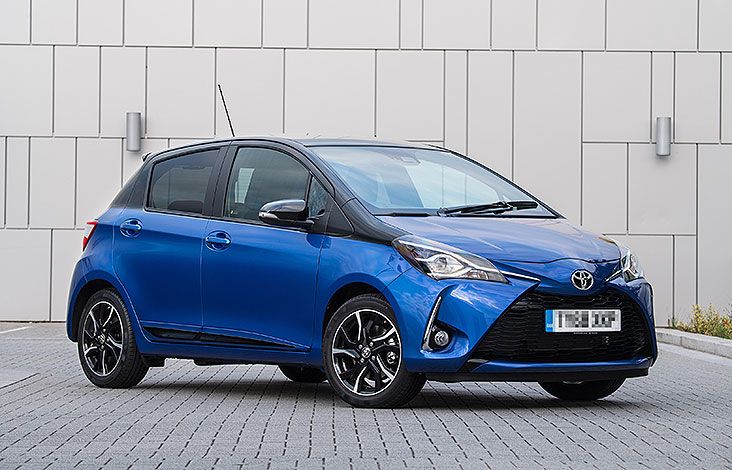 Search cars that cost less than your allowance
---
You can use our car search tool to see the full range of cars that cost less than your allowance, available to lease through the Scheme or if you'd like to find out more about the Motability Scheme, request a free information pack and we'll send you all the information you need.
The Toyota Yaris is one of the giant Japanese car manufacturer's most popular cars sold here in the UK. The reliable and well-liked supermini is trusted by many thousands of buyers each year, who really rate its dependability and ease of use.
Why is it so popular?
The Yaris is an exceptionally well-designed car. It is a little more compact than its rivals on the outside, so it's that bit easier to park and handle. However, intelligent design means it is still very spacious on the inside, both for front and rear-seat passengers. Build quality is extremely high as well: it feels built to last a lifetime.
We're looking at the 1.5-litre petrol version here, although you can spend more and choose a hybrid version that will run as a pure electric car at slow speeds. The 1.5 version here is more conventional, but a punchy 111-horsepower engine output helps deliver surprisingly sprightly performance to put a grin on your face.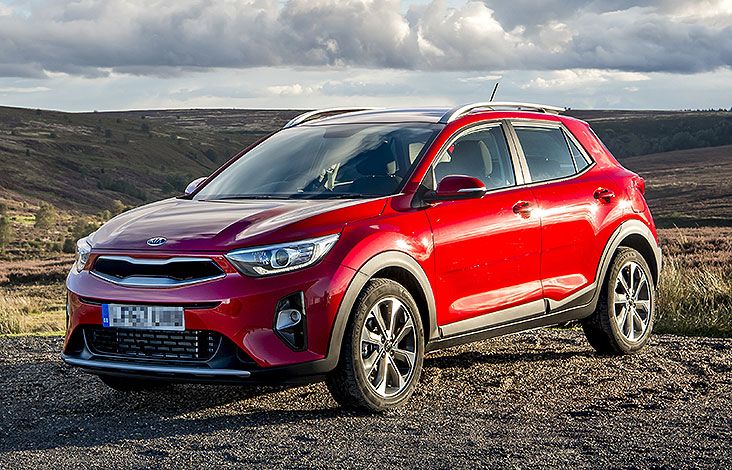 The Kia Stonic is another crossover SUV alternative to a conventional supermini hatchback version. In this case, it sits alongside the Kia Rio line, offering chunkier styling and a higher-riding SUV feel.
Why is it so popular?
The Stonic is a nicely proportioned car, with a sporty profile that has hints of a squat, big-wheel coupe from the rear. It is not trying too hard and has a confident appearance, which seems to appeal to buyers.
No space is wasted inside so it has enough room for young families, and Kia's good-value specification means all the essentials come as standard on '2' grade trim. Even if you never use it, the famous Kia seven-year warranty still gives plenty of reassurance that this will prove a reliable, dependable car.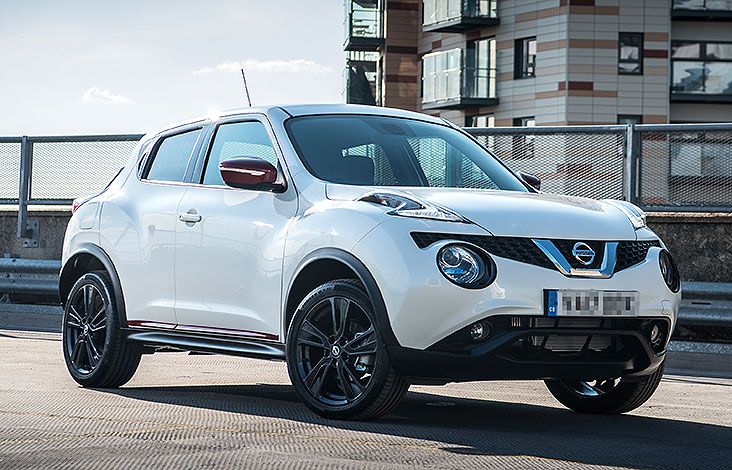 The Nissan Juke is the original small crossover SUV. A more compact alternative to the Nissan Qashqai, this British-built five-door model has proven very popular with buyers for years now. It has long been among the best-selling small SUVs in Britain.
Why is it so popular?
The bold styling of the Nissan Juke remains a key reason for its appeal. It still has an air of concept car about it, with futuristic features and a distinctive front end complete with the trademark 'frog-eye' lights. Some premium colour and trim choices further bolster its desirability.
The interior stands out too, with a centre console covered in body-coloured trim designed to look like a retro motorcycle fuel tank. The cabin has a sporty feel to it, and a high-set stance gives a good view forward. A rear parking camera helps offset slightly restricted reversing visibility, and the boot is more practical than you may first expect from the Juke's racy profile.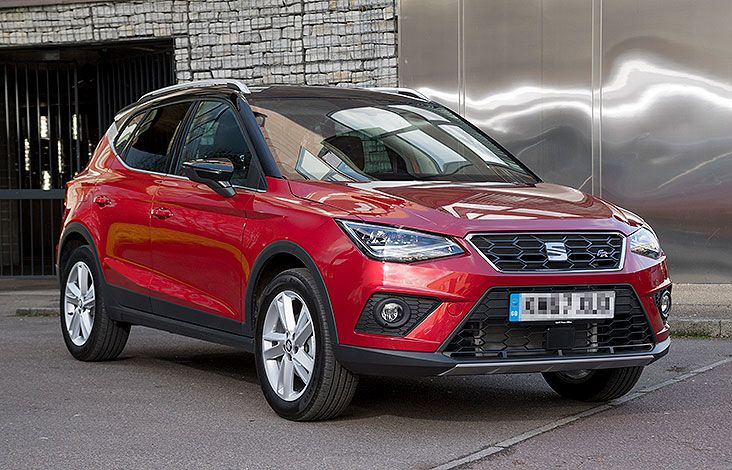 The Seat Arona is a higher-riding alternative to a Seat Ibiza small car, with an airier interior and chunkier, rugged crossover SUV styling. It is a relatively new arrival to the Spanish car company's range, but is already proving very popular – thanks to some excellent reviews from motoring experts.
Why is it so popular?
Seat has created an extremely well thought out car with the Arona. Its clean lines are SUV-inspired but not too bold or brash, and the interior design is similarly subtle and well-honed. The driving position is excellent, with a good view out, and it's that bit easier to step in and out of than a normal small hatchback.
It is an easy car to use, with clear controls, and it's straightforward to drive as well. The fuel economy of this TDI diesel version is outstanding, meaning fewer trips to the filling station, and the DSG automatic gives two-pedal convenience. Xcellence Lux spec is generous, with standard features including ultra-bright LED headlights and an eye-catching chrome grille.
How do the payments work?
---
Payments are deducted from your higher rate mobility allowance every four weeks, then paid directly to us by the Department for Work and Pensions (DWP). If you choose a car that costs less than your allowance, the remainder is paid directly to you by the Department for Work and Pensions.
Are there other pricing options?
There are two other pricing options available when leasing through the Motability Scheme:
Cars that cost all of your mobility allowance:
There are over 150 cars that cost the same as your allowance, which means you swap the whole of your weekly mobility allowance for the car of your choice. There is no Advance Payment on these models. These cars will display the words 'Total Mobility Allowance' on the specifications page for weekly rental amount on the Car Search tool.
View Total Mobility Allowance cars
Cars that cost all of your mobility allowance and have an Advance Payment:
You can increase your choice further by paying a one-off, non-refundable upfront payment which we call an Advance Payment. The Advance Payment covers the cost between your higher rate mobility allowance and the total cost of your lease.
View cars that have an Advance Payment
All-inclusive leasing
No matter which car you choose, all come with our all-inclusive package of insurance, breakdown cover, servicing, tyres and glass repair and replacement.
Search the full range
If you'd like to join over 630,000 customers already enjoying the benefits of a worry-free lease package through the Scheme, start exploring the full range of cars available using our Car Search tool to narrow down your options.
Our price lists are updated every three months, so you can be assured you're getting the best prices from each manufacturer. The dates the new prices are published are:
1 January
1 April
1 July
1 October
Interested in joining the Scheme?
About the Scheme
The Motability Scheme offers an all-inclusive package that allows anyone in receipt of higher rate mobility allowances to use their mobility allowance to lease a car, scooter, powered wheelchair or Wheelchair Accessible Vehicle. The Scheme provides flexible and hassle-free access to a brand new, reliable vehicle of your choice. As well as a great choice of cars, we also provide a wide range of Wheelchair Accessible Vehicles, scooters and powered wheelchairs.
Eligibility
To join the Scheme, you must be in receipt of higher rate mobility allowances (such as the Enhanced Rate of the Mobility Component of Personal Independence Payment or the Higher Rate Mobility Component of Disability Living Allowance). Use our eligibility checker tool to see if you're eligible.
How to join
If you're ready to take the next step, find out how to join now.
Sign up to our monthly e-newsletter if you'd like to keep up to date with all the latest Scheme news
If you'd like to join the 600,000 customers already enjoying the benefits of a worry-free lease package through the Motability Scheme, request an information pack to find out more.
Prices and features of car models shown are correct at the time of publishing and may be subject to adjustments or withdrawal in the event of any changes taking place which affect the cost of provision of the lease agreement. In the coming months the wider car market may experience longer delivery times or availability issues with some makes and models and customers are advised to discuss this with their dealer at the point of application. Prices shown are valid for recipients of the HRMC of the DLA and ERMC of PIP making an application between 01/04/2019 and 30/06/2019, but may be subject to change. Customers are advised to check any specifically required vehicle features with their dealer at the point of application. All vehicles shown are for illustrative purposes only. *This is the amount of you higher rate mobility allowance which will continue to be paid to you by the Department for Work and Pensions (DWP). This amount is based on the current weekly allowance rate of £61.20 (as of 8 April 2019) and will increase if the DWP makes its annual allowance increase (usually in April). From 01/01/2019 miles per gallon (MPG) performance is measured using the new WLTP fuel economy tests which typically give lower MPG performance than the old NEDC tests. MPG figures are indicative figures and do not necessarily represent real driving results. See manufacturer websites for the most up-to-date MPG performance. Motability Operations Limited is authorised and regulated by the Financial Conduct Authority.