Before anyone running a mobility shop can become a Motability Scheme dealer, they have to pass a number of rigorous tests to ensure they give the very best service possible to Scheme customers. There are standards for every dealership which supplies vehicles for people on the Motability Scheme and the most important of these is customer service.
Here we explore what it takes to become a Motability Scheme dealer, why such high standards are demanded and how this helps you as a customer—and the dealers themselves!
Becoming a dealer
Before anyone can become a Motability Scheme dealer, they're asked three questions, explains Jim Wood, PWS Relations Manager for the Scheme.
1. How long have they been trading? A minimum of three years is required.
2. Do they have the ability to respond to any customer problems within 48 hours and provide an alternative service such as a loan product until the customer's chair or scooter is mended?
3. Can they go out and see a customer to do a home assessment? All Motability Scheme dealers are expected to be able to demonstrate the product in a customer's own home and see how it fits into their life.
Not just anyone can become a Motability Scheme dealer!
"It's surprising how many shops aren't able to meet these requirements. Many get weeded out at this stage. Though there are thousands of small mobility shops in the UK, there are only around 300 Motability Scheme dealerships for powered wheelchairs and scooters due to this rigorous assessment," says Jim.
"The Motability Scheme has incredibly high customer satisfaction scores and we would never want to jeopardize that"
– Jim Wood, PWS Relations Manager for the Motability Scheme
If a dealer is successful getting through this stage, they receive an application pack to complete. If they pass that stage, its then time for a face-to-face meeting with Jim or one of his management team.
"We assess whether they are the right sort of people to look after our customers to the very high standard we expect. We're very proud of our high standards. It has to be a platinum level offer so our customers can be assured that we only work with really good dealers who can respond quickly and turn things around speedily. The Motability Scheme has incredibly high customer satisfaction scores and we never want to jeopardize that," says Jim.
How the Motability Scheme supports dealers
Although this means our customers are always assured of a safe, reliable service, it's also good for the dealers. They have support from a large organisation, support with marketing materials, and regular training. Motability Operations works with all suppliers to ensure everyone involved comes together to give the customer a seamless service.
"We have really good relationships with our dealer network. It's a two-way process involving at least one annual visit as well as stakeholder meetings and customer service workshops. There are also award schemes and chances to win prizes and be dealer of the year," adds Jim.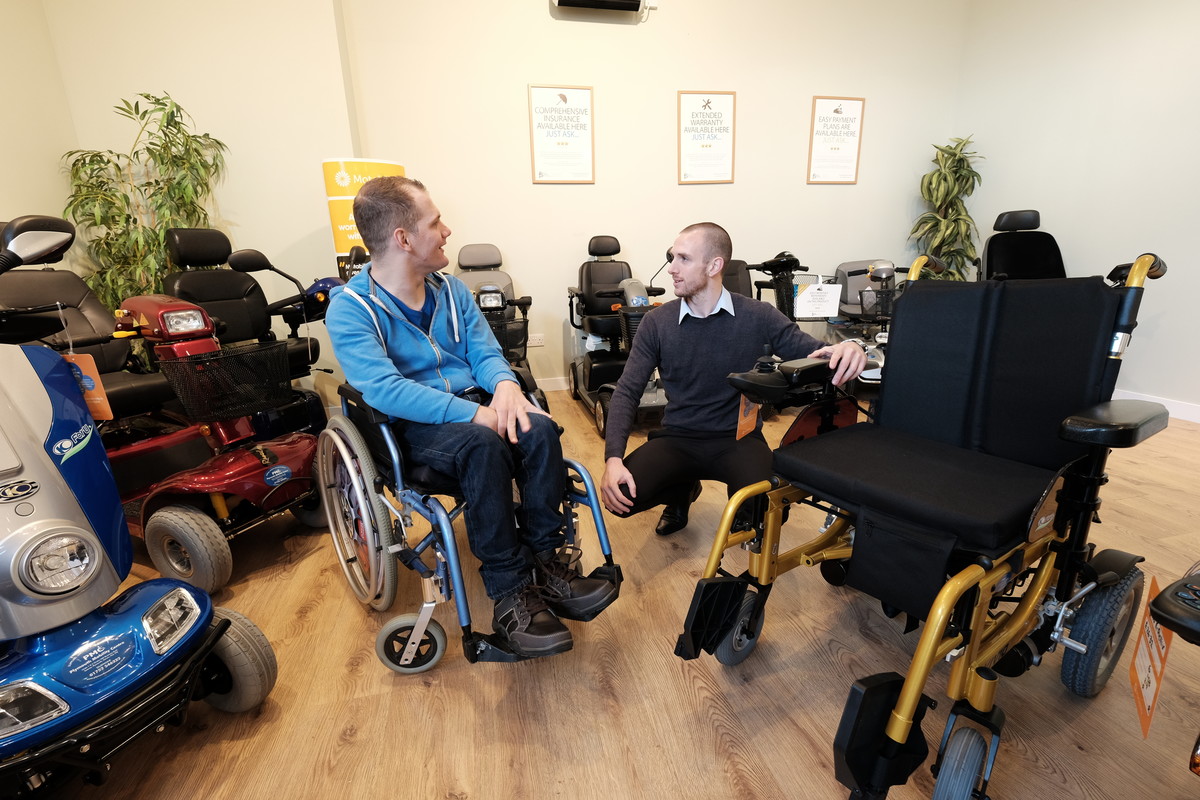 Motability Scheme dealers get the best training to ensure they provide the best service for customers
Job satisfaction for dealers
For a Motability Scheme dealer, this support makes all the difference. Camilla Griffiths is the manager of Easy Living Mobility which has seven shops in the North Midlands: Leek, Lichfield, Kidderminster, Walsall, Newcastle upon Lyme, Cannock and Dudley. The first branch opened ten years ago but they only became part of the Motability Scheme dealership two and a half years ago.
"For many of our customers, the Motability Scheme is the only way they can get a powered wheelchair or scooter, so by becoming a Motability dealer, we're providing them with something they wouldn't otherwise have.
"Some customers going into our Easy Living Mobility shops don't know about the Motability Scheme. So it's very satisfying for staff to be able to tell them they may be able to lease a powered wheelchair or scooter. We've helped a lot of people find out about the Scheme this way. And giving someone with disabilities the gift of mobility is very rewarding," says Camilla.
How this helps customers
Ultimately, the result of all of this is the very best service possible from dealers for Motability Scheme customers. For more information on maintaining your scooter or powered wheelchair throughout your lease, go to our scooters and powered wheelchair customer area.
If you're new to the Scheme and would like to find out more about leasing a scooter or powered wheelchair, you can browse our selection of models and also find your nearest (fantastic!) dealer.
Related articles
Choosing the right mobility scooter for you
A guide to travelling by scooter and powered wheelchair
Top tips for visiting London as a Motability Scheme customer or wheelchair user