There is lots of support available if you have arthritis and are looking for ways to continue using a car and enjoying the freedom and independence that comes with driving. We asked for some specialist advice from a Motability Scheme adaptations installer, below.
You may well be able to continue driving your own car, especially if it's an automatic and has power-assisted steering, as these features make it easier to drive if you don't have as much strength in your shoulders, hands or arms. Other options such as height-adjustable seats and steering are found on a wide range of cars, too.
If your own car doesn't provide extra facilities to help with driving, or you need more assistance, there are now many adaptations available – we hear about some of these below.
If you receive a higher rate mobility allowance, you can exchange it to lease a car or scooter through the Motability Scheme. Des Gosling Mobility Ltd is one of many adaptations installers offering adaptations through the Scheme (you can find a full list of adaptation installers here.) Sid Vessey – who himself has arthritis and is an engineer with Des Gosling — says the first thing they do when assessing someone's needs is look at the car you currently drive to see what adaptations can be made for it.
"There is no end to adaptations that can be done to suit a person's individual needs. We look at grip, range of movements, what kind of driving people want to do and what they want to get out of their car. For example, if you use one do you want to take your wheelchair with you? For that we can provide further adaptations such as a crane in the boot to lift a wheelchair or power scooter.
"What we're always looking at is how to provide total mobility. So not just how to adapt a car but getting in and out of it too, being able to operate controls and how to get out at the other end. It's a holistic approach to make sure it works for the person with arthritis and their family. It's also important to bear in mind that mobility needs change. As a condition progresses, if it does, further adaptations may be required."
When thinking about adaptations, we can start by thinking about seats. You may want a seat that goes all the way back thus gives you lots of leg room, or you may need a basic electric seat that goes forward and backwards and up and down. Seats that rotate out of vehicle and lower towards the ground make it easier to get in and out the car, and there are even programmable swivel seats. It's important you're as comfortable as possible while in your car.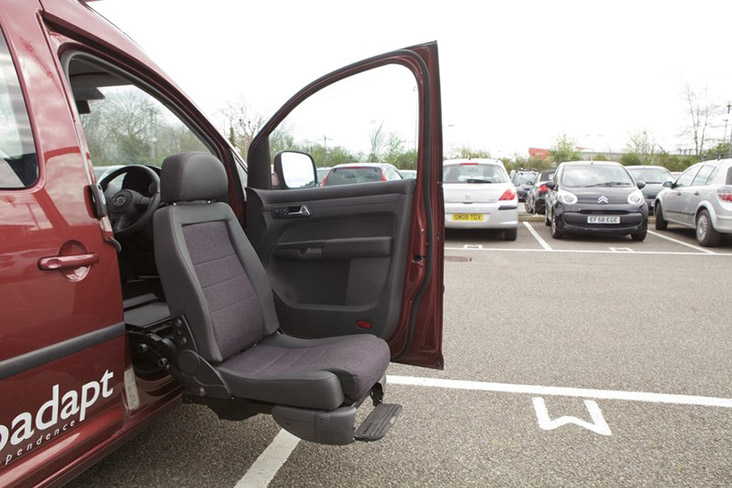 The next thing to consider is using controls. If you do not have sufficient grip to use the hand brake, for example, an electrically operated one can be fitted. If you are not able to move your feet fast enough between the accelerator and brake, push/pull hand controls may be recommended. This is a lever to the right of the steering wheel and you push away to break and pull towards you to accelerate. It can take a bit of getting used to but with sufficient practice can be mastered. Watch our video on how a swivel seat works.
There are also infrared devices that can be installed to work indicators, wipers and lights. It's a bit like driving with something that resembles a TV remote control to select indicators, screen wash, wipers, dip, main lights and the horn. If steering the car is difficult, there are steering aids too that can be fitted such as a steering ball so you can steer the car with one hand.
"It's important people see what's available and what best suits their needs," adds Sid Vessey, "everyone is different and what works for one may not work for another. So it's vital that the car is adapted to the very specific needs of each driver and these will vary from one person to the next."
Driving with arthritis – good to know:
The Motability Scheme has more than 400 adaptations to choose from and there is a handy interactive tool online to help you find out what's available and where you nearest adaptations installer is.
Disability charity Rica (formerly Ricability) has published a leaflet about driving with arthritis and the options available (available online or free by post).
You may wish to book an appointment at a Driving Mobility centre for advice or a driving assessment.
Finally, always speak to your GP if you're unsure about whether your health or any medication you have been prescribed affects your ability to drive.
Read More Articles Like This: