Motorways can be very daunting, especially for new drivers! There are lots of things to consider, such as using the hard shoulder and where smart motorways come into it, but this article from Auto Express rounds up some really helpful advice about several different aspects of driving on motorways for learner drivers still getting to grips with it.
---
The Department for Transport has announced that learner drivers will be allowed on motorways in 2018. But while this is a positive move to help boost driver education, it could still be an intimidating experience for a new driver. The team at Auto Express has many collective years of experience driving on all kinds of road, so who better to give you tips on motorway driving?
Motorways can be an intimidating place for any driver, whether you've just passed your test or not. The combination of high speeds, fast-moving traffic, large lorries plus multiple lanes and slip roads can cause confusion and panic if you're not prepared. However, statistically motorways are the safest roads in the UK, because there are no pedestrians or cyclists, traffic is usually contained within the direction of travel and there is more space to use in the event of something going wrong.
Like driving on regular roads, driving on motorways requires concentration and forward planning. It's important to be aware of your surroundings, so make sure that your windows are clear and mirrors are positioned correctly so that you can see what is going on around you – this is especially true of the nearside (left side) of your car, as it's not a side of the car that you normally focus on when driving on a regular road with two-way traffic.
Assuming you know how to use roundabouts and traffic-light controlled junctions, your first challenge will be to join a motorway. You'll know when you are about to join one because the road signs will feature white writing on a blue background, with the M-designated road number written on them.
Joining the motorway
Unlike conventional junctions, where you must slow down as you approach them, the motorway slip road is designed to allow you to get up to speed before joining the main carriageway. As a rule of thumb, you should attempt to get to about 60-70mph by the time you're at the end of the slip road so that you're driving at a similar speed to motorway traffic. At this time you should also be aware of traffic that is already on the motorway, and you should adjust your speed so that you merge smoothly with traffic.
Use your mirrors and look over your shoulder to ensure that you are joining the motorway where there's a space. Some cars feature a blind spot warning system that flashes lights in the wing mirrors to warn you of traffic that you are closing in on, but it's always still worthwhile looking over your right shoulder as a final check.
Also, read the road signs. On some multi-lane motorways, the slip roads that you use to join the motorway can sometimes continue as an extra running lane. These will be indicated by arrow signs that show if the slip road joins the existing lanes and runs alongside them.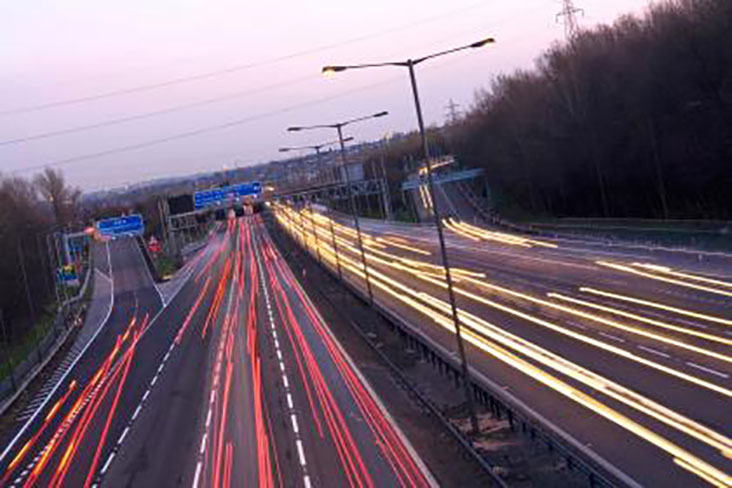 Using the motorway
Once you're on the motorway, the Highway Code states that you must keep left unless overtaking. This is something that learner drivers will hopefully be taught and have drilled into them, and it will help to reduce the number of lane hoggers that cause delay and hold-up, due to their inability to move back left to allow other traffic through.
If traffic is light, then you must move back to the left once you have overtaken another motorway user. However, as always, look ahead, and if there are a number of vehicles in the left-hand lane that you are going to overtake in quick succession, then you can stay in the lane you are in – if you are doing a marginally higher speed than a car you're going to pass 1/4 of a mile up the road, then you should move back to the left.
If you encounter somebody who is going slower than you that hasn't moved across to the left, it could be tempting to pass them on the inside. But this undertaking is against the law (unless you're queuing in slow-moving traffic). The best way to deal with them is to move across to overtake them normally, and move back across to the left as soon as possible, but without cutting anybody up. It's likely that these drivers will be oblivious to their surroundings, so expect them to speed up and slow down in the lane they are sitting in. You may end up being passed by them again, and you might have to re-pass them. Remain calm and don't do anything rash – drivers like this might wind you up, but it's never worth getting into an incident over.
Use your indicators whenever you are changing lanes when there is other traffic around. It helps other drivers know what you are doing, and can help them anticipate your actions and adjust their own driving in response.
Motorway hard shoulders
Nearly all motorways in the UK have a hard shoulder, which is designed to allow access to incidents and accidents for emergency services when the main carriageway is jammed with traffic. You must never drive on the hard shoulder unless indicated by a traffic officer, highway staff or overhead gantry signs. You can't stop on the hard shoulder unless it's for an emergency.
The exception to this is the new breed of smart motorways which sometimes allows you to drive on the hard shoulder in busy conditions. Signs on the overhead gantries tell you which lane you can drive in at any time and there are emergency refuge areas to use if you have a problem when the hard shoulder is in use by traffic. Our guide to smart motorways can be found here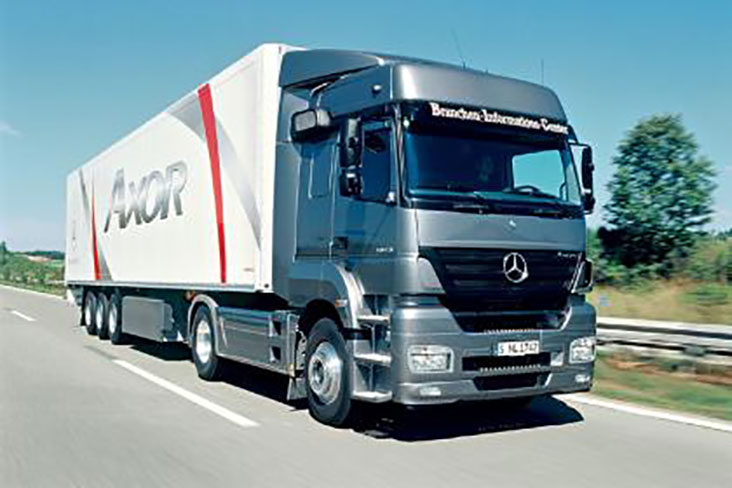 Lorries and HGVs on motorways
HGVs can be a cause of intimidation for nervous road users. It's worth noting that lorries have a lower speed limit than cars and are electronically limited, too, so if you stick to the 70mph speed limit, you will never be passed by a lorry. If you do end up being slower than a lorry and one ends up overtaking you, it's best to co-operate with the HGV that is trying to pass you.
Slow gently so that it takes less time for the lorry to pass and get away from you, while a double-flash of your headlights when the lorry is clear of you will let the truck driver know the rear of the vehicle is clear and they can pull back into the left-hand lane. Once they have passed, you can build up speed again to ensure you're not in the same position of being overtaken by a lorry again.
If you are approaching a convoy of lorries and one is indicating that they want to pull out to overtake another lorry, try and be courteous and co-operate with them, because the momentum built by an HGV is difficult to regain once it's lost. A double flash of your headlights can let them know that you are willing to let them out, and if you have another overtaking lane to your right, check your mirrors to see if it's clear of upcoming traffic and pull out to give the lorry even more space.
One thing to note is that HGVs, coaches and buses are not allowed to use the outermost overtaking lane. So if there's a queue of HGVs in the lane next to it, you can be sure that none will be pulling out into the outside lane.
Leaving the motorway
Junction signs usually begin a mile ahead of the junction, although on some busier motorways these signs can start 2-3 miles ahead. If you're looking at the junction signs, you may also see a small black square in the bottom corner of the sign with a number in it. This is the junction number, and corresponds with the information you'l find on road maps, your sat-nav screen and in traffic announcements on the radio.
If you are leaving the motorway, the advance warning of your junction should be enough notice to get across to the left-hand lane – anybody who has to cross 2-3 lanes to make their slip road is clearly not paying attention. Again the slip road is designed to help you slow to conventional road speeds, so there is no need to slow down on the motorway before you peel off – braking on the motorway can be dangerous and cause a concertina effect with drivers behind you braking in response to your actions.
One thing to be aware of is that the left-hand lane of the motorway can sometimes turn into a slip road. However, if you are aware of what is going on ahead of you by reading the road signs, you will get plenty of warning that the lane you are using is changing into a slip road.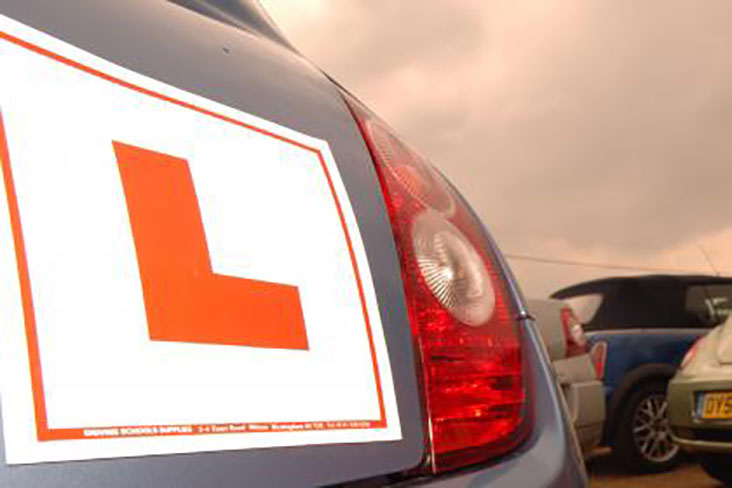 Background to learner drivers on motorways
The announcement that learner drivers would be allowed on motorways happened in August 2017. The aim of the extra tuition is to help improve road safety, as the first time new drivers take to the motorway will now be in a dual controlled car and with a trained instructor.
The Transport Secretary that made the announcement was Chris Grayling, and he stated that the DfT had previously consulted learner drivers and instructors on the move, and the department received wide support to allow teaching on motorways. Younger and more inexperienced drivers were identified to be around five to seven times more likely to be killed or seriously injured compared to those over the age of 25.
"The UK has some of safest roads in the world and we want to make them even safer", said Grayling.
"Younger drivers are up to 7 times more likely to be killed or seriously injured compared with drivers over 25 and lack of experience is an important factor.
"Allowing learners to drive on motorways in a supportive environment will help them to develop a practical understanding of how to use motorways safely before driving independently."
RAC safety spokesman Pete Williams welcomed the news, and said: "While motorways are statistically our safest roads, it can be daunting using them for the first time after passing the driving test. Giving learners the option to gain valuable experience on our fastest and busiest roads should further improve safety and enhance the confidence of new drivers."
This article was written by Martin Saarinen from Auto Express and was legally licensed through the NewsCred publisher network. Please direct all licensing questions to legal@newscred.com.
---
Related articles
Learner drivers to be allowed on motorways this year
US speed limits: everything you need to know
How to deal with traffic jams: A 6-point plan