The Blue Badge system makes it easier for many disabled people to maintain a mobile and independent life, by giving them access to accessible public parking.
In this article, disability blogger and Scheme customer Sarah Alexander-Georgeson discusses her experience of having to go without a Blue Badge for a while. She also shares some tips to help you ensure that you renew your Blue Badge on time.
---
The Blue Badge scheme enables people with disabilities to park closer to their destination, which can be useful if you have specific mobility needs. Badges are issued by your local council and you must meet certain eligibility criteria to receive one. It's important to know that the Motability Scheme has no involvement with the administration or running of the Blue Badge scheme, so any queries about it should be directed to your local council.
My experience
I've had a Blue Badge since my teenage years, even before I could drive. My mum would use it whenever I was in the car with her so she could park closer to places for me. She would renew it for me, and then as I got older it became my responsibility.
Last month my Blue Badge required renewing, and even for someone that has neurological problems and struggles with their memory, I had remembered the date. It was floating around somewhere in my brain that my parking permit needed updating.
I started the process of renewing my Blue Badge three weeks before it was due to expire. However, I hadn't given myself enough time and I couldn't find the supporting evidence I needed to prove my eligibility. I had to wait a week for my evidence to be sent out in the post to me, and as soon as it arrived I went online and completed my application. It only took a few minutes to do, and once I finished I was informed that it could take up to six weeks before I received my Blue Badge.
I'm not going to lie, when I read that it could take six weeks, I was quite disheartened and annoyed with myself. I had only recently started driving again, and potentially not being able to go out for six weeks because I'd made a silly error was frustrating.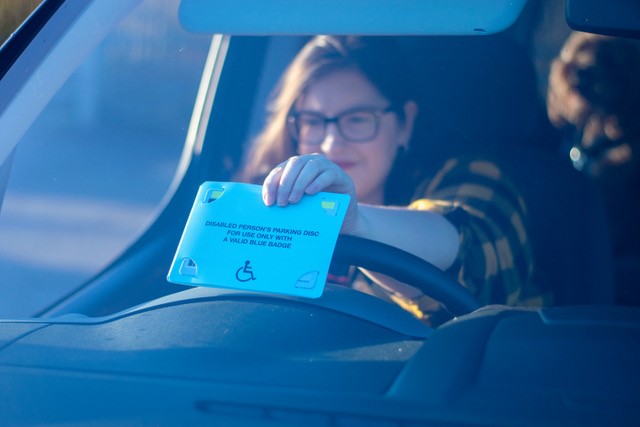 I may have done a happy dance the day my Blue Badge arrived. The extra space and transferring room when getting in and out of my vehicle is essential, and I didn't realise quite how much I relied on it until I didn't have it.
Advice for renewing your Blue Badge
A Blue Badge is renewed every three years and I would encourage you to put your application in eight weeks before your renewal date. This will allow you to receive your new one without delay, so that you don't have to go without one.
Personally, I have made sure that I will not forget next time by putting the date in my phone. I schedule everything in my phone – hospital appointments, birthdays, everything. So two months before my Blue Badge permit is due to expire, I have blocked the whole month out in red, to remind me that I need to renew it. I have my Calendar app set to sync so if I get a new phone it will update on the new phone.
However, if you are more of a manual type of person, you can write it on a post-it note in your diary, along with the future date that you need to start the renewal process. You can leave it in your diary at the end of December, then move it to the next year's diary, and the next, until it is in the correct year and month when you need to renew your Blue Badge.
Also, make sure you have all your evidence ahead of time. If you're not sure what evidence you will need, you can find out more by visiting the government website.
Don't let your Blue Badge expire like mine did. I certainly will not let it happen again.
Related articles
Qualifying for a Blue Badge with Personal Independence Payment (PIP)
Blue Badge advice from Helen Dolphin
Blue Badge scheme now open to people with invisible disabilities