If you're hitting the road for a holiday with your assistance dog for the first time, there's no need to be daunted by the task of travelling together. Assistance dogs, after all, are there to assist and will be able to make your holiday a much safer and more enjoyable experience.
There are, however, some rules and advice you'll need to understand before travelling with your guide dog or service dog. Here, Lottie Gross shares some of the essentials you need to know.
---
Assistance dogs and the UK law
"The law surrounding assistance dogs is really muddied, people get it wrong all the time." says animal nutritionist Chloe Fuller, who has two assistance dogs of her own who accompany her all over the country. Her dogs have been trained as part of a charity within the Assistance Dogs UK (ADUK) coalition, which exists to educate the public on matters surrounding assistance dogs in this country. 
"It's commonly believed that only dogs who are with an ADUK charity are legally permissible, she says. "However, that's not true. All that needs to happen is that you have a dog, you have a disability, and the dog is trained in some way, shape or form to mitigate that disability. So you don't have to have passed a test and you don't need to be part of an ADUK charity."
In general, assistance dogs are allowed everywhere you go aside from a few exceptions – but these are usually sterile areas such as surgical theatres, which you hopefully won't be visiting on holiday, or in places like zoos where they might cause stress or detriment to others or other animals. In those cases, reasonable provisions should be made for your assistance dog (such as a place for them to safely wait or someone to look after them).
Essential packing list for travelling with assistance dogs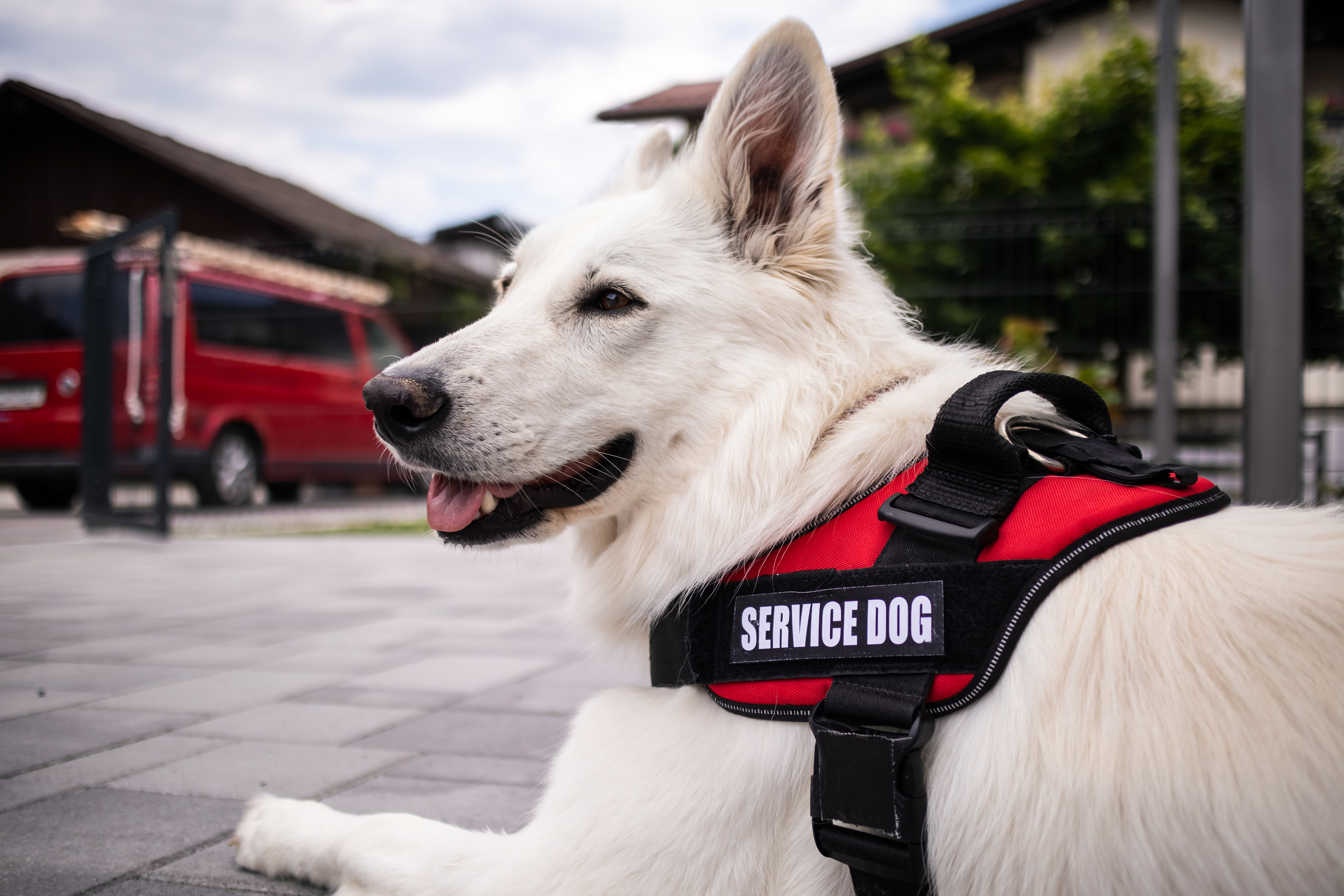 The most important thing to remember when bringing your assistance dog on holiday is to pack the relevant identification, their working jacket and any documentation. This will ensure you have access to all the spaces required.
Other essential items include their own food and any training treats you need, as well as drinking apparatus so they are never without water. If travelling abroad with your assistance dog, you'll need to consider the paperwork required for such journeys between the UK and the EU and beyond. Guide Dogs has some great advice for travelling abroad here.
Travelling with your assistance dogs in the car
If you're travelling by car with any dog, be it an assistance dog or a pet, there are a few things you need to be aware of. You'll need to plan for plenty of toilet stops and exercise breaks (at least once per hour) along the way, to keep them safe and comfortable. But there are also laws around how dogs should travel within your vehicle. The Highway Code says they must be restrained, ideally in the backseat or in the boot, in order to make sure they do not distract the driver. 
The safest and most responsible way to travel with your assistance dog in the car is to have them in a crash-tested, secured crate such as a Mimsafe cage, in order to minimise impact in case of a collision. These are usually fixed with straps into the boot of the car. Alternatively, if you prefer to keep your dog in the back seat of the car, you might want to consider using a crash-tested dog safety belt and harness, such as this one from Kurgo. 
Taking public transport with your assistance dog 
Thanks to the Equality Act 2010, assistance dogs are allowed on all public transport across the UK. Depending on your access needs, you may need to advise the operator in advance of your journey so adjustments can be made. You do not need to advise the operator in advance if you have no specific access requirements.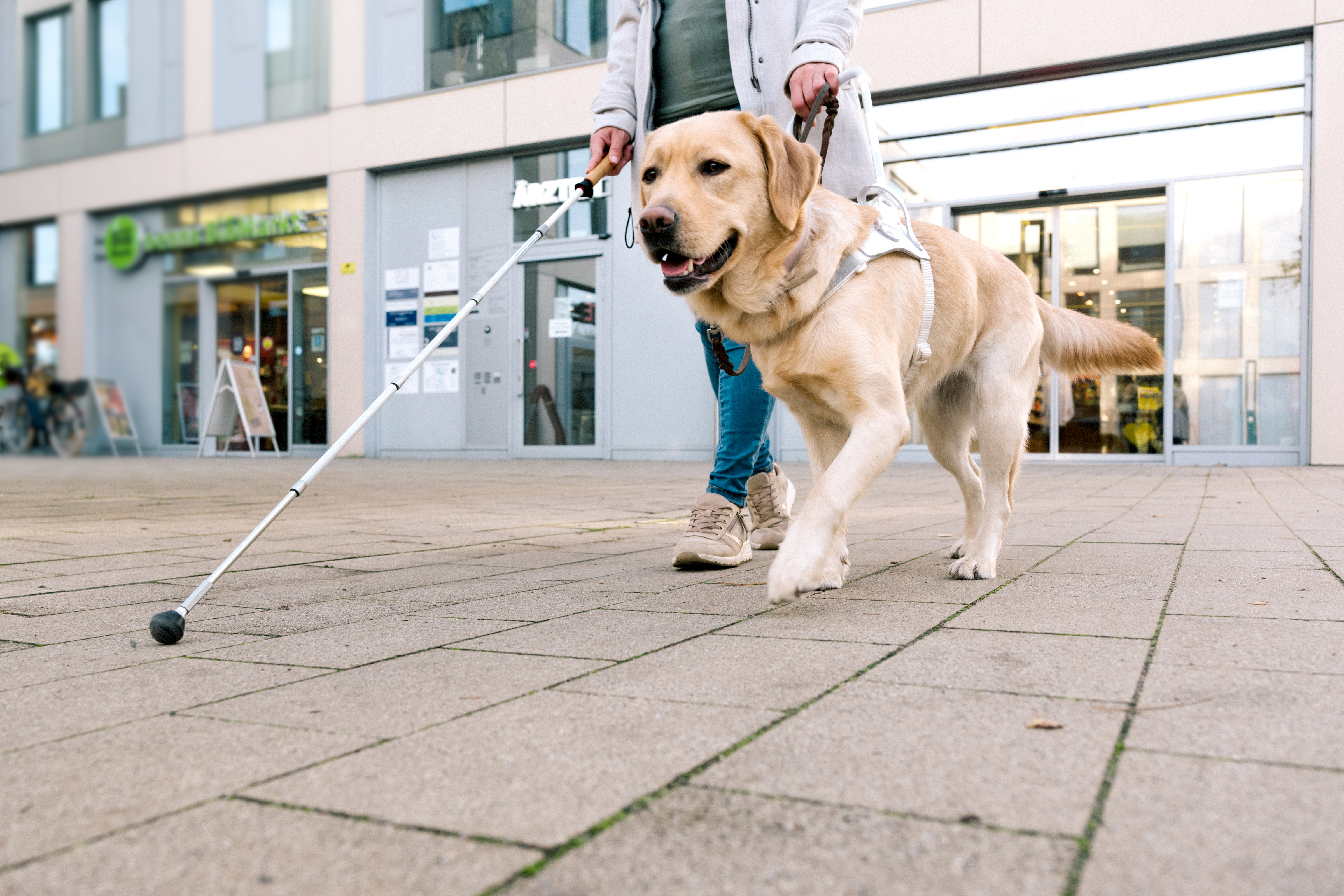 Assistance dogs in hotels 
An important thing to note when you're travelling with your assistance dog is that they should be allowed in any bedroom within a hotel, not just the "dog-friendly" bedrooms made for pet owners. You might want to speak to your hotel about this before your stay, just to make sure that you don't run into any issues when you arrive.
It's also essential to understand that while those travelling with pet dogs will sometimes incur an extra cleaning charge for their animal, assistance dogs should never cause extra fees to be added to your bill. They are allowed access, free of charge, to any space you need to visit. 
Looking after the welfare of your assistance dog on holiday
One thing that's really important for assistance dogs on holiday is diet. While we might be tempted to slip them a sly chip or share an ice cream on the beach, it might not be best for their welfare, and it could impact their ability to work.
"When we travel with our assistance dogs, we're already asking them to deal with a complete change of working environment, which they will be trained to cope with, but we must acknowledge that it's a level of stress for them even if they're trained for it," says Chloe Fuller. "So keeping their base diet consistent, and feeding them the same food you would at home, is really important." 
By following these tips and making sure that you know your rights, you're much more likely to have an enjoyable travel experience with your assistance dog. 
Related articles
A guide to understanding assistance dogs
A guide to taking your dog in the car
5 dog-friendly accessible days out
Interested in joining the Scheme?
The Motability Scheme offers an all-inclusive package. If you are in receipt of a qualifying mobility allowance you can use it to lease a car, scooter, powered wheelchair or Wheelchair Accessible Vehicle.
As well as having access to a brand-new vehicle of your choice, your Scheme lease also provides a worry-free package – which means that breakdown cover, servicing and maintenance are all included in the price you pay.