The UK's backyard was built for an adventure. Whether you want to try your hand at orienteering or fuel your adrenaline on a climbing course, there are plenty of accessible activities worth venturing outside for. From canoe lessons to coastal rambles, Rough Guides' writer Jacqui Agate picks six to try this summer.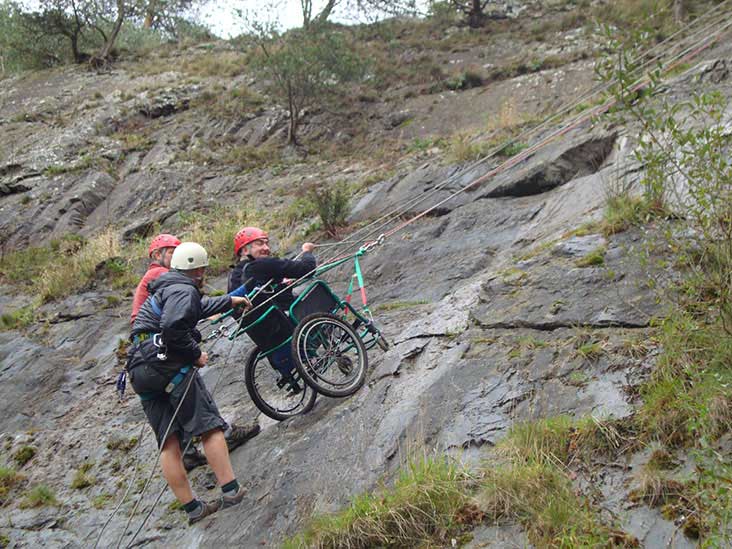 Members from BLESMA, the charity for limbless veterans, scale a quarry wall
1. Climbing
If you've got a head for heights, a climbing course is a great option for you. The Bendrigg Trust offers outdoor climbing and abseiling excursions for those with physical disabilities and special needs. Programmes take you into the glorious surrounds of the Lake District or the Yorkshire Dales, where professional guides help you tackle an ascent at your own pace. Specialist equipment means wheelchair users can also take on the challenge.
If you're based in Scotland, scope out the Scottish Paraclimbing Club. They too run specialised outdoor climbing programmes with trained individuals in various locations around the country. Free "Come and Try Paraclimbing" sessions allow participants to build confidence in the safety of an arena, before heading into the great outdoors.
2. Orienteering
Fancy yourself a master of maps? An orienteering course is a great way to blow off the cobwebs and exercise the grey matter too. Scotland's Equal Adventure, based in Grantown-on-Spey, has created the Unearth Orienteering course. Designed to make the pursuit accessible for all, the programme helps you build the skills needed to become an orienteering pro, from map reading to recognising natural clues, with the help of a qualified guide.
The Red Ridge Centre in Welshpool, mid-Wales, has its own option too. The centre's residential retreats include relaxed orienteering sessions for those with learning difficulties and physical disabilities. A host of other adventurous activities, from zip-wiring to kayaking, are available too.
3. Rambling
Exploring the countryside with Disabled Ramblers
There are few better ways to get a dose of the great outdoors, and Disabled Ramblers (England and Wales) and Disabled Ramblers Northern Ireland bring together like-minded individuals to share their love of the countryside.
So if you're based in England, Wales or Northern Ireland, check the websites above for current opportunities in your area. They range from day-long expeditions to gentle journeys through some of the UK's most picturesque pockets. Events vary, but most will include a guide with expertise in accessible rambling, assistants on hand, and a hardy mobility scooter capable of travelling across rough ground.
Scottish ramblers should check out Walkability. Operating from Aberdeen, the organisation takes participants into the wilds of Northeast Scotland. Outings run the gamut from laid-back jaunts to more daring mountainous hikes – they are entirely tailored to the requirements of the disabled walkers, and an experienced guide will likely meet you beforehand to assess your needs.
4. Cycling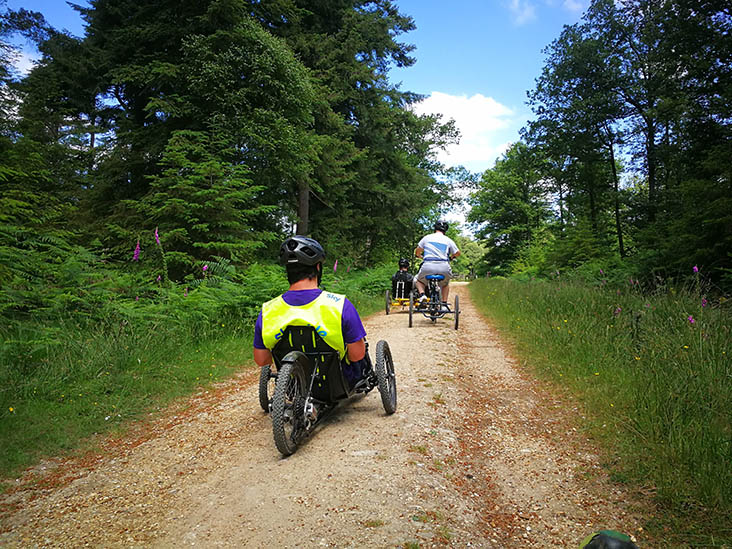 PEDALL promotes inclusive cycling to discover the New Forest
The New Forest's glades and groves are a joy to explore on wheels – and PEDALL, an inclusive cycling organisation begun by the New Forest National Park Authority, means the activity is accessible to everyone. A large range of adapted bikes are available, from side-by-side tandems to hand cycles to wheelchair cycles, and guided rides and starter sessions are offered to build your confidence.
Far and Wild, based in Northern Ireland's Londonderry, is another organisation boasting accessible cycling opportunities. They organise mountain biking sessions for those with disabilities with a Cimgo, an adapted mountain bike that allows for a pilot cyclist to sit alongside the disabled rider. The cycle is designed so that the rider will have unobscured views as they speed downhill, the remote Derry countryside spooling out before them.
5. Canoeing and kayaking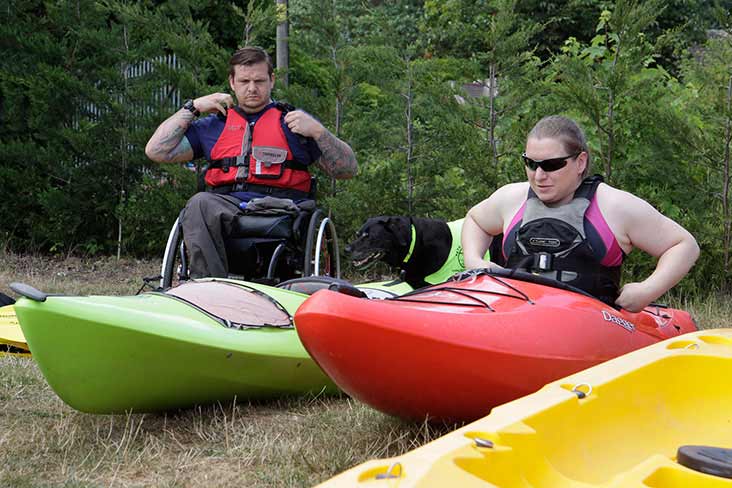 When the sun is out, take advantage of watery adventures – there are several UK-based operations that can help you make a splash. Discover Venture Out, a project run by Innovate Trust in South Wales. Their weekly roster of activities is tailored to disabled participants, and includes canoeing sessions using adapted equipment. You'll paddle out onto Cardiff Bay or the winding River Taff.
Use Paddle-Ability for opportunities with canoe clubs outside of South Wales. Paddle-Ability accreditation recognises clubs that make significant efforts to be inclusive of disabled canoers, from offering adapted equipment to specialist guides. The British Canoeing Organisation website offers a list of accredited clubs.
6. Coastal walks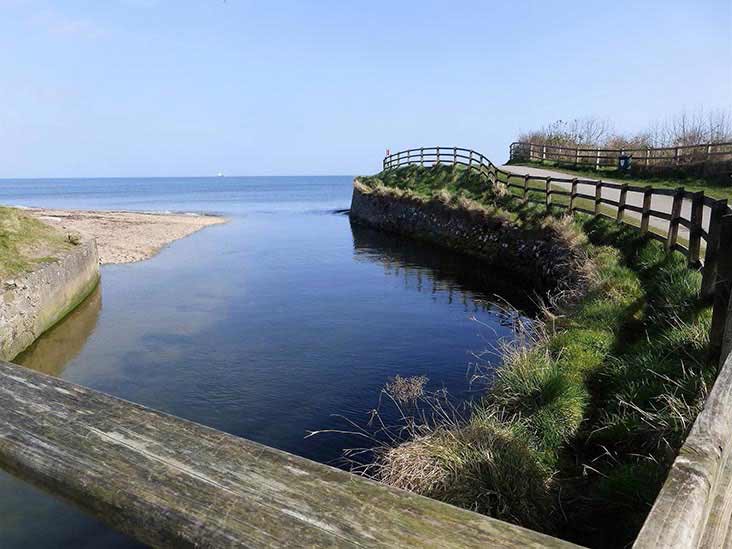 Crawfordsburn Country Park in Northern Ireland has accessible pathways
A pathway runs around the entirety of the Welsh coastline, and there are plenty of wheelchair-friendly sections for a relaxed afternoon outing. A particularly good option is the Aberporth Inclusive Access Cliff Top Trail, a portion of the Ceredigion Coast Path. A 1km-long, even route with accessible vantage points, picnic stops and toilets along the way, it affords spectacular ocean vistas across Cardigan Bay.
Crawfordsburn Country Park in Northern Ireland is another great spot to be beside the seaside. An organised, accessible route takes disabled ramblers along the high-quality pathways fringing Crawfordsburn and Helen's Bay beaches. Look out for the Grey Point Fort, a near perfectly preserved coastal fortress dating to the early 20th century.
Related articles
The best accessible caravanning spots in the UK
7 free accessible things to do in the UK
Image Credits
Rough Guides would like to thank the following individuals, companies and picture libraries for their kind permission to reproduce their photographs (in order of appearance on the web page):
BLESMA scaling quarry wall: © Bendrigg Trust
Disabled ramblers exploring the countryside: © John Cuthberton/Disabled Ramblers
PEDALL adapted cycling in the New Forest: © PEDALL
Taking to the water with PaddleAbility: © British Canoeing
Crawfordsburn Country Park: © Shutterstock