It's been a long time coming, but summer is on its way. As we know, the British weather can be unpredictable, so make the most of the sunshine when it does appear. Use your Motability Scheme vehicle to explore the great outdoors with these accessible experiences, handpicked by Rough Guides' writer Sam Cook.
Messing about on the water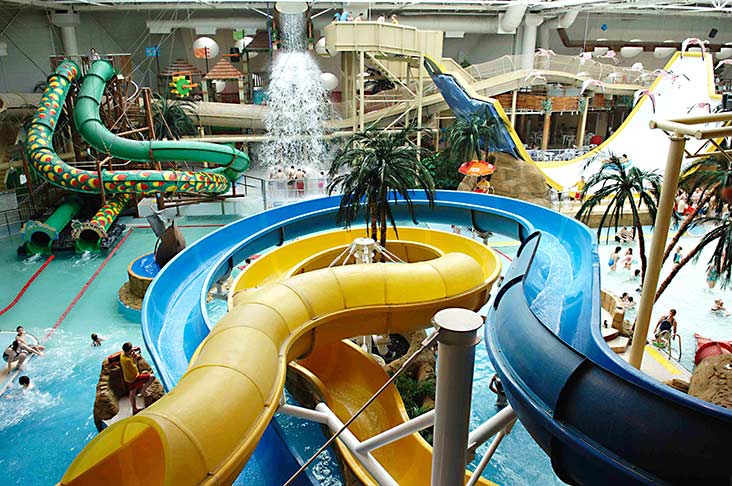 The water slides at Sandcastle Waterpark
1. Sandcastle Waterpark, Lancashire
British seaside fun doesn't come much cheerier than in sunny Blackpool, which boasts the largest indoor waterpark in the UK. Sandcastle Waterpark is fantastically inclusive, with flumes, a wave machine and thrilling slides accessible to most visitors, pool-accessible wheelchairs for hire and designated accessible family sessions. Staff are extremely disability aware, making it all brilliantly stress-free.
2. Portstewart Strand, Derry
If you prefer to get away from it all and enjoy simpler pleasures, Derry's Portstewart Strand is ideal. This gorgeous Blue Flag beach, a wild, surf-fringed swathe that offers excellent birdwatching, is surprisingly accessible – you can drive your car onto the firm sand and enjoy a picnic, watching the seals playing out at sea.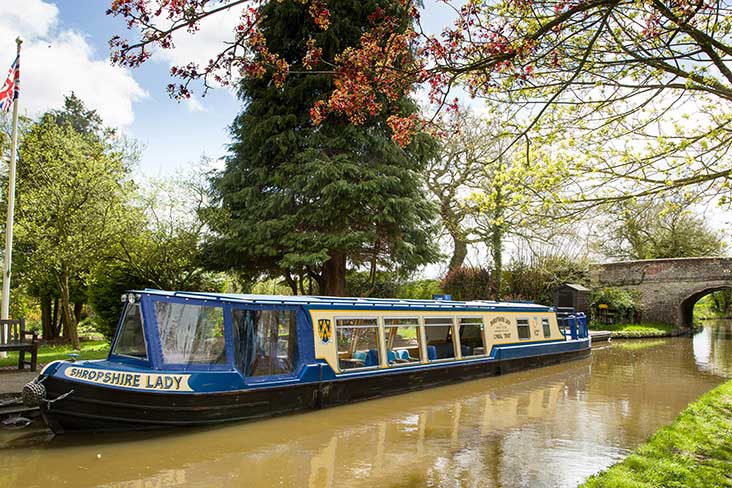 Shropshire Lady, the Lyneal Trust's accessible narrowboat
New Rough Guide to Accessible Britain
---
Packed with over 180 reviews of accessible and inspiring days out, there's something for everyone in the Rough Guide to Accessible Britain. The Guide aims to inspire and support people with diverse needs in enjoying the best of Britain's attractions – whatever their disability.
3. Canalboating with the Lyneal Trust, Shropshire
For the ultimate in lazy summer daydreaming, watch the world float by as you cruise the Llangollen Canal. The Lyneal Trust, which specializes in canalboat and cottage holidays for people with disabilities, offers day trips on The Lady narrowboat, designed to take into account a range of disabilities, including a colour scheme for the partially sighted. A day's rental includes skipper and crew, but you can also have a go at steering the boat, with a joystick and CCTV if necessary. The boat accommodates twelve people, including two wheelchair users.
Close encounters of the animal kind
4. Fairytale Farm, Gloucestershire
A real winner with smaller kids, this sweet family farm ticks all the boxes – the owners have a daughter with cerebral palsy and know what matters when taking into account sensory, learning and physical disabilities. Imaginative interactive play areas stimulate the senses, whilst ponies, pigs, donkeys and alpacas provide cuteness overload. New for summer is the "Wilderness Walk" where you can even take a turn digging the vegetable patch, and special "Walking with Alpaca" sessions – irresistible.
5. Paradise Wildlife Park, Hertfordshire
Raised, accessible tarmac walkways and ramps at this zoo-cum-play park give you a clear view of the animals, from tiny hedgehogs to rare snow leopards. "Animal experience" packages for visitors with disabilities are on offer – those in the meerkat and lemur enclosures have the best accessibility – and there's a play area with equipment especially adapted for wheelchairs. Summer sees weekends devoted to particular animals, from zebras and camels to red pandas, tigers and more.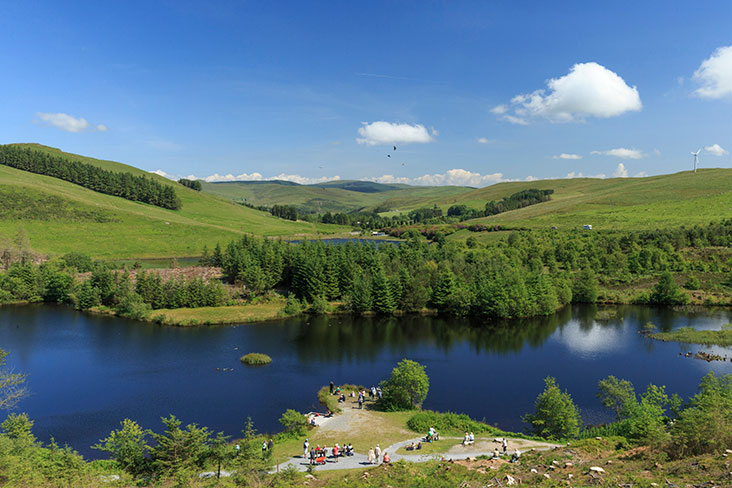 Stunning Bwlch Nant yr Arian Forest in Wales
6. Bwlch Nant yr Arian Forest, Mid Wales
In a gorgeous Cambrian mountain location, the Bwlch Nant yr Arian Forest Visitor Centre offers fantastic views and a wealth of outdoor activities. While the focus is on active sports, accessibility is good, especially when it comes to the main attraction: the daily red kite feeding sessions. Each afternoon around one hundred of these handsome birds of prey swoop down to a lakeside feeding station; the wheelchair-accessible Barcud Trail (1.2km), which skirts the edge of the lake, provides perfect views. You can also watch the display from the accessible café (which has facilities for people with impaired hearing). Wheelchair loan is available if booked in advance.
Gorgeous gardens
7. Hyde Park and Kensington Gardens, London
It's surprisingly easy to find green spaces in the centre of London, and the vast Hyde Park and Kensington Gardens come complete with a bucketload of extras: a generally accessible royal residence to explore, plus the excellent Serpentine Gallery (all on one level), kids' playgrounds and accessible swimming in the lido. There are many wide paths suitable for wheelchairs, and in summer a free electric buggy service can help you get around.
8. Alnwick Garden, Northumberland, London
The Alnwick Garden offers lots of quirky fun among its glorious blooms, including a traditional ornamental garden and a deadly poison garden. Best of all is the giant wooden treehouse, which, remarkably, is accessible to all – even the wobbly rope-bridge. Summer events include roaming theatre characters, from giant apes and lions to grannies on shopping trollies. Access is good all round – book ahead for free mobility vehicles or wheelchairs.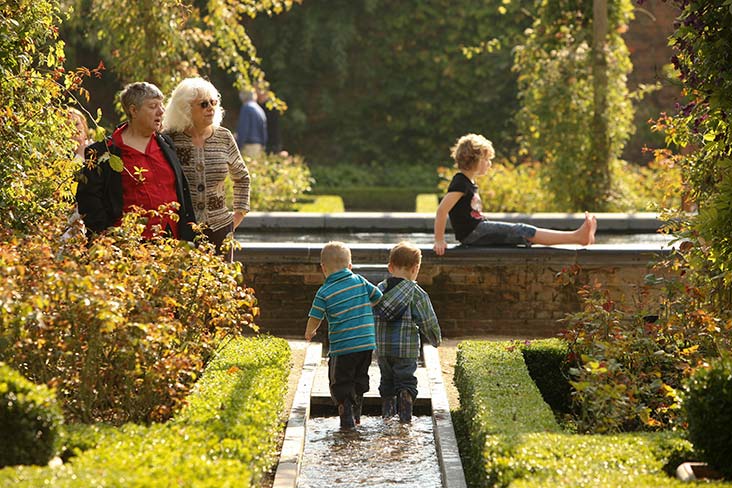 Playing at Alnwick Garden
Get your history fix
9. Royal Yacht Britannia, Edinburgh
Exploring the nooks and crannies of a floating royal residence may not immediately spring to mind as an accessible adventure. The Royal Yacht Britannia, however, moored in Edinburgh, caters brilliantly for a wide range of disabilities. Lifts and ramps mean that wheelchair-users can access most spaces (and free wheelchairs are available from the visitor centre) – while tours can be enjoyed in audio, Braille, BSL or written versions, with special audiotours for visitors with learning difficulties. A treat for fans of social or naval history – or anyone who likes poking around other people's homes.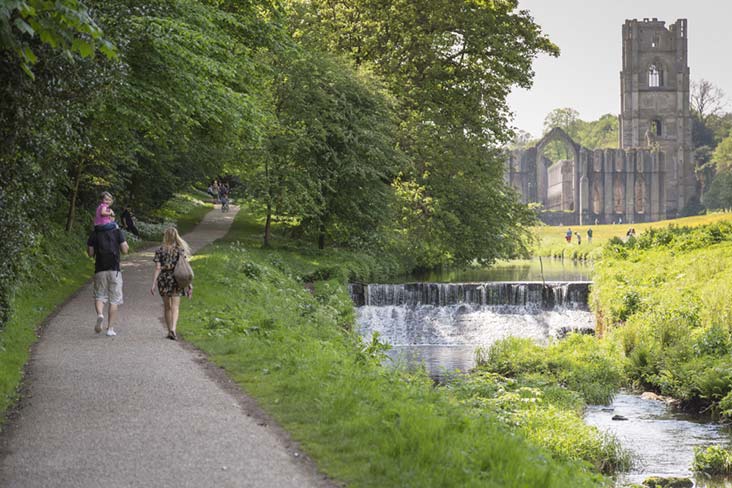 The ruins of Fountains Abbey and Studley Royal Water Garden
10. Fountains Abbey, Yorkshire
Britain's most complete set of Cistercian ruins – dating back to 1132 – Fountains Abbey is a jaw-droppingly atmospheric ensemble, set in the lovely Studley Royal Estate and Park, which also boasts a beautiful Georgian water garden. It's a National Trust site: facilities include smooth paths and a designated wheelchair route; shuttles to take you from the visitor centre to many areas in the estate; sighted guides; and wheelchairs and mobility scooters for hire (book ahead).
Related articles
The best accessible royal days out in the UK
8 Perfect places for a stress-free day out
Days out for foodies: The best accessible food and drink experiences in the UK
Image Credits
Rough Guides would like to thank the following individuals, companies and picture libraries for their kind permission to reproduce their photographs:
Header image: Fountains Abbey: © National Trust Images/Chris Lacey
Sandcastle Waterpark: © VisitEngland/VisitBlackpool
Lyneal Trust, Shropshire: © Lyneal Trust
Bwlch Nant yr Arian Forest: © Natural Resources Wales/Janet Baxter
Alnwick Garden: © VisitEngland/Chris Auld
Fountains Abbey: © National Trust Images/Chris Lacey