There's never been a more exciting time for food in the UK. The country's restaurant scene is flourishing, with food and drink producers across the land winning international awards, and many of these culinary experiences are available to all. Rough Guides' writer Eleanor Aldridge picks some of the best food and drink experiences in the UK, all accessible with a Motability Scheme car or scooter. There are tours and tastings at creameries, breweries and vineyards, fine dining for every budget, specialist cookery classes and workshops, and a smorgasbord of food festivals.
Learn more on a tour or tasting
Food and drink producers in the UK are now acknowledged for their world-class wines, cheeses, chocolates and more. Even better, they're increasingly throwing open their doors to allow connoisseurs to take a look behind the scenes.
1. Wensleydale Creamery, Yorkshire
Take an interactive journey through the art of cheesemaking in the home of Wensleydale, with engaging narrated live demonstrations and opportunities to taste their delicious cheeses at the end. The visitor centre is fully accessible, and unusually for a food attraction, guide dogs are welcomed throughout.
2. The Cocoabean Company, Dumfries & Galloway
If you've ever wanted to step inside a chocolate factory, the family friendly Cocoabean Company is the place to come. Their hands-on children's classes are both open to all and fully supervised – allowing adults to take a break while the kids get messy – and there's an indoor soft-play area to explore afterwards. The whole site can be explored in a wheelchair and there's blue-badge parking right by the entrance.
3. High House Farm Brewery, Northumberland
Discover CAMRA award-winning beers and ales on a tour that includes both a detailed explanation of the brewing process and tutored tastings. High House Farm are one of the few breweries to make practical adjustments, such as ramps and lifts, and offer free admission for carers.
4. Denbies, Surrey
English wines pick up more and more accolades each year, and there's no better place to find out why than at Denbies. Here you can explore the vineyard's steep slopes and uneven ground in an outdoor "train" pulled by a Land Rover (there's lift access into the carriages) before being immersed into the world of winemaking in a 360-degree cinema (with loop system). There's also an engaging indoor tour and cellar tastings, and several wheelchairs to borrow on site.
5. The Scotch Whisky Experience, Edinburgh
The Scotch Whisky Experience offers everything you'd expect from the winner of the Scottish Tourist Board's "Tourism For All" award – right down to water bowls for guide dogs at reception. It's a fun and educational introduction to Scotland's most famous drink, with tastings at the end for those keen to sample a wee dram (or two). The tour also includes a wheelchair-accessible barrel ride (with the option to skip a section of flashing lights at the start), induction loops for tutored tastings and audio guides in 18 languages.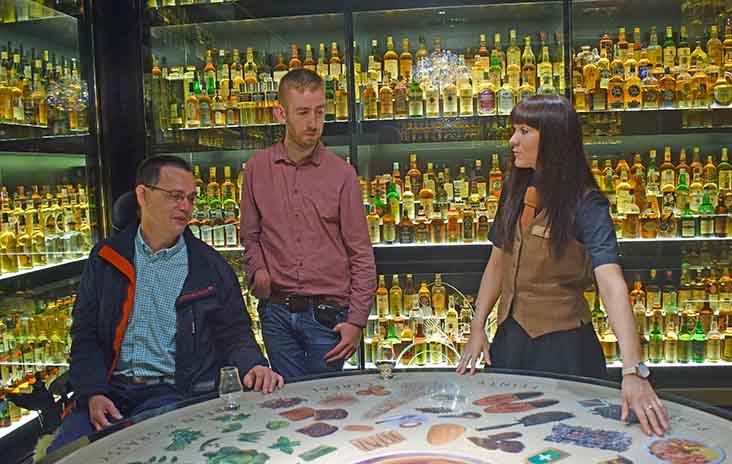 Enjoying a wee dram at the Scotch Whisky Experience, Edinburgh
Dine out on every budget
6. Deanes EIPIC, Belfast
Michelin-starred dining from the biggest name in Belfast's fine dining scene, Michael Deane, means refined seasonal cooking such as beef with lovage, onions and spelt or langoustines with confit heritage tomatoes. Deanes EIPIC head chef Danni Barry is only the second female chef ever in Ireland to gain a star. Restaurants of this level are notorious for poor accessibility but here you'll find wheelchair-accessible toilets and guide dogs welcomed.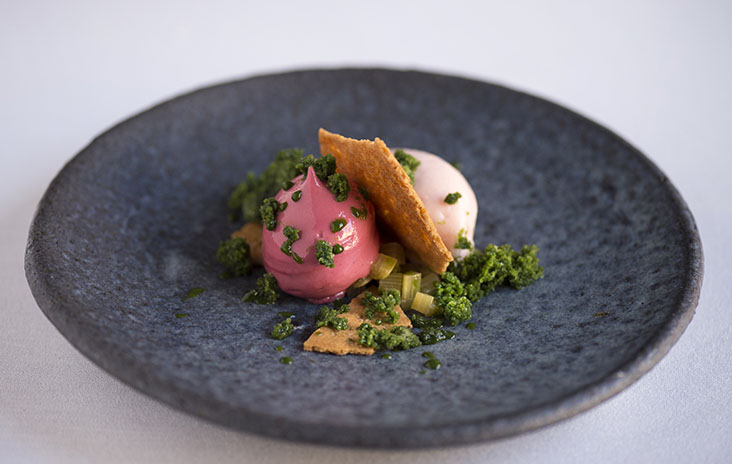 Fine food at Deanes EIPIC in Belfast
7. Don Giovanni, Manchester
Manchester's oldest independently run Italian restaurant is renowned for beautifully made classics made from scratch using local ingredients. If you're after the perfect caprese, gnocchi or risotto, look no further. Don Giovanniis also one of the most committed restaurants to accessibility in the country, with a wide range of provisions including braille and audio menus.
8. The White Horse, Norfolk
This beautifully sited high-end gastropub is ideal for a blow-out meal. The White Horse overlooks the salt marshes at Brancaster Staithe, so expect seafood to feature heavily: oysters, scallops and crab are among their specialties. If you're celebrating a special occasion, you could also stay overnight; they have en-suite rooms with wheelchair access.
9. German Gymnasium, London
Handily located right by St Pancras station, this grand D&D restaurant is housed in what was once the first purpose-built gym in England. Despite a focus on Mittel-European inspired dishes (think sausages, schnitzel and sachertorte), the German Gymnasium's menu is surprisingly varied with lots of vegetarian options and a range of affordable afternoon teas. It was also the winner of blogger Blue Badge Style's award for best loo in the UK.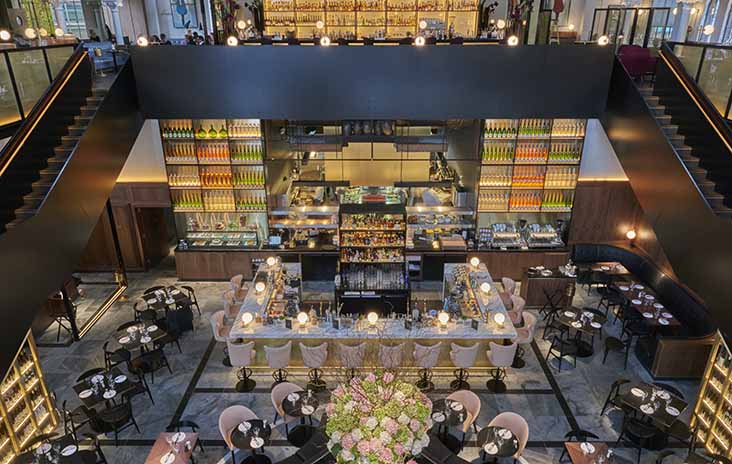 The stylish German Gymnasium, London
Pick up some new skills at a cookery class
Whether you want to learn how to prepare authentic Italian pasta at home or indulge your sweet tooth with a day of macaron-making, these cookery schools will provide plenty of inspiration. All of the following are fully accessible and offer height-adjusted workstations for wheelchair users, although classes requiring extensive knife skills or precision work may not be suitable for all.
10. Brompton Cookery School, Shropshire
With an excellent range of basic courses, Brompton Cookery School offers a homely experience; classes are held in a farmhouse-style kitchen in their modern barn conversion. Butchery, bread-making and baking are just a few of the techniques you could master. Half-day courses start at £80.
11. Rutland Cookery School, Rutland
Run by Robin Stewart, who has worked in Michelin-starred kitchens and developed recipes for the likes of Waitrose, M&S and Sainsbury's, Rutland Cookery School is the place to pick up specialist skills. Come for inclusive and affordable sessions (from £50) on Thai cookery, macaron-making or even food photography.
12. Leeds Cookery School, West Yorkshire
Leeds Cookery School offers courses with punch, from an introduction to brewing craft ale to a full day of pie-making (from around £120/day). Gift vouchers are available, too.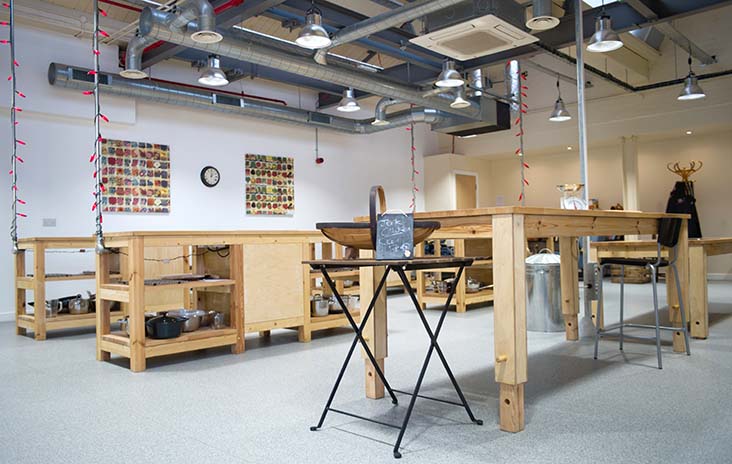 Work stations at the Leeds Cookery School
Celebrate all things food
13. Big Feastival, Oxfordshire
Although the farm setting causes some challenges, the organisers of the Big Feastival do everything they can to make this celebration of food, music and family open to all. Highlights include some of the country's best street-food traders and big-name pop acts playing live. For day visitors, there's parking and a raised viewing area in the Main Arena; overnight facilities include accessible showers and water points on the campsite.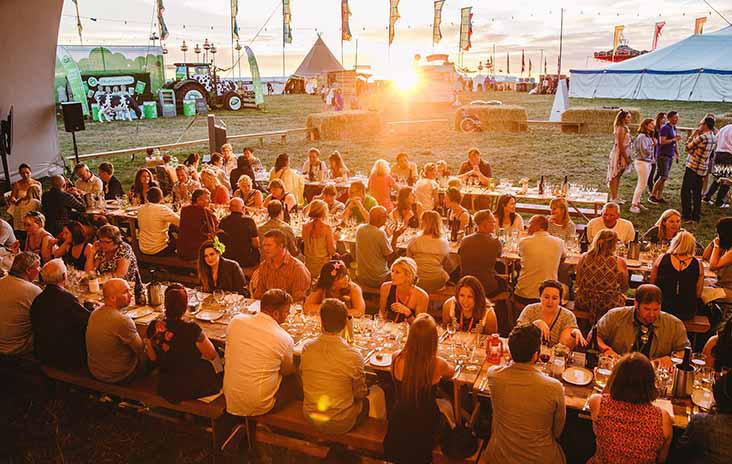 Street food and music meet on a field in Oxfordshire
14. Chatsworth Farm Shop Food Fair, Derbyshire
Chatsworth, one of the UK's most glorious country houses, is known for a commitment to helping everyone explore their fantastic grounds. Their Farm Shop Food Fair is one of several events with a foodie twist to draw you here throughout the year, with lots more to see besides, including a sensory garden. Electric scooters for use in the garden can be booked in advance.
15. Gower Cider Festival, Wales
A countryside crafts centre might not spring to mind as a festival site, but the Gower Heritage Centre runs a great two-day cider celebration each autumn, featuring everything from local brews to demonstrations of a 1890s travelling cider press. The centre is on the site of a twelfth-century watermill, but 95% is wheelchair accessible; they also provide hearing loops and support for those with learning difficulties.
16. Sandringham Food Festival, Norfolk
The queen might not be in attendance, but you'll find plenty of famous chefs at Sandringham Food Festival – as well as lots of local food to try and buy. Free hire of mobility scooters and wheelchairs make getting around the large site a breeze, but you'll need to book in advance.
More ideas of things to do with your Motability Scheme car:
Where the grass is greener – accessible days out to gardens around the UK
Planning a staycation? Explore the nine best UK scenic drives
The Motability Scheme enables disabled people and their families to access a brand new car or scooter, by exchanging their mobility allowance to lease the vehicle of their choice. Find out more:
Image credits
We would like to thank the following individuals, companies and picture libraries for their kind permission to reproduce their photographs (in order of appearance on the web page):
Header image: The NEFF Big Kitchen. Big Festival 2016 © Andrew Whitton / Fanatic 2016
Learn more on a tour or tasting: The Scotch Whisky Experience in Edinburgh. © The Scotch Whisky Experience/EuansGuide
Dine out on every budget:Dessert. Deanes EIPIC Restaurant in Belfast.© Elaine Hill Photography and © The German Gymnasium in London
Pick up some new skills at a cookery class: © Leeds Cookery School
Celebrate all things food: The NEFF Big Kitchen. Big Festival 2016 © Andrew Whitton / Fanatic 2016