The changing of the seasons has brought nature to life, with gardens bursting into colour with gorgeous seasonal flowers. Here, Rough Guides have shared some of the best accessible places to see the blooms this Spring, from nature reserves to national parks – take a look and get inspired.
---
Now that spring has finally sprung, the UK's gardens, woods and parklands have become a riot of colour. The trees are dusted in cherry blossoms and meadows are papered with cheerful bluebells and daffodils.
Up and down the UK, there are lots of wonderful, accessible places to see the blooms of the season. From peaceful gardens to historic estates, we've chosen seven top destinations to see spring flowers around the country.
England
Dunsford Nature Reserve, Devon
There are few flowers that signal the start of spring quite like daffodils, and they're on fine display at the Dunsford Nature Reserve, on the eastern fringes of Devon's Dartmoor National Park. It's a breathtaking place, with valley slopes covered in oak trees, and as the weather warms up, the woodland floor becomes bright with sunshine yellow flowers. 
There are 500 metres of wheelchair-accessible trails through the park, and most pathways are wide and level. You might also spot bluebells and some wild garlic, as well as cute dipper birds making their way along the river.
Kew Gardens, London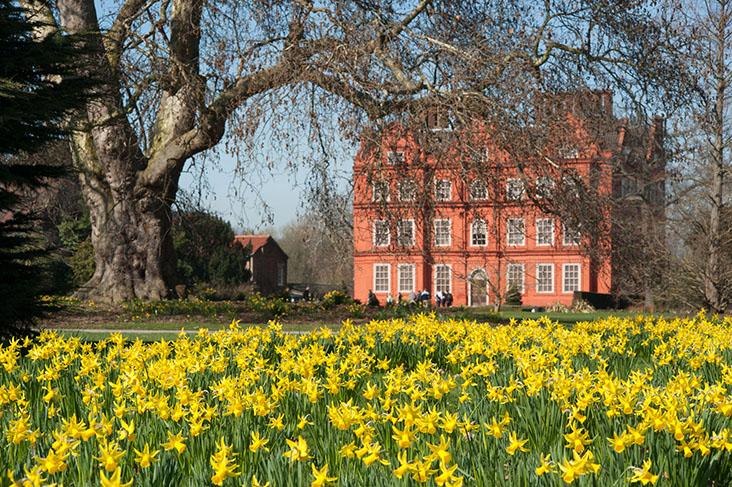 Kew Gardens is a gorgeous place to enjoy the flowers of spring, with a wide range of blooms that you could easily explore for a full day. Bursts of colour fill the gardens during this season and you'll find endless patchworks of daffodils, crocuses and snowdrops as you roam.
The jewel of the park is their collection of cherry trees. Strolling along Cherry Walk, you'll spot various species alive with dainty pink and white blossoms, which eventually leave a pastel sea of fallen petals. Kew is also home to a magical bluebell-filled woodland, which is at its most colourful from mid-April – look out for pretty pollinators like butterflies, too.
Kew Gardens prides itself on being an accessible attraction: carers are granted free entry to the site, and visitors with disabilities are offered a concession too. Almost all of the pathways are even and tarmacked, and if you need to, you can even hire a mobility scooter (advance booking required). There are accessible toilets around the site, and a series of disabled parking spaces too. 
Nottingham Arboretum, Nottingham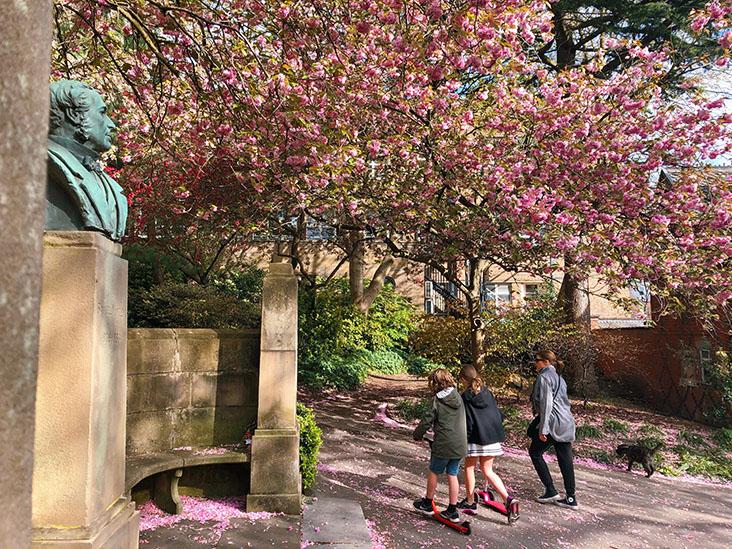 Taking a trip through Nottingham Arboretum is a top springtime activity. More than 800 trees grow in the park and, typically from March onwards, many of them are bright with flowers in creamy whites and dusty pinks. The Tree Trail weaves its way through the park and showcases the most impressive plant life. One highlight is the Foxglove Tree, which explodes in delicate purple flowers in late spring. 
There's wheelchair access to this tree-filled oasis and the trail paths (many of which are paved) are generally well-kept, though there are some steeper sections. You can also organise a disabled parking space by phoning in advance.
Scotland
Cairngorms National Park, Scottish Highlands
The Scottish Highlands are filled with natural beauty, and that includes sweeping meadows and valleys sprinkled with colourful wildflowers. One of the best places to take in this spring spectacle is in Cairngorms National Park, an epic region of wilderness known for its forest-covered mountains and beautiful lochs. As the weather warms up, various plant species can be observed within the park's borders, including graceful white snowdrops and delicate, bell-shaped twinflowers (which typically rear their heads in early summer). 
Wheelchair-friendly paths criss-cross the park: those in the Glen Tanar National
Nature Reserve are among the most accessible, giving you the chance to enjoy a peaceful stretch of Caledonian pine forest. The Visitor Centre here also has toilets and parking for visitors with disabilities. You can also use the "Phototrails" service to check in advance whether a route might be suitable for you.  
Wales
Tintern Abbey, Monmouthshire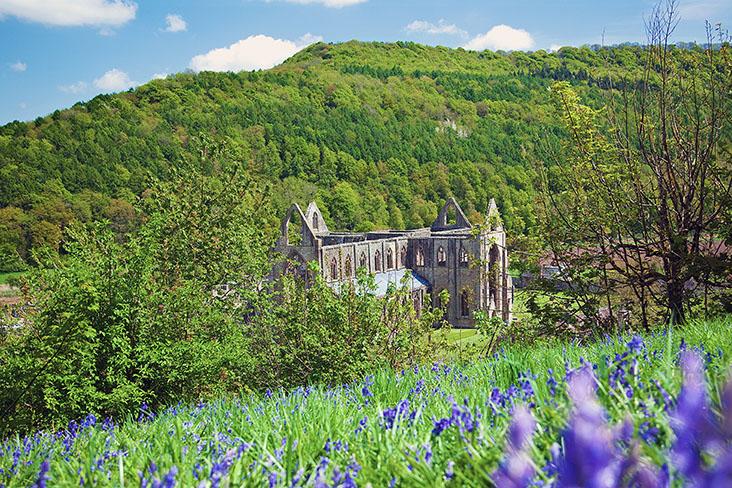 William Wordsworth, the Romantic poet, was captivated by this area – and for very good reason. The historic ruins of Tintern Abbey stand proud on the banks of the River Wye, and are a striking sight to take in. Their beauty inspired the English poet to write his famous work, "Lines composed a few miles above Tintern Abbey". The scene is picture-perfect in any season, but the spring blooms provide the region with extra magic and charm. By April, the woodland and banks around the site are covered with wild garlic and bluebells, adding to the stunning scenery.
Stop by the visitor centre to find out the best accessible routes here: the area is predominantly flat grass with some gravel paths, and it's possible to access most of the site with a mobility scooter. There are also accessible toilets and five designated disabled car-parking spaces.
Pembrokeshire Coast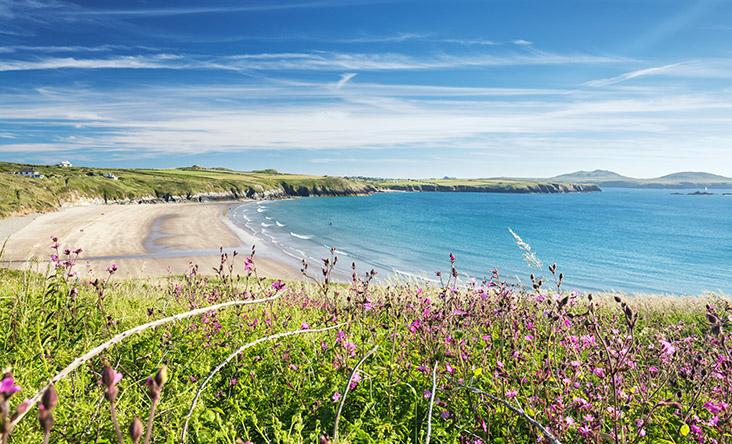 Pembrokeshire's coastline, hugged by the Pembrokeshire Coast Path, is made up of rugged beaches, plummeting cliffs and quaint little villages. Although it's beautiful all year around, springtime is one of the best seasons to visit the region. That's because the coastal path is peppered with bright wildflowers, such as red campions, cowslips and bluebells. The area around St David's peninsula is a particularly great photo stop. 
A collection of easy access walking routes and beaches allow wheelchair users to explore this charming slither of Wales's coast. A top spot is the St Davids Airfield, a disused airfield with level, surfaced pathways, and heaths that burst into colour in spring. Skylarks are active in this season, too.
Northern Ireland
The Argory, Dungannon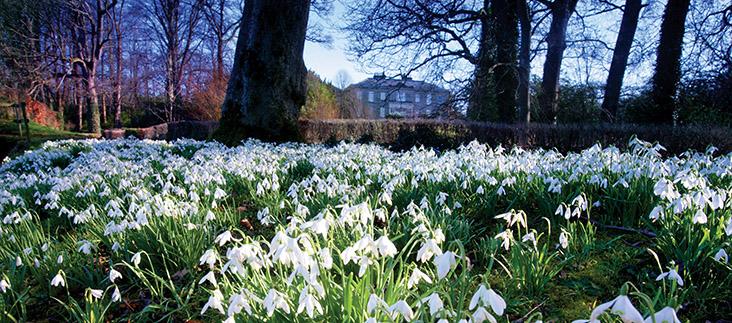 An elegant country house, the Argory dates back to the early 19th century. Come spring, though, it's the estate's grounds spreading along River Blackwater that really steal the show. The area is made up of neat gardens and sprawling woodland, and in the springtime you can find fragrant snowdrops along the water's edge. The gardens also house draping wisteria, vivid foxgloves and rhododendrons. Later in the season, the blooming rose garden and its glinting sundial is a must-visit.
The National Trust property offers a handful of disabled parking spaces, and there's a concrete path running to the reception area. There are many accessible pathways wiggling throughout the grounds, too, and their maps highlight the areas where there's a slight incline. Surfaces range from a fully accessible wooden boardwalk to tightly packed gravel pathways, and there's a free-to-use mobility scooter available at the visitor centre.
Image Credits
Rough Guides would like to thank the following individuals, companies and picture libraries for their kind permission to reproduce their photographs (in order of appearance on the web page):
Header image: © EddieCloud/Shutterstock
Kew Palace with daffodils: © RBG Kew
Spring in The Arboretum: © Liyuan Liu
Bluebells at Tintern Abbey: © Billy Stock/Shutterstock
Red campions on St David's peninsula: © EddieCloud/Shutterstock
Snowdrops at the Argory: © NITB Photographic Library
Related articles
12 great accessible trails across the UK
Planning a staycation? Explore the 9 best UK scenic drives
5 dog-friendly accessible days out