Markets are often ramshackle affairs held beneath train arches, in old car parks, in narrow streets or cobbled courtyards, so can be like an obstacle course for those with mobility issues to negotiate.
Rough Guides have picked some of the best around the country that have good access and facilities – and are fun to visit too!
---
The Southwest: Bath Guildhall Market

Bath Guildhall Market is a treasure trove
In the centre of beautiful, historic Bath, the Guildhall Market is the city's oldest shopping area. Market traders have sold their wares on this site for more than 800 years. The current building dates from the nineteenth century, and is a warren of independent stall holders selling local produce, sweets, food, textiles, cheese – and just about anything else you can think of – beneath a huge domed roof.
There is flat access to the market from the High Street and the building has a smooth flagstone floor, so there is wheelchair access to all parts of the market. There is limited Blue Badge parking just outside the Guildhall, and more spaces in the nearby car park.
The South: Salisbury Charter Market
One of country's oldest markets, this traditional gathering is a lively colourful affair that has been held in Market Place in the centre of Salisbury since 1219.
Every Tuesday and Saturday from 9am–3pm, stallholders sell local produce, homemade cakes, bread, pies, jams and chutneys, fresh fruit, flowers and vegetables, locally made cheeses and fish caught from the nearby Dorset coast. There are plenty of street-food stalls too, so if you fancy a coffee, a hog roast or a paella, you're sure to find it here.
Because the square covers a large area and is flat, it's very easy to access in a wheelchair, and there's plenty of space between the stalls. Toilets with disabled facilities are found in Market Place itself and there's disabled parking nearby.
The Midlands: Oxford Covered Market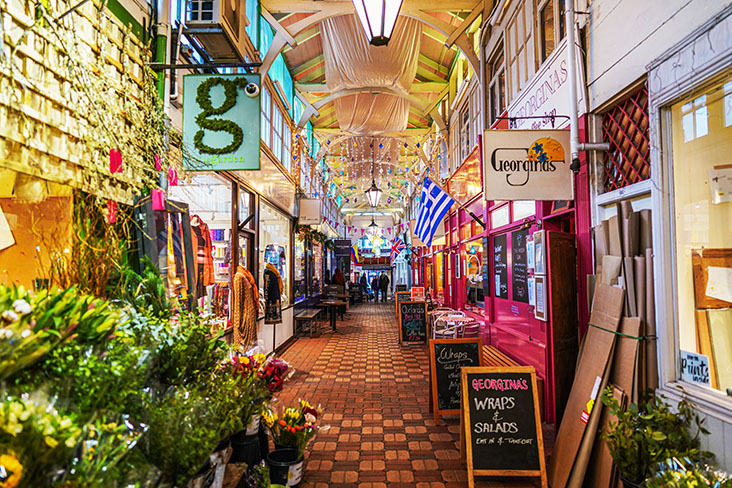 Shops inside Oxford Covered Market
Dating from 1774, the quirky Oxford Covered Market is located in a grade II-listed building, filled with local stalls, cafés and shops. The traders here include a hat shop, cheese shop, pie shop and cake shop – not to mention a micro-pub, Thai stall and souvlaki stall.
The market has several entrances with flat step-free or ramped access. Most of the shops inside the market have flat access and the walkways between stalls are wide enough for wheelchairs, though you'll need to look out for the odd sign or portable display. Powered scooters are allowed in the market, and there's a disabled RADAR toilet nearby.
The Midlands: Old Market Square, Nottingham
Nottingham's Old Market Square is home to Christmas markets, international markets, farmers markets and various other markets and events throughout the year, including being transformed into a beach in summer, and a Christmas wonderland in winter.
The UK's second-largest public space after Trafalgar Square, it's an open pedestrianized square with good disabled access and plenty of room for wheelchairs to manoeuver and for those with mobility issues.
There are Blue Badge parking spaces just off the market square on Angel Row and Friar Lane.
Wales: Abergavenny Market
A food market has been held at Abergavenny Market since the thirteenth century, and is known for its top-quality local food produce as well as having plenty of antique stalls and arts and crafts fairs.
The market is open on Tuesdays, Fridays and Saturdays from 9am–5pm, but it also hosts other events such as a flea market selling bric-a-brac on Wednesdays, a farmers' market every fourth Thursday of the month and a craft fair every second Saturday of the month.
The market entrance is at street level with dropped kerbs, and the aisles between stalls are wide enough for wheelchairs and powered scooters to manoeuvre easily.
The Northwest: The Baltic Market, Liverpool
Inside the iconic former Cairns Brewery in Liverpool's trendy Baltic district, this busy street-food market has surprisingly good accessibility. Open Thursday 5pm–11pm, Fridays noon–midnight, Saturday 11am–midnight and Sundays 11am–9pm, it's home to stalls selling a huge variety of tasty street dishes from around the world. Here you can tuck into just about everything from vegan junk food and Spanish tapas to Canadian poutine and Korean katsu curry – yum!
Although the market gets busy, it's in a large, light and airy building with plenty of (moveable) benches and low tables to sit at, once you've chosen your food. The concrete floor is flat and smooth and there's ramp access and disabled toilets on site.
Scotland: Edinburgh Farmers' market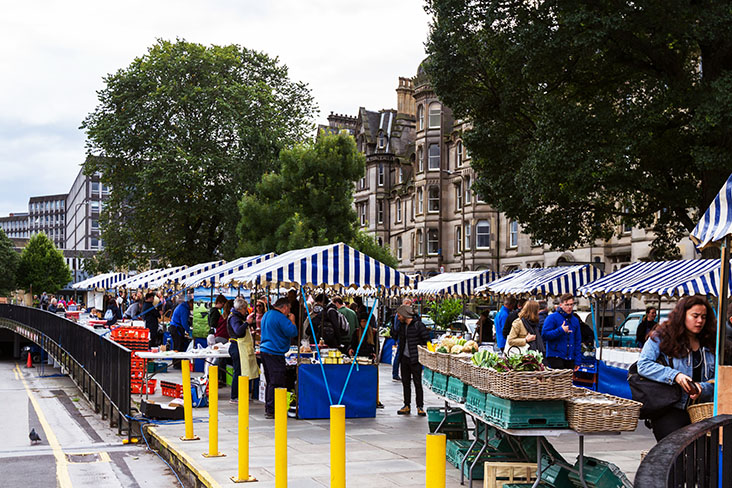 Outside stalls at Edinburgh Farmers' market
Open-air stalls, a level surface and a backdrop of Edinburgh Castle make this market a great place to visit. Located on Edinburgh's Castle Terrace, this weekly farmers' market is held every Saturday from 9am–2pm, with around 35 stallholders selling local food and produce, much of it home-grown or made. Stalls sell pretty much everything foodie, from local cheese, fish, game and eggs to homemade porridge, sausage rolls and Venezuelan street food!
There's plenty of room to access the stalls, and Blue Badge parking nearby, though the disabled toilets are down a series of ramps on the ground floor of the nearby car park.
London: Camden Market and the Pirate Prince canal boat
The UK's best-known market is not easy to negotiate for those with mobility issues. Its maze of crowded, narrow alleyways, cobbled floor and stalls crammed together make it very difficult to access in a wheelchair.
However, you can get some of the vibe and buzz of the market by taking a trip on the fully accessible Pirate Prince canal boat, which leaves from alongside the market on a watery tour of the city's canals. The boat is fully kitted out for those with disabilities, with a disabled wet room, wheelchair lifts and even specially adapted steering so everyone can have a go at driving the boat. Three-hour boat trips through Camden, Regent's Park and Little Venice run throughout the school holiday and cost just £5 for children and carers; check here for further information.
London: Borough Market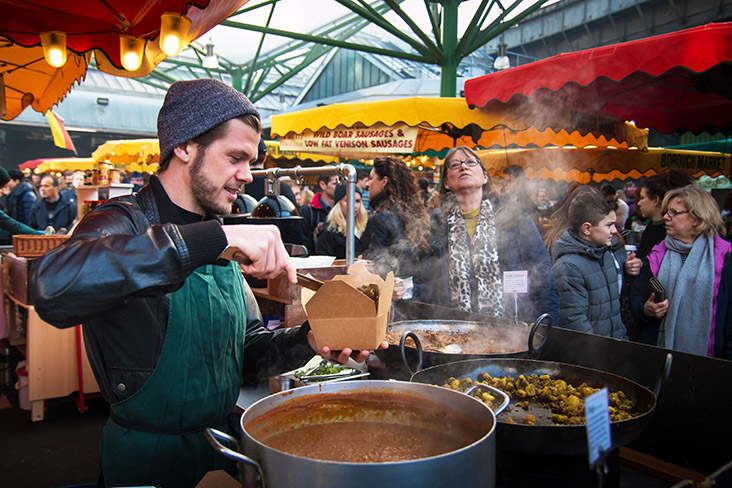 Serving up soup at Borough Market
Tucked beneath railway arches, the UK's biggest and best-known food market has hundreds of stalls selling homemade and homegrown produce, plus stalls dishing out street food from all over the world. It's a paradise for foodies and the smells and sounds of this bustling market make it a lively and atmospheric place to sample food of every kind.
The market itself is all on one level with no steps, and is fully wheelchair accessible, with communal seating in two sections, plus disabled toilets in four locations. However, it's worth noting that the market can get very crowded and some parts of the floor have cobbles, with some areas accessible only via narrow passageways.
London: Spitalfields Market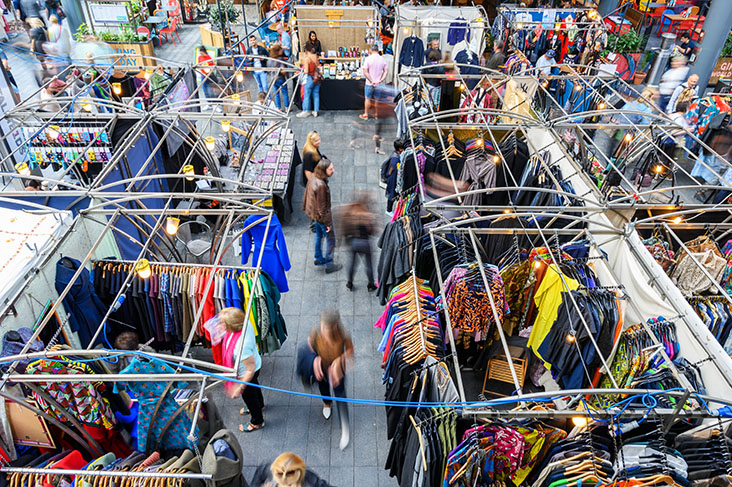 A bird's-eye view of Spitalfields Market
Now one of London's trendiest spaces, this ancient East End market had a makeover in the early part of the century, and now has excellent access and good facilities for those with mobility issues.
Home to fashionable shops, cafés, street-food traders, restaurants and market stalls, it's a great place to buy independent and local arts, crafts and jewellery, as well as sample some innovative and tasty food.
There are several entrances to the market building, all with level or gently sloping access, and there's plenty of room between the stalls for wheelchairs and powered scooters. There are accessible toilets on-site and Blue Badge parking in nearby Commercial Street.
For other inspiration on great days out around the UK, including some accessible trails, see The Rough Guide to Accessible Britain.
The Motability Scheme enables disabled people and their families to access a brand-new car or scooter, by exchanging their mobility allowance to lease the vehicle of their choice. Find out more:
Image credits
Rough Guides would like to thank the following individuals, companies and picture libraries for their kind permission to reproduce their photographs (in order of appearance on the web page):
All images: © iStock
Related articles
7 of the best sensory gardens in the UK
5 accessible days out that carers love
My favourite beach for wheelchair access