With the days getting longer, you may be starting to get out and about a bit more. Take a look at our handy tips for using public transport with a wheelchair or scooter, to make sure your journeys go smoothly.
---
Many of us rely on cars to get out and about, but sometimes we use public transport. It can be difficult in certain situations to travel with your mobility aid, but planning your route can make things much easier. These tips can help you make the most out of your Motability Scheme wheelchair or scooter when you're travelling.
First off, the basics: check your scooter or wheelchair is ready for use, any batteries are fully charged, and if you use a manual wheelchair, your tyres are pumped up. And of course, you should always plan your journey in advance by checking the services you'll be using online or phoning up the relevant companies.
Travelling by train
The National Rail website offers lots of information for disabled train passengers, including a database of contact numbers for the train companies in the UK. With this, you can phone them up and book any assistance you might need at the train stations you'll be using and on the train itself. This assistance can include help with carrying luggage and providing ramps on and off trains. This assistance is still available if you turn up without calling ahead, but it might take a little longer to organise, so we recommend booking ahead of time if possible!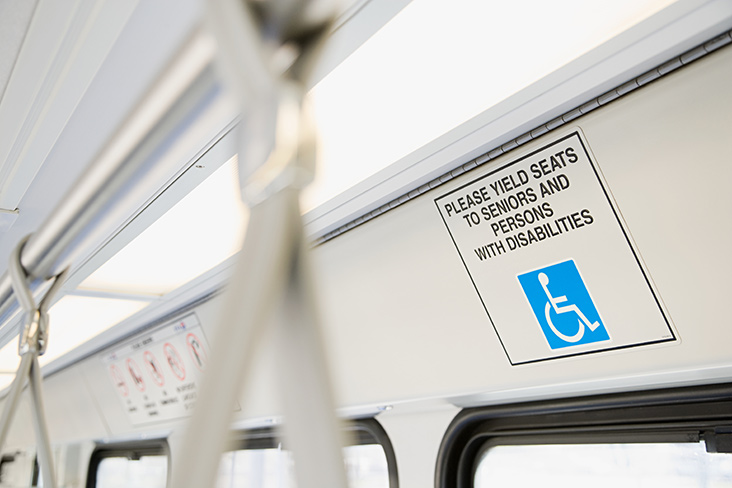 Trains in the UK have priority areas and seats for disabled passengers
You can also save yourself some money on train tickets by applying for a disabled persons' railcard. This gets you one-third off rail fares for you and someone else you are travelling with.
Wheelchair and scooter users in London, Glasgow and Newcastle might have to use the Underground. Access in London is steadily improving, but many stations don't have step-free access or lift services. Using the TFL website, you can plan your journey and check ahead of travelling to see what route would suit your needs best. One important thing to think about for any city with an Underground system is how busy it might be when you are travelling. In London in particular, trains and stations can get extremely busy at peak times and this could make travelling with a scooter or wheelchair very difficult, so it's best to avoid these times if you can.
Travelling by coach or bus
If you need to use a public bus, they are becoming more and more wheelchair and scooter friendly. By and large, buses have priority spaces for wheelchair users and ramps for getting on and off comfortably. Permit schemes have been developed around the country to enable mobility scooter users to also use public buses, but you will need to contact the bus company to find out if they are a part of this scheme. Also, not all scooters are suitable for bus travel—they need to be Class 2 and no more than 60cm wide and 100cm long.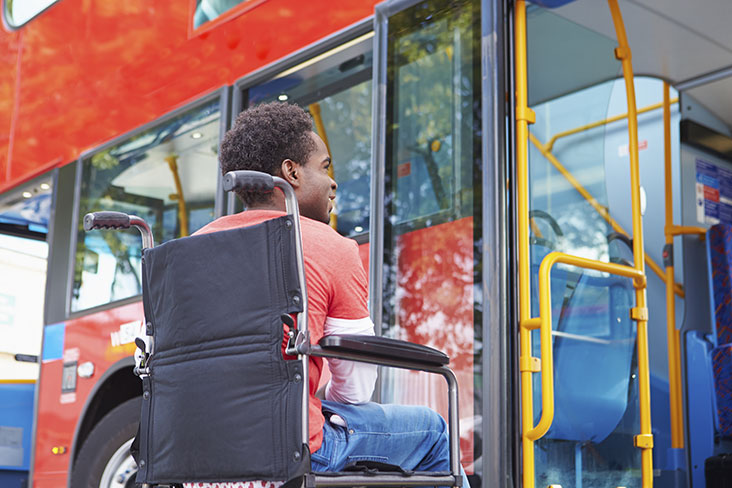 It might be more comfortable for wheelchair and scooter users to avoid buses during rush hour and other busy times
When it comes to travel by coach, more and more coach routes are also accessible for wheelchair users and you can find out more on the National Express website.
You can save yourself some money by applying for a disabled bus pass and coach pass which get you one-third off standard fares.
Travelling by taxi
In many places in the UK, particularly large cities, licensed taxis have to be wheelchair accessible. For example, in London, black cabs are all wheelchair accessible. If you're not sure about your local area or the area you will be travelling to, you can contact the local council to ask about accessible taxi services. There are also specialist disabled taxi companies around the UK who take wheelchairs and scooters, too!
Keeping your scooter or wheelchair safe
If while travelling you might need to leave your wheelchair or scooter unattended, it's important to keep it safe and secure against theft or damage. You can lock it securely to fixtures such as railings or gates, and you can contact your Scheme dealer for more information on locks.
How the Motability Scheme can help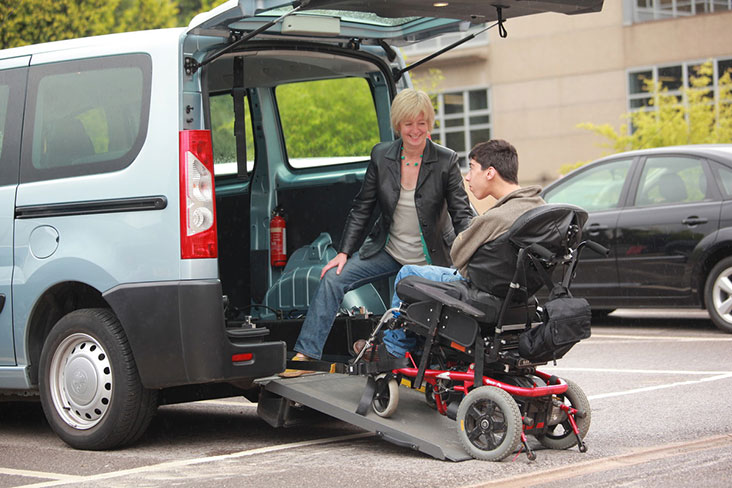 The Motability Scheme has many adaptations available for transporting mobility aids by car
If you don't lease your mobility aid through the Motability Scheme, many customers lease a car through the Scheme that allows them to travel with their scooters or wheelchairs; for example, when travelling to a train or bus station. There are hundreds of adaptations available on the Scheme, including boot hoists and rooftop storage units.
The Scheme enables you to exchange your qualifying mobility allowance to lease a car, Wheelchair Accessible Vehicle (WAV), powered wheelchair or scooter. Insurance, maintenance and full breakdown cover are already included as part of your worry-free lease package. To find out more about the Scheme, you can order a free information pack with details and a list of featured scooters and powered wheelchairs that you could lease.
Related articles:
Motability Scheme online account now available for scooter and powered wheelchair customers
Looking after your Scheme product: tips from a powered wheelchair user
How do complex powered wheelchairs work?