As the world comes out of lockdown, we are all looking forward to getting back out into the world and rediscovering the little things that bring us so much joy. We would like to invite Motability Scheme customers to take part in our five-week Everyday Freedom Photo Challenge. Enter for a chance to win prizes!
We are now launching our Everyday Freedom Photo Challenge. This is a prize draw which encourages everyone to get out and about at their own pace whilst safely appreciating the small things such as a local beauty spot or a favourite café.
We have chosen a photo topic for every weekday for the next 5-weeks and want the Motability Scheme community to follow along with us. Please snap on as many days as you can and join in with celebrating the new joys and freedoms that we're now able to appreciate together again.
Each day we will invite our community to share their picture for the day via Facebook or Twitter as well as checking out the pictures from fellow community members. Feel free to add a caption too and let us know what these pictures mean to you!
There are also some great prizes up for grabs. Each week all entries over the last five working days, will be entered into a randomly generated draw to win a £20 Amazon voucher. The more days you enter, the greater your chance of winning will be, so grab your camera, get out and get snapping!
This challenge will run for 5 weeks but there's no pressure to take part every day, you can participate on whatever days you like.
Here's a sample of some of the things we'll be asking you to get snapping: 
Wildlife
Be it big, small, cute or creepy, we want to see the marvellous creatures you come across. Those in the countryside might be lucky enough to have wildlife just yards from their front door. However, don't you city dwellers worry, there's a surprising amount of wildlife to see in Britain's towns and cities as well. Foxes, bats, and interesting insects are common, and if you live near a river there are many water- dwelling birds and perhaps even otters. Channel your inner-Attenborough and get snapping!
A peaceful place
In this hectic modern world, it's always nice to take time to appreciate some peace and quiet. We'd love it if you could share that special spot that instantly relaxes you and makes you happy. Why not tell us what about this place makes it so calming, perhaps you love heading out into nature to de-stress or maybe you only relax once you're at home feeling cosy and secure, whatever the case may be, we want to see where you go to enjoy peaceful moments.
To see the full list of things we'll be asking you to snap, check out the image below for the complete five-week challenge. We are excited to see how you all spend the next few weeks celebrating #EverydayFreedom.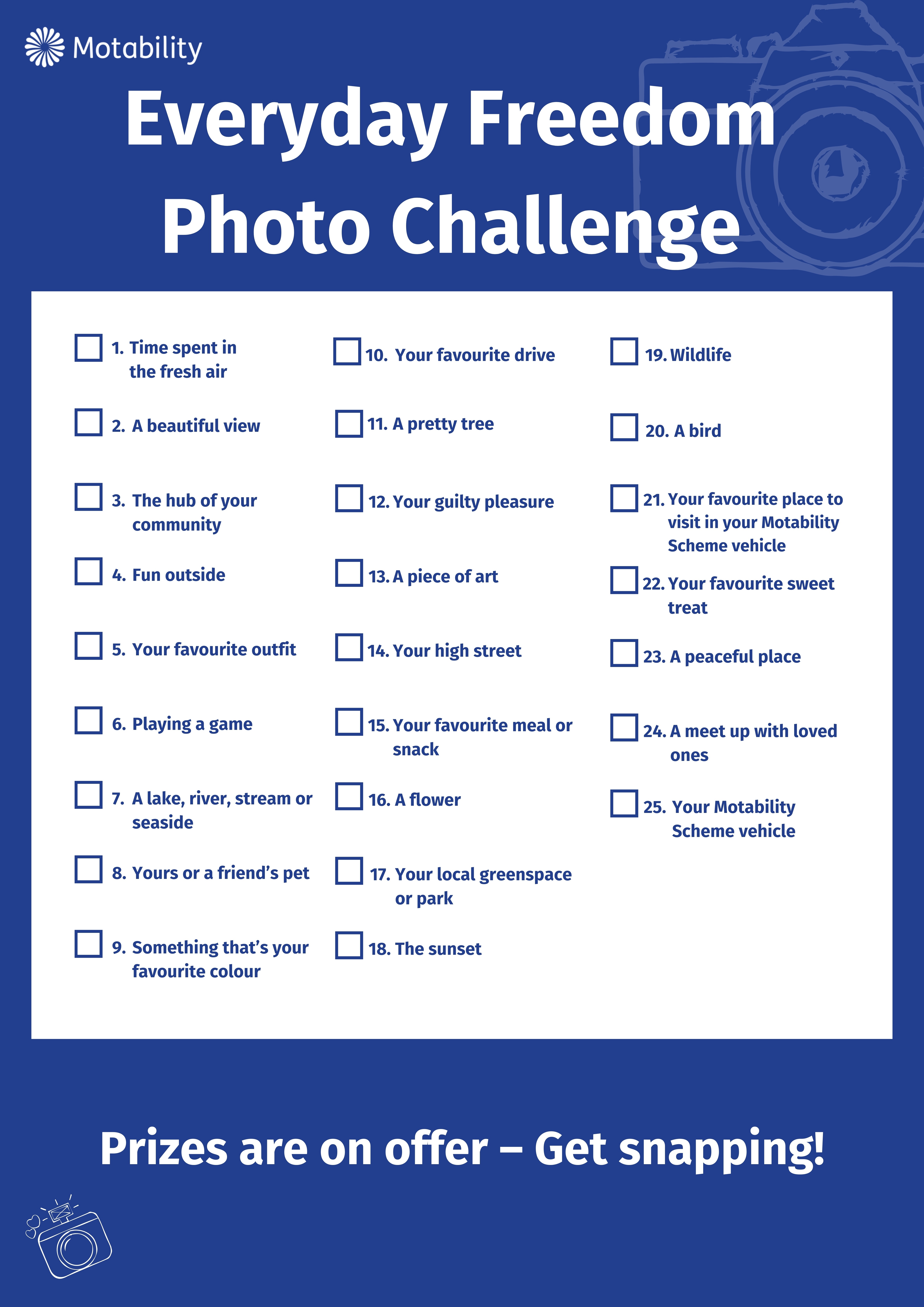 How to submit a photo for the Everyday Freedom Photo Challenge
Go to Motability Scheme's Facebook or Twitter pages: 

www.facebook.com/motability

 and 

https://twitter.com/MotabilityOps

Find that day's photo challenge post.

Submit with the hashtag #EverydayFreedom

Keep an eye out to see whether your picture has been chosen as a winner!
Terms and Conditions
The prize draw (the "Prize Draw") is open to people aged 18 or over who are a resident in the United Kingdom ("You", "Your").

The Prize Draw is not open to employees or agencies of Motability or Motability Operations Limited, their family members, any associated companies or suppliers or anyone else connected to the Prize Draw.

By entering the Prize Draw, you will be deemed to have accepted, and agree to be bound by, these Terms and Conditions.

The promoter of the Prize Draw is Motability Operations Limited, whose registered address is City Gate House, 22 Southwark Bridge Road, London SE1 9HB (the "Promoter"). Entries should NOT be sent to this address.

This Prize Draw is in no way sponsored, endorsed or administered by, or associated with, Facebook or any other platform.

You warrant and undertake that you have the permission of any person featured in your entry to enter a picture that they feature in.

To enter the Prize Draw, you must comment on the Motability Scheme Facebook or Twitter page post with your photograph.  Following successful completion of this, your name will be submitted into the Prize Draw's random prize draw. If you have any questions about how to enter or in connection with the Prize Draw, please email 

marketingandcommunications@motabilityoperations.co.uk

 with "Everyday Freedom Photo Challenge" in the subject line.

Only one picture is to be submitted per day per person. Entries on behalf of another person will not be accepted and joint or bulk submissions are not allowed.

The Promoter accepts no responsibility for entries that are failed, lost, delayed, misdirected or incomplete or cannot be uploaded or entered for any technical or other reason. The Promoter is under no obligation to publish any videos or photos submitted.

You warrant and undertake that you are the author and/or copyright holder of any and all videos or photos submitted. THE PROMOTER SHALL NOT BE HELD RESPONSIBLE IN ANY WAY FOR ANY COPYRIGHT OR INTELLECTUAL PROPERTY RIGHTS INFRINGEMENT BY YOU OR SUBSEQUENT LEGAL ACTION TAKEN IN RESPONSE TO SUCH AN INFRINGEMENT .

The closing date for the receipt of entries is 23:59 on 26 September 2021. Entries received outside of this time period will not be considered. 

There is no entry fee and no purchase necessary to enter the Prize Draw.

Five winners will be selected via a random number generator (https://www.random.org/). The winners will be chosen randomly using a number generator, overseen by Motability Operations' Marketing team in accordance with these Terms and Conditions.

The Promoter's decision in respect of all matters regarding this Prize Draw will be final and no correspondence will be entered into.

The Prize Draw's prize allocation will take place throughout the Photo Challenge and prizes will be delivered within 30 days of the Prize Draw's close. Winners will be announced throughout the Prize Draw and after the Prize Draw's close. The winners will be announced on the Motability Facebook and Twitter page.

Five 'weekly' winners will receive an Amazon gift voucher of £20.

The Promoter reserves the right to substitute the prize with another prize of equivalent or higher value in the event that the original prize is not available.

Each prize is non-exchangeable, non-transferable, and is not redeemable for cash.

The winners will be announced on Facebook and on Twitter and contacted via private message on Facebook or Twitter to obtain an email address to send the prize within 30 days of the closing date.

The prizes will be sent to the winners by email and the winners will receive their prize no later than 12 October 2021.

The winner agrees and consents that its name and the picture used to enter the challenge will be used by the Promoter in any publicity relating to the Prize Draw. For more information in relation to how the Promoter processes your personal data, please go to 

https://www.motabilityoperations.co.uk/utilities/privacy-notice/

      

By entering the Prize Draw, you grant to the Promoter a royalty-free, transferable and non-exclusive perpetual license to use  the video(s) and/or photo(s), on social media.

The Promoter  securely processes and stores  all personal information according to its privacy notice  (link above) which is aligned  with Data Protection Act 2018 and GDPR adopted by the UK. By entering the Prize Draw, you agree and consent to the collection, processing, retention, and storage of your personal information in order to process and contact you about Your Photo Challenge entry, and for the purposes outlined in paragraph 21 above.

The Promoter will collect data for the purpose of sending out the prizes only, any information collected will be dealt with in accordance to Motability's Privacy Notice which can be viewed here: 

https://www.motability.co.uk/utilities/privacy-notice/

The Promoter reserves the right at any time and from time to time to modify or discontinue, temporarily or permanently, the Prize Draw with or without prior notice due to reasons outside its control.

The Prize Draw is governed by English law and entrants to the Prize Draw submit to the exclusive jurisdiction of the English Courts.