A rock-climbing accident left Karen Darke paralysed from the chest down at the age of 21 – but life didn't stop there. Instead, she set out on some epic adventures involving enormous physical endurance – crossing the Himalayas by bike, climbing El Capitan, crossing the Greenland ice cap by sit-ski – and went on to win gold as a Paralympic handcyclist. Here's her story and her advice for budding handcyclists:
Did you compete in sport before you became a wheelchair user?
Not really. I was keen on all outdoor sports, but just for being outside in fresh air and beautiful places, not to compete. As a teenager I used to mountain bike, orienteer and did some fell running, but I never felt competitive about it. The summers were usually spent rock climbing in the Alps or on a big bike-touring trip somewhere.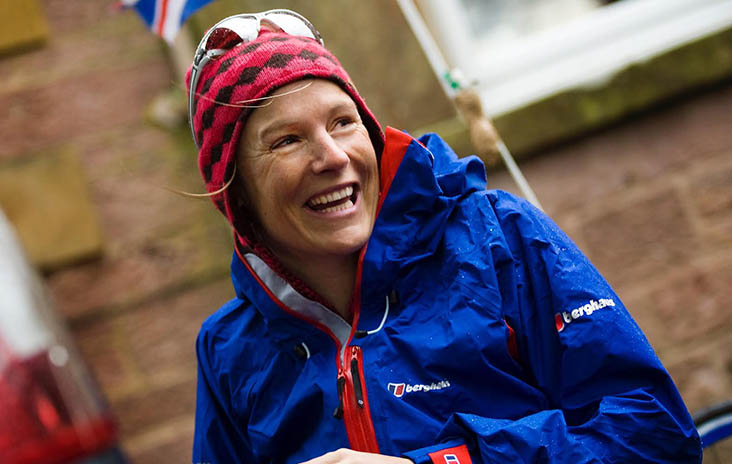 After becoming disabled you decided to lead an active lifestyle and compete at the highest level. How difficult was it to take this path?
Initially, I found it hard to go back to mountainous places and not be able to walk in them or access nature like I used to. My first big dream after becoming paralysed was to handcycle through the Himalayas, a journey that set the course of my new life of adventure in a wheelchair. However, it was years after my accident before I took up competitive sport seriously.
In the Beijing Paralympics in 2008, handcycling was included for the first time. Watching it on television led me to try and make the London 2012 cycling team. It seemed far-fetched, as at that point I'd done two handcycle races and come last in both of them! With a lot of hard training and some great coaching, I was eventually able to represent Great Britain at the World Championships in 2010. I went on to compete for Paralympics GB in London 2012, then Rio 2016 and a career in competitive sport!
You've had some challenging adventures. Which did you find the best and the hardest?
All of my adventures have been special and none would have been possible without my amazing friends and teammates.
My first trip handcycling across the Himalayas ­– with just three friends – was a major milestone after becoming paralysed.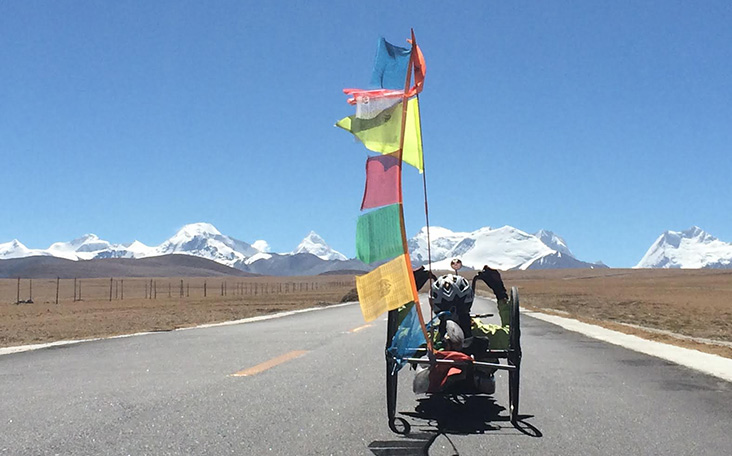 Sea kayaking from Vancouver to Alaska was incredible: three months living with water, tides and no wheelchair. I still can't believe we did it.
Skiing across the Greenland icecap was a massive physical challenge, not just for the daily effort of sit-skiing but the environmental conditions too. It was difficult to stay warm and manage my personal care needs in the wilderness.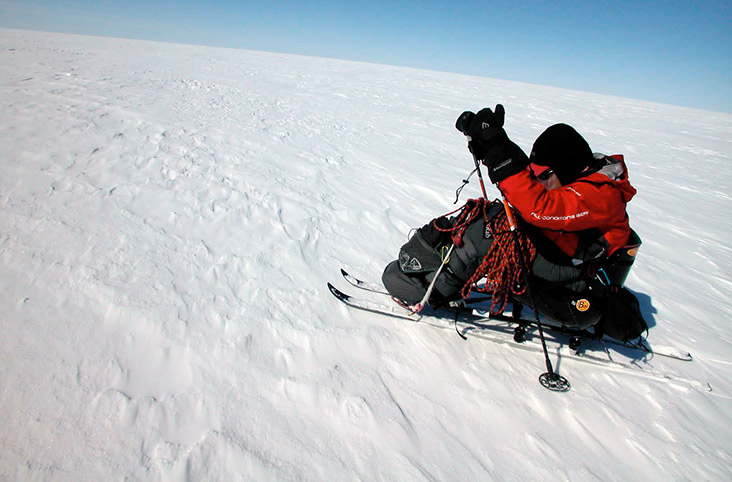 Climbing El Capitan was by far the greatest mental challenge, as I had a lot of negative memories about climbing and falling off cliffs that I had to overcome.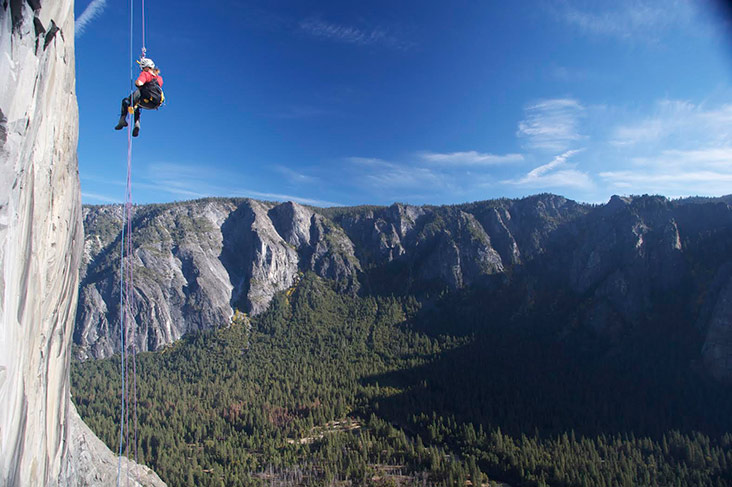 What are your favourite places and why?
I love to travel and experience the world and different cultures. Tibet had a big impact on me. The people were so open-hearted, with huge smiles and warmth. However, I am always happy to land in the Outer Hebrides on a ferry, and pedal a bike or paddle a kayak through the wilderness. My favourite training location is Mallorca. If there are mountains and sea close by, I am happy anywhere.
Why do you set yourself such big challenges?
I like to have a goal, something to work towards and focus on. Maybe it is a sort of addiction to have challenges lined up, but it helps me get out of bed with enthusiasm in a morning and to learn about myself and the world. The more challenges I sign up for though, the more that leads to the unexpected and sometimes to difficult places. So maybe it's the unexpected that I am attracted to. I get bored of repetitive routine quite quickly. I believe that we have to make the most of our lives, whatever our situation.
Who was your inspiration as a young athlete, and how did you get involved in competing for Paralympics GB?
My dad inspired me to ride a bike, as riding has been a part of his everyday life ­– even since a stroke when medics said he would never walk again, let alone ride a bike. When we were kids my mum and dad always took us to watch the Tour de France every summer. I remember one year watching the Women's Tour de France and saying I wanted to do that when I grew up. So many people and events have been part of my journey – from a random taxi driver to my closest friends and the riders pushing themselves in the Tour de France.
You have won several Paralympic medals for Great Britain. How did it feel to reach this kind of level on a world stage?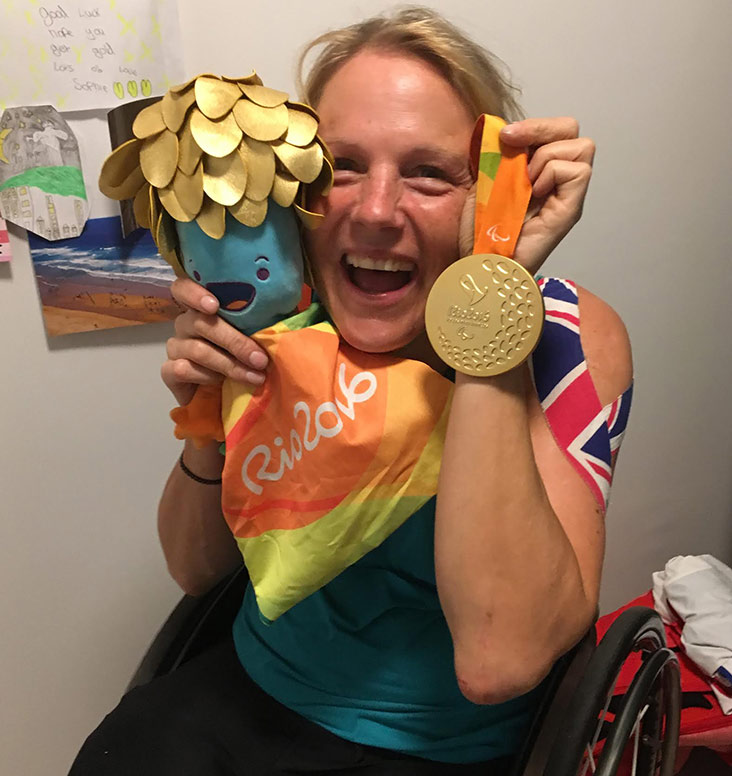 Quite unbelievable! It was a very special experience to be able to represent GB, especially at the Olympic Games in London 2012. Nothing could ever beat the atmosphere in London with crowds cheering, and being able to share it with family and friends. I only ever set out to get to the London Paralympics, so to win a silver medal was beyond my wildest expectations. Winning gold in Rio in 2016 was very different. I really thought I had blown it on race day, with a combination of a shoulder injury and a dropped bike chain. I think I am still a little shocked that I finally won a gold medal!
What advice would you give to someone finding it hard to come to terms with a disability?
Believe in yourself, in the strength of your spirit, and in the kindness of humans. Many things are possible, not least our ability to adapt. Never, ever give up.
I recommend handcycling as a brilliant boost, both physically and mentally. There's a great sense of freedom in being able to set out by bike from your front door, but if that's not possible, you may be able to find a handcycling club in driving distance from home. (See Karen's Handcycling Tips below.)
What next?
The number 79 has become special to me for a number of reasons – the gold I won in Rio was the 79th medal for GB. Gold is also the 79th element in the periodic table and I spent three years as a geologist researching it. I have also coincidentally taken significant journeys at 79 degrees latitude east (Tibet), west (Patagonia) and north (Greenland). Now, I'm embarking on "QUEST 79", which involves travelling to 7 continents in 9 significant handbike rides, raising funds for a charity close to my heart: The Spinal Inuries Association (SIA).
I hope to inspire other people to take on their own quests and raise money for a good cause. See karendarke/quest79 for more details.
Karen's five top handcycling tips:
Join a come-and-try day, available with the Hand Cycling Association UK or check out Cycling UK's adaptive cycling directory to find a club or opportunity near you.
Think about how you might cross-train to get fit for handcycling. Join a local gym, many of which may have static handcycles. On most Concept 2 rowing machines you can remove the sliding seat in order to position your wheelchair in front, and row away. Alternatively, if you want to invest in some equipment to train at home, a static ski machine such as the SkiErg might be a good choice.
If you're considering purchasing your own handcycle, research more about the different types available. For example, handcycling.co.uk also has information about suppliers around the UK.
If you need to travel to train or participate in handcycle races, having a car makes a huge difference to your independence and mobility. Find out more about the Motability Scheme here.
Have a look at the paracycling race schedule available through British Cycling or internationally at Union Cycliste Internationale.
More articles like this
The Motability Scheme enables disabled people and their families to access a brand new car or scooter, by exchanging their mobility allowance to lease the vehicle of their choice. Find out more: