Everyone with MS is bound to ask themselves at some point whether they are safe behind the wheel of their car. But where do we go to find out and who do we ask?
My own journey of discovery started when I had an episode of double vision. It got better quickly and I did not drive while it lasted, but the doctor recommended that I notify the DVLA. This was before my diagnosis with MS, and I thought the double vision was a one-off caused perhaps by a bang on the head, so I did not tell my car insurance company. Looking back, it might have been best to tell the insurers at that point rather than wait until a second episode of double vision two years later.
When I was finally diagnosed with MS after this, I notified my insurance company as well as the DVLA. As my symptoms were fairly mild and the double vision had quickly gone away, I didn't do anything else. Then, some years later, I started to have some stiffness in my legs and difficulty walking after long car journeys—at this point, I realised I needed some specialist advice.
I discovered an organisation called Driving Mobility—a national network of 20 independent centres which offers professional information, advice and a driving assessment if necessary. I booked an assessment at my local centre (Birmingham's Regional Driving Assessment Centre) which took a couple of hours and where my driving was judged by an expert assessor.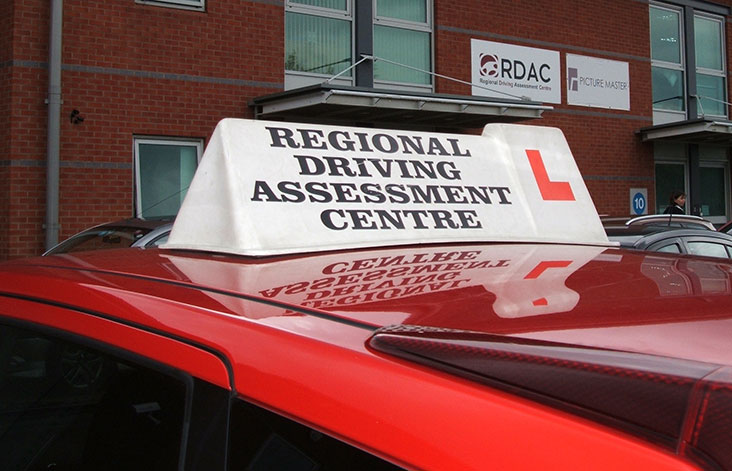 The Regional Driving Assessment Centre in Birmingham
He said my driving was safe but suggested I consider looking at what adaptations I might need to keep me driving safely as my MS progressed. The two main suggestions he made were for me to change to an automatic transmission and to look at hand controls which he had fitted to a car at the assessment centre. At the centre, I had my first lesson using the assessor's basic push/pull hand controls which I used rather than foot pedals. I did so well that the instructor suggested we venture onto some major local roads and try things out. I was a bit wary at first but soon found the hand controls surprisingly easy to use.
After the session ended we agreed it would be better if I drove on a renewable three-year driving licence as my MS is progressive and things can sometimes change quickly. A three-year licence has made me feel a more responsible driver as I know my driving is being monitored. The other lesson I took away from my driving assessment was that it makes sense to try and get as much support as possible. I joined Disabled Motoring UK (DMUK), a charity which supports disabled drivers, passengers and Blue Badge holders. I also discovered the Research Institute for Disabled Consumers, an independent, national charity which publishes high-quality disability information about many disability-related matters including driving.
As MS is a condition which can change over time, I have decided to join the Motability Scheme when I change my car later this year. The Motability Scheme arranges insurance, breakdown assistance, servicing and repairs and everything's already included in the vehicle lease. With the complexities that come with MS, the simplicity of motoring with the Motability Scheme will give me one less thing to worry about.
The Motability Scheme enables you to exchange all or part of your mobility allowance for leasing a car, mobility scooter or powered wheelchair. There are also hundreds of different adaptations available to suit your needs. Find out if you can join using our eligibility checker and request an information pack.
Helpful links
https://www.drivingmobility.org.uk
https://www.disabledmotoring.org/
---
Related articles
How technology helps keep us mobile
Apps that make getting out and about easier for disabled people
My experience of parenting with restricted mobility