There's an extraordinary array of people who are blogging, vlogging and tweeting about their lives and passions: these are the people we flock to for inspiration, entertainment and information.
Rough Guides' writer Emma Field picks nine of the most inspirational influencers for disabled people, ranging from blind beauty vloggers to accessible travel bloggers. Whether you're interested in comedy, beauty, travel or candid accounts of hospital appointments, there's an influencer you can relate to.
1. Ed Rex
In a nutshell:
"I cannot believe how easy it is to travel as a deaf person"
Also known as "The Handsome Travel Blogger", Ed didn't let his profound deafness stop him from travelling the world. In 2011, he quit his corporate career to travel the world for six years. He's been all over the place, from Samoa to Sweden, but his most recent blog posts focus on Britain. Ed wants to inspire the next generation of deaf people to travel without fear – his mission for 2017 is to visit fifteen destinations on twelve trips while holding down a full-time job. Cue plenty more "handsome" selfies.
Favourite trip:
The South Island of New Zealand is my favourite place ever in the world. I'd love to move there! I really fell in love with the landscape. Otherwise, it has to be the Humber Bridge and the views from the Hessle Foreshore. I'm born and bred in Hull so the Humber Bridge always reminds me of home."
Follow for:
A sincere and humorous perspective on adventure travel as a deaf person.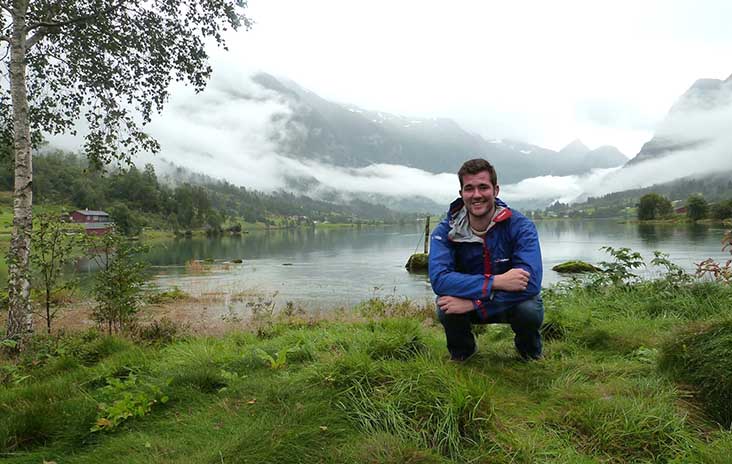 Handsome blogger Ed Rex strikes a pose
2. The Bimblers
In a nutshell
"Britain's most unlikely travel bloggers"
In their own words, Rob and Bridget "don't travel well," which only makes their accessible tourism blog more relatable. The pair pack in more than their fair share of wheelchair accessible staycations and love travelling in a slow and simple way: "We simply wouldn't have the confidence to travel the way we do in an older car. The Motability Scheme allows us to travel stress-free, full in the knowledge that if there's a problem, Motability will sort it out."
Favourite trip:
"One of our most enjoyable road trips was a coastal drive in Northumberland. A stop in Seahouses and a trip to Amble for the best fish and chips are a must, and Bamburgh Castle is more accessible than you would imagine."
Follow for:
Personal travel stories and useful information for travellers with mobility problems, a disability or chronic illness.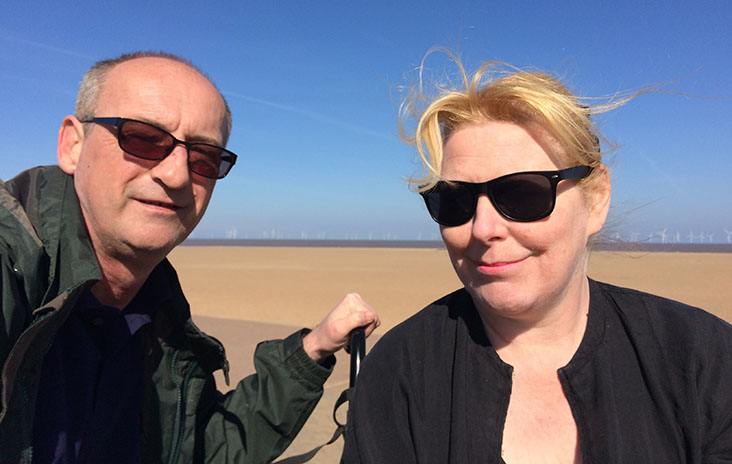 The Bimblers at the beach
In a nutshell:
"The blind guy who wants to show you the world"
When he was just four years old, Amar was told he would become permanently blind. By the age of 19, he had lost 95 percent of his eyesight. But that didn't stop him from spending a year at university in Canada or crossing the jungles of Nicaragua for BBC2's Beyond Boundaries series. Inspired to travel solo, Amar found that no travel company catered for his needs – so he created one. Traveleyes is the world's first international air tour operator specialising in group trips for blind, visually impaired and sighted travellers.
Favourite trip:
"The great thing is that across the UK more and more attractions are becoming more attuned to those with a visual impairment. York is a beautiful city steeped in history. The Jorvik Viking Centre is very sensory and really brings the history to life, and the York Chocolate Story is a great hands-on experience."
Follow for:
Trip inspiration for blind and sighted travellers and first-person accounts of Traveleyes holidays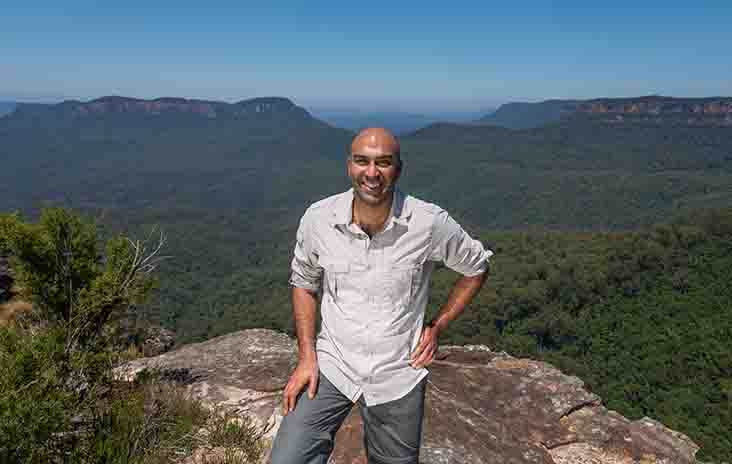 Amir Latif exploring the Blue Mountains near Sydney, Australia
4. Emily Rose Yates
In a nutshell:
"Lifting the cloud of limitation that can sometimes surround disability, travel, relationships and representation"
By drawing on her experience as a wheelchair user with cerebral palsy, Emily has made a name for herself as an accessibility consultant, travel writer and presenter. She's worked on access and inclusion for the 2016 Olympic and Paralympic Games, presented a series of BBC3 documentaries about disability, sex and relationships, and writes for several accessibility and disability organisations. When she's not working, she's out and about in her bright orange Mini Cooper: "My Motability Scheme car has given me the freedom and independence to follow the career I've always wanted!"
Favourite trip:
"One of the craziest things I've done in the UK is coasteering (also known as throwing yourself off high platforms into the water!). I'd absolutely recommend Celtic Quest Coasteering for anyone with additional requirements – the team are a perfect mixture of encouraging and patient."
Follow for:
No-nonsense news and chat about disability, travel and sex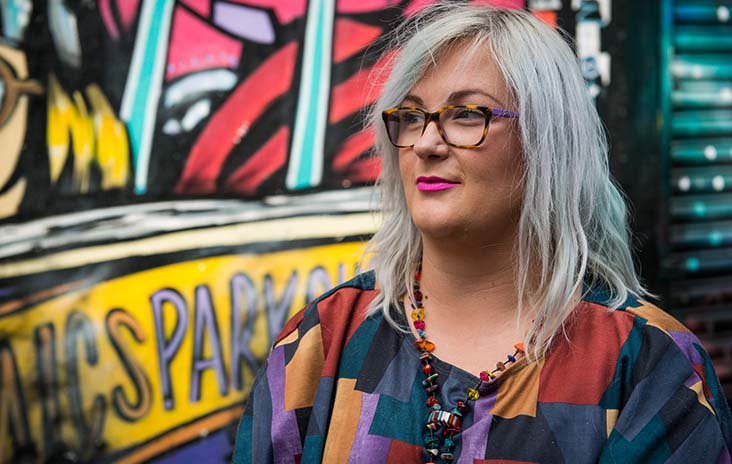 Broadcaster and adventurer Emily Rose Yates
5. Simon Minty
In a nutshell:
A renowned disability and diversity consultant with a cracking sense of humour.
Simon was born with SEDc, a form of dwarfism, and when he's not helping major national and international corporations improve their services for disabled staff and customers, he's churning out comedy podcasts. As one half of the Phil & Simon Show and host of the personal and humorous BBC Ouch, Simon offers an irreverent look at the world of disability. He also co-founded Abnormally Funny People, a troupe of disabled and non-disabled comedians.
Favourite trip:
"Never fixed as I like new places but perhaps Edinburgh. I go for the festival in August and it's amazing, and I go at other times and it's beautiful. The Edinburgh Festival Fringe has made great strides in this respect – physical access, interpreters for shows, all in an ancient and heavingly busy city."
Follow for:
An irreverent take on the issues facing disabled people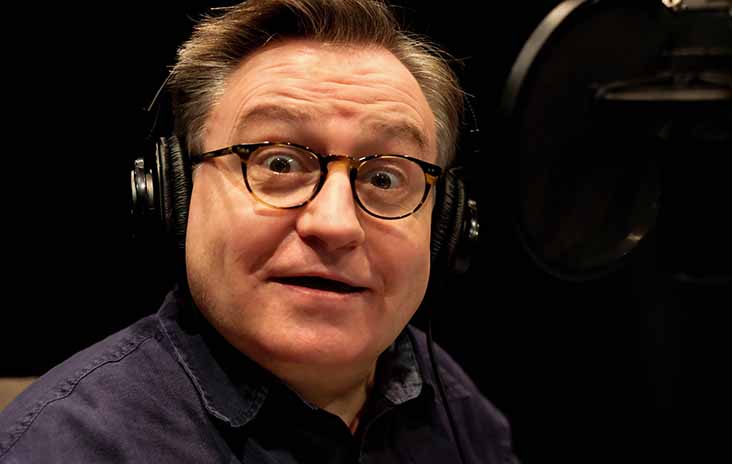 Simon Minty recording a radio show
In a nutshell:
"Changing perceptions in style"
Visually impaired beauty vlogger Emily blogs about her love of fashion, beauty and style for two reasons: to challenge people's perceptions of sight loss, and to provide visually impaired people with the tools, skills and knowledge needed to develop their own sense of style. She digs deep into her own experiences, which include developing anorexia nervosa and being the first severely sight-impaired person to get a GCSE in Astronomy at the Royal Observatory, to create beautiful, relatable videos and blog posts.
Favourite trip:
"One of the best experiences I had was during a recent trip to the Harry Potter Studios. The staff were so helpful and friendly, offering me assistance throughout every part of the experience. There are also a lot of interactive elements of the tour and things you can physically touch like the Knight Bus and other props."
Follow for:
Relatable beauty and fashion tips and reviews, interviews and reflections on life with sight loss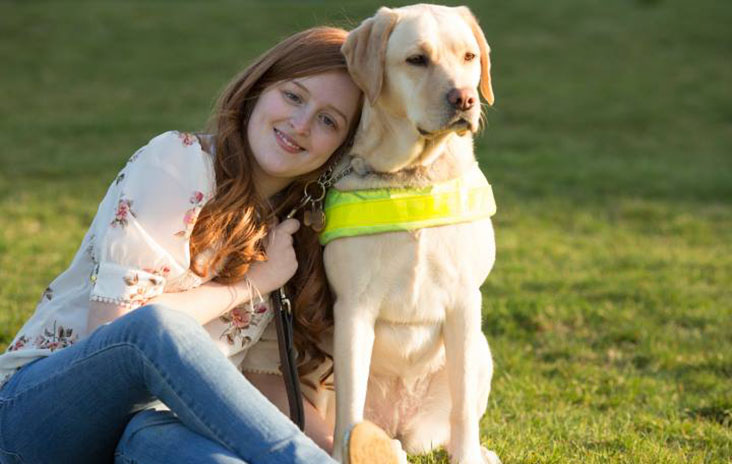 Beauty vlogger Emily Davidson with her guide dog
In a nutshell:
"A bookworm, a lipstick junkie, stationery addict and a fan of skulls"
Sarah is a lifestyle, beauty and disability blogger who writes about everything from binge-worthy Netflix shows to her latest MRI scan. She's also behind Spoonie Post, a project that connects chronically ill people though cheerful packages. Sarah has Ehlers-Danlos Syndrome and has used the Motability Scheme for over ten years. "I would be completely lost without it," she says. "Not only does the car get me to my many hospital appointments but it gives me freedom to travel anywhere at any time. I live over 150 miles away from my family and having a vehicle means I can visit them whenever I want, and that is everything to me."
Favourite trip:
"My favourite place to visit in the UK is Milton Keynes. Since it's a relatively new town it is very accessible. There is so much to do there and I'm always astounded at how easy it is to get around."
Follow for:
Beautifully presented product and book reviews, musings on everyday life and candid health updates.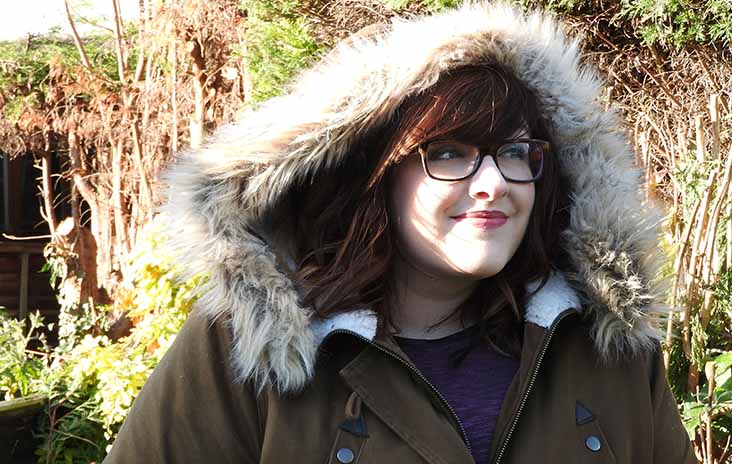 Blogger and cultural influencer Sarah in Wonderland
8. Hayley Goleniowska
In a nutshell:
"Gently changing perceptions of Down's syndrome"
Hayley writes to challenge the fear and stigma around Down's syndrome, and to celebrate the narratives of people with Down's. It stems from her own experiences of raising a child with Down's syndrome – her youngest daughter, Natty, was the first UK model with a disability to feature in a national Back to School campaign. Hayley's blog, Downs Side Up, covers everything from what to say when a child is born with Down's syndrome to things to do during the school holidays for SEN families.
Favourite trip:
"We live in Cornwall and, hand on heart, it is my favourite part of the UK. It's safe, clean, beautiful and everyone here is very welcoming and accepting of each others differences. Breathing in the sea air has really helped with Natty's frequent chest infections when she was younger and the calm and open spaces help with those who get easily overloaded in a sensory way."
Follow for:
Support, stories and resources for new parents of children with Down's syndrome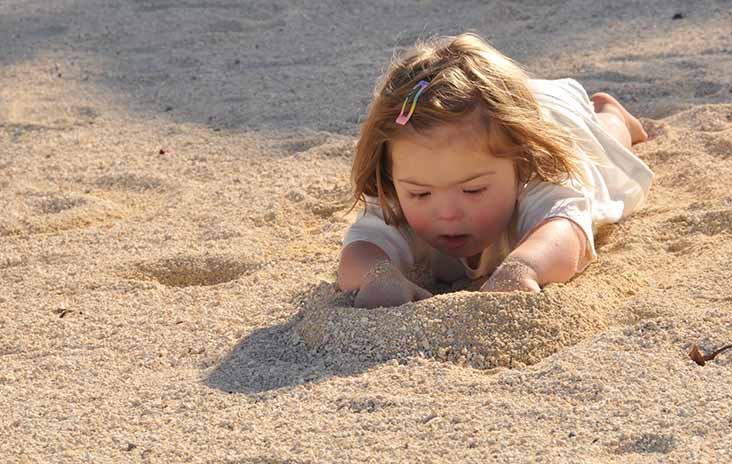 Young Natty on the beach in Mauritius
9. Brian Seaman
In a nutshell:
Encouraging inclusive provision and a warm welcome for everyone who is travelling
Although not a disabled person, Brian is an influential campaigner and access advisor. If you've noticed a city working harder to improve facilities for disabled and older visitors, chances are Brian was involved in some way. In 2005, he conducted an audit/assessment of Brighton city centre. That document has been used to make improvements ever since, and Brighton's attractions have been held up as examples of creating better access for a wide range of individuals at towns and cities across the UK.
Favourite trip:
"My favourite place to visit in the UK would be London, as there is so much on offer for disabled visitors – there is probably more designated accessible accommodation than in cities elsewhere."
Follow for:
The latest news and developments in accessible tourism around the world.
Also worth a click:
Simply Emma – Emma blogs about her life as a disabled girl in Scotland, with a focus on wheelchair accessible travel
Jay on Life – Jay, who has polio, writes about her travels around the UK, as well as comparing accessibility and attitudes to people with disabilities with those in her hometown of London
Lucy Edwards – Blind BBC broadcast journalist and beauty vlogger Lucy makes videos about everything from make-up application to anxiety attacks
Geoff Holt – Ex-professional yachtsman Geoff is a disabled seafaring explorer, a disability sports ambassador, and the first quadriplegic to sail single-handed around Britain and across the Atlantic Ocean
Euan MacDonald – With his sister, Euan founded Euan's Guide, a digital charity and disabled access review website that aims to open up towns and cities for disabled people
Martyn Sibley – As the third most influential disabled person in Britain, according to the Disability Power 100 list 2016, Martyn has plenty to say about everything from adventure travel to his experiences of working for equality for disabled people.
Feeling inspired? Get in your Motability Scheme vehicle and head out to explore. If you've got a story to tell, we'd love to hear from you. Share your story at motability.co.uk/have-your-say. For other inspiration on great days out around the UK, including some accessible trails, see: The Rough Guide to Accessible Britain.
Related articles
The Bimblers: Our day at the Motability Big Event in Manchester
Swimming with a disability: Andew Mullen's Paralympic story
My European road trip – Martyn Sibley, Disability Horizons
The Motability Scheme enables disabled people and their families to access a brand new car or scooter, by exchanging their mobility allowance to lease the vehicle of their choice. Find out more:
Image credits
We would like to thank the following individuals, companies and picture libraries for their kind permission to reproduce their photographs (in order of appearance on the web page):
Header image and 1: Handsome blogger Ed Rex strikes a pose. Courtesy of Ed Rex
2: Rob and Bridget on the beach. Courtesy of The Bimblers
3: Amir Latif exploring the Blue Mountains near Sydney, Australia. Courtesy of Amar Latif
4: roadcaster and adventurer Emily Rose Yates. Courtesy of Emily Rose Yates
5: Simon Minty recording a radio show, Steve Best

6: Beauty blogger Emily Davidson with her guide dog. Courtesy of Emily Davidson
7: Blogger and cultural influencer Sarah in Wonderland. Courtesy of Sarah Wonderland
8: Young Natty on the beach in Mauritius. Courtesy of Hayley Goleniowska