If you follow the Paralympics, you'll recognise Andrew Mullen, the 20-year-old Glaswegian who has scooped up medals in the Paralympic, World and European championships. Having narrowly missed out on medals at his Paralympic debut at London 2012 – he came fourth in both the 50m backstroke and 50m butterfly – Andrew swam his way to victory and claimed three medals at the Paralympic Games in Rio, including a silver in the 50m backstroke. Here, he tells us how he got started in the pool and gives suggestions for how you can take the plunge yourself.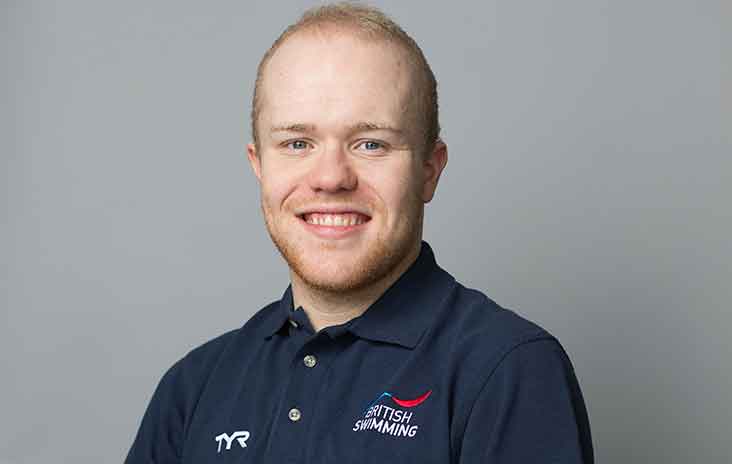 Para-swimmer Andrew Mullen
When did you learn to swim?
I started to learn when I was 5 or 6 with one-to-one lessons in Tolcross in Glasgow. I had learnt to swim competently by the age of 8 or 9, but I didn't really enjoy it back then. My parents wanted me to get to a level of swimming where I'd be safe – they thought it would be a good life skill for me to have. They used a Motability Scheme car to take me to the pool back then – that was a massive help. From the swimming lessons the normal progression is to join a club, which I did when I was around 11. This is when I first started racing and when I really fell in love with the sport – it was the perfect way for me to employ my competitive nature. I naturally fell into the competitive side – I wasn't pushed.
Did you face any challenges along the way?
There were some challenges finding somewhere suitable for me to swim. I started at a disability swimming club in Glasgow called Temple Swimming Club, who were great – they really gave me my start. But they had limited access to pool time. So I found an able-bodied club. To start with, a lot of people there weren't sure what I was going to be able to handle and what I could do in the training, but soon they realized I was pretty good!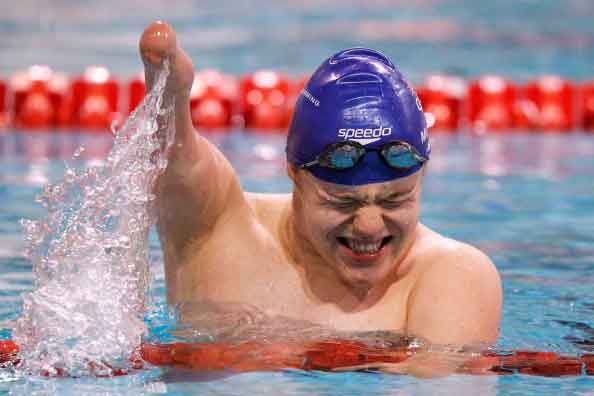 Winning gold at the IPC Swimming European Championships in The Netherlands
What support did you need?
Scottish Swimming were very good at identifying the fact that I had a bit of potential, and they assisted me in getting the pool time and access I needed.
Why swimming?
Swimming is great for general fitness – it's one of the best forms of exercise. It's just great for strength – and a lot of fun. Although I compete and it's now my job, I also do it because I love it. It's really sociable, especially once you get to be part of a club.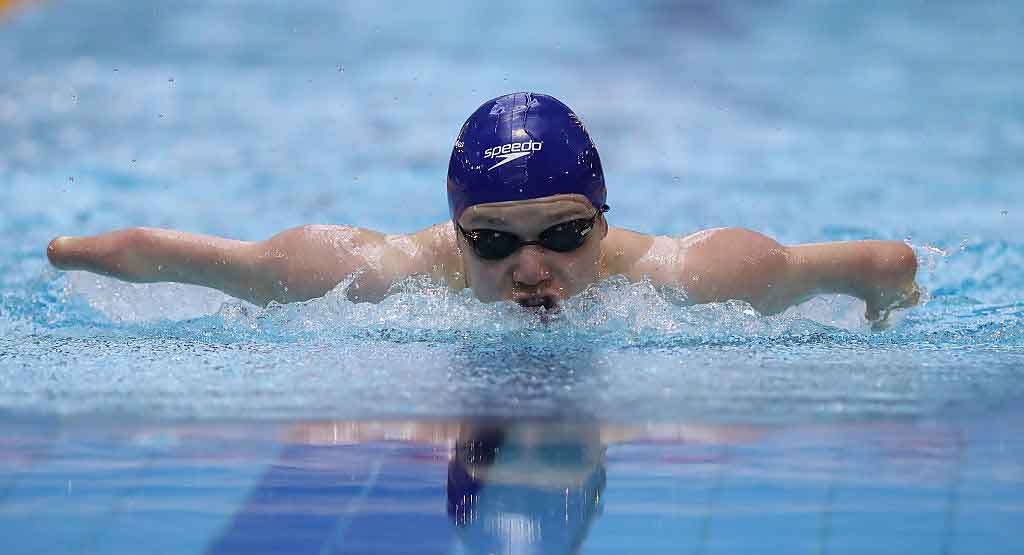 Competing in the Men's 50m Butterfly heat at the British Para-Swimming International Meet, Glasgow 2016
Do you have any advice for people who want to start swimming, for recreation or to a high level of the sport
The main thing is to have fun with it and not put too much pressure on yourself, especially if you're at a young age. At the start it's important that you do it because you want to – if you're enjoying yourself you're more likely to work hard and be involved in it for longer.
The main thing for kids and people in general is that they give things a try. There is a lot of stigma around disability and they might struggle. I struggled at the beginning but – with practice and perseverance – here I am. There are always going to be clubs and organisations to give you the support you need, so just get in contact with them and give it a bash!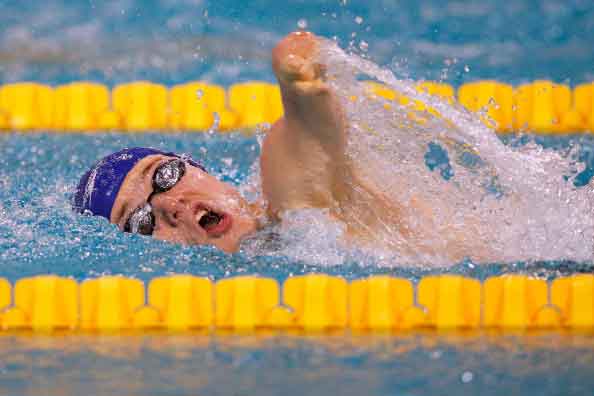 Andrew Mullen in the Men's 200m Freestyle at the IPC Swimming European Championships
What's your greatest achievement in the sport?
The Rio Paralympic Games in 2016. It had always been a goal from when I started swimming competitively to win a medal at the Paralympics. But I came home with 3 – I got a silver and two bronzes. I was proud of that.
How has the Motability Scheme made a difference to you?
Towards the start of my career when I was very young I used an electric wheelchair. Now that I drive myself I use a Motability Scheme car, which allows me to get to my training and to pretty much all my competitions in the UK. Without the Motability Scheme, I wouldn't be able to do what I do.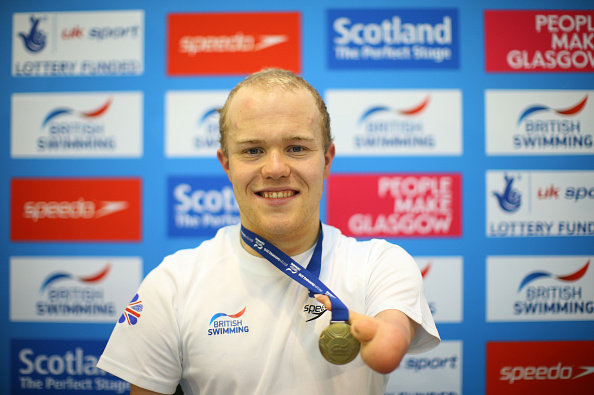 Andrew Mullen with one of his many gold medals
ANDREW'S PARA-SWIMMING TIPS
To get swimming yourself, contact one of the following organisations to have an assessment and figure out your level. From there, you can find a suitable pool, locate a club – and even start competing to become the next Andrew Mullen!
News on the progress of para-swimming in the UK.
All you need to know about para-swimming in the capital.
Details on para-swimming in Scotland.
Lots of information for aspiring swimmers, including the steps for becoming a para-swimmer and a list of suitable clubs in England.
Having your own car, scooter or powered wheelchair can be an invaluable way of accessing para-swimming clubs and races. Find out more about the Motability Scheme here.
For more inspiration, check out some of our other articles:
7 of the UK's most accessible adventure sports
Accessible days out for Father's Day
More about the Motability Scheme
The Motability Scheme enables disabled people and their families to access a brand new car or scooter, by exchanging their mobility allowance to lease the vehicle of their choice. Find out more:
Image credits:
Rough Guides would like to thank the following individuals, companies and picture libraries for their kind permission to reproduce their photographs (in order of appearance on the web page):
Header image: Men's 50mButterfly in Glasgow 2016 Getty Images/Ian MacNicol
Andrew Mullen profile: Georgie Kerr
Winning gold at the IPC Swimming European Championships:Getty Images/Dean Mouhtaropoulos
Men's 50m Butterfly in Glasgow 2016 Getty Images/Ian MacNicol
Andrew Mullen in the Men's 200m Freestyle at the IPC Swimming European Championships: Getty Images/Dean Mouhtaropoulos
Andrew Mullen with one of his many gold medals: Getty Images/Ian MacNicol